Once the darlings of small families, the market for so-called C-segment sedans has been eroded by the rise of the compact crossover. But... there are still good cars on offer in this segment, so if you're not too concerned about automotive fashion and the perceived advantages of a higher seating position, the following models still warrant attention. Plus... there are several attractive newcomers in the pipeline.
For the purpose of this article we have concentrated on the medium-sized sedan market. The cars competing here occupy a difficult niche between cheaper, smaller and less sophisticated offerings, and the entry-level versions of the premium brands – not to mention various crossovers competing at the same price level. Our popularity ranking is based on sales figures provided by Lightstone.
Also read: South Africa's Best-Selling SUVs
Not so long ago, however, this segment was big business, with the likes of the Toyota Corolla, Volkswagen Jetta and Opel Astra being arguably the most prevalent on our roads. These days the sales volume are significantly lower, but the Corolla and Jetta still rule the roost, with the Ford Focus, Chevrolet Cruze and Mazda3 rounding up the top 5. Let's have a closer look at what's on offer...
Toyota Corolla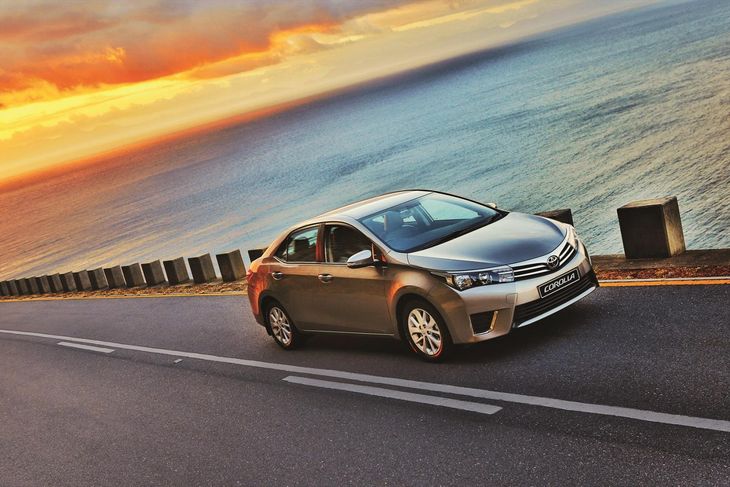 With more than 3 700 units sold in the first 8 months of the year, the Corolla is still SA's favourite C-segment sedan.
With a range that includes 1.3-, 1.6- and 1.8-litre petrol engines, as well as a 1.4-litre turbodiesel, the Corolla line-up is extensive. If you need an automatic derivative, however, you'll have to settle for either the 1.6 Prestige or 1.8 Exclusive. The local market favourite is the 1.6 Prestige (manual), with the CVT-equipped version being in the runner-up position.
In its latest guise, and keeping in mind the target audience, the Corolla remains hard to fault — the cabin is well made and even offers a "dash" of style. Rear legroom is very good and the boot capacious (though not as large as the Jetta's).
Toyota doesn't offer more fashionable turbopetrols, so the naturally aspirated 1.6-litre engine does feel a little flat-footed in some circumstances, and also can't compete (on paper at least) with the fuel economy claimed for some rivals. In reality, however, it is clear that South Africans are not too concerned about this, and may actually prefer the fuss-free long-term reliability that is likely on offer here.
You may also be interested in:
Interested in buying a new / used Toyota Corolla? Find one on Cars.co.za!
Volkswagen Jetta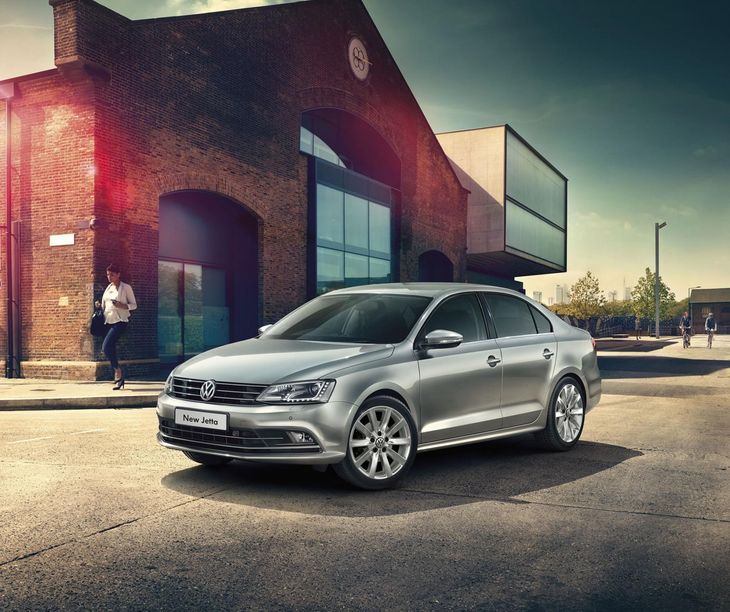 The Jetta offers upmarket finishes and a very spacious cabin and boot.
As is the case with most Volkswagen models, the Jetta is positioned slightly more upmarket than its perceived mainstream rivals. It is offered in South Africa with a large variety of powertrain and specification options, starting with a relatively sparsely equipped (and the only naturally aspirated model) 1.6-litre Conceptline. The top-seller in the line-up is the 1.4-litre Comfortline, which offers a good blend of power and economy as well as features. The DSG-equipped variant of the 1.4 Comfortline is also a strong seller locally. If you wish to prioritise fuel economy, then either of the 1.6- or 2.0-litre turbodiesel models will suffice. The latter is only offered in flagship Highline specification and coupled with the DSG transmission.
The Jetta is one of the larger cars in this segment and it shows inside, where there is stretch-out space for rear passengers as well as one of the biggest boots (510 litres) in this class.
You may also be interested in:
Interested in buying a new/used Volkswagen Jetta? Find one on Cars.co.za!
Ford Focus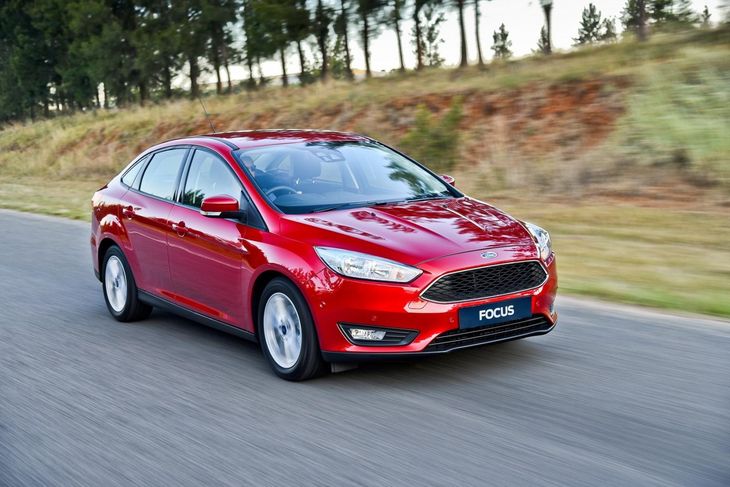 The Ford Focus is competitively priced and good to drive.
Refreshed last year and now featuring a lineup of exclusively turbocharged petrol and diesel engines, the Focus is South Africa's third most popular sedan in this segment. The extensive line-up is powered by Ford's award-winning EcoBoost petrol engines (in 1.0- and 1.5-litre guises) as well as a very economical 1.6-litre turbodiesel. Only the petrol engines are available with an automatic transmission. The top-seller is the entry-level 1.0T Ambiente, which is comparatively sparsely equipped, but Ford's options are extensive and not that exorbitantly priced.
The Focus sedan is a little more compact than its rivals from Toyota and Volkswagen, and consequently is marginally less spacious with a smaller – but still very capacious – boot (421 litres).
You may also be interested in;
Interested in buying a new / used Ford Focus? Find one on Cars.co.za!
Chevrolet Cruze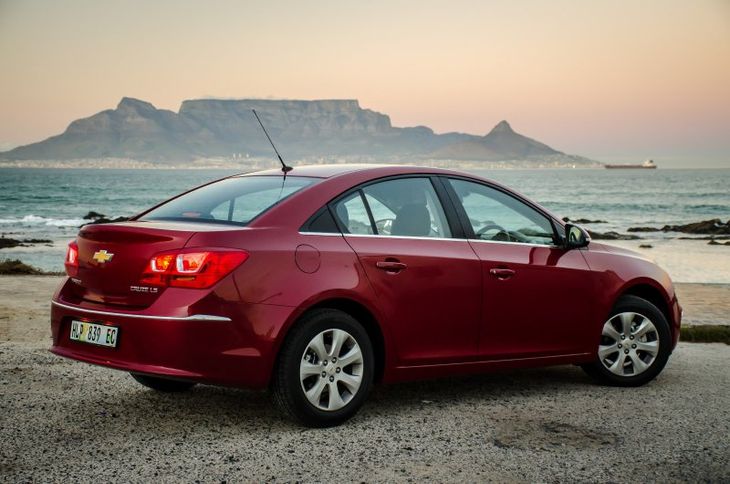 One of the most underrated cars on the local market, the Cruze is a solid all-rounder.
Based on the previous-generation Opel Astra, the sedan remains a challenger in this segment courtesy of its solid build, extensive features and value-for-money pricing. The line-up is fairly limited, however, with only a 1.6-litre naturally aspirated petrol engine, or a 1.4-litre turbopetrol on offer. The latter impresses with its power and efficiency but it is the base-model 1.6 L that is the top seller. The flagship model is the 1.4T LS, coupled with an automatic transmission. If you can stretch your budget to the LS, we'd highly recommend the more powerful, more frugal 1.4T LS model, especially as it is less than R10 000 more than the similarly equipped 1.6-litre derivative.
You may also be interested in:
Interested in buying a new / used Chevrolet Cruze? Find one on Cars.co.za!
Mazda3 sedan

Stylish and well made, the Mazda3 is seen as a more upmarket alternative.
Rounding out our top 5 is the recently refreshed Mazda3. This stylish sedan prioritises premium finishes and sophisticated design and represents arguably the most aesthetically pleasing of the contenders. Mazda persists with its naturally aspirated engines, whereas most rival brands have moved to turbopetrols.
Nevertheless, using the brand's SkyActiv technologies, the Mazda3's engines (both in 1.6- and 2.0-litre guises) are reasonably frugal. The market favourite is the 1.6 Dynamic, with the automatic derivative of this model in second place. Dynamic specification appears to hit the sweet spot in terms of features, boasting such items as cruise control, auto lights, rain-sensing wipers, leather upholstery and 6 airbags. It does, however, lack an electronic stability system.
Compared with its main rivals, the Mazda3's design does compromise interior space to some degree, and the boot is the smallest of the top 5 sellers, though probably still big enough for most, measuring in at 408 litres.
You may also be interested in:
Interested in buying a new / used Mazda3? Find one on Cars.co.za!
Alternatives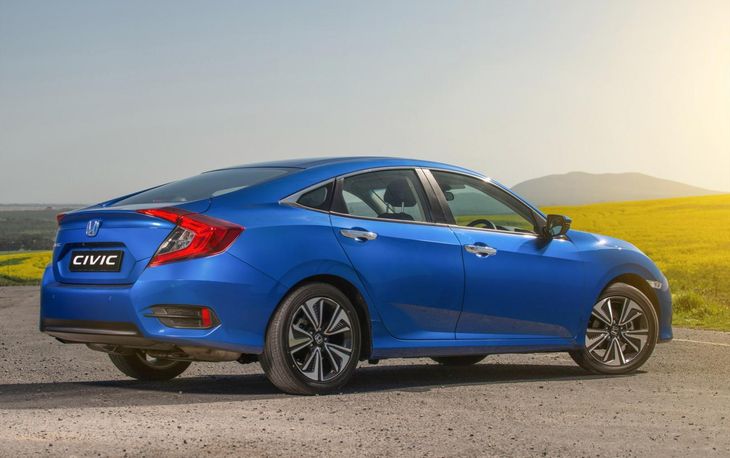 The new Honda Civic has moved upmarket in terms of specification and technology, and also price.
A number of rival vehicles are offered in South Africa, including the underrated Kia Cerato, Nissan Sentra and aging contenders from Hyundai (Elantra) and Opel (Astra sedan). Looking ahead, you can expect new or updated offerings to come from Chevrolet (all-new Cruze), while Hyundai is yet to confirm its new Elantra for South Africa. Already on sale is the new Honda Civic – an appreciably more upmarket offering than its predecessor – while you may also want to consider a vehicle such as the spacious and decently specified Suzuki Ciaz at a lower price point. The latter is a bit light on safety spec (only 2 airbags and no ESP), but most of the mod-cons are accounted for.
Further reading;
Interested in buying a new/used Honda Civic? Find one on Cars.co.za!