The hugely-anticipated stylish crossover from Toyota has finally landed in South Africa. We were eager to give the newcomer a spin and came away highly impressed.
It's been a while since Toyota introduced a product with standout aesthetic appeal. Sure, the new Fortuner has oodles of kerb presence, but the C-HR appeals on more levels. This looks like a car from the future and at this price point, it's actually attainable. It lands slap-bang in the highly popular compact family car/crossover/baby SUV segment, where, until this week, the lack of a Toyota product was rather obvious.
The Turkish-built Toyota C-HR comes to market with 1 engine, two transmission options and there is a pair of trim levels available. It's the engine that deserves closer scrutiny as it marks a new chapter for the Japanese brand in South Africa – the introduction of a turbopetrol motor.
Refined powerplant
This new 1.2-litre turbocharged 4-cylinder unit pushes out 85 kW and 185 Nm. Power goes to the front wheels via a six-speed manual gearbox or a continuously variable transmission. Forget the numbers for a second, the real strength of this engine is its refinement and quietness. It's also somewhat frugal too, with a claimed consumption figure of just 6.4 L/100 km.
Either of the transmissions is good and choosing which is the better option is a challenge. The 6-speed manual 'box features the same rev-matching software from the Hilux, which adds some smoothness to the gear shifts and the box's action has a sporty and positive feel to it. The real surprise is the CVT, which behaves like a conventional automatic. CVTs don't have a stellar reputation in the petrolhead fraternity thanks to the droning noise experienced at full throttle, but, here's the thing, unless you're absolutely mashing your foot flat all the time, none of that CVT drone is apparent. Drive it at cruising speed or with measured throttle inputs and you may be surprised by just how quiet and refined the powertrain is.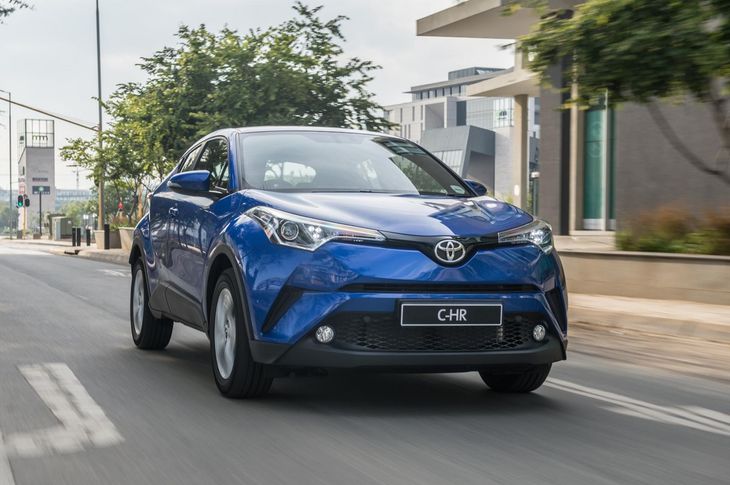 Excellent ride refinement and adept handling are hallmarks of the C-HR driving experience.
How does it drive?
Reasonably well, as a matter of fact. Built on a new platform (shared with the Prius), the C-HR rides well and delivers a driving experience more akin to a big hatchback than a baby SUV. Its seating position is high, something that is very trendy at the moment, but the benefits are obvious: you can certainly see a bit more around you from your elevated vantage point.
The C-HR is quite adept at dealing with quick corners with dexterity and the steering is sharp and direct enough to provide some driving enjoyment. You'll appreciate the high levels of grip and only careless manhandling on the part of the driver could upset the car's handling composure.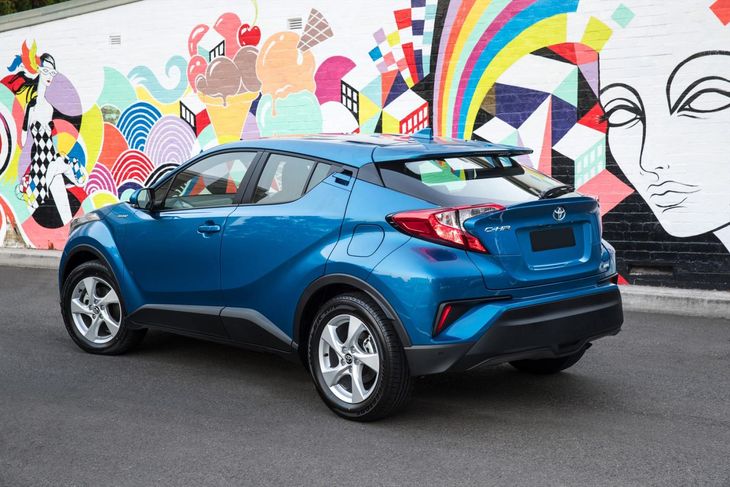 The rear styling of the C-HR is particularly distinctive, but mind the blind spots.
There is a catch, however
The head-turning shape of the C-HR does present a few drawbacks, however. Thanks to a broad C-pillar, the blind spots are quite severe and the lack of rear parking sensors or a reverse-view camera mean that close-quarter manoeuvres need to be carefully judged.
While the Toyota's rear legroom is not particularly generous, taller passengers tend to have to squeeze into the rear benches of most compact family cars. By virtue of the contour of the tailgate – and the provision of a full-sized spare under the boot board – the available luggage space is really tight at a claimed 234 litres, and somewhat awkwardly shaped too.
Demand to outstrip supply?
Toyota has one factory (in Turkey) that assembles the C-HR. This means that the entire world's C-HRs come from this plant and according to the firm, demand is outstripping supply. We have it a little easier as right-hand drive models are not as in demand as LHD ones and Toyota South Africa did its best to try stockpile as many C-HRs as it could prior to launch.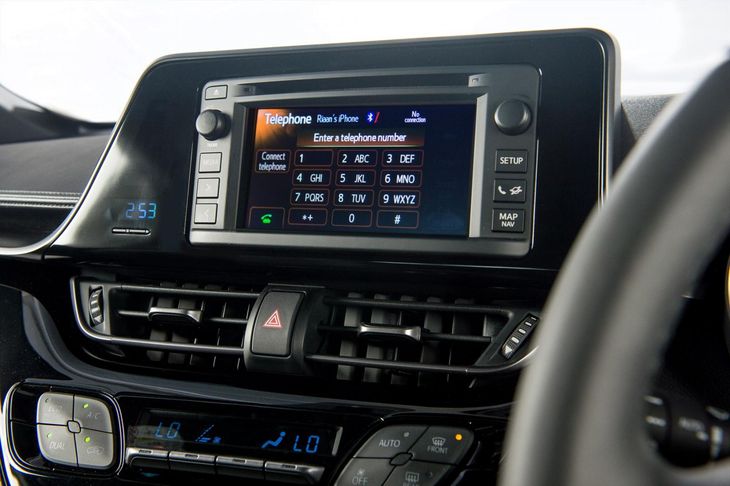 On the Plus spec level, the C-HR's touchscreen infotainment system has a colour display and climate control is standard.
Summary
It's impressive to see the typically conservative Toyota brand break away from its core principles of "playing it safe" and "being sensible". The C-HR represents a new way of thinking from the brand and is stylish and modern. Sure, the looks won't appeal to everyone and we're likely to see the same love/hate attitude towards it, much like the Nissan Juke, but in a crowded segment, where there is an element of sameness about some of the products, the C-HR is a standout. We predict that it will sell strongly.
Toyota C-HR Price in South Africa (2 March 2017)
1.2T R318 500
1.2T Plus R345 000
1.2T Plus CVT R356 000
All C-HR models come standard with a comprehensive 5 year/90 000 km service plan, with service intervals set at 15 000 km. A 3 year/100 000 km warranty is provided.
Related content:
Specifications and pricing of the Toyota C-HR
Check out an international first drive report of this vehicle
Hyundai Creta (2017) First Drive
Crossover Comparison: Honda HR-V vs Mazda CX-3
Extended Test: Mazda CX-3 2.0 Individual auto [Video]
Opel Mokka X (2016) Local First Drive
Renault Captur Sunset (2016) Review
Suzuki Vitara 1.6 GL+ (2016) Review
Want to buy a Toyota C-HR?