Don't be fooled by the way it looks in pictures: the C-HR is bigger than most compact family cars/crossovers and, when it arrives in South Africa in January 2017, it will mark a number of firsts for a Toyota car in SA: a turbocharged petrol engine, cutting-edge styling, plus, unlike its siblings, its name is an abbreviation (for Coupe High-Rider). Here's what it's like...
By Matt Robinson
Toyota, for too long dependent on solid-if-unremarkable machines, showed signs of rejuvenation when it released the 86 coupe in 2012 in a joint venture with Fuji Heavy Industries (Subaru). Apart from the oddball FJ Cruiser, that car has kind of stood alone ever since as the sole interesting spark in a largely conservative range (unless you find the Prius technically fascinating, of course). But now we've got this fantastic C-HR as a barometer of where the marque is heading. Sitting on a new platform and promising more youthful appeal, the best news of all is that the C-HR is not all about its stunning exterior appearance alone, as it possesses a chassis of rare talent in the compact crossover/SUV/Family Car world and an interior that is streets ahead of any of Toyota's usual fare.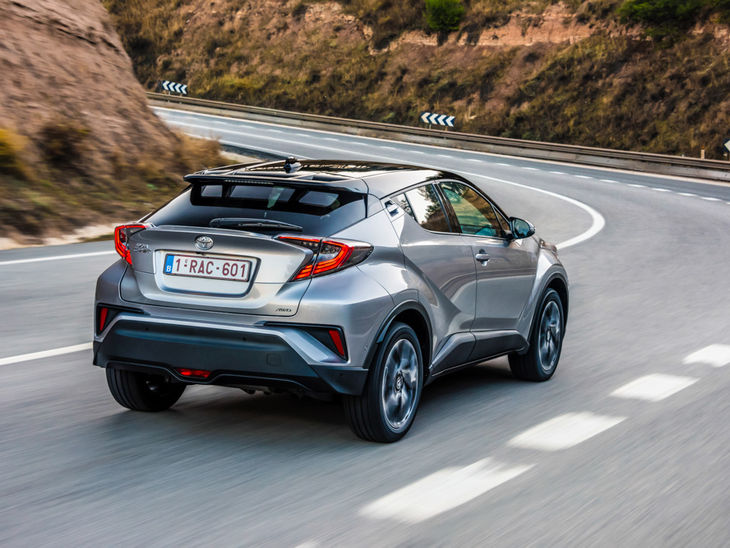 The C-HR's rear 3-quarter view features elaborate detailing; note the dramatic swages in rear doors and fenders.
What is it?
The Toyota Coupe High-Rider, or C-HR. No, we don't understand the different placing of the hyphen in the initialised version of the name either, but that's how it is. After the current, wild-looking Prius, it is the second vehicle the Japanese marque has built on its Toyota New Global Architecture (TNGA) platform. Compared to the aforementioned eco-car, the C-HR has a shorter wheelbase but a wider track, and for the moment it launches with a two-engine range that's rather light on power for something that's supposedly a sporty car.
However, don't despair. For a start, just look at it. From an aethetic point of view, the newcomer's exterior treatment is potentially divisive – we guarantee a small fraction of you are making retching noises or similar, denouncing it as a hideous mishmash of angles and conflicting aesthetic ideas. However, so many car manufacturers, Toyota included, do plenty of "safe" designs in all manner of market segments, so to see the carmaker stick its neck out and launch the C-HR onto the roads almost unchanged from the concept version it touted at motor shows is at once incredibly refreshing and hugely commendable.
And, to these eyes at least, it looks absolutely fantastic. There is not a mainstream compact crossover/SUV/family car at any price that can hold a candle to it for visual appeal, the C-HR managing to look equally stunning in sober hues like silver or black, or in its more youth-oriented war paint of bright blue with a contrast roof. There are so many interesting details to drink in when looking at it that you can spend the best part of an hour finding intriguing new angles from which to best view it, so absolutely top marks to all at Toyota for the C-HR's "out there" styling.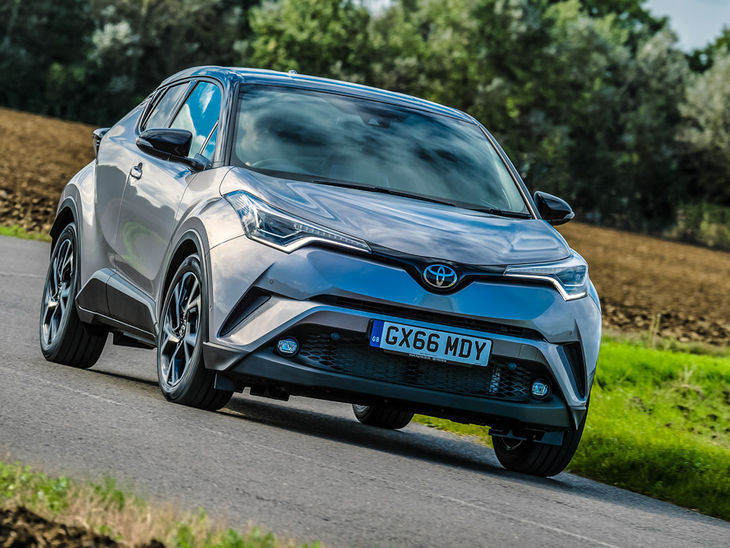 That's a Toyota? You better believe it... the distinctive front-end treatment looks almost cartoonish.
Bigger than it looks
It might look all compact and teensy, but that's another clever trick of the design, because it's bigger than an Auris in all dimensions and therefore is – as we've hinted at – a family car contender, rather than a rival for vehicles of the ilk of the similarly striking Nissan Juke. Toyota itself suggests it sits above the Nissan Qashqai/Renault Kadjar clan and that it could even potentially pinch a few conquest sales from the likes of the brand-new Audi Q2, the BMW X1 and Mercedes' GLA. And if you're wondering what this means for the RAV4, fear not, as that SUV continues alongside the C-HR as the more pragmatic of Toyota's high-riding offerings.
So, the C-HR looks marvellous. But it has a mediocre interior, right? Wrong. Very, very wrong. Toyota has made a determined effort to up the quality levels inside and it shows. This is the company's finest cabin yet, with much improved switchgear (goodbye to big, clunky lozenge buttons hiding low down, hello to diamond-shaped, elegant designs arranged in a thoughtful fashion), far nicer materials used for all the major touchpoints (the Nappa leather steering wheel is a particular highlight) and some interesting design themes – such as the blue line motif running from the doors over the new Toyota Touch 2 infotainment screen in the centre console, or the "diamonds" in the headlining, or the dashboard that's heavily angled towards the driver.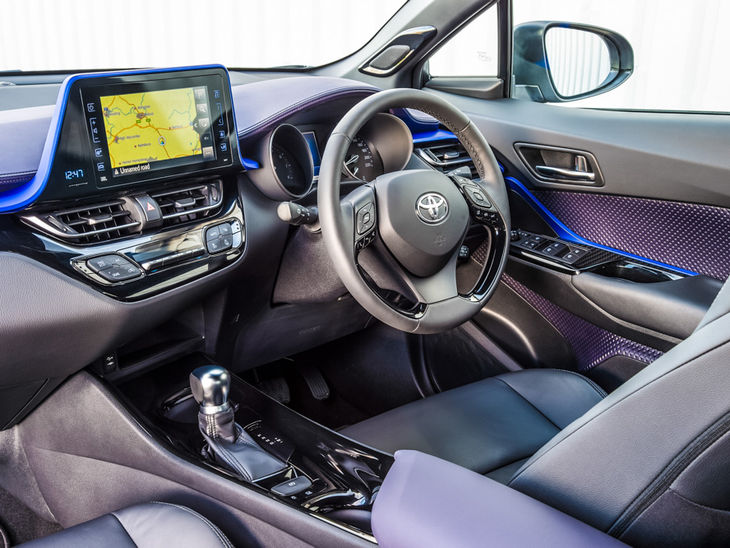 The C-HR's cockpit is particularly driver-oriented... see how the fascia curves towards the driver's seat.
It's not perfect; there are a few hiccups, such as the highly unusual, patterned hard surfaces on the door cards, the hard plastic at the base of the windscreen and a few retro-looking LCD numbers in the displays, but overall the C-HR has a superb interior. Okay, the rear seats feel a little dark and claustrophobic, due to the small windows at the back, but there's actually more than enough knee- and headroom back there, and there's a capacious luggage bay, too. "You don't have to sacrifice every shred of practicality to have that fantastic exterior", that's the point we're making here.
In Europe, the C-HR line-up features two efficiency-biased Atkinson cycle petrol engines, but South Africa will only get the 1.2-litre four-cylinder turbopetrol with peak outputs of 87 kW and 185 Nm, paired with either a 6-speed manual with IMT (we'll come back to that in the drive section) or a CVT automatic.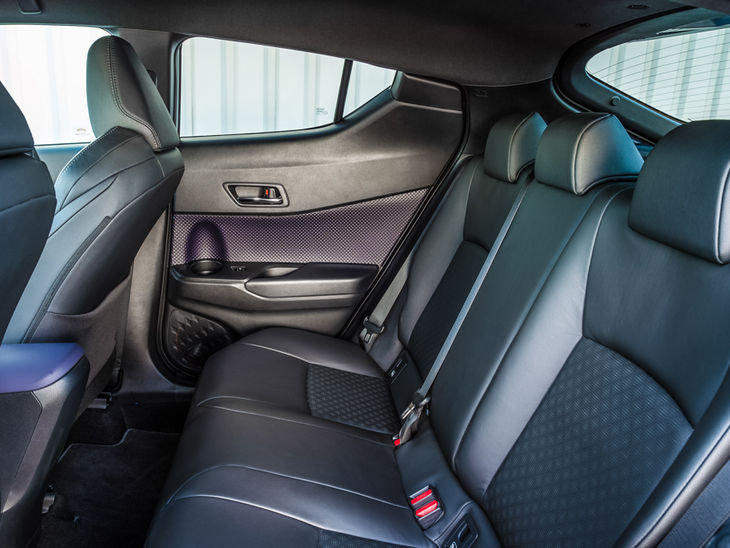 Rear legroom is adequate, but the small side glass areas can make rear passengers feel a trifle hemmed in.
What is it like to drive?
Response, linearity and consistency. These were the watchwords when developing the C-HR and Toyota would appear to have hit the nail on the head.
The 1.2 litre is not straight-line quick (the claimed 0-100 kph time is 10.9 seconds), but it feels a lively little performer thanks to its ability to sweetly pile on revs, while the superb IMT gearbox only adds to the fun. IMT stands for Intelligent Manual Transmission and it's basically a rev-matching function to smooth out gearshifts. It functions brilliantly and, craftily, Toyota has made it switchable, so if you think it's one level of interference too many you can turn it off.
However, it's the cornering that makes you go "wow" in the C-HR. Crikey, what a great chassis for a crossover. No rival in the segment has such crisp turn-in or resistance to understeer, and there's even the sensation that the C-HR will adjust its line faithfully on the throttle. The steering lacks feel – so many modern systems do – but it is well weighted and consistent, which makes placing the relatively light C-HR (1 320 kg) on the road an exercise in precision.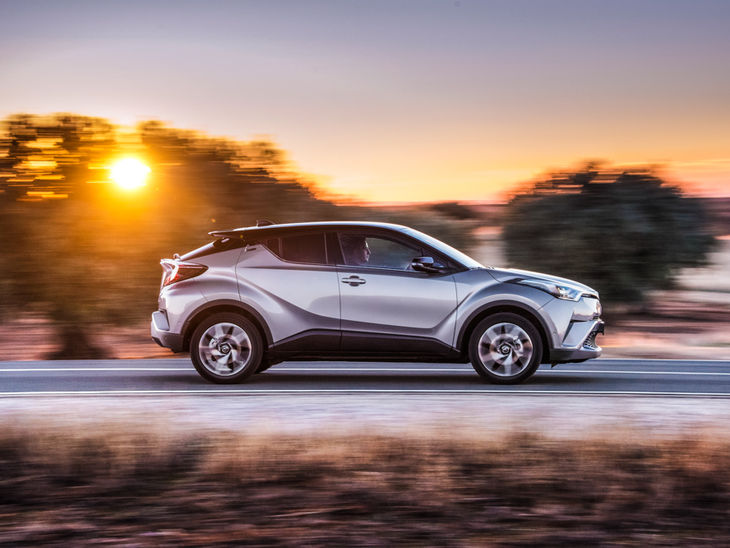 Can a crossover be fun to drive... even dynamic? The C-HR's on-road demeanour certainly suggests it can.
Add in a beautifully judged throttle map, great body control and some strong, nicely modulated brakes, and the whole suite of controls allows you to maintain masses of pace through all manner of corners. You can't go into the driving experience expecting hot hatch-like ability from the C-HR, but by the standards of its SUV/crossover rivals, this is easily the most enjoyable thing to punt about in the class.
It's incredibly entertaining for a taller-than-a-hatchback machine, then, but the C-HR is also blessed with a fabulous ride, that never gets upset in towns, on poor country roads or by transverse ridges running across motorways. There's a little bit too much wind ruffling from the door mirrors at 120km/h and some tyre roar is evident, but overall the Toyota is a very pleasant thing to cover ground in, whether you're going at it hammer and tongs on a twisting route or simply cruising along a big dual-carriageway with the active cruise control doing its traffic-soothing act.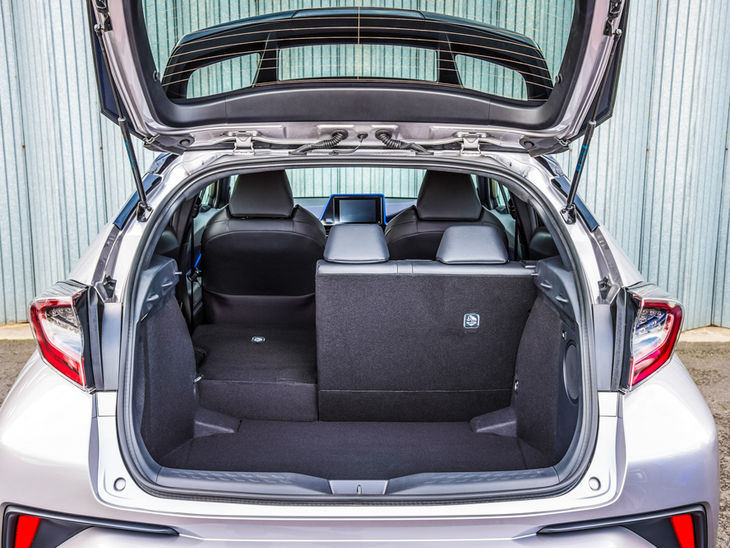 There is a price to pay for that seductively sloped hatchback, but luggage space is fair nonetheless.
Summary
The C-HR looks brilliant, inside you'll find the best interior the company (Lexus notwithstanding) has ever made and it drives excellently. It's a shame that the rear passengers are sitting in quite a narrow, confined space, it doesn't quite have the go to match its extravagant show and in the UK (where pricing begins at R375 000) it's not exactly cheap, given it's one of the least practical cars in the segment... But we are quite enamoured with it regardless, because the C-HR's execution is so daring and the care that has gone into its dynamic make-up is shiningly evident within your first few kilometres behind the wheel. If this is what the TNGA chassis can do to enliven Toyota's product line-up, then we'd say to the Japanese giant: much more of the same in future, please. Toyota South Africa says the model will be reaching our market in March 2017. There'll be just one engine for now (the 1.2 turbocharged petrol) and a choice of either a manual transmission or a CVT.
Related articles:
Hyundai Creta (2017) First Drive
5 Small Crossovers to Look Out For
Nissan Qashqai Specs and Pricing in South Africa (2016)
BMW previews X2 compact crossover in Paris [with Video]
Mazda Reveals All-New CX-5
New Honda CR-V revealed
SUV Comparison: Ford Kuga vs Honda CR-V vs Subaru Forester
Volkswagen Tiguan 1.4 TSI Comfortline R-Line (2016) Review
Volkswagen Tiguan 1.4 TSI 110 kW DSG (2016) Review
Watch a promotional clip featuring the Toyota C-HR:
Interested in buying a Toyota?