Toyota's 86 sportscar had a recent facelift in order to improve its dynamics and styling. Have the changes dulled the 86's oversteer tendency or are the improvements for the better?
We Like: Entry-level RWD fun, better interior, original.
We Don't Like: Expensive.
Alternatives
For way less money: The Ford Fiesta ST200 may only be front-wheel-drive but we'd wager that it's just as much fun. A 1.6-litre turbocharged petrol engine does service in the ST200 and it's good for 147 kW and 320 Nm of torque. The Fiesta ST200 is priced from R339 900.

For a more track-focussed machine: Renault offers the Clio RS Trophy for R70k less, if you can live with it, it'll be faster on track. Its 1.6-litre turbocharged engine produces 162 kW and 260 Nm of torque (280 Nm with overboost). The Clio RS Trophy is priced at R419 900.

The original: The Mazda MX-5 may be less powerful, but you'll be hard-pressed to notice it. It offers 118 kW and 200 Nm of torque from its 2.0-litre naturally aspirated engine and is priced from R441 700.
Compare the specs of the 86 to the ST200 and the MX-5 here
Facts & Figures
Price: R494 900 (June 2017)
Engine: 2.0-litre 4-cylinder petrol
Power: 147 kW
Torque: 205 Nm
Transmission: 6-speed manual
Fuel Consumption: 7.8 L/100 km (claimed)
What's new?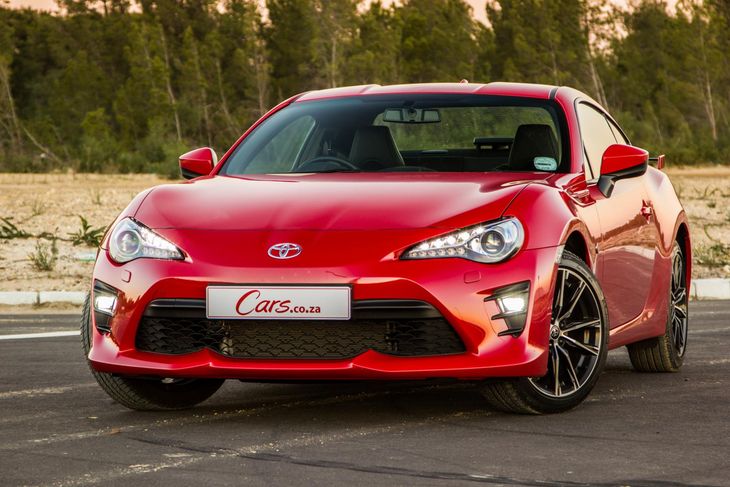 The front bumper is a new design as is the new light design. Special lightweight wheels are a new addition too.
The Toyota 86 landed here in 2012 as a relatively affordable way to get into rear-wheel-drive sportscar fun. It's an area of the market often neglected by manufacturers as they prefer to spice up hatchbacks instead of building unique, entry-level sportscars to save money.
The 86 had its lights upgraded to LEDs, front and rear. There's also a new front bumper design and new 17-inch wheels to go with a less ostentatious rear spoiler. The inside has had a solid reworking with most of the touch surfaces feeling softer or clad in Alcantara. From the driver's point of view, the steering wheel is a whole 3 mm smaller in diameter and the information display screen between the dials is new.
The good
It's different
There's something about a rear-wheel-drive sportscar that excites the senses. The 86 is low, really low, and you slide in rather than get in, much like you would in a race car. The cabin is tight and the seats are supportive. Your feet rest at waist height like you're lying in a bathtub and you look out way beyond the bonnet. It takes a while to get used to these surroundings, but after a few corners, it fits like a tailored suit.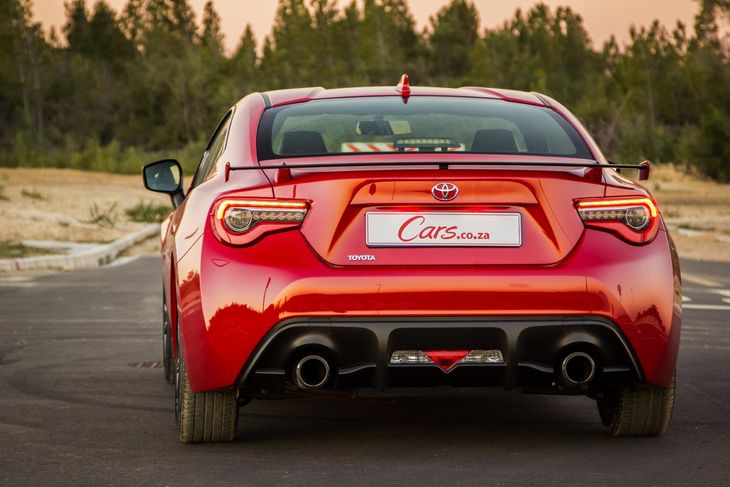 It has a new rear wing design for the facelifted model and the diffuser now sits at a 45-degree angle to generate better airflow.
Having a non-threatening 147 kW of naturally aspirated power behind the throttle has its advantages. Unlike modern turbos, there's no sudden kick of power that comes in and then dissipates at 5 000 rpm. The flat-four cylinder engine in the 86 only starts to hit its stride at 5 000 rpm and goes on to over 7 000 rpm. It delivers clean, unadulterated power with a throttle response that's long since been forgotten. The sound delivered could be better though. It's like it's being distributed to the driver via a hollow plastic box. It's what a sheep with a really deep voice would baaa like. That's also down to the nature of the flat-four engine, an in-line would deliver more of a scream - like the old Honda S2000.
That said the 86 is kitted with one of the best manual gearboxes in the business. The lever can be thrust into gear harder and faster than anything. Thrash the lever with all your might and you could get a shift from second to third in the same time as a dual-clutch 'box and being a Toyota, you'd expect it to handle a lifetime of that abuse too. Coming back down the gears is just as fun too and the pedals are placed specifically to work with a heel-and-toe downshift.
Rear-wheel-drive fun
Back to the driving part... With the front wheels free from the corruption of power, they are free to do the steering alone. The turn in is sharp and direct and the steering wheel provides precise feedback as to what's happening underneath you, a refreshing change. It's sensitive to tiny adjustments on the wheel and you can really manipulate it however you want. The front tyres perform even better when you get a little bit of heat into them, biting harder into the tarmac. The suspension changes have made the rear-end less likely to step out every time you turn the steering wheel. The old model was always keen to slide around, even when negotiating something as simple as a right turn at a roundabout you would have to be on high alert for an unexpected drift.
Now though, with coil spring adjustments to improve stability and handling, the 86 requires a bit more provoking to get the rear to break away. It's still just as controllable when it does let go, it just requires a bit more finesse with the throttle and wheel.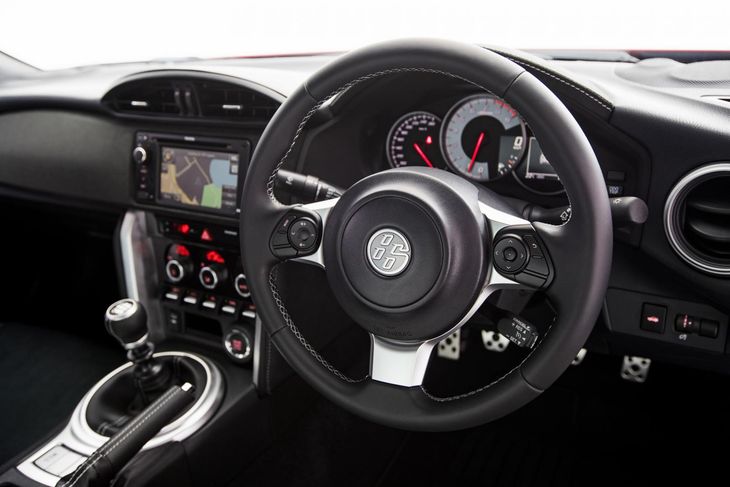 The steering wheel is now 3mm smaller in diameter and the digital display within the instrument cluster has been updated.
The bad
Expensive
When the 86 was introduced in 2012, this model, the 86 High manual cost R329 400. Right now, taking inflation and a couple of currency dips into account, it commands a price of R494 900. That's hefty if you consider what it competes with in the power stakes - Fiesta ST200 R339 900, Renault Clio RS200 Lux R379 900. Even the Mazda MX-5 is R50k cheaper at R441 700.
The issue is that if you want a proper rear-wheel drive sportscar, the options under R700k are extremely limited. Yes, the BMW 2 Series is rear-wheel-drive, but it hardly has the same visceral and low-slung feel of a sportscar. There's the Audi TT at R600k, and that's a very good front-wheel drive car but you're unlikely to find it to be as playful as an 86. You have to go right up to nearly R900 000 before the likes of the Porsche Boxster and new 2.0-litre F-Type enter the fray.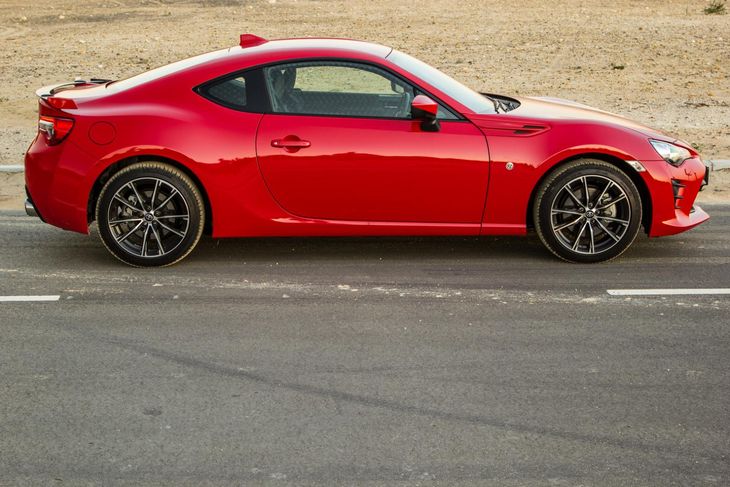 The 86 is essentially the only car in its class if you want a 2-door sports coupe, but it's expensive at nearly R500 000.
Verdict
It's hard to judge a car when there are almost no direct rivals to judge it against. The new 86 improves on the driveability of the previous model with a bit more rear grip without removing the playfulness that makes the 86 entertaining to drive. The interior has been updated, introducing better looking and softer materials but it's not as plush or refined as a German interior.
It still feels like the engine could do with 10% more power and an extra 1 000 rpm. That would make it something very, very fun to have on a weekend run. Do away with the weird engine noise and make it scream like the old 4-cylinder RSI motors used to and you've got yourself an untouchable sports coupe. For now, its appeal is limited as many, especially those who live at the Reef, will be put off by being blown away by every hot-hatch on the market.
Related content
Extended Test: Mazda MX-5 [with Video]
Renault Clio RS 220 EDC Trophy (2017) Quick Review
Hotter Ford Fiesta ST200 Revealed
Searching for a used Toyota 86?