A Mazda MX-5 recently spent a month in Cars.co.za's test fleet for an extended evaluation. Does the Hiroshima-based manufacturer's iconic little roadster still impress as a daily driver, or will the realities of living with such a focused machine destroy fantasies of top-down summer fun?
Mazda MX-5 2.0 Roadster – Quick Specs
Price: R441 700
Engine: 2.0-litre, 4-cylinder naturally-aspirated petrol
Transmission: 6-speed manual
Power: 118 kW
Torque: 200 Nm
Fuel Consumption: 6.7 L/100 km (claimed)
Acceleration 0-100 kph: 7.3 seconds (claimed)
The Mazda MX-5 has an illustrious history and the current iteration has garnered several awards – it is the reigning World Car of the Year – and, as a finalist in the Fun Car category of our own Cars.co.za Consumer Awards – powered by Wesbank, it may yet add another trophy to Mazda's cabinet. Since its debut in 1989, more than a million MX-5 units have been sold; not bad for a tiny "compromised" 2-seat roadster that offers limited practicality!
The recipe for the Mazda MX-5 is a simple one: 2 seats, a front-mounted naturally-aspirated engine developing a healthy power output, a snappy manual gearbox and rear-wheel drive configuration. Now consider a 50/50 weight distribution and a manually operated roof mechanism to keep the purists happy and you have a classic formula that remains relevant to this day.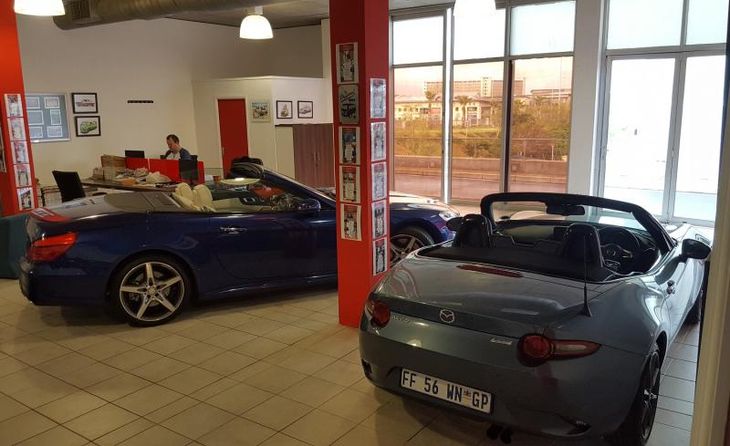 One legendary convertible meets another: Mazda MX-5 and the Mercedes-Benz SL500 in the Cars.co.za office in Cape Town.
One Month... and Go!
The author posed a challenge to himself: drive the Mazda MX-5 with its roof down more often than in the deployed position. It's a simple challenge, or so you'd think. With the changing of the seasons, the temperatures weren't going to be horribly hot, but rain was always a possibility. Fear not, as the manually-operated roof mechanism can be opened or closed in about three seconds flat. Trust us on that one, we tried it. The custodian of this Mazda MX-5 made the most of the weather conditions and would drive to work with the top down early in the morning and would leave work a little later when the fierce sun had all but disappeared... We'd say that's the best way to savour the "roadster experience".
Unfortunately, as a passenger vehicle, the MX-5 can be one of the most infuriating vehicles to live with (although its potential owners will undoubtedly anticipate this). Plans for making weekend trips with the Mazda were thwarted by its lack of boot capacity, for example. There's just no way that a couple's two-day luggage bags and a cooler box would fit in the boot, and there was no chance that a passenger would travel with a cooler box on their lap (we would have asked, but decided against it). What's more, taller members of the test team battled with the roadster's driving position and frequently the driver's seat was pushed so far back that its back section would squeak as it rubbed against the bulkhead.
Meanwhile, the MX-5 sports exquisite, minimalist styling and looks quite expensive, in an exotic kind of way. The other side to that argument is that its practical drawbacks render it quite a dear purchase for a 2.0-litre engined 2-seater car.
But all will be forgiven shortly after you wedge yourself into the cabin and stab the Engine Start button. You sit snugly, but find your left hand reaches the gear selector with ease. The steering wheel is the correct distance and with a few minor adjustments, is at the perfect height. With a tiny repositioning, you're seated in the optimum driving position. Engage first gear with that delightfully mechanical transmission and ease out the clutch. Who said that driving a sports car needed to be a laborious affair? Once you're trundling along, you'll find the Mazda MX-5 is wonderfully light on its feet and nimble throughout the gears, let alone the bends. Overtaking ability is just an extension of the right foot away...
The Mazda MX-5 can deliver an exhilarating turn of speed on demand, which we'll attribute to a combination of light kerb weight and a rev-happy engine. You don't need to wring every last ounce of power out of it and you can get plenty performance from short-shifting at, say, 4500 rpm. The lightweight MX-5 coupled with a driver who knows what they are doing represents a formidable foe in terms of straight-line antics, but that's a crude way of demonstrating its real skillset.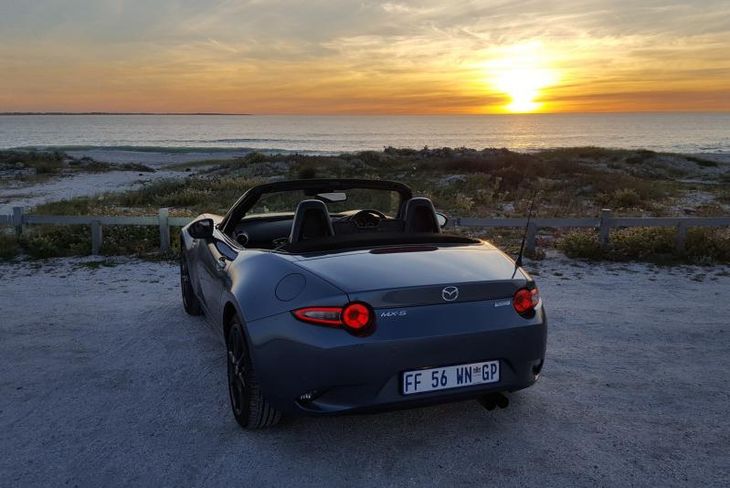 Mission Accomplished! We drove the extended test Mazda MX-5 with the roof down more often than when it was up. That's the point of a "convertible", not so?
That's because the best thing about the Mazda MX-5 is how, as a driver, you feel "mechanically" connected to the car. We'd happily endure a slap on the wrist for that first-class ticket on the Cliche Express, because, in this case, there's real merit to the assertion. When did most modern cars become merely the sums of their mechanical parts? Now they're computers on wheels that carefully make millions of calculations a second. In fact, in performance cars you get 2- and 3-stage traction control systems, dual-clutch transmissions that can shift faster than you're eyes can blink and incredibly smart launch control systems that vault vehicles off the line in the quickest way possible, without any wheelspin.
Spirited driving has become a bit of a button-pushing digital exercise and don't get us wrong, we're completely better off with all the advancements in motoring tech, but getting this hands-on with a vehicle has been a refreshing experience.
The Mazda's steering and handling have a reassuring feel about them, and while the vehicle is rear-wheel driven, at no point during a leisurely drive does it feel like it's rear end is going to whip around on you. That said, you can disable the traction control at the touch of a button (No ESP Sport here) and then it's completely off. And you're on your own.
We were fortunate enough to run into "our" MX-5 again after its stint in Cape Town. This exact model was sent by Mazda South Africa to participate in the Cars.co.za Consumer Awards testing process, held at the formidable and thorough Gerotek Testing Facility. In the safe confines of a closed skidpan, we could drive with the traction control off and it behaved accordingly. The rear would come around very quickly and you'd need to have your wits about you if you thought replicating scenes from Tokyo Drift were possible. Best to leave the ESC on and drive as Mazda intended...
Is it sensible?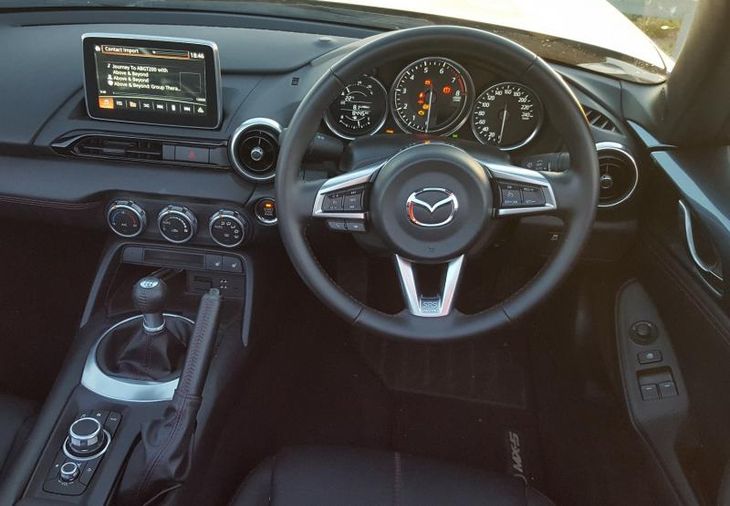 Simple and uncomplicated cockpit. Dashboard and dials are crisp, while infotainment offers 21st-century convenience features.
The Mazda MX-5 goes straight for your heart like a dagger thrown by a deranged ex-lover. This is not a logical buying decision, but then again if you want something sensible, then join the masses in their crossovers and SUVs. It's a vehicle with which you bond on an emotional level, yet it still features plenty of modern-day creature comforts that enhance the driving experience. We were big fans of the heated seats and with careful positioning, you can direct the heat flow from the vents onto your hands and feet, which made early morning Spring drives most enjoyable.
Once the roof is down, you can enjoy your favourite tunes as they blast through the Bose sound system and Mazda has fitted speakers into the headrests, so the beats are not drowned out by wind noise. There's also a potent climate control system as well as a smart touchscreen infotainment system that features satellite navigation. There are 2 USB ports for convenience too. Is it sensible? Hardly.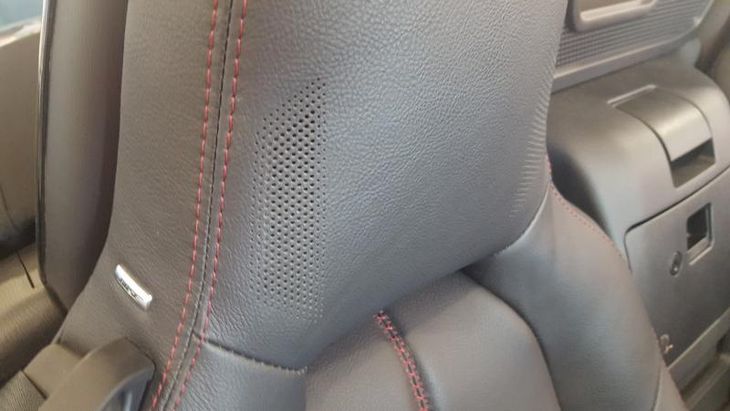 Bose speakers in the headrests so your favourite tunes aren't drowned out by road noise.
Verdict
Recommending such a niche offering to the average car consumer was always going to be a tough sell. The MX-5 offers just about enough features to keep digitally-savvy motorists happy and the boot has enough space for a laptop bag, a camera bag and a completely folded tripod, but not much else. The cabin is a tight squeeze for taller folk, but once you're in, you'll just grin and bear it because the driving experience is so hands on and grin-inducing. This is not a car in which you can sit back in comfort and daydream as you drift home in a traffic jam...
Even at slow speeds, the Mazda's engaging to drive, but where you'll appreciate it the most is at the weekends, when the open, winding road beckons (make that a return ticket on the Cliche Express – ed). That said, the best roadster and all-round driving experiences are to be had in the Mazda MX-5, which is the cheapest drop-top on sale in South Africa. What's more, if the jealous looks garnered from other road users are anything to go by, you're living your best life.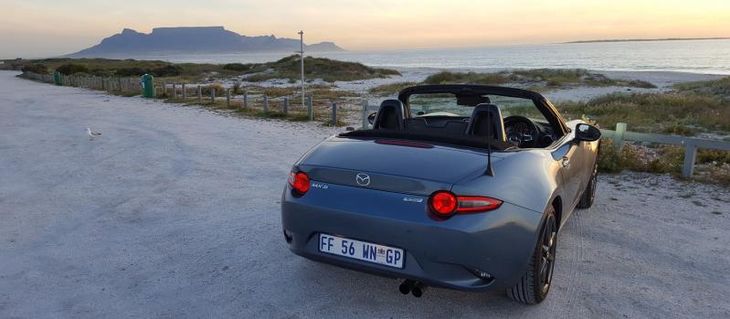 Happy days. Sunset and the Mazda MX-5. We miss its simplicity.
Video
We made a quick video about the Mazda MX-5. See what Francisco Mwamba had to say about the athletic little convertible...
Interested in buying a Mazda MX-5?
New? Check our Car Specials page for the latest deals
Used? Browse Cars.co.za stock for available vehicles