Removable roof and full electrification for new Hummer bakkie
America's most capable off-road vehicle has been revived as a double-cab bakkie, with the promise of enormous capability.
Keen to leverage the current surge in demand for battery vehicles, especially bakkies, GM has relaunched its Hummer badge as part of the company's GMC commercial vehicle sub-brand.
The new Hummer is styled to retain many of the traditional design elements of its predecessors. There is a narrow full-length 'grille', which is non-functional and mostly houses an abundance of LEDs, with some chrome slats separating them. Behind it, is a frunk, providing secure and weatherproof storage space.
Although is platform and drivetrain are futuristic, the new Hummer is deeply traditional in terms of design. Its boxy proportions ignore overall aerodynamic efficiency in the interest of paying homage to the original H1 Hummer, whilst also providing the convertibility of removable roof panels.
The cabin is dominated by a huge 13.4-inch central touchscreen infotainment system. There are traditional selector tabs for the all-wheel drive functions, but most of what a Hummer driver would need in terms of menus, is done via the screen.
Although it lacks a conventional multispeed transmission, the electrically powered Hummer retains a traditional transmission shifter, despite not having a driveshaft tunnel. The result of that latter detail is proper seating comfort for the centre-bench rear seat passenger.
GM has not released exact off-road capabilities or specifications for its new Hummer, but the expectation is for outrageous all-terrain ability. The standard tyre speciation is 35-inches, with sufficient wheel arch clearance for 37-inch tyres, which should deliver enormous traction and ride comfort, in technical off-road terrain.
In terms of power output, GM is claiming that its advanced Hummer battery pack is good for 745 kW and 530km of range. Those are extraordinary numbers, especially for a vehicle of the Hummer's size. Tellingly, GM has not divulged any details of its battery chemistry or energy density.
GM is scheduled to deliver its first all-electric Hummers to customers by the second half of 2021.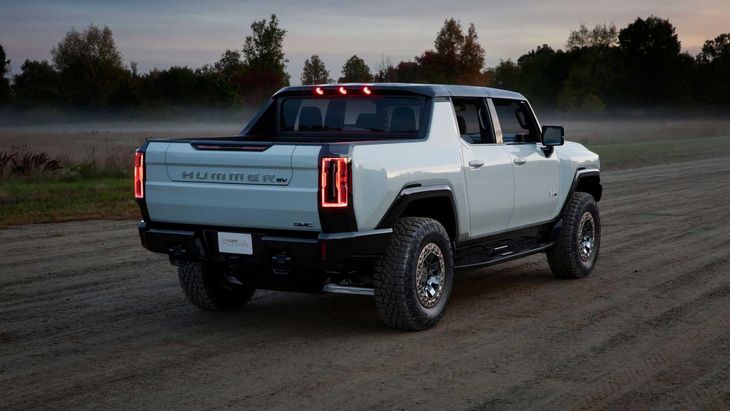 Further Reading
Hummer Revived as a 745 kW Electric Bakkie
Hummer H3 3,7 Adventure Hydramatic (2007) Driving Impression