Back in the Eighties, Toyota knocked it out of the park with the original Conquest, but somewhere down the line, the Japanese brand's hatchback strategy became muddled. Aaron Borrill retraces the Conquest's lineage and sees hope on the horizon...
Back in the early Eighties, the Volkswagen Golf dominated the hatchback segment in South Africa. It had no real competition and consumers naturally bought into the Volkswagen's "People's Car" image – a symbol that has become synonymous with refinement and value for money. It wasn't long before Toyota SA saw a gap in the market and launched the Conquest. Known globally as the Toyota Corolla hatchback, Toyota SA rebadged it here to separate it from the Corolla sedan and market it to a different demographic altogether.
It went head-to-head with the Golf, where it claimed a significant share of the market before a host of continuity errors in terms of model naming strategies and lack of bona fide performance offerings dulled its popularity within the compact car market. Toyota recently launched its latest hatchback, which sports the fabled Corolla moniker. With rumours of a performance version, with dynamism and refinement to match, could we see a resurgence in a model that has fallen by the wayside?
Conquest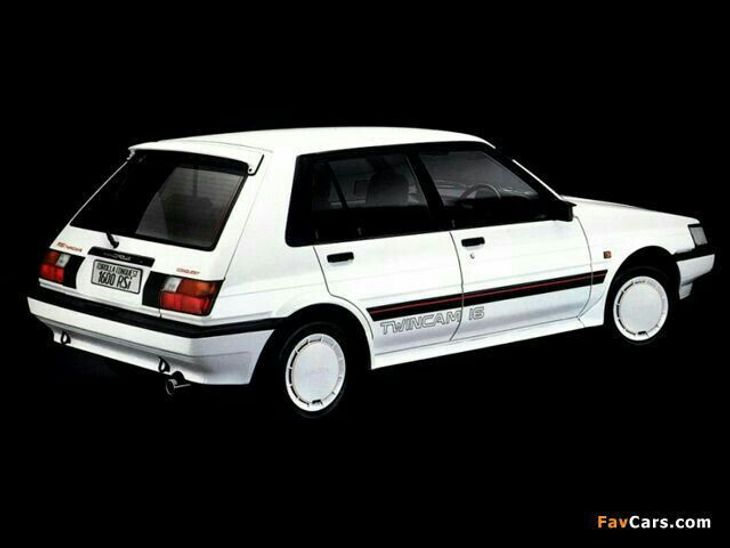 The Toyota Conquest was the one that started it all for Toyota – particularly here in South Africa, where it eschewed the Corolla moniker to differentiate itself from its sedan sibling. It was an instant hit with consumers combining the stately appearance of the Corolla sedan with the practicality and youthful aesthetics of a hatchback.
It provided a much-needed and worthy alternative to the Volkswagen Golf II, which was dominating the local sales charts at the time. Who can forget the 1st-generation Conquest – its chilled bonnet and angular facade bestowed it with a veritable wedge-look (also known as the "wet look" in enthusiast circles). The model duly captured the imagination of many consumers and the Conquest RSi (1986-1988), powered by a vocal, free-revving 1.6-litre 4A-GE engine and emblazoned with "Twin Cam 16" lettering, became legendary by virtue of its successes in production-car (Group N) racing and local and national rally championships.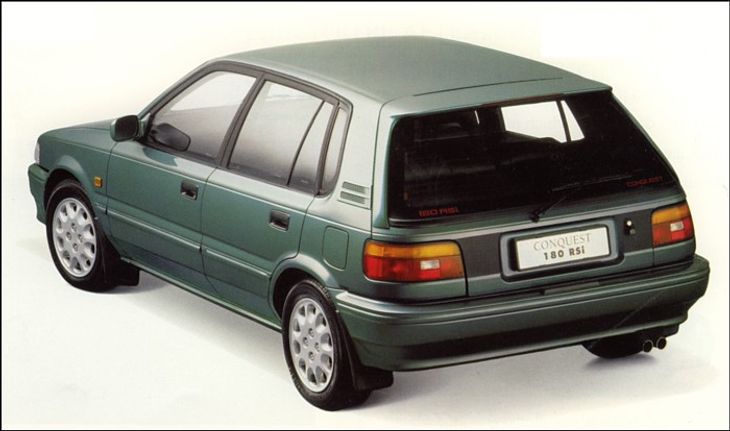 The following generation of Conquest (often referred to as the bubble shape) was released in 1989, replete with more mature, rounder aesthetics and improved aerodynamics. It underwent a mid-life facelift in 1993, which saw the Toyota wordmark grille logo replaced by the brand's current identity. There were a string of model variants available ranging from a carb-fed 1.3-litre and semi-warm 1.6-litre and 1.8-litre versions to the red-hot 96 kW 1.6-litre Conquest RSi.
Search for Conquest online here

Tazz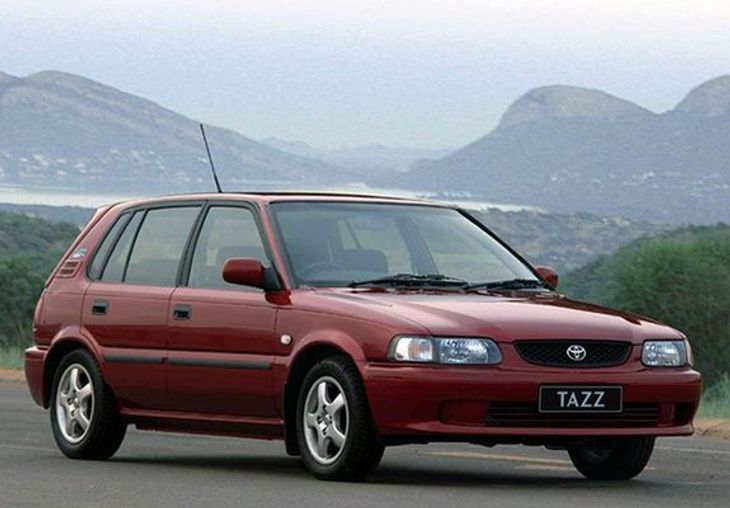 In 1996, Toyota SA mothballed the Conquest nameplate and re-launched its compact hatchback as the Toyota Tazz – a strategy which targeted the segment ruled by the then (Golf 1-based) Volkswagen CitiGolf. The "refreshed" model got new head- and tail-lamps, as well as a new front bumper, while under the skin it remained much the same as its predecessor. A couple of tweaks to the interior – namely new seat upholstery and the addition of a chrome Toyota badge on the steering wheel kept things somewhat modern. Naturally, it continued to sell impressively well with a line-up of derivatives comprising a 1.3 (130) and 1.6 litre (160) and Carri panel van. Of all the versions, it was the 130 that sold in huge numbers featuring the same 55 kW 2E 1.3-litre that did duty in the previous generation Corolla and Conquest.
Those who wanted a little more zip opted for the 160 with its 4A-FE 16-valve engine. With safety becoming a large concern of many drivers and families the Tazz was eventually culled from the line-up in 2006. It was time for the RunX – the most highly anticipated Toyota hatchbacks (to hit South African soil in decades) to shine.
Search for a Toyota Tazz for sale here

RunX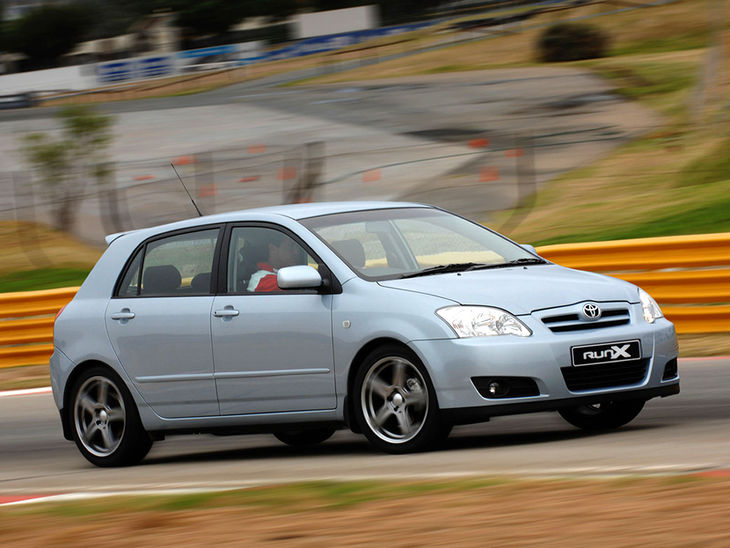 For Toyota, the RunX represented a bold step forward in terms of overall refinement, aesthetics safety and driving dynamics for its compact hatchback offering. Despite being a self-standing range, the RunX shared several design cues, most notably its powertrain and platform with the 9th-generation Corolla. The cabin was "textbook Corolla", save for sprinkles of silver trim on the dash and fascia and a short-throw 6-speed gearbox.
Six derivatives were available, but it was the RSi that got enthusiasts excited; a performance model was sorely lacking from Toyota's portfolio at the time. Built exclusively for the SA market, it featured a naturally-aspirated 1.8-litre (2ZZ-GE) mill with variable valve timing. It produced 141 kW (7 800 rpm) and 180 Nm, which endowed it with enough poke to break the 0-100 kph barrier in just over 8 seconds (which compared quite favourably those of the 2.0-litre turbocharged Golf 5 GTI).
The RunX RSi, unfortunately, was bereft of traction control, which made hard acceleration from a standstill a tricky exercise – those that mastered it, however, claim to have scalped some impressive hot hatch machinery that Ford, Volkswagen and Audi produced at the time. A sportier, more exclusive TRD version was released in 2007 to keep local interest from waning. Limited to just 210 units the TRD model differentiated itself from the regular RSi by way of TRD components – 17-inch wheels, a collection of TRD badges, sportier suspension and a strut brace completed the package.
Search for a used Toyota RunX here

Auris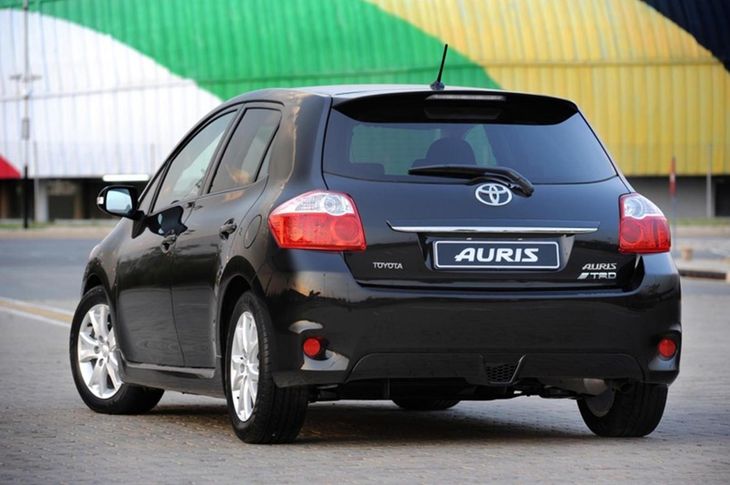 Another year, another Toyota hatchback – and another new name. The Auris replaced the fondly-remembered RunX in 2007 as the chosen combatant for the Volkswagen Golf, but would South Africa's droves of Toyota faithful buy into the marque's newly launched C-segment contender? And, what about that name? It was badged as the Corolla hatchback in certain markets and even called the Corolla Conquest in Australia. But, hey, let's move on… Its styling palette represented a departure from Toyota's cookie-cutter design; a combination of Eurocentric packaging helped differentiate it from its rivals, but at the same time, the Auris had a somewhat sterile, anonymous character. Despite a wide range of engines available – which included a hybrid – there was nothing very memorable about this model.
A 123 kW 1.6-litre supercharged Auris TRD was eventually introduced to add a little excitement, but it was no RSi. It was only when the next generation Auris was launched in 2013 that Toyota seemed to have a genuine C-segment hatchback contender again. Designed under the watchful eye of Akio Toyoda, the newcomer's angular, more purposeful styling gave it more street cred, lured new buyers to the marque and helped Toyota claw back vital market share in the segment.
Search for a used Toyota Auris here

Corolla Hatchback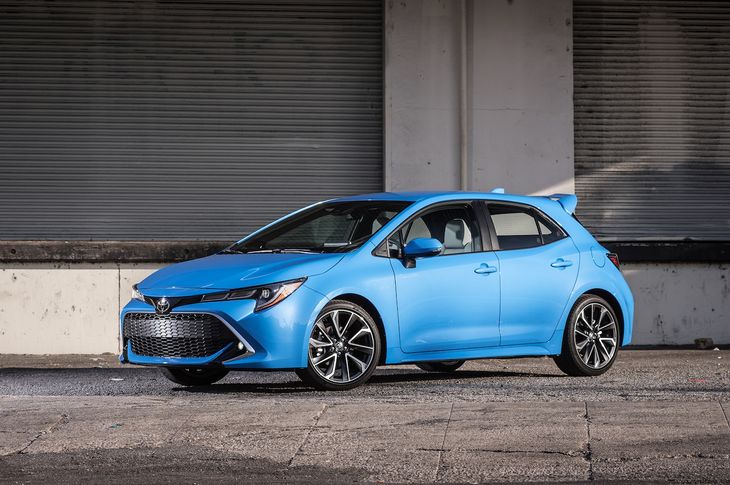 When images emerged of the all-new Corolla Hatchback, which was unveiled at the 2018 Geneva Show, fans anticipated the return of a provocative, truly desirable Toyota hatchback. First impressions reveal a completely different character to the sedan, which is a good thing. Sharp, expressive lines define its appearance, providing a far sportier and low-slung profile compared with long-time rivals, the VW Golf and Ford Focus. LED head- and tail-lamps complete the visuals and add a distinctly upmarket feel to the package. It utilises the firm's new TNGA (Toyota New Global Architecture) platform, with a stiffer bodyshell and lower centre of gravity.
In terms of overall dimensions, the Corolla Hatchback is not only lower but longer and wider than its predecessor. That's all very impressive from a practicality point of view, but for the newcomer to gain an advantage over its rivals, it will have to take interior refinement to the next level, something we've already seen on the Corolla sedan. Its contemporary dashboard layout and cabin arrangement represent a new era for the brand – minimalist, upmarket and refined. In terms of engine layouts, expect a 1.2-litre turbocharged mill to kick off proceedings when it arrives in South Africa early next year, with a hybrid on the cards for a later introduction.
Check out our international launch review of the new Corolla hatch here
There's no talk of a hot version just yet, but with a platform as well-balanced as the Corolla Hatchback's, there's good reason to suspect a spicy performance offering is in the works, perhaps with a GRMN moniker. However, given that GTI derivatives make up the bulk of Golf's sales volumes in South Africa, it won't be too far of a reach to suggest the difference between a solid market take up and sales success of Toyota's new offering will lie in the expediency of a halo version's introduction.
Related content