It's a brand new era for the Swift Sport: its rev-happy, naturally aspirated 1.6-litre engine has been replaced by a new 1.4-litre, turbocharged Boosterjet mill. While we are fairly certain fans will appreciate the latest iteration of Suzuki's feisty hatchback, we wanted to live with the range-topper for a while to find out just how much fun it really has to offer…
We Like: Performance, ride and handling, fun factor
We Don't Like: Interior not 'special' enough, iffy plastic trim, not very spacious
Fast Facts
Price: R315 900 (November 2019)
Engine: 1.4-litre turbopetrol
Power/Torque: 103 kW / 230 Nm
Transmission: 6-speed manual
Fuel economy: 6.1 L/100km
Load capacity: 242-918 litres
Own a Suzuki? Tell us about your experience here.
SERIOUS ABOUT BUYING?
What is it?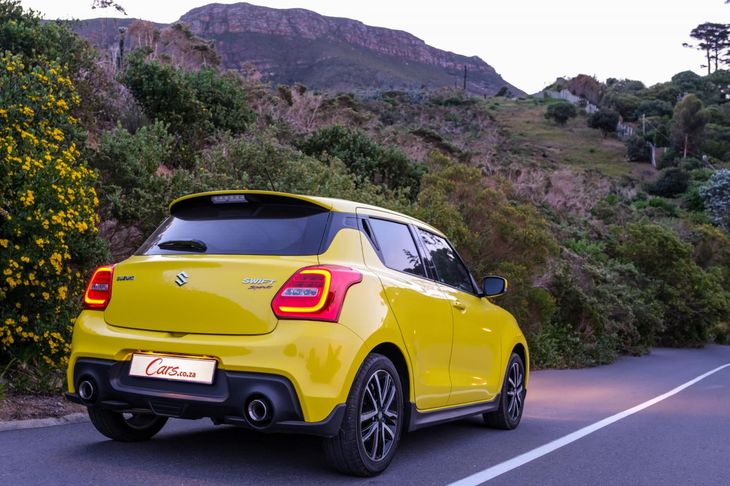 The Swift Sport now uses turbo power for the first time and is lighter and more agile than ever...
The Suzuki Swift Sport has garnered a considerable fan base over the years and while we will miss the characterful 1.6-litre engine of the previous model, we are excited and intrigued by the brand's new turbopetrol engine, which has found its way under the bonnet of this playful hatchback.
Built on Suzuki's Heartect platform, the Swift Sport now combines perky turbo power, reduced weight, a revised chassis and tweaked suspension and brakes, all of which culminate in a potent and fun-filled driving experience that's hard to beat at this price point.
It's no surprise that the latest iteration of the Swift Sport has been nominated as a finalist in the Fun Hatch category of the #CarsAwards powered by WesBank. We had a Swift Sport finished in (an almost luminescent) Champion Yellow on test to experience just how much fun it has to offer!
How does it perform in terms of…
Performance and efficiency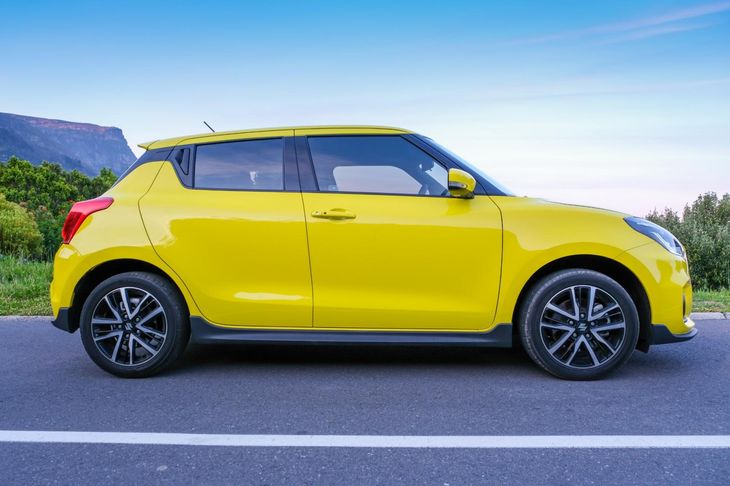 The Swift Sport punches above its weight and offers nimble performance between robots.
Given its outputs of 103 kW and 230 Nm of torque, you could be forgiven for thinking that the Swift Sport's new 1.4-litre turbopetrol doesn't have much to offer in the way of extra performance, at least not compared with its predecessor. That would be an incorrect assumption, however. Yes, the previous Swift Sport offered only 3 kW less, but also had a 70 Nm deficit to its successor. As a result, it had to be revved mercilessly to extract peak performance.
You see, the new Swift Sport weighs in at only 970 kg, which makes it, significantly, 90 kg lighter than its predecessor. The reduced weight translates into a meaningful power-to-weight ratio of 106.2 kW per tonne, all of which renders the Swift Sport a potent little performer that won't hesitate to take swipes at cars with larger, more powerful engines.
By virtue of its 6-speed manual gearbox, it's laughably easy to have fun behind the 'wheel of the Swift Sport. With all that torque coming on song from 2 500 rpm, surging acceleration is never very far away from a driver's right foot. Suzuki claims a 0-to-100 kph sprint time of 8 seconds, but the newcomer feels even more energetic than that...
The transmission has a direct, positive shift action and while we have yet to test the automatic derivative of the Swift Sport (the first to be offered in the South African market), we suspect that the manual transmission version will offer superior driver engagement.
The Swift Sport's performance comes to the fore right off the line, from where it pulls strongly and responsively. It zips through traffic easily and, when presented with a freeway, it obliges by getting up to speed quickly. It is, of course, more than happy to venture beyond the national speed limit and hardly ever runs out of puff when overtaking vehicles.
When driven with intent, the Swift Sport accelerates with zeal and tractability is excellent in just about all of the gears, which means that you don't always have to gear down to "hunt for grunt". Overtaking manoeuvres are, therefore, easily executed. On top of that, the extra (6th) gear helps to conserve fuel when you are cruising at freeway speeds. Suzuki claims 6.1 L/100 km, but we saw returns of around 7.0 L/100 km, which is good, considering we were driving the Swift Sport rather enthusiastically during the test...
We mentioned the 1.4T's revvy predecessor and maximum engine speed is perhaps an area in which this new engine could be more fun to play with... The limiter cuts in a mite prematurely (we feel) at a whisper over 6 000 rpm. It seems the Swift Sport's just hitting its straps when the fun gets zapped by the electronic limiter.
Ride and handling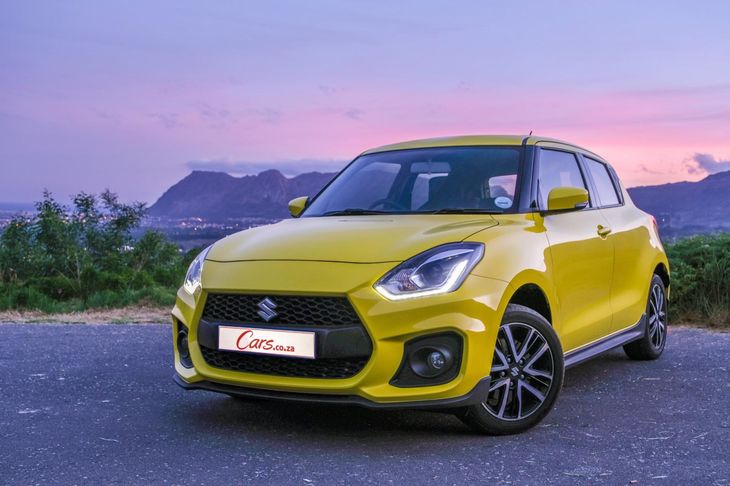 Agile and surefooted handling is what you can expect from this latest Swift Sport...
Over and above its punchy engine, the Swift Sport handles with dextrous aplomb. We were duly impressed by the high level of composure that the Swift Sport displayed under enthusiastic cornering. The steering is responsive with good feedback and the swiftest Swift will dive into corners with confidence but not at the cost of straight-line stability. Put simply, it's a hoot to drive every day! Having said that, the 1.4T does seem to have lost a little bit of its predecessor's tenacious Japanese street-fighter character. The new model doesn't feel as quite as chuckable or as edgy when driven roughly. This is a more composed and comfortably-handling car, which is both a boon... and to its detriment.
It's also worth noting that Suzuki could have fitted a sportier steering wheel that's better suited to a car of this nature. The steering wheel rim feels a bit too thin in hand and the plastic trim inlay detracts from the feel. We think a chunkier wheel with better grip would improve the overall feel of the steering and therefore enhance the driving experience.
Interior quality and features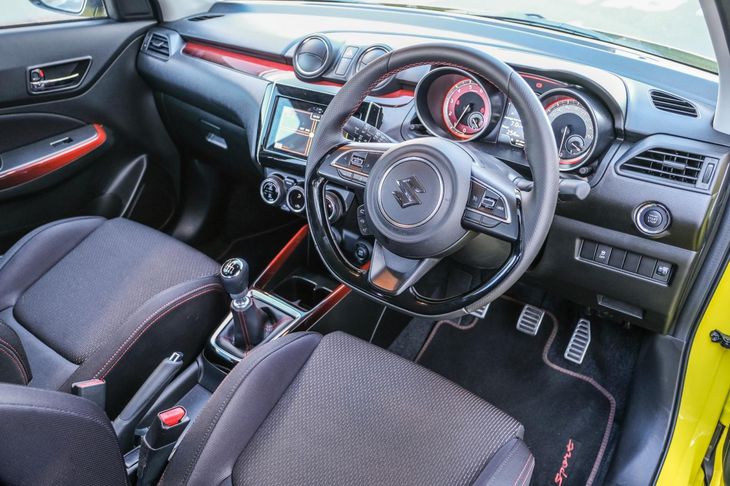 The Swift Sport's interior comes well equipped, but we think some of the finishes could be of better quality.
Perhaps the first thing you will notice when sliding into Swift Sport's cockpit is that the seats are indeed very comfortable with sufficient support and bolstering. The driver's seat is height-adjustable and the steering column can be adjusted for rake and reach, which means that finding your ideal driving position should be easily achievable.
Perceived interior build quality is good, but we must mention that some of the material finishes could be of better quality. For example, the aforementioned plastic inlay on the steering wheel looks and feels cheap, as does the orange inlay on the dashboard, door trim and centre tunnel, for example.
Also, the 7.0-inch infotainment system looks like an afterthought, but we were pleased to find that it is both Android Auto and Apple CarPlay compatible, replete with an intuitive user interface (easy-to-use menu system). The screen also displays the feed from the reverse-view camera. USB and auxiliary ports are included, as well as nice-to-have features such as cruise control, automatic climate control, electric folding rearview mirrors and front/rear electric windows.
Safety features include a total of 6 airbags, ABS with EBD, brake assist and electronic stability control (ESC).
Practicality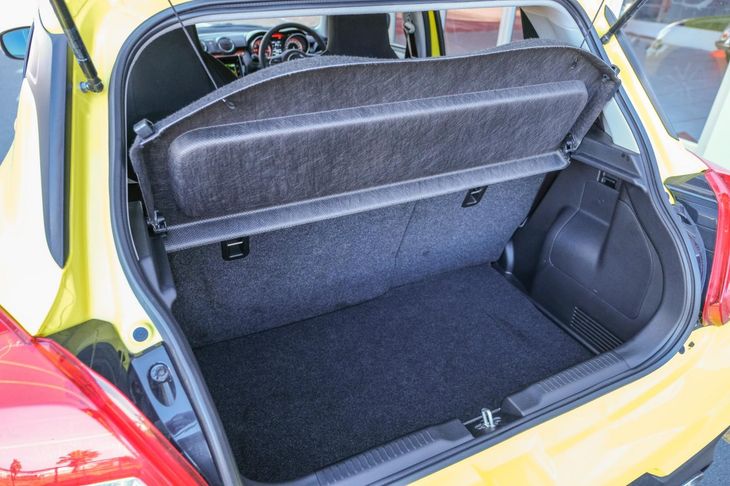 There are more spacious cars on offer in this segment, but few are as fun to drive as the Swift Sport.
Space utilisation has never really been a strong point of the Swift platform. Granted, the load bay in the new Swift has grown through the years, but at 242 litres of space, it's still not generous. As a comparison, the Volkswagen Polo offers 350 litres. Utility space expands to 918 litres when the 60:40 split-folding rear seats are folded down.
As far as rear passengers are concerned, legroom is adequate for average-sized adults, while taller passengers will find the rear bench accommodation cramped and the rear seat cushions less than cossetting...
Storage for bottles and oddments can be found in the door mouldings. The driver and front passenger have access to 2 cupholders, while there's a central cupholder in the rear.
Price and warranty
The Swift (1.4T) Sport costs R315 900, while its automatic counterpart is priced from R335 900. A 3-year/100 000 km warranty and 4-year/60 000 km service plan are standard.
Buy a Suzuki Swift Sport in Cars.co.za
Verdict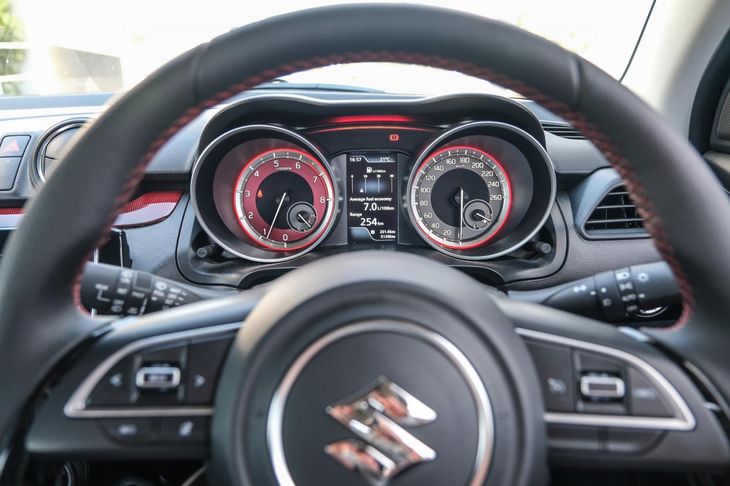 Overall, the Swift Sport doesn't disappoint and it remains an attractive option if you want some performance at a reasonable price.
Is the new, turbocharged Swift Sport better than the outgoing version? We love how remarkably responsive the newcomer remains despite its switch to forced-induction and we like the fact it is so palpably easy to extract peak performance from its plucky turbopetrol engine. The Suzuki's admirably engaging to drive while exhibiting impressive road-holding and handling ability through corners. This is a fun car to drive! It's more refined and faster than the old one, but has lost some of its feistiness in the process.
We also feel that Suzuki could have done a bit more to heighten the sense of occasion inside the Swift Sport's cabin but at the asking price, you get what you pay for.
Nonetheless, at this price point, the Swift Sport rules the roost. Its closest rival in terms of outputs is the soon-to-be-replaced Opel Corsa GSi with 110 kW and 220 Nm, but it's significantly more expensive at R365 900. Other options to consider include the Mini One and Abarth 595, but their peak outputs are no match for the Swift Sport's. So, in terms of smile-per-mile value, the Swift Sport makes a very compelling case for itself; if you are looking for performance bang-for-buck, you can't really go wrong with this car…
Related Content:
Suzuki Swift Sport (2019) Launch Review
Suzuki Swift Sport (2016) Review
2019/20 Cars.co.za Consumer Awards - Powered by WesBank; Finalists