The Suzuki Swift might not be the newest compact hatchback in the market, but the top-of-the-range Swift Sport deserves a special mention... The outgoing version of the pint-sized hot hatch proved quite a hit and this newer version looks set to become a cult classic too.
We like: Performance, ease of use, build quality, value for money, boy-racer feel
We don't like: Small boot, cabin starting to show its age
Alternatives:
For something more premium: The entry-level Mini One 3-door follows the recipe of the original Mini more closely than its brethren. Its fun to drive, compact, reasonably affordable and its turbocharged triple motor is a peach. Who said downsized meant boring?
Want to go a little faster: The Abarth 595 1.4T is the fastest and most performance-focused vehicle in this list. It's easily a match for the Swift in some departments and will trounce it in the corners. It's loaded with kit and features, but you pay dearly for it: R362 900.
Less performance, but a more rounded offering: The Ford Fiesta 1.0T soldiers on after all these years and despite its age, the 1.0-litre turbocharged 3-cylinder powered Fiesta still represents great value. It offers a bit more practicality than the Swift Sport, but loses out in terms of driving dynamics.
See how the rivals stack up against the Suzuki Swift Sport here.
What is it?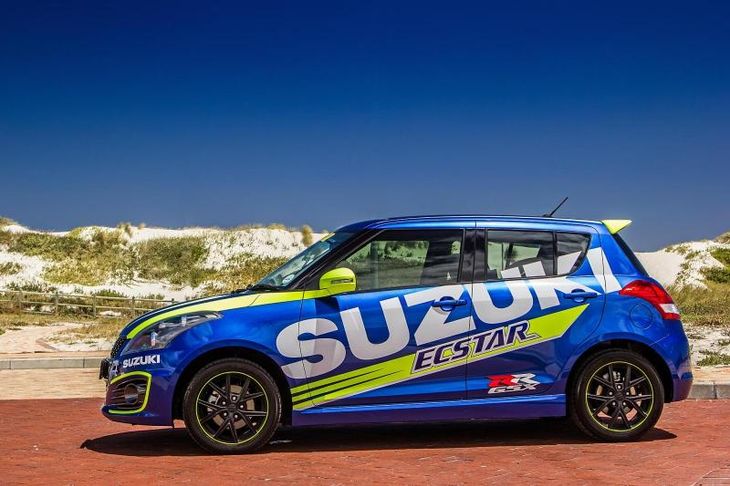 Our test unit came with Suzuki motorbike motorsport branding which really made it stand out.
The Suzuki Swift Sport is the last of a dying breed of budget-friendly, naturally-aspirated performance-oriented hatchbacks that celebrate motoring for the sheer fun of it. Whereas its rivals have either moved into a more premium space and/or gained turbocharged engines, the Swift Sport remains refreshingly old-school in execution. Think of erstwhile racy Japanese hatchbacks with (rev-happy) screaming engines, such as the original Honda Civic VTEC and 4AGE-powered Toyotas, their spirit is alive and well in the Swift Sport.
How does it fare in terms of....
Driving fun?
Nestled under the Suzuki Swift Sport's bonnet is a 1.6-litre 4-cylinder naturally-aspirated petrol motor. Upon closer inspection, you'll see that this M16a engine is the same one that does duty in the Suzuki Vitara. However in that application, it has been remapped for all-round drivability as opposed to out-and-out performance. The M16a is a delight: it is a free-revving and eager engine that becomes incrementally punchier the further you push it up the rev range. Outputs from the engine suggest slightly better than normal performance and in reality, 100 kW and 160 Nm will not trouble the boy racer brigade. However, Suzuki claims a reasonably brisk 8.7-second zero to 100 kph run and power reaches the front wheels through a delightfully slick 6-speed manual gearbox. Off the line, the Swift Sport feels spritely and has enough in-gear shove to facilitate effortless overtaking manoeuvres.
However, point the Swift Sport to a challenging series of corners and the combination of the slick gearbox, willing engine and relatively pliant suspension start working their magic. Aided by a quick-ratio and pin-sharp steering, the Suzuki can carve up the twisties with its driver feeling in complete in control. At no point, even on the limit, does the Swift Sport feel unwieldy or unmanageable. It'll give that reassuring encouragement for a novice, while more experienced peddlers will relish the car's ease of use. It's the front-wheel drive hot hatch done right.
Comfort?
When you're not in a "maximum attack" kind of mood, the Suzuki Swift Sport makes for a credible daily driver. Although the engine loves to be revved, it's tractable enough for the car to be perfectly usable by those who have no intention of ever red-lining it. The steering is light and parking the compact Swift Sport is simple. Despite the sporty accoutrements (alloy wheels, body kit and twin exhaust pipes), the Swift is a docile and reliable commuter. It's only when you stretch its legs and delay the gear changes to 6 000 rpm that you realise that there's more performance potential on tap should you need it.
The front seats are sporty and supportive and although the Swift range is nearing replacement (which suggests it may lag in terms of packaging and practicality), the Sport's rear legroom is acceptable, although its luggage bay is less spacious than most of its (newer) rivals – at 210 litres it's small compared to something like the Ford Fiesta, for example. Meanwhile, there is a decent number of safety features too: 6 airbags, ABS with electronic brake distribution (EBD) plus brake assist and stability control.
Tech and features?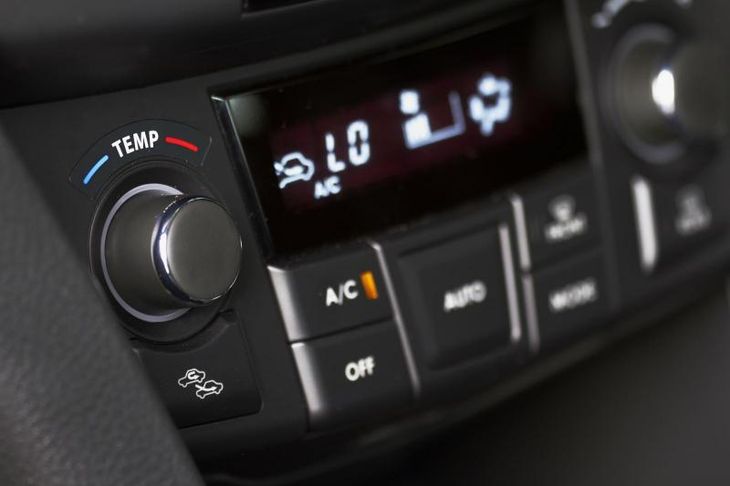 Climate control is a useful feature and does a fine job of keeping the interior temperature controlled.
As the Swift Sport is the most expensive model in the range, standard features are plentiful. Features such as climate control, remote start, keyless entry, xenon headlights, cruise control and USB connectivity are fitted, but, impressive as they are, the cabin is feeling its age. Compared with the recently launched Baleno, the Swift lacks a colour digital TFT information display in its instrument cluster and its infotainment system is more, shall we say, rudimentary. The Bluetooth connectivity and streaming functions, which are a little tricky to set up, work quite well.
Even though elements of the Swift's user interface feel dated, we like the controls on the steering wheel and found it to strike a healthy balance of convenience and uncluttered functionality. There are many manufacturers that tend to overdo it when it comes to the arrangement of steering wheel-mounted buttons; they can become a serious distraction.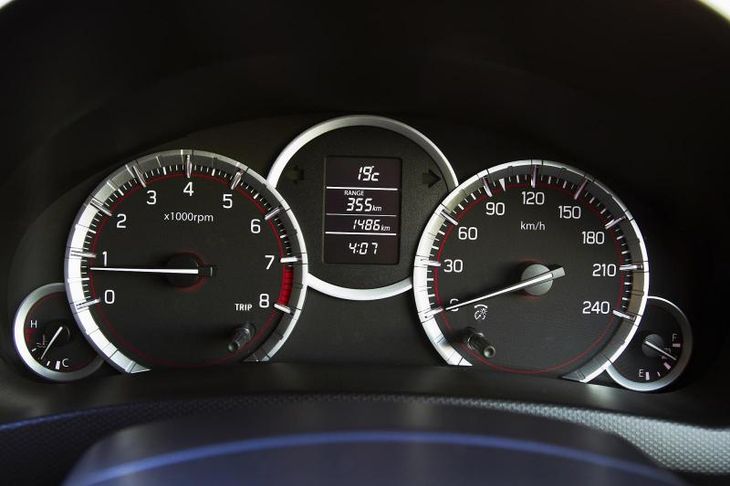 Crisp and clear dials of the Suzuki Swift Sport. The fun begins from 4 000 rpm...
Suzuki Swift Sport price in South Africa
The Suzuki Swift Sport retails for R 264 900 and comes with a three-year, 60 000 km service plan. Service intervals are every 15 000 km and a 100 000 km / 36-month warranty is thrown in.
Verdict
With the Chevrolet Sonic RS no longer on sale and most of its rivals moving up in the world, the Suzuki Swift Sport is largely peerless. It represents an old school way of exploring performance driving in a compact hatchback package and whereas many modern performance cars rely on electronically-controlled engine/powertrain modes, the Swift Sport is a thing of purity: how it performs is entirely up to you – the driver. It will please driving enthusiasts and satisfy those who just desire a daily runabout with a little bit extra in equal measures. This engine brims with character and while it revels in being pushed into the upper reaches of its rev range, it's more than capable of delivering flexible performance day in and out.
The Sport also feels well built and effortless to drive. The standard specification is fair, but it does feel a little behind the times. The good news is that the new Swift is on its way (by end of 2017), but whether this car's successor will conform to the global trend of downsizing and turbocharging is anyone's guess. The next-generation Sport might feature a new turbocharged engine, or use a modified version of the 1.0-litre BoosterJet motor, which will probably see a loss of character and driving theatrics but will herald a notable increase in torque.
Overall, the Swift Sport is one of those (now) rare cars that makes a driver feel connected to their car. It's a pure driving experience and one that won't break the bank or, hopefully, the laws of physics. The Suzuki's not blindingly fast and is one of the few vehicles that you can have great fun in without exceeding the speed limit. Perhaps the best part is that you don't have to be a professional rally driver to get the best out of the car and even better, you don't have to be a petrolhead to appreciate its jack-of-all-trades abilities.
Further Reading
Stay on top of all the latest Suzuki news here
We've done an extended test of the Suzuki Swift 1.4
Meet Suzuki's latest product here. This is Baleno!
Read a review of the Suzuki Vitara 1.6 GL+
Interested in buying a Suzuki Swift?