The Suzuki Ignis is due for introduction in South Africa in May 2017. We had a chance to get behind of the wheel of this mould-breaking compact family car/crossover at its European launch in Italy. British Correspondent, Wayne Gorrett reports.
Firstly and most importantly, what this ISN'T, is the Jimny replacement…just so you know.
What it is, is the all-new Suzuki Ignis – a car the automaker describes as an ultra-compact crossover. But, irrespective of whichever market niche the majority of car buyers will ultimately classify this oddball newcomer, the Ignis constitutes an original piece of automotive design — deftly blended with multi-purpose functionality.
Built at Suzuki's Sagara plant in Japan, the Ignis is rooted in affordability, practicality and youthful style.
By utilising Suzuki's new platform strategy that was revealed last year, the Ignis forms part of a bigger picture for future Suzuki models. The new strategy focuses strongly on weight reduction and increased rigidity, something that has already been applied to the new Baleno and the upcoming all-new Swift, due in 2018. To demonstrate this, the Ignis weighs a mere 810 kg.
The Ignis has been on sale in Japan since January 2016 and has sold over 18,000 units there in its first 10 months.
The designer's work
Staying true in many respects to the iM-4 concept first revealed at the 2015 Geneva Motor Show, the Ignis wears chunky Tonka Toy styling and looks cool, VERY cool. Sure, it's small but it will cope with far more than city streets, particularly when you choose Suzuki's own "always on" AllGrip four-wheel-drive system.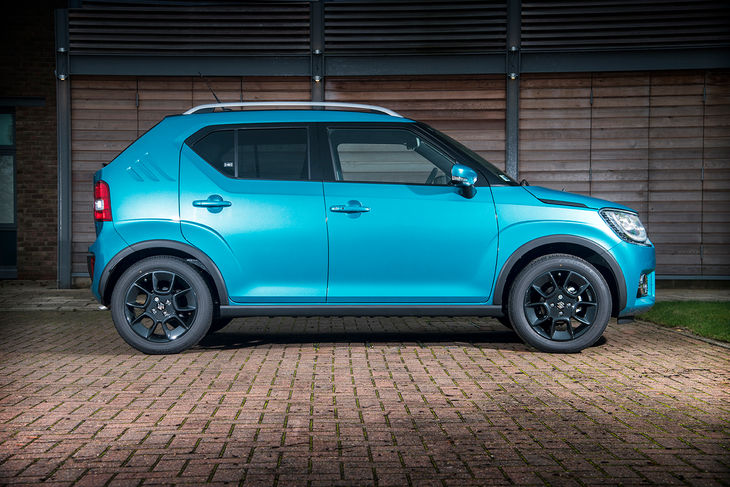 Suzuki Ignis brings a fresh look to the new A-segment crossover.
With its flared arches, bluff nose and jacked-up stance, there's no mistaking it for anything other than a radically designed and eye-catching baby crossover.
Exterior design highlights include a chrome grille surround, muscular bodywork and blacked-out A and B pillars, the latter being a nod to the aforementioned Swift. Other design traits include the clam-shell bonnet from the Vitara and a trio of creases on the C-pillar which pays homage to the crimped air intakes on the rear-engined Suzuki SC100 "Whizzkid" from the late 1970's.
Suzuki hopes that the Ignis will attract a new breed of customer to the brand, with young women who enjoy stylish models like the Fiat 500 and Mini Cooper, being the key target demographic.
The interior
Suzuki's new generation platform strategy allows the engine compartment of the Ignis to be significantly minimised, the benefits of which transfer directly to the cabin which is surprisingly roomy both front and rear, with all four occupants well catered for in head and leg room.
Boot capacity stands at 270 litres (front-wheel-drive models), which is slightly below the supermini average. This can, however, extend to 514 litres by folding the rear seats down, although doing so results in a large hump between the boot and rear seat.
Customers choosing the AllGrip all-wheel-drive transmission will have their boot space reduced to 204-litres thanks to the rear differential.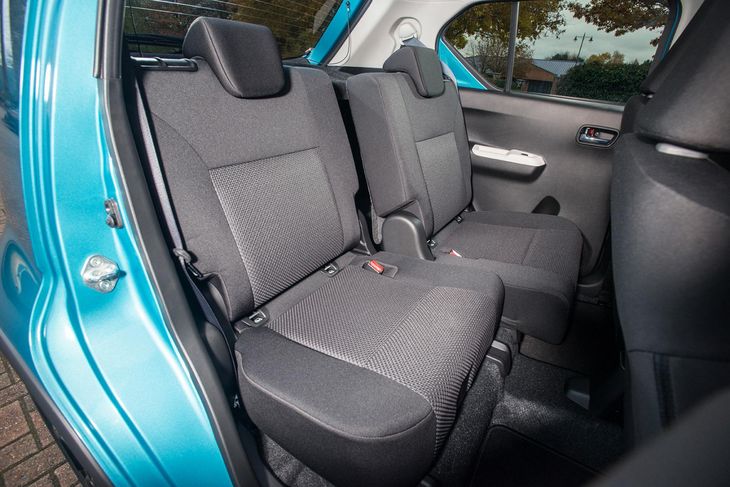 Rear seats feature 50/50 split and individual sliders.
The front seats are surprisingly comfortable (although more lateral support would be welcome), and the steering wheel is adjustable for rake, not reach. Along with folding uprights, the rear seats are split 50/50 and slide individually forwards and backwards for greater functionality for when awkward-shaped loads need shifting.
Along with the Swift and new Baleno models, the Ignis focuses more on funky design and functionality rather than outright quality. Scratchy plastics abound throughout the cabin but are offset with quirky design features such as the linear dashboard, two-tone colour schemes and colourful inserts on the tubular door handles, air vent surrounds and centre console, which contrast with the body colour. Even the air-con and ancillary buttons get cool aviator-style switches.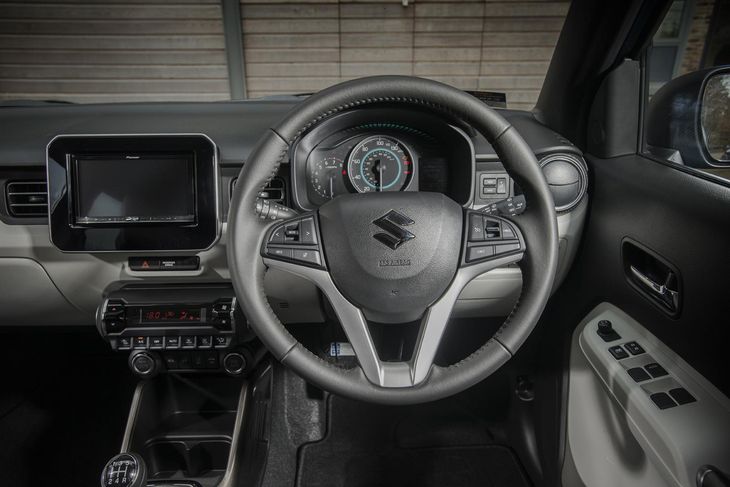 The updated version of the Suzuki interior would be a welcome addition to SA models.
The seven-inch touchscreen that dominates the dashboard looks the part but could do with being a tad more responsive. The flagship models at the Italian launch came with everything from navigation, reversing camera, automatic air-con to LED daytime running lights. Safety kit is a big deal with the Ignis too, with top models getting dual camera brake support (DCBS), which allows for autonomous braking if your attention strays, lane keep assist and a weave alert function that detects fatigue.
But even for those looking to come in at entry-level, kit on the Ignis is still generous, with manual air-con and Bluetooth thrown in.
Engines and transmissions
At its Italian media launch, all Ignis models were fitted with the 1.2-litre DualJet (K12C) four-cylinder petrol engine which generates 67 kW and 120 Nm of torque at 4 400 rpm. It was mated to an excellent five-speed manual 'box.
South Africa will get this engine and gearbox pairing at launch next year, and possibly a five-speed automatic, but this has not yet been confirmed.
Performance
Due to the Ignis' lightweight disposition, performance from the 1.2-litre four-pot is more than adequate for most driving conditions, be it short urban stints or inter-city motorway slogs (for which you should plan sufficiently in advance for overtaking manoeuvres). The five-speed manual is well-matched too, with snappy and accurate shifts.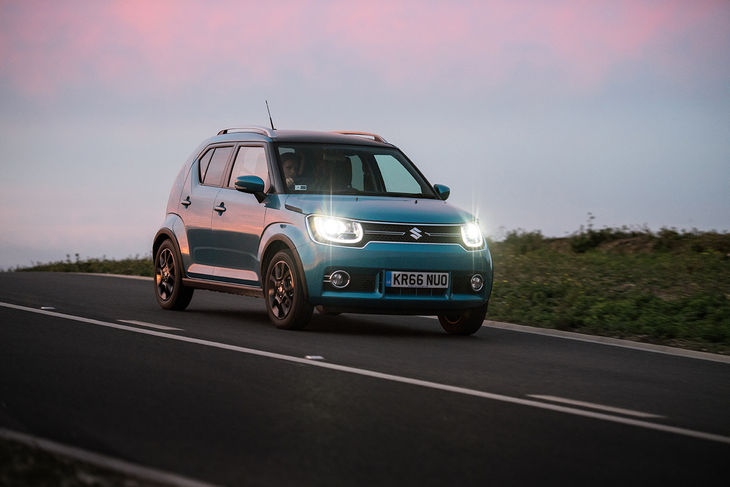 A new 1.2-litre naturally aspirated engine will be used in the Ignis locally.
The linear power delivery of the peppy 1.2-litre is one of its best attributes and you may even find yourself flooring it to the rev limiter just for the delight in hearing the growl of the engine as it smoothly builds up speed.
Ride and handling
Being a boxy, high-sided car, you may expect the Ignis to nervously wallow about the place but, it doesn't.
Take an urban corner or roundabout at speed and it is surprisingly well planted and composed. Chuck it into a tight rural bend and it may not stay as hooked to the tarmac as a lower supermini, but body roll is minimal and grip remains plentiful. You can certainly feel the Baleno DNA intertwined within it.
The balanced ride of the Ignis is to thank here. Engineered to be slightly on the firm side, it helps maintain the car's composure in the corners and yet delivers a comfortable ride. However, it can become a little undone and shake when hitting a few bumps in quick succession, so beware of potholes.

Despite only weighing 810 kg, the Ignis feels quite sturdy.
The electronic steering is a tad odd at first. For such a nippy city car, the steering is unusually weighty – which when cruising around the city feels unnecessary. This is an attribute that makes it entertaining to drive on outer urban roads though, and when it comes to difficult manoeuvres like parking, the steering does lighten up at a three-quarter turn, making things a little less physical.
In terms of convenience and comfort, the seating position is great, the large windscreen makes the cabin feel airy for both driver and passenger and it has a town-friendly turning circle of just 4.7-metres. On the ultra-smooth Italian motorways, I encountered wind whistle around the B-pillar. It's one of those things that, once you've noticed it…
As you would expect for a car of this nature, fuel consumption is very reasonable with an official figure of 4.6l/100 km. During the nearly 300 km test drive over a variety of roads and elevations, I averaged 5.8l/100 km, which is still impressive.
Pricing
No prices are available on the South African Ignis models yet, but in the UK the Ignis range starts from a mightily impressive £9 995, which if the Rand and Yen both behave themselves for the next few months, should translate to around R180 000.
Summary
A chap at Suzuki UK described the Ignis to me as being a 'typical Suzuki-ish product', which is pretty apt, to be fair. It oozes Suzuki aesthetic, it's very affordable and enjoys a spirited interior design and drive characteristics. It may not offer the most conventional styling, but for anyone after an ultra-compact crossover that offers an endearing quality – just look at the success of the Nissan Juke.
The Ignis' only local rival in SA is likely to be the cheaper but debatably-cheerful Renault Sandero Stepway. But that would do the Ignis an injustice. In many ways the Ignis is a far superior offering; it is better equipped at entry level, offers far higher levels of safety and is a superior driving and handling car (particularly at speed). The only area the Sandero should beat the Ignis is likely to be on price, but that says more about the Ignis than it does the Stepway.
In many ways, the Ignis feels quite grown up - a tasty proposition for those looking for the next fashion trend to sink their teeth into.
Related content:
Suzuki Swift Sport (2016) Review
Suzuki Baleno (2016) First Drive
Suzuki Vitara 1.6 GL+ (2016) Review
Facelifted Renault Sandero and Stepway revealed
Renault Sandero Stepway (2014) Video
Want to buy a Suzuki?