Subaru is offering a limited edition, SA-developed WRX STI Diamond Edition to customers and only 30 are up for grabs!
As a way of celebrating 30 years of the STI nameplate, Subaru is offering a limited edition WRX STi Diamond Edition which was locally developed by Subaru Southern Africa's technical team, led by Technical Manager, Deon Van Heerden, making it exclusively available to the region with only 30 being produced.
The brief for the WRX STi Diamond Edition according to Van Heerden was simple, "We needed to get STI reborn and create a vehicle that was more powerful and something that would become a talking point for STi fans." Development of this special edition started in January 2017 and took 18 months to develop.
The WRX STi Diamond Edition is powered by a fettled 2.5-litre, high-boost turbocharged Boxer engine that offers 260 kW @ 4 500 rpm and 464 Nm of torque at 4 000 rpm. The sprint from zero to 100 kph takes just 5.0 seconds, some 0.7 seconds faster than the standard WRX STI. The remapping of the Electronic Control Unit and the fitment of a performance exhaust system has contributed to improved performance. A 6-speed manual transmission is standard, driving all 4 corners with Subaru's symmetrical all-wheel drive system.
A new engine brace has been fitted for better stability and balance and the WRX Sti Diamond Edition is equipped with Brembo brakes.
A total of 7 airbags are fitted as well as ABS with EBD, active torque vectoring and vehicle stability control. Front and rear cameras, blind spot detection and rear cross traffic alert is also standard.
Design features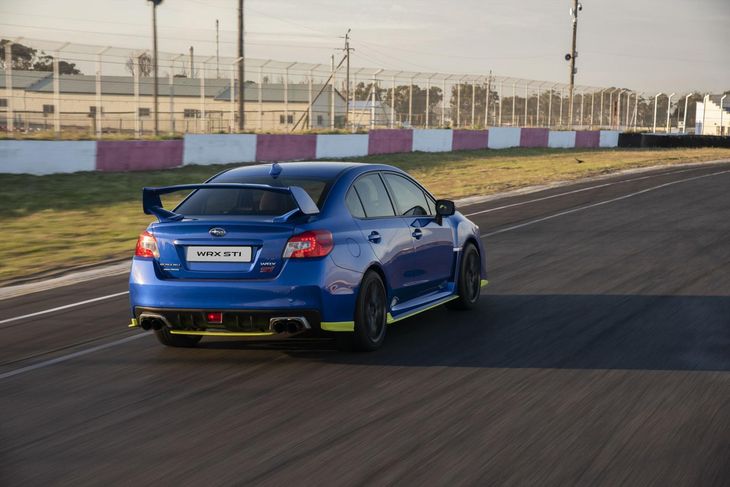 A lower body kit is fitted and special 19-inch alloys add to the presence of the WRX STi Diamond Edition.
The WRX STi Diamond Edition rides 20mm lower than the standard WRX STi and the body kit, seen in a High Viz yellow further lowers the front-end by 10 mm. The spoiler vane gets a stainless steel STI badge unique to this limited edition model and high gloss black Diamond Edition badges appear on the sides of the rear wing. The WRX STi Diamond Edition rides on 19-inch lightweight and darkened aluminium Y-design alloy wheels.
On the inside, Diamond Edition details seen on the dashboard inlays make it clear that this is no ordinary WRX STi with a numbered panel also found on the driver's side. A 7-speaker, 440 W Harmon Kardon sound system is fitted along with a 7.0-inch touchscreen infotainment system with Apple CarPlay and Android Auto functionality as well as Bluetooth.
Subaru WRX STi Diamond Edition - Price in SA
Subaru WRX STi Diamond Edition - R799 000
A 5-year/150 000 km warranty and 3-year/75 000 km maintenance plan is included.
Buy a new or used Subaru on Cars.co.za
Related Content