Volkswagen is readying the new Golf 8 GTI Clubsport. In the previous Golf (7.5) range, the Clubsport moniker was reserved for special track-based limited-production derivatives, but in the 8th-generation model's line-up, the GTI Clubsport will effectively replace the GTI TCR. Here's what we know.
Picture credit: S. Baldauf/SB-Medien. We have paid for these photos and at the photographer's request, have watermarked them.
The upcoming Golf 8 GTI Clubsport has been spotted while undergoing testing on the Nurburgring recently. At first glance, it looks like a standard GTI, but if you look closely you start to notice sportier addenda. Those red brake calipers are a giveaway, as are the bigger wheels, larger exhaust pipes and roof-mounted rear spoiler. If you look closely, you'll see a small diffuser on the rear bumper.
Details have yet to be officially revealed, but the Clubsport is claimed to run the same level of tune to the EA888 engine as the outgoing GTI TCR, which develops 213 kW at 5 400 rpm and 370 Nm of torque between 1 950 rpm and 5 300 rpm. The standard Golf 8 GTI is said to hit 100 kph in a claimed 6.2 seconds, so we estimate the Clubsport will achieve that benchmark in under 6 seconds.
Straight-line prowess won't be its only party trick as we expect the all-new Clubsport to gain performance suspension upgrades, more potent brakes as well as revisions to the XDS electronic differential to make it a more efficient corner-carver.
Not to be confused by the Volkswagen Golf R which utilises a 4Motion/all-wheel-drive setup, the Volkswagen Golf 8 GTI Clubsport will be exclusively front-wheel driven. In terms of transmission, there will be a choice between a manual gearbox and dual-clutch transmission, but given Mzansi's love for the self-shifting version, we're likely to get that the latter.
The Clubsport is aimed at the sportier entrants to the segment, like the Renault Megane RS280, Honda Civic Type R and Hyundai i30 N (itself due for a facelift in the next few months) and we expect Wolfsburg's "hotter hatch" will be revealed before the end of 2020.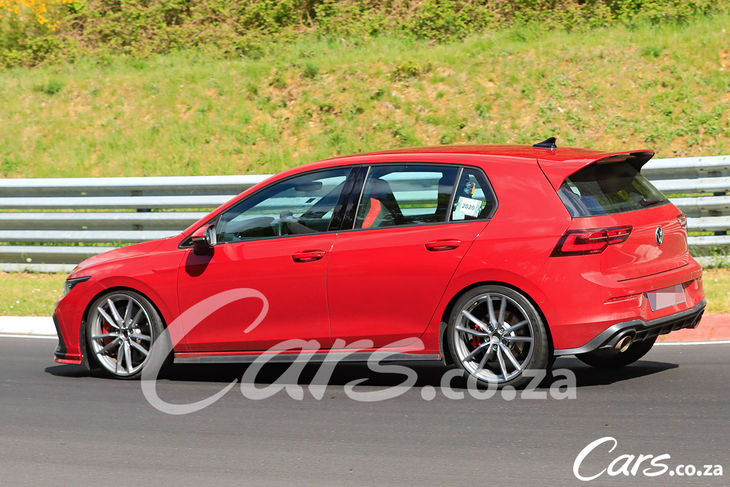 Further reading:
2020 Volkswagen Performance Golf Outputs Confirmed
Volkswagen Golf 8 (2020) International Launch Review
Spy Shots: Volkswagen Golf 8 R Tackles The Green Hell (Video)
Volkswagen Golf GTI TCR (2020) Specs & Price
Volkswagen Golf 8 GTI officially revealed