Mercedes-Benz has offered the world's media a foretaste of its facelifted E-Class executive sedan, which is expected to debut at the upcoming Geneva Show. The upgrade to its electrical system is said to be "more advanced than the S-Class in certain areas."
Because vehicle manufacturers have to compete against one another for notable press exposure during international motor shows, many marques have chosen to avoid the traditional media melee and opted to "leak" official details days or weeks before the event (heck, some have even released complete press kits). So, in the lead-up to its product's full unveiling in Geneva, Mercedes-Benz has showcased thinly-disguised examples of its revamped E-Class to the media in Nevada, USA.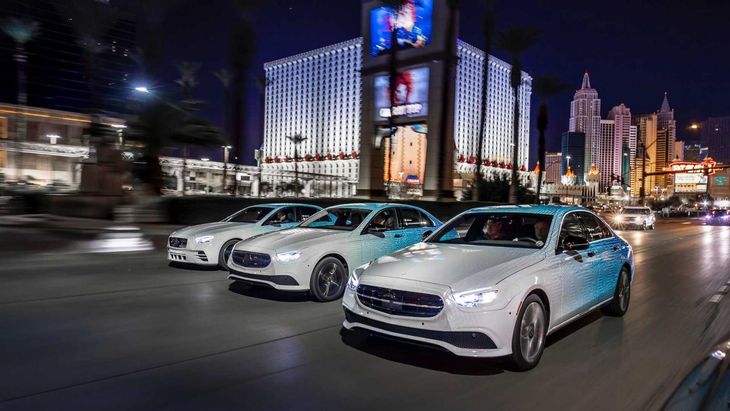 The thinly-disguised facelifted E-Classes cruise down the famous Las Vegas strip.
"It might not look like it, but it's one of the most comprehensive facelifts we've ever undertaken," Mercedes-Benz's Head of E-Class Development Michael Kelz told autocar.co.uk, "(The significant) upgrade to the electrical system (has allowed) us to add a number of new intelligent driver assistance systems. (As a result, the E-Class is) now more advanced than the S-Class (first-class saloon) in certain areas."
The W213-generation Mercedes-Benz E-Class sedan debuted in the South African market in 2016 and won the executive sedan category of the Cars.co.za Consumer Awards – powered by WesBank – in 2018 as well as 2019. We expect the newcomer to arrive in the local market well into the 2nd half of 2020; the updated E-Class will be distinguishable by its wider grille, redesigned bumpers and boot lid. The Avantgarde trim line will be standard, with the Executive- and AMG- lines optional.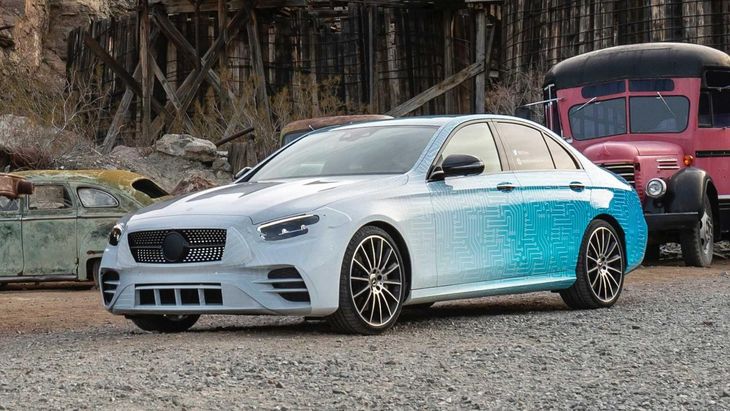 The elaborate air intakes and daimond grille indicate this pre-production derivative has a sportier AMG-line trim.
Inside, the revised E-Class features a new multi-function steering wheel, a frameless rear-view mirror, updated trims and materials, a touchpad infotainment controller (which replaces the current car's rotary controller) as well as a pair of 10.3-inch infotainment and instrumentation screens that can be upgraded to 12.3-inch units.
The W213's aforementioned new electrical system first makes its presence felt through the addition of the now-familiar Mercedes-Benz User Experience (MBUX) interface with "Hey Mercedes" voice control and augmented reality (information such as house numbers are shown virtually in the video image of the surroundings on the media display), combined with Interior Assist (which allows intuitive, natural operation of different comfort and MBUX functions by movement recognition).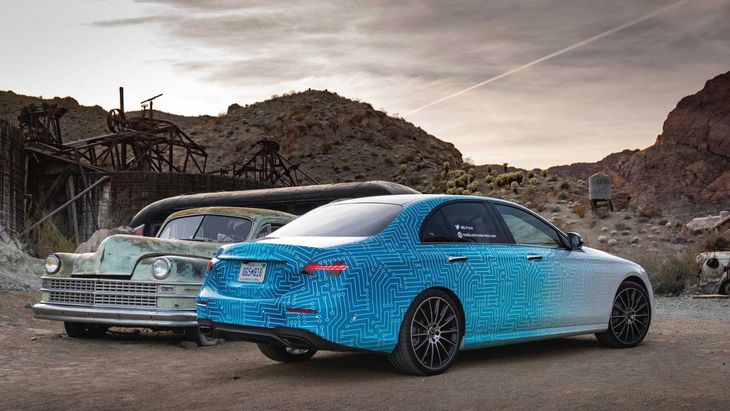 You can notice the revamped E-Class' reprofiled bumper and boot-lid treatment in this image.
Other new features include Energising Comfort Control and -Coach (the individual fitness recommendations are based on an intelligent algorithm), Energising seat kinetics and Power Nap (in conjunction with 48V system or plug-in hybrids), an air-quality indicator and Mercedes-Benz Urban Guard (all-around surveillance of the parked vehicle with collision damage-, tow-away protection- and anti-theft warnings, tracking function in case of theft and the owner's ability to deactivate the vehicle key by smartphone as a preventive measure if the key is lost or stolen, Mercedes says.
Other benefits of the revised E-Class' new electrical system include the introduction of new Mercedes-Benz Intelligent Drive functions such as:
Active Distance Assist Distronic with route-based speed adjustment: with the help of information from LiveTraffic, the E-Class can recognise and respond to traffic jams and slow-moving traffic even before the driver becomes aware of them. When a traffic jam is detected (and if the driver does not choose a different response), Distronic (if activated) will reduce the car's speed to around 100 kph as a precaution.
Active Traffic Jam Assist: in the event of a freeway traffic jam (where there are clear lane markings), the system can substantially assist the driver with lane-keeping and maintaining a safe distance at speeds up to around 60 kph.
Active Steering Assist: can assist the driver with steering into an emergency lane on multi-lane roads.
Active Brake Assist with cross-traffic function: if there is a danger of a collision with "oncoming traffic when making a turn across a freeway, the E-Class can apply braking at the speeds typical of such manoeuvres", Mercedes-Benz claims.
Active Blind-spot Assist with exit warning: this function can lower the risk of a collision with other road users, for example passing cyclists. Active Blind Spot Assist also monitors the blind spot when at a standstill, and can warn the driver of approaching vehicles, motorcycles or bicycles when opening the door.
Parking Package with 360-degree camera: Side View gives the Parking package a new function that keeps an eye on the entire side of the vehicle. The extended side view makes it easier to manoeuvre alongside nearby, parallel obstacles.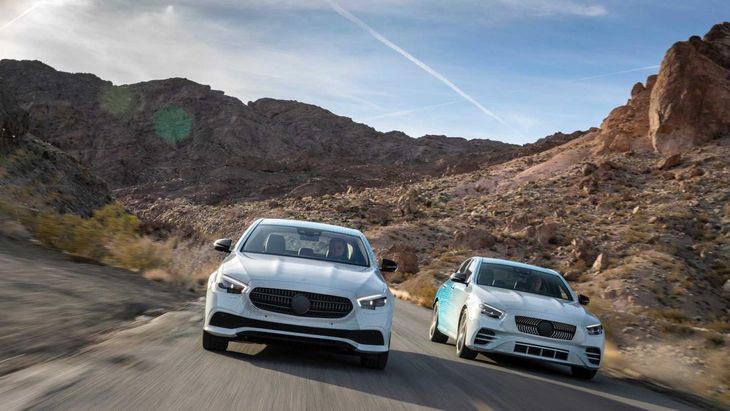 Both the new 4- and 6-cylinder turbopetrol engines feature 48-V electrical systems and integrated starter motors.
On the engine front, Mercedes-Benz has introduced a pair of inline turbopetrol engines with 48-V electrical systems and integrated starter motors that provide them with mild-hybrid properties. The longitudinally-mounted 2.0-litre 4-cylinder (M254) engine, which will also find its way into a host of other Mercedes-Benz models, produces peak power of 200 kW and the 3.0-litre 6-pot 270 kW, each of which are supplemented by 15.7 kW from an electric motor, autocar.co.uk reports.
We'll bring you more details on the facelifted E-Class' arrival date in the South African market and local specifications as soon as they become available.
Related content:
Mercedes-AMG E53 4Matic+ (2019) Specs & Price
Lexus ES 300h SE (2019) Review
BMW 540i M Sport (2017) Review [with Video]