More than 50 classic cars of various brands, eras and levels of originality took part in the inaugural Cape Town SentiMETAL OutRun, an event that reminded everyone why we love cars.
Gordon's Bay is on my right, the water an electric blue while the cliff walls to my left are being rendered in blurry beige, an echo chamber for exhaust and engine noises. I'm in the middle, right foot barely on the noisemaker behind less enthused traffic on Clarence Drive, circa Rooi Els. This is truly one of the most pristine drives in the land, albeit often frustratingly chock-a-block with tourist traffic and slow-moving trucks.
And just like that, a gap springs into view. The traffic ahead has parted just long enough to bare sufficient naked asphalt for me to dip the clutch, engage third gear and tear past Ciro's pristine original Mazda MX5, the sound of my six pistons overrunning his four. The affair is wholly, deliciously analogue with a resounding metallic thunk as my left palm navigates the gear lever home, a raspy straight-six screaming beneath me as I neatly slot my 36-year old Toyota Celica Supra behind the rear bumper of Hannes's Citroën DS, my favourite view of the Goddess in motion. My hands are being thrummed by the gentle vibration of the old girl's helm (itself teeming with flavour and feedback) and then there's that very important of senses, the olfactories being tickled with the smell of spent 95 octane as it fills my lungs. This is classic motoring, dialled up to eleven, among like-minded individuals in idyllic conditions. I can't believe my luck.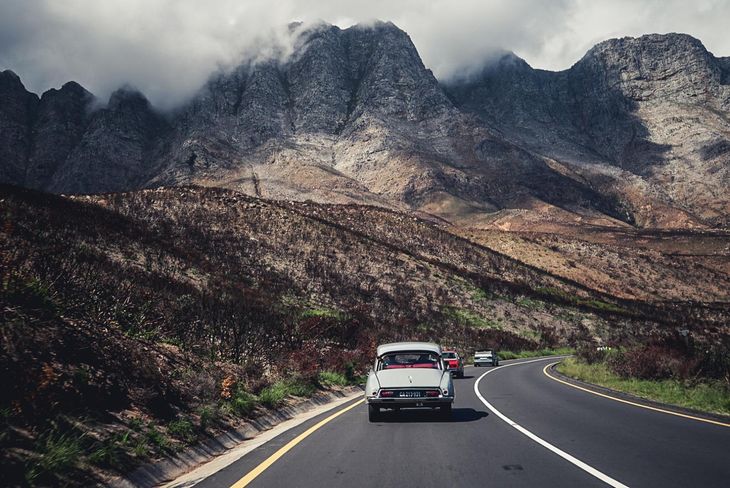 The spectacular Clarence Drive is a perfect setting for a classic car drive. Citroën DS chases a Mercedes 350 SEL and Golf Mk1 Cabriolet.
The net result of all of this sensory overloading could be felt in the pit of my stomach where the viscera was being stirred with quite some violence. The single lane widens into a dual carriageway and I'm on it again, tearing through to the higher rev range and snatching 4th gear to begin the orchestra once more, this time as I chase a classic Porsche 911 in the distance, the staccato wail from its flat-six reverberating off the walls, growing louder as I reeled its whale tail into view.
What's this? A noise so alien, I simply cannot place it. Until I see it in my rear view mirror, the unmistakable metallic blue sliver of a Dodge Viper GTS with its tell-tale white stripes running from bonnet to tail. My simple car-loving heart explodes at the sight of this ten-cylindered unicorn, one of the first model cars I'd ever owned, now hard charging down the fast lane leaving a gushing loon (me) in its wake. This was the motoring enthusiast's equivalent of swimming with dolphins and I was by now quite soaked. Still, the hits kept on coming as a trio of locally-built Harper sports cars stream by with a Shelby Cobra hot on their tails. No point but for me but to clutch, shift, throttle and repeat.
Once more, with feeling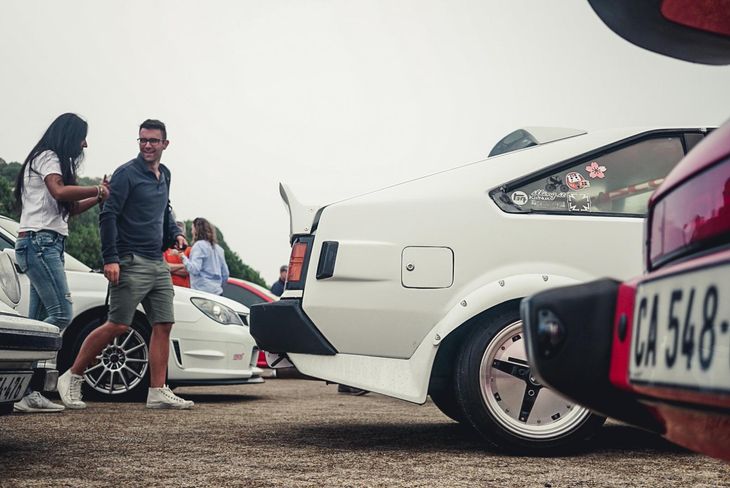 Cars of all eras and brands are welcome at SentiMETAL OutRuns, the only requirement is passion!
Now, I don't want to come across as a delusional boy racer trying to dice alongside some truly epic machinery, my old Toyota is hardly rarified metal after all. Yet here, on these roads, rolling 50 classics deep on a scenic meander to Kleinmond it was holding it's own and not just in terms of performance but also regard. Respect, even... The morning had started some two hours prior in a parking lot where all of the cars and drivers had assembled and the shared passion was tangible as older gentlemen in an array of Lotus 7s, a young lady in her Subaru WRX STi and another in a 1970s era BMW 5 Series parked their prides and joys.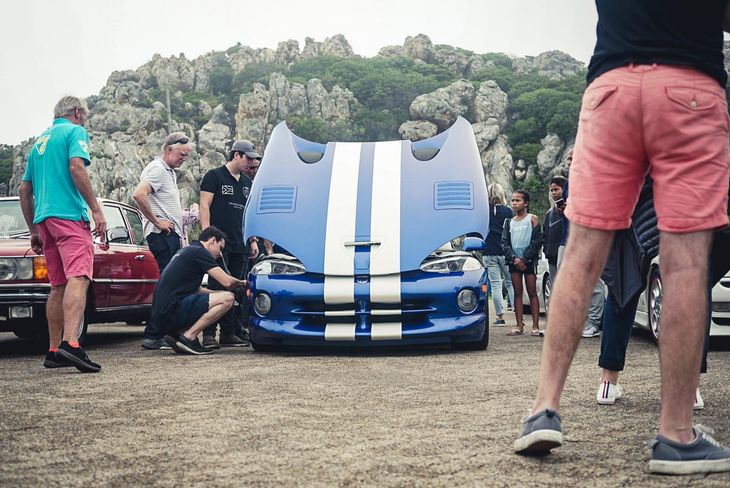 The Dodge Viper GTS was a real show stopper and drew huge crowds wherever it found parking.
We were joined by even more classic BMW saloons and convertibles, a rare Audi 200 5E, an immaculate and highly desirable Volvo 850R, plus many more so as not to even attempt listing them all. Yet it was one of the Lotus 7 gents who strode across the parking lot to confront me about my Supra, and how he "owned its twin sister, a Lotus Excel", a British sportscar beloved by its very British owner. Oh how we laughed.
I'd see him later as we entered Kleinmond, in his little Lotus, looking like nothing more than a helmet and a grin, with his wife beaming beside him. This theme continued over the next 8 hours, car lovers of every age and demographic mixing and merging to form loose groups, disband and pair up yet again. Where else could you find a New York Checker Cab alongside a Jaguar XK150, or an original VW Golf Cabriolet partnered with a Peugeot Rally replica, and all the owners having a laugh together in a parking lot? Is it too late to coin the term car-maraderie?
About the last leg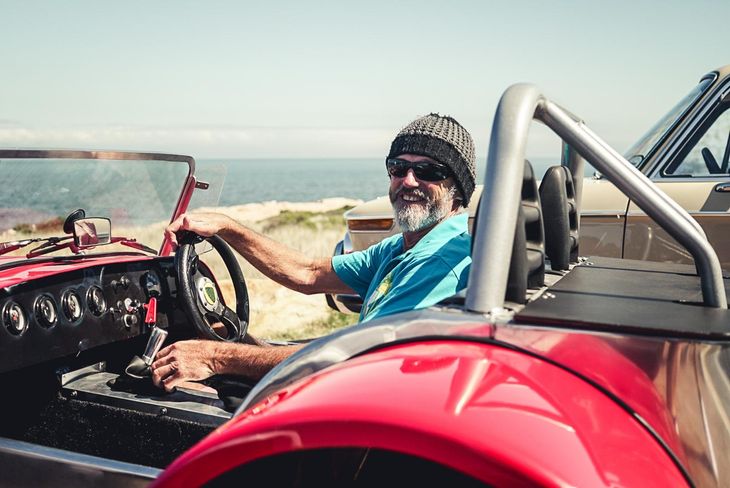 The joy of driving... that's what unites petrolheads on SentiMETAL OutRuns.
It was a cool day thankfully, as my Supra is sans air-conditioning, yet as the distance to our final destination reached single digits the clouds above us had swollen to bursting. The rain quickly turned the asphalt into a mirror, with diminishing grip levels to boot. Then there's the fact that 99% of us were pushing power to the rear wheels alone and apart from that Viper owner, to fairly skinny rubber. Right, fifty very old cars in the rain, what could possibly go wrong? In truth? Nothing at all. We arrived with no hassle to Kleinmond. Then we made it back to Gordon's Bay for lunch. And then all drivers and cars completed their journeys home with absolutely no drama to report. That's sort of a miracle, especially when you consider that nobody, nobody exhibited what the youngsters like to call "chill."
To join us on the next run, or to stay updated with our classic car content, join the SentiMETAL Facebook page here.
You may also be interested in;
Cars, coffee and the Cape coast: SentiMETAL OutRun Cape Town
6 Cars that rocked the Gauteng SentiMETAL OutRun