The first official Cape Town SentiMETAL OutRun took place this past weekend, and brought together a diverse collection of around 50 cars with one unifying feature – passionate owners.
"You just don't know where to look first," said one of the OutRun attendees as a pristine red Jaguar XK150 reversed into its spot next to a Nissan (R32) Skyline GT-R, one of the most iconic Japanese sportscars from the '90's. His words barely cold, and an original-looking (E12-generation) BMW 520 hissed as it sunk down on its wheels not far from a mint Volvo 850R and a very rare Dodge Viper GTS.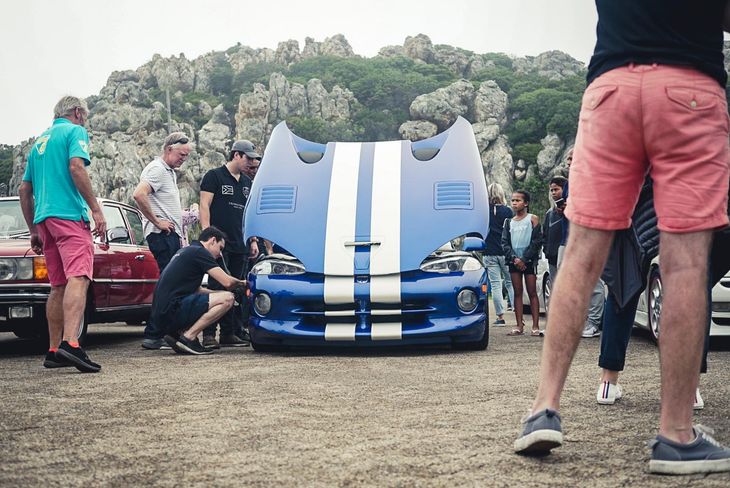 One of the stars of the event, a very rare one-owner Dodge Viper GTS.
"SentiMETAL is really just about enjoying cars, and car people," says Cars.co.za's Hannes Oosthuizen. "The SentiMETAL movement is definitely gathering momentum," he continues. "In Johannesburg, we had around 35 cars and for this Cape Town leg we had more than 50."
According to Oosthuizen, there are a few non-negotiables for any OutRun. "Firstly, we crave diversity. It's not only for show, it's also about creating awareness and sparking a passion in tomorrow's classic car fans, so we encourage attendees to bring their kids. The dad might be into his '50's Jaguars, but who knows, his son or daughter may end up really appreciating '80's hot hatches. Secondly, we believe these cars should be enjoyed out on the road, so we'll always try and put together a scenic route that allows attendees to enjoy their cars. And we'll always have the best photographers and videographers on hand to make sure we have top-notch visuals to share with everyone afterwards. Finally... good coffee. Because everything is better with coffee!" Oosthuizen concludes.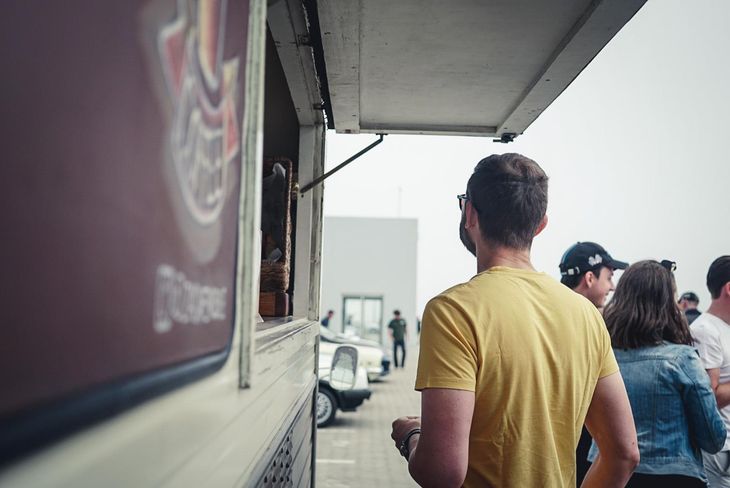 Excellent coffee (and hot chocolate) by ZA Cafe fuelled up the participants for the drive.
For the inaugural Cape Town run the participants met at the Cars.co.za offices in Maitland for some caffeine and pastries supplied by ZA Cafe, from the back of a classic VW campervan, of course. Derek Harrison had his hands full as people queued for his excellent brews on a chilly, misty morning. But in the parking area, things started heating up rather quickly. A large number of racy Lotus 7 replicas and locally developed Harper sportscars were among the first vehicles to arrive. When Roger Molyneux and his wife Janice took a slot in their diminutive Ford-powered Locust 7 next to a 1967 Citroën DS19, it was clear that the mix would be eclectic.
Not long after, Ciro De Siena arrived in his recently acquired first-generation Mazda MX-5 and then the floodgates opened. Jess Goedhals roared into sight in his pristine Dodge Viper GTS, finished in bright blue with white racing stripes. Emile Smit's showroom-condition Volvo 850R, increasingly regarded as a future classic of note, turned many an admirer's head. More muscle arrived in the shape of a Backdraft Cobra (Matthew Muldoon) and Australia was represented by a Chevrolet Lumina that packed a much harder punch than the stock car ever did, courtesy of a Whipple supercharger.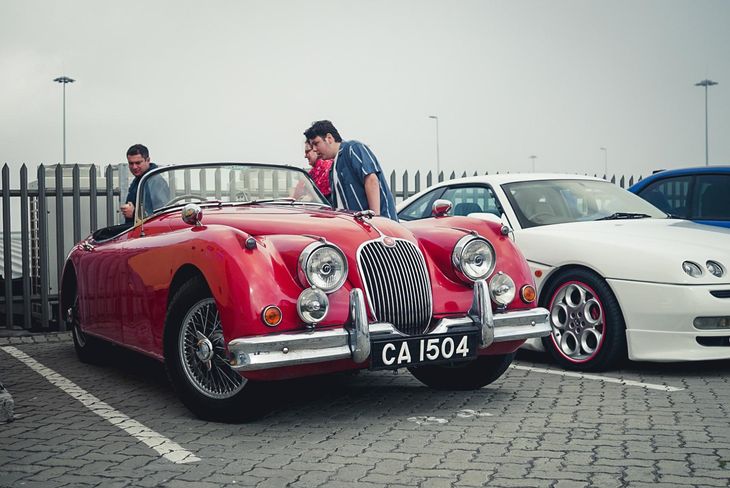 Beautiful 1958 Jaguar XK150 added some timeless elegance to the SentiMETAL OutRun.
Soon guests and owners were strolling among a very interesting group of around 50 cars which included anything from an imposing 1959 Jaguar Mk9 to a modern-day Alfa Romeo Brera, driven by the curator of the Franschhoek Motor Museum, Wayne Harley. There were also some interesting modified cars, including a Toyota Supra belonging to Calvin Fisher (who also took these stunning photos), a Peugeot 504 Coupe rally replica (Ian Loubser) and a CAV GT40 replica, among others.
Porsche was well represented by several 911's, including two belonging to none other than Porsche Girl Cape Town herself, Michelle Hambly-Grobler, and another bright red Targa currently on sale at Crossley & Webb. A very original-looking Volkswagen Golf Mk2 GTI received a lot of love, as did one of the surprises of the event, a late '70s Audi 200 5E belonging to Theo Coetzer which could very well be the best example left in the country. Oh, and when did you last see a GM Ranger station wagon, or such a clean Mk1 Golf Cabriolet?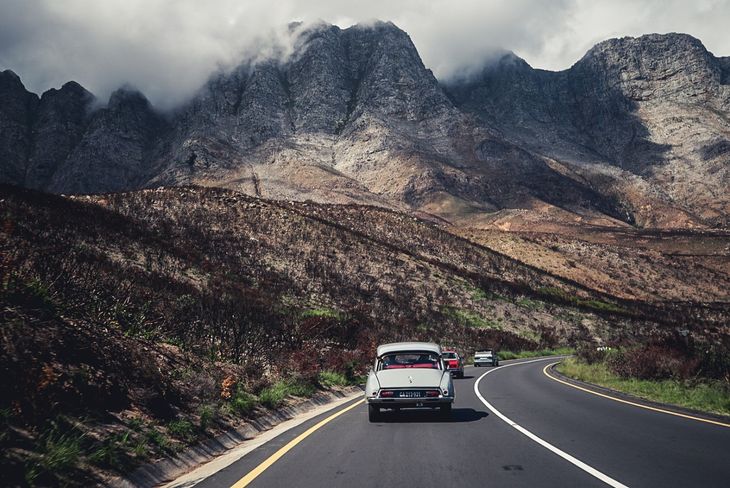 The beauty of the R44 coastal road, enhanced by a convoy of stunning automobiles.
A brace of Subaru Impreza WRXs, another Mazda MX-5, generation 3 Toyota Supra, Alfa Romeo GTV, another BMW 2002, a Z3 and an E30-generation BMW 3 Series Cabriolet were also in attendance and adding to the staggering diversity on display.
After the coffees and ogling of cars were done, the group set off on a drive to Somerset-West, and then onto the scenic R44 to Kleinmond. Dieter Losskarn and his beloved Checker New York taxi often caused pandemonium at the traffic lights, not only because of the rarity of his vehicle but also because its V8 makes such a lovely noise. Hanjo Stier and his family were all smiles as they wafted along in the luxury of their immaculate Mercedes-Benz 350SE.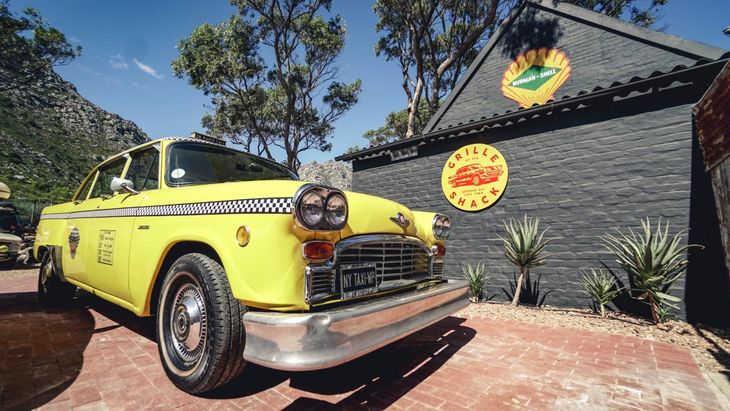 The only genuine New York Checker taxi in Africa in front of the lunch venue, The Grille Shack.
The run was joined in Somerset-West by several other cars, including a really pretty BMW 2002tii Alpina and a Renault Clio 2.0 RS, also a sure bet for future classic status, particularly in striking red. The R44 along the coast truly is a magnificent stretch of road, combining beautiful scenery and an excellent surface. A glance in the rearview mirror always yielded an interesting sight, too.
For lunch and to bring to a close a fun day out, the colourful collection pulled into a new spot on the R44 called The Grille Shack which is suitably classic car themed. Keep an eye on the SentiMETAL social channels (Facebook and Instagram) for notifications on the next run. Participation is free. You only need to bring a rad car, and loads of passion. See you at the next SentiMETAL OutRun!
You may also be interested in;
6 Classics that rocked the Johannesburg OutRun
SentiMETAL Ep.9: Alfa Romeo GTV6 3.0
SentiMETAL Ep.8: VW "split-window" Crew Cab
SentiMETAL Ep.7: Ferrari Testarosa
SentiMETAL Ep.6: Mercedes-Benz 190 SL
SentiMETAL Ep.5: Opel Kadett Superboss
SentiMETAL Ep.3: Nissan Skyline GT-R "Hakosuka"
SentiMETAL Ep.2: Porsche 911 (930) Turbo "Widowmaker"