Cars.co.za's car culture sub-brand SentiMETAL is bringing back the decade of big hair, synth music and rad cars with its new Trump Cards game.
Which petrolhead didn't grow up playing car-related trump cards, a game which tests the players' motoring knowledge and luck? Still popular today with enthusiasts of all ages, the classic game gets a fresh treatment courtesy of SentiMETAL's new '80s cars Trump Card pack.
The pack features no fewer than 34 iconic cars from the '80s (see below for full list) and is available for R125 at www.sentimetal.shop. In addition to the usual specification trivia (Engine Capacity, Cylinders, Power, 0-100 kph and Top Speed), each car has a "radness" rating, and also a short paragraph on its significance or history.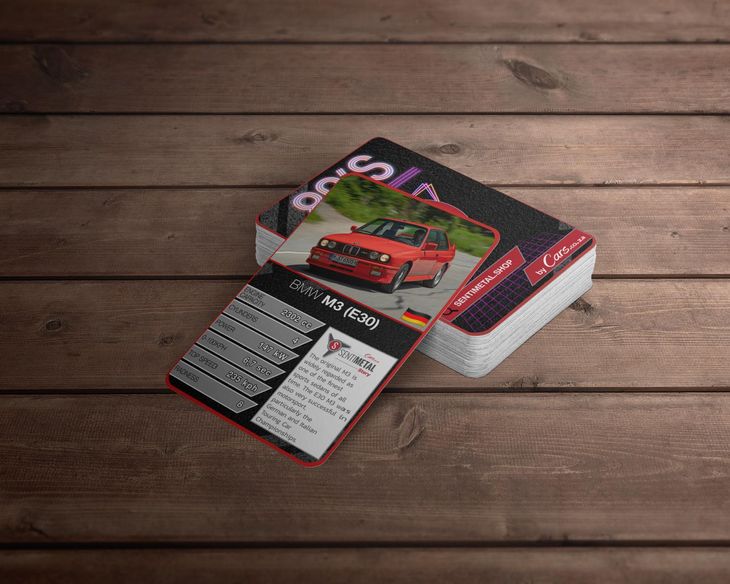 Iconic cars such as BMW's e30 M3 feature in the new Trump Card pack.
The pack has a uniquely South African flavour, with several of the cars featured being homegrown homologation specials – look out for the Ford Sierra XR8, BMW 333i and Alfa Romeo GTV6 3.0 and more!
Cars featured in the SentiMETAL Trump Card pack
Alfa Romeo GTV6 3.0 (South African Special)
Audi Sport Quattro
Aston Martin V8 Zagato
BMW 333i (South African Special)
BMW 745i (South African Special)
BMW E30 M3
BMW M1
Buick Grand National GNX
Callaway Corvette Sledgehammer
Chevrolet Camaro IROC Z
De Lorean DMC-12
De Tomaso Pantera GT5
Ford Cortina XR6 Interceptor (South African Special)
Ford Sierra XR8 (South African Special)
Fiat Uno Turbo
Ferrari F40
Ferrari Testarossa
Jaguar XJ-S HE
Lamborghini Countach Quattrovalvole
Lancia Delta HF Integrale 16v
Lotus Esprit Turbo
Mazda 323 Turbo 4x4
Mazda RX-7 Turbo
Mercedes-Benz 300 CE 6.0 The Hammer
Mercedes-Benz 190E 2.5-16v Evo 1
Nissan Skyline RS-Turbo
Opel Kadett GSi 16v
Opel Monza GSE
Peugeot 205 Turbo 16
Porsche 911 "930" Turbo
Porsche 959
Renault 5 Turbo
Toyota MR2
Volkswagen Golf Mk1 GTI
You may also be interested in;