The Mercedes-Benz GLC has been updated and now gains the MBUX user interface system and electrification. Herewith the details...
Mercedes-Benz will introduce a heavily updated version of its current GLC to the market later this year, featuring the brand's latest 48-volt electric architecture.
Although styling changes to the mid-size SUV are slight (new LEDs, some chrome garnish and a remoulded aft bumper), everything that functions with an active current onboard has been redesigned and improved.
The revised GLC will feature Mercedes-Benz's latest MBUX infotainment functionality, comprising 2 screens and what is claimed to be the most intuitive voice activation and mastering technology around. There will also be an augmented reality overlay function for the heads-up navigation feature.
Interestingly, the availability of MBUX on what is essentially a C-Class platform in the new GLC, proves that one can possibly expect a similar infotainment and user-interface upgrade for Mercedes-Benz's popular sedan in the near future, too.
Beyond the sophisticated evolution of GLC's cabin digitisation, the entire range now features Mercedes-Benz's advanced 48-volt onboard electric architecture, enabling stealth hybrid features. A belt-driven starter/generator configuration will allow the GLC's engines to 'sail' in decoupled mode when no throttle load is detected, thereby saving fuel. It can also recover up to 10kW of energy at crank speeds up to 2 500 rpm. Alternatively, the system can add those 10kW as an electric energy 'boost' function during peak throttle demand.
Engine Choice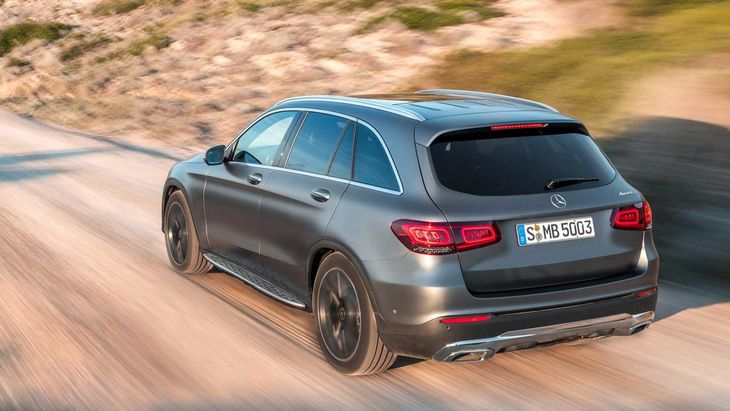 A total of 5 engines will be offered, all with 48-volt mild hybrid technology.
The primary source of new GLC's momentum will be a range of Mercedes-Benz's latest four-cylinder engines: 2 petrol engines and 3 diesel engines, all turbocharged, will power the latest GLC.
The GLC200 boosts 145kW and 280Nm from 1.5-litres of swept capacity, whilst GLC300 runs the larger 2.0-litre turbopetrol, good for 190kW and 370Nm. The 3 diesel engine options are all an evolution of the same 2.0-litre OM654 architecture. The mildest of these will be the GLC200d with 120kW and 360Nm, increasing to 143kW and 400Nm in the mid-range GLC220d, before peaking at 180kW and 500Nm in the GLC300. A sole transmission option is standard on all new GLCs, that being Mercedes-Benz's in-house designed and built 9-speed automatic transmission.
The only notable suspension upgrade is adaptive dampers now being available on both axles. Mercedes-Benz's Dynamic Body Control harmonises firmness and rebounds at each wheel corner, by reacting to a range of steering, throttle and braking inputs, keeping the GLC as balanced as possible in all driving conditions and over a diverse range of road surfaces.
We will keep you updated as soon as local pricing and specification details become available.
Buy a new or used Mercedes-Benz GLC on Cars.co.za
Related Content
Mercedes-AMG GLC 63 S Breaks Ring Record [w/video]
Mercedes-AMG GLC 63 S (2018) Launch Review
Mercedes-Benz GLC 300 (2015) Review
Mercedes-Benz GLC 250d Coupe 4Matic (2017) Review