Renault South Africa will be adding an automatic derivative of its Kwid budget car soon. Here's what we know so far.
The Renault Kwid has been a success for the brand and tallied up some impressive sales figures since its arrival on our shores towards the end of 2016. In December 2017, supposedly a quiet month for car sales, 664 units were sold, proving that the market craves affordable new cars. As it stands, the Renault Kwid is available in three guises, with one powertrain shared across the range. The range starts from R126 900 and peaks at R149 900 for the Xtreme model.
If there's one derivative missing from the range, it's one with an automatic gearbox. We've got word that Renault South Africa will be introducing an automatic gearbox to its Kwid range in early March 2018. We're not sure of the official designation as yet, but we'd speculate and call it the Renault Kwid AMT.
AMT stands for Automated Manual Transmission and the system in the Kwid does away with a conventional gearshift. Instead, a dial on the dashboard offers three modes: Reverse, Neutral and Drive. There's no clutch pedal, which should take the pain out of commuting in peak traffic...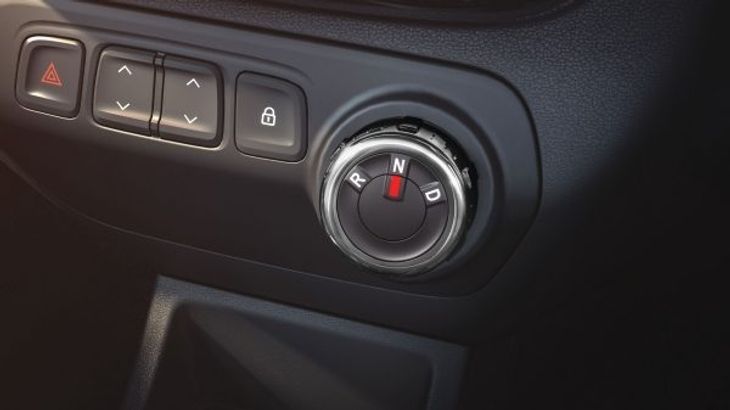 The gear selector showing Reverse, Neutral and Drive.
The gearbox has 5 forward speeds and if past AMTs are anything to go by you're likely to have to lift off the accelerator as the car changes gear to avoid a rocking horse motion. It's not quite an automatic, but given the lack of one in the range, it's better than nothing. Located in the space where the gear shift used to be is a storage area.
The Renault Kwid is fairly specced and we suspect that Renault SA won't change the trim level. Renault's Kwid currently comes with the MediaNAV unit which features satellite navigation, Bluetooth connectivity, USB/Aux input, all of which is coordinated via a 7-inch touchscreen system.
An air conditioner and electric windows for the front passengers are standard. One of the biggest criticisms levelled at the Kwid is its lack of ABS, let alone a driver's airbag. That drawback may be unacceptable to some buyers and we don't think this new Kwid AMT will rectify this problem, at least not until later in the product lifecycle.
We'll have more details, such as the price and specification closer to the launch in the first week of March 2018.
Buy a Renault Kwid on Cars.co.za
Related Content
Renault Kwid (2016) Video Review
Renault Kwid Dynamique (2016) Review
The Renault Kwid: A Game-Changing Budget Car?
Top 10 Most Fuel Efficient Budget Cars
Juliet McGuire tests a trio of budget cars