Renault's budget-busting Kwid has arrived in South Africa and we put the newcomer to the test to find out if it's worthy of your attention. Is the Kwid's strengths enough to warrant a purchase or should you consider other options? We take a closer look…
We Like: Styling, integrated navigation, decent ride quality, reasonable space offering.

We Don't Like: Lack of ABS, questionable build quality, poor stability in wind.
Alternatives
For something similar: Consider the Datsun Go Lux priced from R123 900. Its 1.2-litre, 3-cylinder engine offers 50 kW and 104 Nm of torque. The Datsun Go Lux also offers 1 airbag and no ABS is fitted. In our opinion, the Kwid is more stylish than the Go and offers better overall performance.
For better safety specification: Consider the Toyota Aygo X-Play priced from R160 000. Yes, it's more expensive but at least it's equipped with ABS with EBD and 4 airbags. It's not as spacious as the Kwid, but it offers similar outputs from its 1.0-litre engine with 51 kW and 95 Nm of torque. The Aygo X-Play is also equipped with a touchscreen infotainment system, but unlike the Kwid, navigation is not offered. The Toyota Aygo X-Play is a finalist in the Budget Car category in the Cars.co.za Consumer Awards – Powered by WesBank.
Consider buying a used car: The used car market has lots of value to offer with a wide range of decent options available in the R130 000–R150 000 price range. Browse for used cars on Cars.co.za to find a good deal!

Compare the Renault Kwid Dynamique with the Datsun Go and the Toyota Aygo X-Play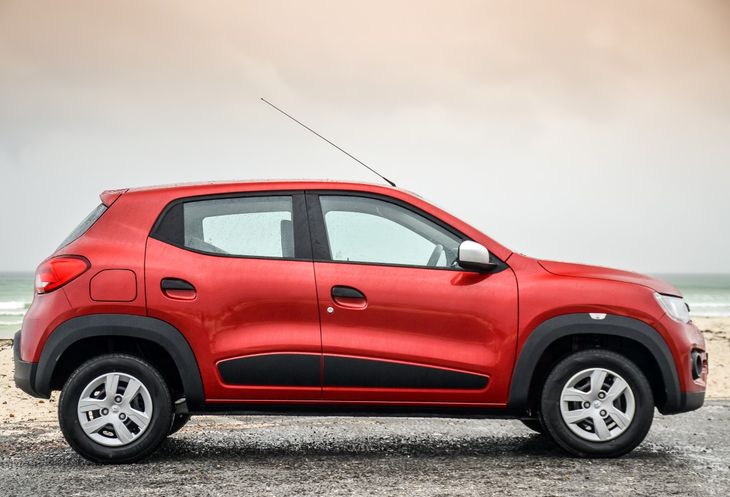 The Renault Kwid is small and light, perfect for navigating busy city streets.
What is it?
Renault has taken another leap into the budget pool with its latest offering, the Kwid, and its rivals in the new vehicle market include the Datsun Go, Kia Picanto, Hyundai i10 and Tata Indica, among others. Cars in the lower end of the new car market serve an important role in that they provide access to mobility for a large number of buyers who would otherwise be unable to afford a new car and be left to trawl the vast used car market instead.

Buyers in this segment of the market are typically first-time car buyers on a tight budget and more often than not, are looking for a reliable and cost-effective mode of transport for everyday use. Most of the vehicles in the entry-level segment are "bare-bone" offerings with minimal features and many lack basic safety features such as ABS and 1 or more airbags.

Budget buyers, however, seem to prioritise affordability over safety and the Kwid, like most of its rivals, falls short on the safety front by offering only one airbag and no ABS. With this in mind, is there merit in considering the Kwid? The answer will depend on where your priorities lie but if you are sitting on the fence, then this review should help you make up your mind.
How does it fare in terms of…
Design and build quality?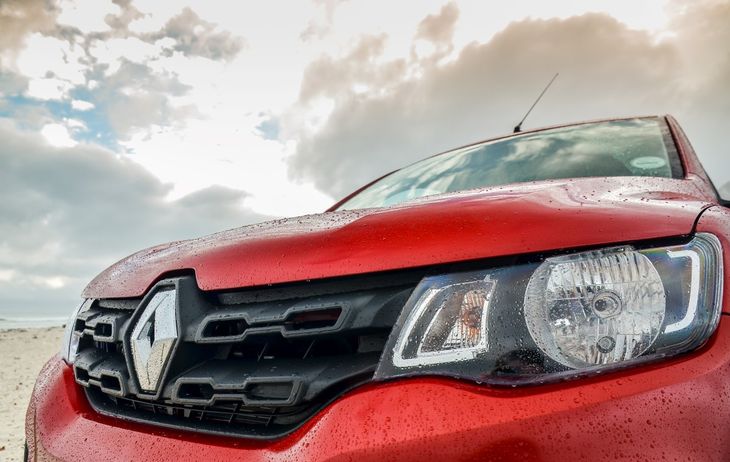 A modern grille, plastic body cladding and a raised ride height affords the Kwid with crossover appeal.

Even though the Kwid rides on dinky (13-inch) wheels, it's arguably one of the best-looking budget cars on offer in our market. It features a modern-looking grille that's congruent with Renault's design philosophy and the additional body cladding and raised ground clearance gives the newcomer a splash of crossover street-cred that other vehicles in this segment seem to lack.
The Renault's interior is rather basic and although the cabin is dominated by hard plastic, it's reasonably well constructed and free of the typical "rattle and shake" experienced when driving over rough surfaces. At its price point, perceived quality is fair and the seats are upholstered in hardy-looking fabric with firm cushions providing relative comfort.
Upon closer inspection, however, the Kwid's budget car origins are evident: rough welding points and rubber finishing reveal the Kwid's built-to-a-price sensibility and the same was true for the engine bay. To be fair, the Renault's new-vehicle rivals don't fare much better in this regard. What's more, budget cars typically emit a hollow, tinny sound when their doors are being closed, but the Kwid's items felt relatively solid which was a welcome surprise.

Performance and ride quality?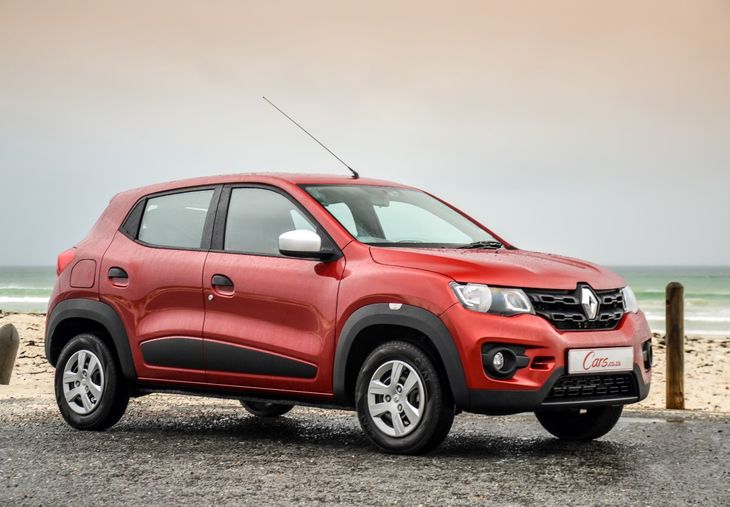 The Kwid delivers sprightly performance thanks to its light weight, despite its engine's diminutive output.
Weighing in at 693 kg (without a driver), the Kwid is a lightweight. In fact, when in neutral, the India-built hatchback can be pushed around with one hand without too much effort. However, owing to the lightness of its bodyshell, the 0.9-litre 3 cylinder engine propels the Renault with relative fervour...

The Kwid isn't as slow as some might expect. Despite having only 50 kW and 91 Nm of torque at its disposal, it's quite nippy in city traffic situations and it gets up to speed reasonably quickly. The front wheels are driven through a 5-speed manual transmission and we were surprised to discover that the Kwid has good tractability on the highway. If you want to overtake, you don't have to fish for power by gearing down. Just mash the accelerator pedal in your current gear and the plucky Renault gets on with it. However, it doesn't instil much confidence in its driver at speeds above 120 kph. It's definitely a car for the city and if you want to do long distance travelling, you may want to rent/borrow a vehicle that's better suited to long-hauling.
Renault claims a fuel consumption figure of 4.7 L/100 km and its 28 litre fuel tank should return over 500 km before you need to fill up again.
Under hard acceleration, the engine exhibits a strained note that can be noisy. Drive the Kwid more sedately though, and the engine noise will quickly return to acceptable levels. Buyers will be pleased to know that the Kwid delivers a pleasing ride quality and it manages to iron out bumps and ruts quite well, making the daily commute quite pleasant. However, the Kwid (and its driver) does suffer from a fair degree of body roll when engaging in the act of cornering.

What's more, whereas its light weight helps to improve performance/efficiency, the Kwid feels very light at the wheel. A number of Cars.co.za testers commented at how easily the Kwid was thrown around in the driving wind, which was probably exacerbated by the test unit's lofty ride height (180 mm). The wind in Cape Town is notoriously strong in the summer and at freeway speeds it almost felt as if the small Kwid was being tugged between lanes by the notorious Cape Doctor. It's definitely not the best or safest feeling in the world…
Practicality?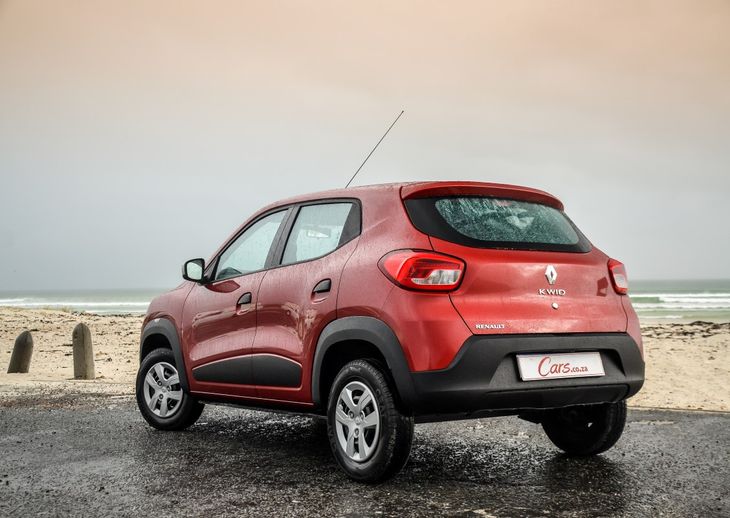 The Kwid is surprisingly spacious for its size, but performance will suffer when fully loaded.

In terms of practicality, the Kwid fares reasonably well compared with its rivals. It has a relatively generous luggage bay, which has a claimed capacity of 300 litres. In addition, the rear seatback can be folded down to access the full 1 105 litres of utility space should you need to load larger items.

Rear legroom is average, but taller passengers might find the rear bench a bit cramped. It must also be considered, that with a full load of passengers, the performance of the Kwid will be less sprightly and you will have to coax the engine to its limits to extract maximum power to haul your fellow occupants round town.
There is ample storage space found in the door mouldings and a pair of small drinks holders are positioned ahead of the gear lever. There's also additional storage space in the dashboard ahead of the front passenger, as well as a small glovebox.
By virtue of its raised ground clearance, the Kwid is well equipped to hop pavements when required and will probably survive the odd foray onto a dirt road in the countryside.

Features?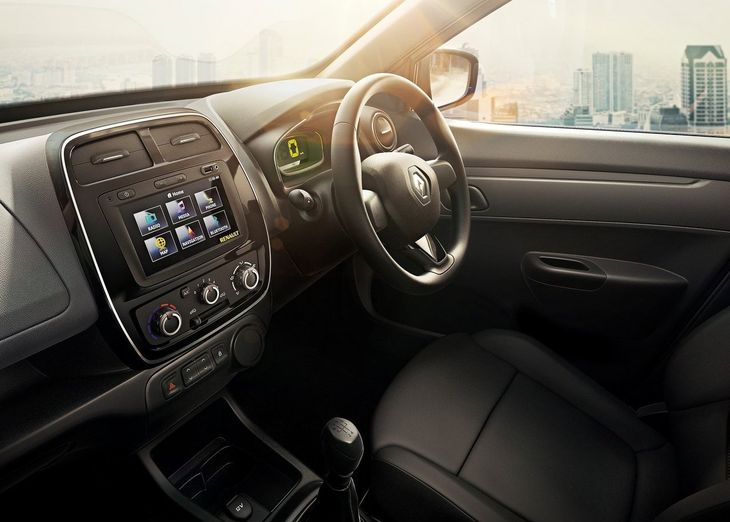 The 7-inch MediaNav infotainment system is easy to operate and offers integrated navigation.

Perhaps the Kwid's biggest drawcard is that it offers a 7-inch MediaNav multimedia system with integrated navigation. The system has a simple interface and is easy to use, plus it offers Bluetooth connectivity and streaming, plus USB/Aux compatibility. The only other car in the entry-level budget segment that offers a touchscreen infotainment system is the Toyota Aygo, but it does not offer navigation and it's more expensive than this Kwid Dynamique derivative.

Apart from the touchscreen, the Kwid's specification is basic. The steering wheel isn't adjustable for rake or reach and the there are no mounted controls on the steering wheel, but the instrument cluster features a large LCD display that looks rather attractive. The front windows are electrically operated, but the rear windows will require some "elbow grease" to work the manual window winders. An air conditioning system is also fitted as standard.

Price and warranty?

The Renault Kwid Dynamique is priced from R129 900 and is sold with a 5-year/150 000 km warranty and a 6-year anti-corrosion warranty. To sweeten the deal, Renault is also offering 12-month comprehensive insurance cover upon purchasing the Kwid, which should put some money back into your pocket.
The Kwid Expression is priced at R119 900 and excludes fog lights and the MediaNav multimedia system.
Verdict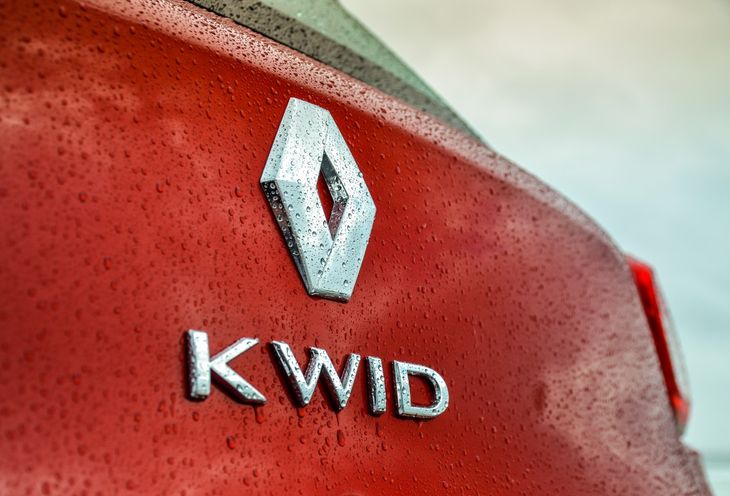 The Kwid is one of the better budget car offerings, but its safety specification could be better.
The Kwid is far from perfect, but when you consider other vehicles offered from new at this price point, it deserves to be considered. Its charming design will woo buyers (if they are willing to overlook the few rough edges, most of which are not in plain sight), it delivers a comfortable ride quality, plus its performance defies on-paper expectations. Potential customers will also appreciate the Kwid's nifty space utilisation and the inclusion of a touchscreen infotainment system with integrated navigation is a boon at the price.

Buyers face a tough decision, though. With only 1 driver airbag fitted and no ABS, we'd advise a buyer who places safety high on their priority list to consider other options. You can always shop in the used car market for a good second-hand car with better safety specification within a similar price range. Just bear in mind that, depending on the car you choose, you won't benefit from a full warranty (at best you will inherit the remaining balance of the vehicle's warranty) and this has to be factored into your budget. Here are 3 examples to consider in the used car market: Renault Sandero Stepway, Volkswagen Polo Vivo, Toyota Etios, and Chevrolet Spark.

If safety is not a priority for you (and research done by Datsun, for example, suggests prospective buyers at this level of the market are less concerned with it than in higher segments), then you will find the Kwid to be an adequate, albeit basic, solution for your transport needs.
Related content:
The Renault Kwid: A Game-Changing Budget Car?
Renault Kwid (2016) First Drive
Budget Car Comparison: Volkswagen Move up! Vs Toyota Aygo X-Play
Toyota Aygo 1.0 X-Play (2015) Review
Datsun launches limited-edition Go Remix
Datsun Go 1.2 Lux (2015) Review
Datsun GO (2014) Review
Best Budget Cars in South Africa
SA's 5 Top-Selling Budget Hatchbacks
Top 10 Most Fuel Efficient Budget Friendly Cars (2016)
Want to buy a Renault?