Renault has bolstered the Kadjar range with a limited-edition version of its entry-level derivative. It has a few bolt-on bits to make it appear more rugged, but the price remains the same. Seems good value then? We chase the Cape Epic mountain bike race with a Kadjar XP to find out...
We like: Value for money, capable drivetrain, quite spacious
We don't like: Explaining why it's called an XP, missing some of Renault's best features
Alternatives
For a different grille badge: The Nissan Qashqai 1.2 Acenta is essentially the same car. Its engine delivers less power and torque, but the Nissan's R10k cheaper.

For a non-turbo engine: The Hyundai Tucson 2.0 Premium offers more luggage space and a quieter cabin, but compared with the Renault, it's thirsty.

For overt off-roader looks: The Jeep Renegade 1.4T looks like a small off-roader and consequently offers more kerb appeal. It is more expensive and... has less ground clearance.
Compare the specs of the Renault to the Nissan and the Hyundai here
Facts & Figures
Price: R364 900 (May 2017)
Engine: 1.2-litre turbopetrol
Transmission: 6-speed manual
Power: 96 kW
Torque: 205 Nm
Fuel Consumption: 5.7L/100 km (claimed)
Top speed: 189 kph
0-100 kph: 10.4 sec

Renault has spruced up the base derivative of its Kadjar with a few accessories and called it the XP, an abbreviation for "experience points". Yes, just like in those role-playing games you play(ed), Renault wants you to head outdoors and do activities gaining experience points along the way, helping you to "level up" in life. Explain that to your mates when they ask. The extras include 17-inch wheels, cornering fog lights, a towbar, side steps and a roof rack. All are standard and included in the price. Our model does not have the roof rack, however.
Read a full review of the Renault Kadjar 1.2 EDC here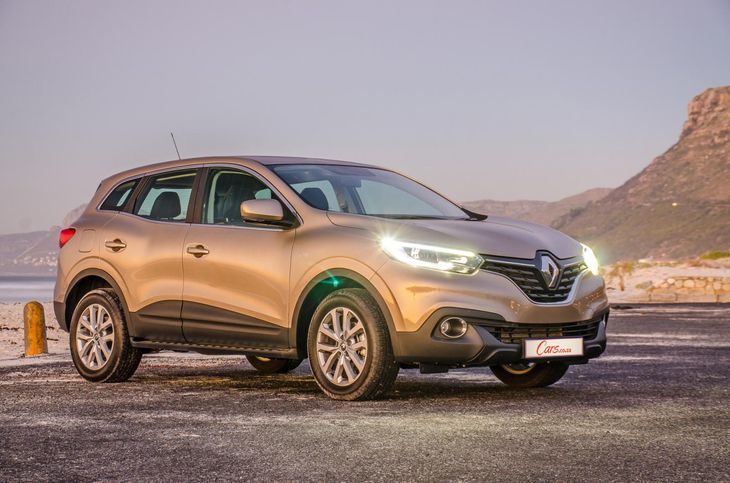 Side steps, 17-inch wheels and corner-lighting foglamps are all free add-ons applied to the XP model
The Good
Value for money
Renault admits that the extras total R40 000, but the XP's price remains the same as the base derivative's. While some of the extras like the side steps are superficial and don't actually add anything other than visual appeal, most of the additions are useful. A towbar is almost a must-have these days for an SUV and cornering fog lamps are a valuable safety feature (if they could talk, our tester's neighbour's driveway pot plants would certainly attest to that).
At 364 900 there isn't much that can match the Kadjar for occupant space. The generous rear leg- and headroom are 2 of the car's better selling points. The luggage bay is a reasonable 370 litres, which is 50 litres less than that of the Nissan Qashqai, but at least houses a full-size spare wheel.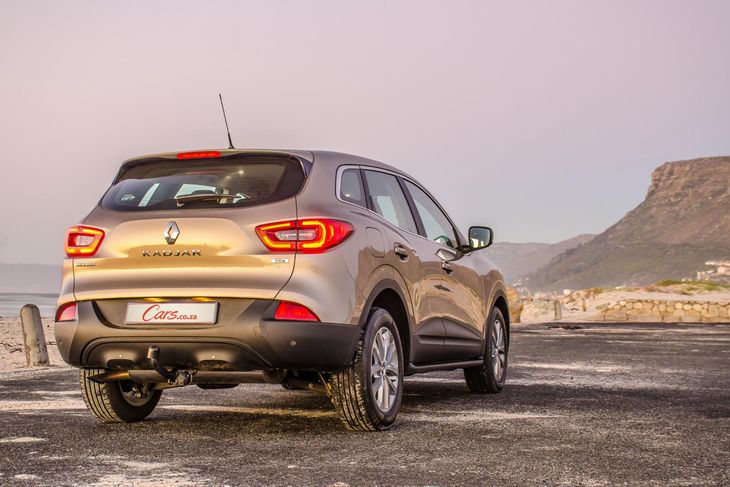 Towbar and roof rails are also included in the XP model, our test unit was not specified with roof rails, however
Engine and gearbox
The 1.2-litre turbopetrol (mated with a 6-speed manual gearbox) does a good job of propelling the Kadjar at a brisk pace. An automatic may be the more popular choice of transmission in a family car, but the manual has a quick action and a short throw. The gears are well-matched until you get to 6th, which could be a little bit longer to keep the revs lower at 120 kph.
With 96 kW and 205 Nm of torque, the Kadjar coped with a spare passenger, luggage and a bike on the towbar quite well. The torque delivery is substantial from low down the rev range and it adds sufficient impetus to overtaking manoeuvres. Once at the national speed limit, there isn't much left in the way of grunt, but with cruise control, you can leave it in 6th and it will hold steady over most hills.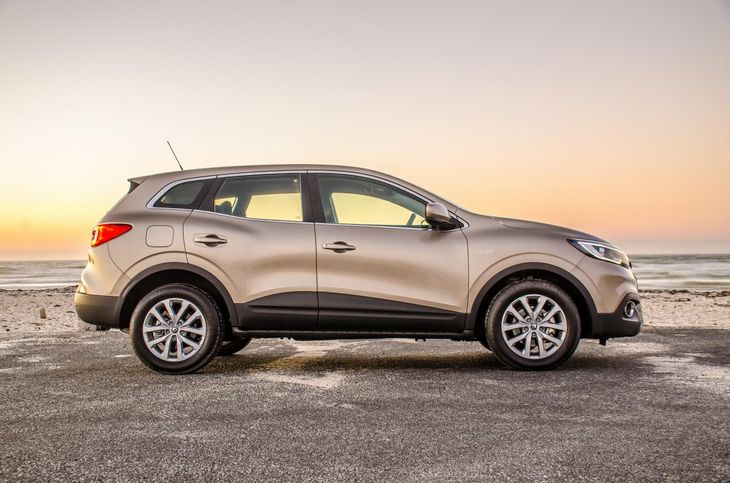 Powered by a 1.2-turbopetrol engine the XP is powerful enough and light on fuel
Gravel composure
During a long stretch of corrugated gravel road outside Greyton (in the slipstream of the Cape Epic), we found the Kadjar to be composed and stable. When travelling at speeds between 60 kph or 80 kph, it feels sure-footed and stable over the washboard surface. If you try to unsettle the Renault's body control by applying an abrupt tug to the steering wheel, the car's the stability control steps in to sort the direction out and avert any possible danger.
In terms of noise and vibration in the cabin, everything seemed to hold together while the Kadjar traversed the dirt road, although the constant shuddering did shake the dashboard about. Once the route returned to an asphalt surface, the interior didn't appear to have gained any rattles, thus the integrity of dashboard remains the only criticism of the Kadjar's build quality.
The Bad
A low-spec Renault?
It's a pretty rare occurrence to jump into a Renault and find it doesn't have all the latest tech features. The budget-oriented Renault Sandero Stepway has a touchscreen with navigation, but this Kadjar comes replete with a radio/cd player with a "dot matrix" LCD readout. It has Bluetooth and a USB port but, it's hardly what we've come to expect from Renault.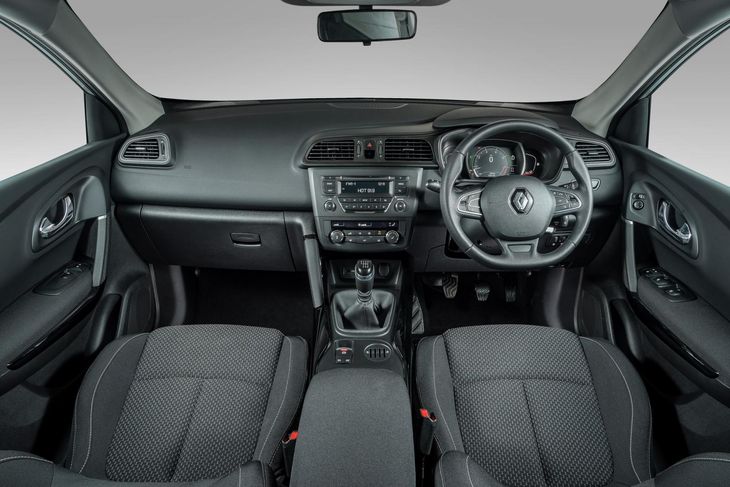 Rare not to have a touchscreen or navigation in a Renault
There's no keyless entry/start system, nor automatically activated lights and/or wipers. It may sound like nitpicking, but Renault usually fits features such as those to its products to improve their value propositions/give them extra showroom appeal. It does have rear park distance control, thankfully. Despite its lack of nice-to-have features, it's still one of the better-specced cars in its segment, replete with cruise control, a digital instrument cluster, 6 airbags, brake assist, ABS and stability control.
Verdict
In spite of its somewhat arbitrary moniker, this limited-edition Kadjar is a solid proposition. Its price point is particularly attractive considering the aesthetic extras Renault added for the sake of an "adventure-capable" look. It may be missing a touchscreen infotainment system, but the functionality of the standard radio is adequate (bar navigation) and it's easy to use.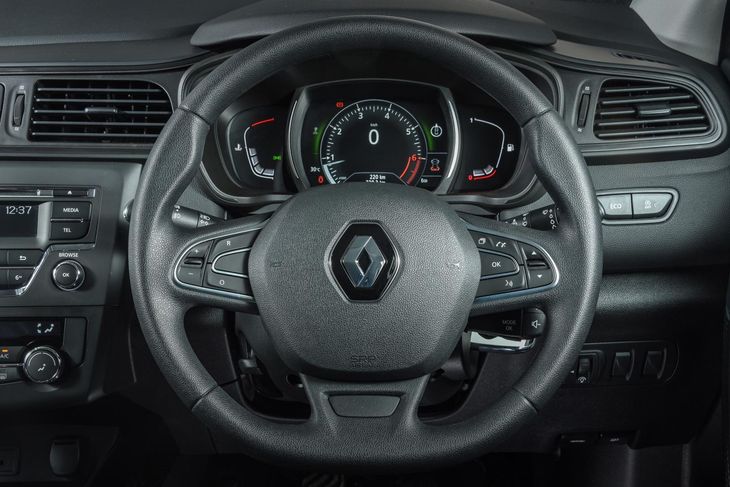 No leather in this Renault. Even the steering wheel resorts to a basic rubberised unit.

The XP offers a good engine and gearbox pairing and with it, fuel economy gains over equivalently powered (but naturally aspirated) 2.0-litre petrol competitors. The Qashqai is ultimately the same car, only with a different design and lower-output engine, but you don't get the extras.
Both the Kadjar and Qashqai seem fair value considering that offerings such as the much smaller Toyota C-HR and Mazda CX-3 cost about the same as this test unit.
Related content
Comparative Review: Hyundai Tucson vs Kia Sportage vs Renault Kadjar vs Volkswagen Tiguan
Renault Kadjar dCi Dynamique 4WD (2016) Review
Nissan Qashqai Updated
Looking for a used Renault Kadjar?