Renault SA has launched an all-new compact SUV in the form of the Kadjar and the newcomer represents a collaboration between Renault and its global partner Nissan, which has extensive experience in building SUVs. It's a crowded market segment, so what makes the Renault a worthwhile contender?
We like: Classy interior, well-appointed specification, comfortable on a gravel road
We don't like: Doesn't bring much new to the segment, engine lags at low RPM
Alternatives
For something bigger: The Toyota RAV4 is more spacious, but is neither as well-specced nor as stylish.
For something more refined: The Volkswagen Tiguan is well-built and has a smoother drivetrain. It's about to replaced by an all-new model, however.
For something similar, but in automatic: Nissan Qashqai CVT – it's virtually the same car, but you don't have to shift gears. Only offer with 2WD, however.
How does it fare in terms of…
School run appeal?
The Renault Kadjar is certainly going to turn a few heads, especially with this eye-catching red paint finish. It's got a very distinctive look and fits the description of a stylish compact SUV to a tee. The optional 19-inch wheels on this model also give it a touch more presence when standing in the parking lot. Underneath the Kadjar, it's essentially a Nissan Qashqai except with two years' worth of updated technology inside. The Qashqai is a well-rounded compact SUV that's often a top-seller in SA and a default choice when referring someone to this segment. The Renault Kadjar should make for a "better Qashqai", all things considered.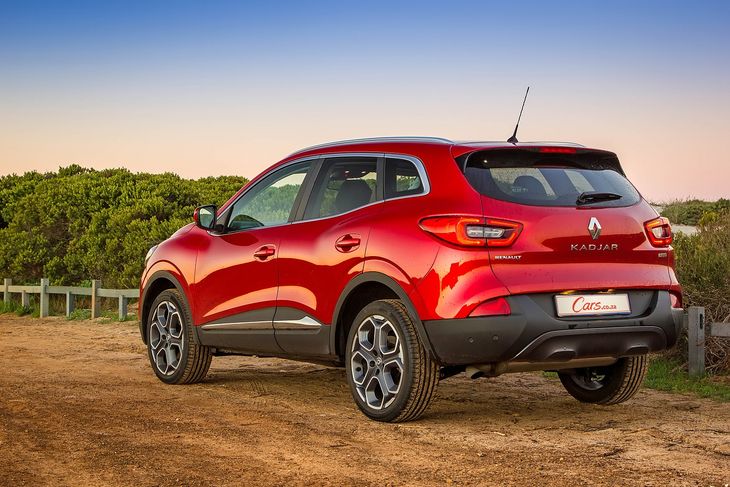 Kadjar has appealing looks when combined with these optional 19-inch wheels.
Engine performance?
The Kadjar four-wheel drive model is the only diesel in the range and is a carryover unit from the current Qashqai. It's a 1.6-litre turbodiesel with 96 kW and 320 Nm of torque and is mated with a six-speed manual gearbox. The clutch takes a bit of getting used to as it can be quite snatchy when pulling off if you don't release the pedal with sufficient revs. The 1.6-litre engine has always suffered from turbo lag at the bottom end of its rev range, and unless you keep the engine above the 1 700 rpm mark it bogs down. Once you are up to speed, it's got plenty of power and pulls excellently through the gears. Set the cruise control at 120 kph in sixth gear and the Kadjar is very comfortable indeed.
It's fuel efficient too (a 5.4 L/100 km combined cycle consumption figure is claimed) and during its two-week stay with us it returned 6.7 L/100 km – pretty decent for an SUV. Renault doesn't offer the 1.5-litre turbodiesel in the Kadjar range as Nissan does with the Qashqai. The latter engine doesn't suffer from as noticeable turbo lag and returns very good fuel consumption, too.
Practicality?
As a family runabout, the Kadjar doesn't really set itself apart from the crowd. The Renault's Interior space is reasonable and the rear passengers are afforded ample legroom. The luggage capacity is on the small side at 370 litres (RAV4 is 480 litres and Qashqai is 430 litres), but it comes equipped with a full-size spare wheel. Renault says the spare wheel costs around 100 litres worth of luggage space. A neat feature on the Kadjar is the rear seat recliners that can be activated from the seats or from the luggage bay, so that the rear seatbacks can fold flat at a touch of a button. As a result, the Kadjar will still swallow a full-size mountain bike with space to spare. Shopping bag hooks are also provided to keep those loose items from rolling around in the back.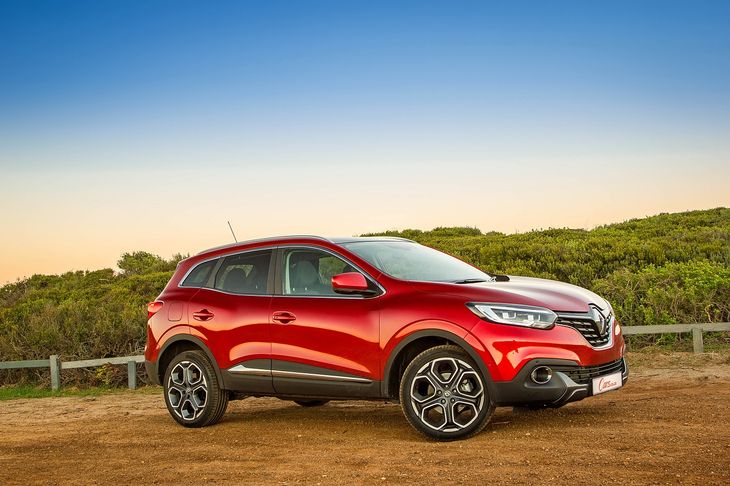 The Kadjar has a smaller boot but does come with a full-size spare wheel.
Tech features?
The Kadjar's strong point is its up-to-date interior features. The entire instrument cluster is digital; it has a crisp display that is presented in a practical manner. The cluster's colours and style can be changed through the infotainment system, but they're all quite easy to read and display relevant information like RPM, speed, cruise control speed and a full trip computer. The infotainment system is loaded with many onboard features such as Bluetooth, USB and auxiliary capability and several different types of setting adjustments for the car and lights. In ECO mode, it will even give your driving a star rating with tips to help you improve the fuel consumption.
Beyond the colourful screens, the Kadjar's interior is a bit grey. There isn't much that attracts the eye around the cabin, but it is at least well appointed. Dual-zone climate control is standard as are two USB ports, navigation and park distance control. The notable options are the metallic paint at R2 500 and the self-parking system with all-round parking sensors at R10 000. Electrically adjustable, leather-upholstered seats that also offer heating, are also optional at R12 000 (front).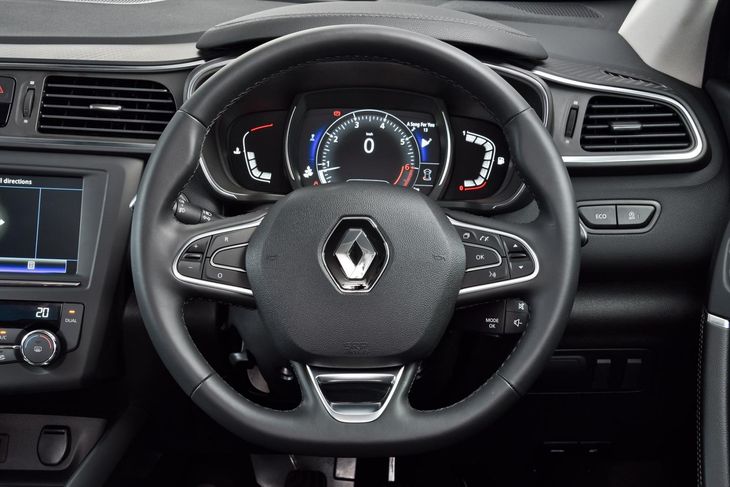 Fully digital display is crisp and very easy to read.
Ride and handling?
Despite the fact that the Kadjar was shod with optional 19-inch wheels, the test unit rode well. It's quite stiffly damped so the wheels can drop into holes a bit harder than expected but for most of us, it won't make a difference to the commute. It corners upright with weighted steering that's pleasantly inspiring when you push on. Down a dirt road, the Kadjar rode impressively. The washboard dirt roads around the Western Cape shudder most vehicles to bits but the Kadjar held firm exhibiting no rattles and a quite exceptionally comfortable ride.
There is a switch to turn the Kadjar into a four-wheel drive "off-roader". When pressed the power distribution front to rear is locked into a 50:50 split. Owing to the Renault's low profile wheels and ride height, it's probably only best used for emergencies such as when your driveway is covered in ice.
Pricing
The top-of-the-range Kadjar that we have here is priced at R454 900. With all of the options available fitted to this model, it scrapes in at just under R500 000. The Nissan Qashqai line-up has a broader range of models available making it easier to find the one that fits your needs best. There's also strong competition at a similar price point from the VW Tiguan and Jeep Renegade. Counting strongly in the Renault's favour is its impressive 5yr/150 000km warranty, that is further backed up by a 5yr/90 000km service plan. Renault has also been making positive gains in customer satisfaction and parts availability in recent times.
Verdict
Renault's new Kadjar is a compact SUV that offers good, as opposed to exceptional, value for money. The newcomer stands out by virtue of its generous interior specification as well as the impressive connectivity and number of standard features. It offers a pleasant driving experience, too; it handles well and rides comfortably on all surfaces. It's a little short on outright load space, but does offer a full-size spare wheel as compensation. The engine is strong once moving, but it does suffer from a dead spot before the turbo kicks in at low RPM. Looking through the range, the 1.2-litre turbo petrol Dynamique may be the best choice since there's no diesel auto available.
Quick facts about the Renault Kadjar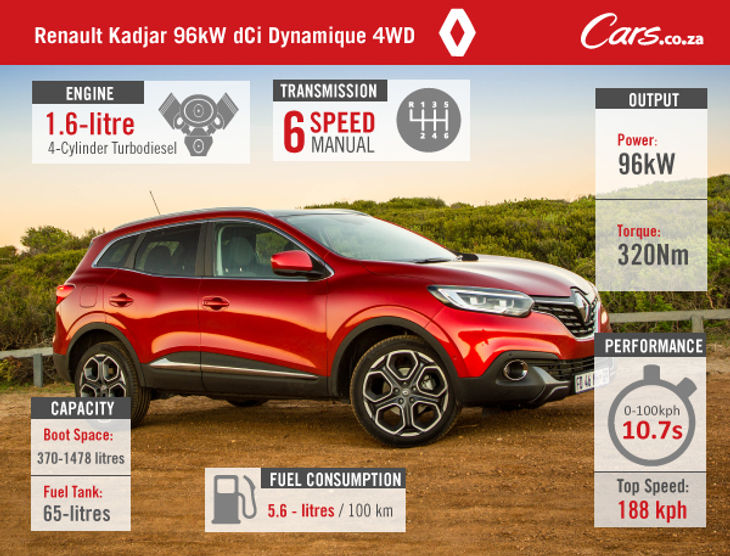 Would you be interested in purchasing a new Kadjar? If so, click here
Perhaps the more compact Renault Duster will fulfil your 4x4 needs. Find one on Cars.co.za
Looking for a second-hand compact SUV from Renault? Search for a Koleos