The new Renegade is the first Jeep vehicle built in Italy as a result of the ownership deal between Fiat and Chrysler. This love child was recently introduced in South Africa and draws clear connections to its American Jeep heritage, but with fine touches of Italian finesse. The model on test here is the 4x2 1.4L T Limited Launch Edition in vibrant Omaha Orange. We spent a week with the Renegade to see what it has to offer in the small SUV segment.
Fresh Look
Although the Renegade is distinctly Jeep, with its round headlights and seven-slot grille, it boasts a fresh design and exhibits a sense of youthful charm. Much of the Renegade's appeal lies in its small design details.
On the outside, the windscreen features a classic Willys Jeep scaling a mountain in the corner while a Yeti roams freely on the rear windshield at the base of the rear wiper. The taillights are unique too and take on an 'X' Jerrycan design which is a nice design touch. It's these little touches that give the Renegade a massive cool factor. On the inside you'll find a large Wrangler-style grab handle mounted to the dashboard and there's mud-spatter paintwork in the instrument cluster. The rubberised storage compartment also features a moulded map of Moab, Utah which adds to the adventurous nature of the Renegade.
To sweeten the deal on this Limited Launch Edition model, Jeep has thrown in stylish 18-inch wheels, leather upholstery and Satellite Navigation at no extra charge, quite generous indeed.
Interior Adventure
The interior of the Jeep Renegade comes well-appointed with a mix of soft-touch surfaces and harder, more durable materials. Interior build quality is excellent and the driver and passengers will find the leather seats to be quite comfortable too. The driver's seat is electrically adjustable as is lumbar support, just in case you might need it. The multi-function steering wheel is wrapped in leather and can be adjusted for rake and reach.
What we love about this Renegade is its 7-inch TFT multi-view touchscreen instrument cluster that was surprisingly easy to use and gives you the sense that you're driving something more upmarket. Infotainment comes courtesy of a 6.5-inch touchscreen that houses the radio and navigation system which was intuitive and easy to use too. The system also offers Bluetooth capability and has two USB ports for charging or syncing devices.
To test the space offering in the Renegade, we decided to take it on a surfing adventure which would put its space capabilities to the test. Boot space is at a reasonable 351-litres with the rear seats in the upright position, but will expand to a generous 1 297-litres with the seats folded flat. This meant that three surfboards and related surfing apparel was easily accommodated. The Jeep Renegade then may very well be a surfer's best friend.
Driving in Silence
This Jeep Renegade Limited Launch Edition is fitted with Fiat's 1.4-litre turbo petrol engine that delivers 103 kW and 230 Nm of torque. Those figures are delivered to the front wheels via a slick-shifting 6-speed manual gearbox. For the size of the Renegade, those figures do a good job of scooting this baby SUV around the city.
The best part of driving this Renegade is experiencing how the engine and transmission complement each other. With Stop/Start in operation, you will barely hear the engine come to life, it's that quiet. I was further taken aback by how smooth the transmission is. The lever is super light and the right gear is engaged with ease, making the Renegade a pleasure to drive. I don't think I have ever experienced a transmission as smooth as this.
At speed, the Renegade is well composed and delivers a smooth ride, soaking up bumps and uneven surfaces with minimum fuss. Cars of this nature are generally susceptible to body roll in corners, but not the Renegade. It holds its own well in the corners and it impressed me with its road holding ability and comfort while driving.
As this is a 4x2, don't expect much offroad ability from this Renegade. Even so, with a ground clearance of 175mm, the Renegade is a capable pavement hopper when required. There are however 4x4 derivatives making their way to South Africa later this year.
In terms of fuel consumption, Jeep claims 6L/100km for the Renegade. Despite our best efforts, the best figure we could manage during the test period was 9.8L/100km.
Packed with Safety Features
The Jeep Renegade Limited Launch Edition comes well equipped with safety features and these include six airbags, ABS with EBD, Brake Assist, traction control, stability control and rollover mitigation. This model also came fitted with Blindspot Monitoring, Crosspath Detection, Lane Departure Warning, rear parking sensors and a ParkView rear camera.
Jeep Renegade Limited Launch Edition Price in South Africa
This Jeep Renegade Limited Launch Edition is priced at
R375 990
and includes a 3-year/100 000km warranty and a 6-year/100 000km maintenance plan.
Verdict
The Renegade is a fresh and funky offering from Jeep that will appeal to younger buyers looking for a capable and flexible all-rounder. Not only is the Jeep Renegade an attractive offering, it comes well specced too. It delivers good performance and the drive quality is particularly impressive. Our main concern is the price, which is on the expensive side of the spectrum, but if individuality and originality are important to you then the Renegade may fit the bill. Buyers in this segment can also consider the Volkswagen Tiguan and Audi Q3.
Team Opinions
The Jeep Renegade feels like the perfect car for the active lifestyle pursuer. It's got rugged looks, good space and decent ground clearance, the engine manages adequately too. The price is a little on the high side however. -
Ashley Oldfield
If a Jeep is what you want and you can't afford a bigger model, then this will do nicely. Quite easily one of the nicest and coolest vehicles I've driven in 2015. -David Taylor
We Like: Styling, build quality, drive quality, decent performance
We Don't Like: Price
Also Consider: Volkswagen Tiguan, Audi Q3
Compare the Jeep Renegade with its competitors here!
Jeep Renegade Limited Launch Edition – Quick Specs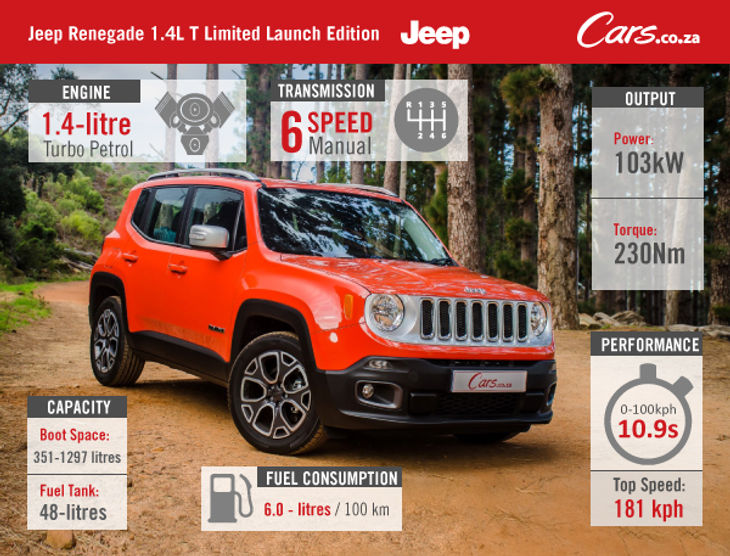 Video: Top 10 things to know about the New Jeep Renegade