The Renault Clio RS18 was recently launched in South Africa and after testing it on track, we were keen to know what the Gallic hot hatch is like to live with on public roads. Can it match its rivals in terms of comfort, specification and performance, or is it just too compromised for daily use?
We like: rorty engine note, exceptional specification, immense acceleration (both in-gear and from a standstill).
We don't like: road noise becomes tiring on longer journeys, harsh ride on poor SA roads, gearbox slow to react in Comfort mode/best in Race mode.
Alternatives (click on car names to view specs and request test-drives):
Compare the Renault Clio RS18 to the Volkswagen Polo GTI and Abarth 500 here and the Mini Cooper S and Ford Focus ST1 here.
What's new?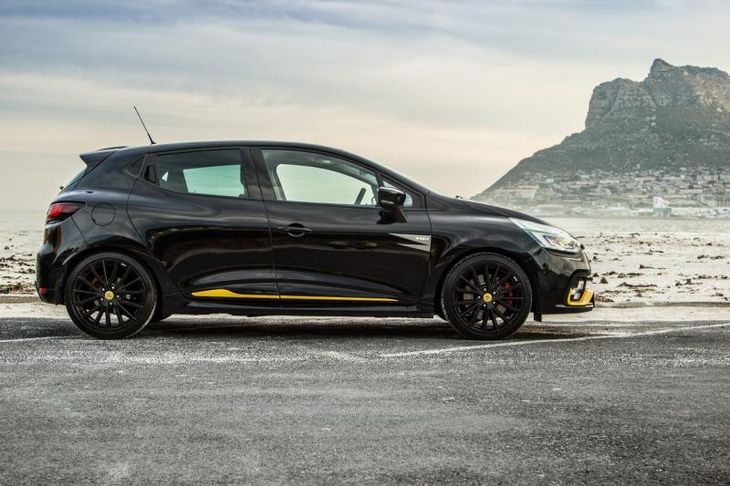 As that famous quote goes: "You can have any colour you want, as long as it's black."
Finished in a colour scheme reminiscent of that of the Renault F1 team's cars, the Clio RS18 is one striking little pocket rocket. The entire car is blacked out and there are little yellow RS (Renault Sport) touches everywhere. Upon closer inspection, you'll notice that the badges are also blacked out, from the Renault diamond on the nose to the RS badges on the rump. The French firm's sports division is also fond of going all out with decals: there's a sizeable RS logo on the roof and RS18 badges on the doors. We absolutely love this blacked-out look!
Mechanically, Renault has taken the chassis of the current Clio Trophy derivative and gone a bit further with it. The suspension has been lowered and stiffened, and Renault Sport claims the (standard) Akrapovic exhaust system has been tweaked to produce a unique sound for this specific derivative. We'd be hard-pressed to tell otherwise, however. Renault South Africa is hoping that this little Clio RS18 will become a collector's item as just 65 units have been allocated for our market.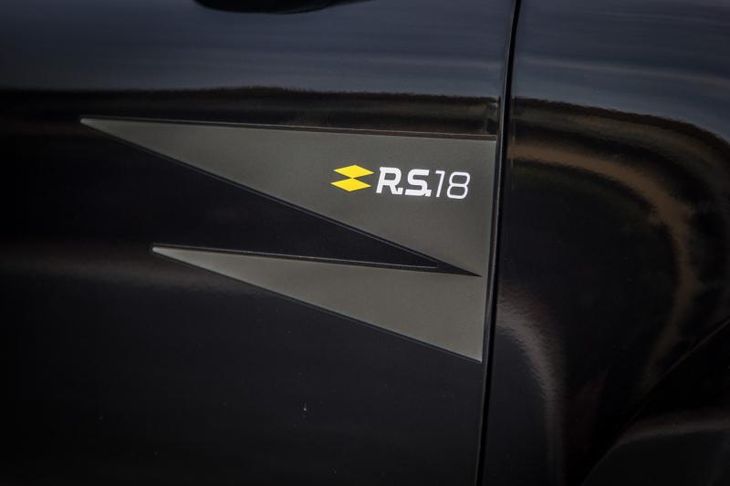 Subtle decals on the flanks show that this is a one-of-a-kind Renault Sport product that will only be available (from new) in 2018.
The Good
Generous standard spec
In terms of specification, the RS18 is nearly identical to the Clio Trophy, but Renault has added a reverse-view camera, of which the feed is displayed on the infotainment screen. The Renault Clio RS has never been skint on standard fare. Included in the standard spec are heated seats, satellite navigation with fixed camera alerts, Bluetooth/USB/MP3 connectivity, front and rear park sensors, cruise control with speed limiter and the RS monitor. The RS monitor is a petrolhead's dream system as you get some incredible insights in terms of data: torque graphs, race telemetry, acceleration figures, tyre lifespan and so much more. It's all there and you can even download racetracks into the car to measure sector times.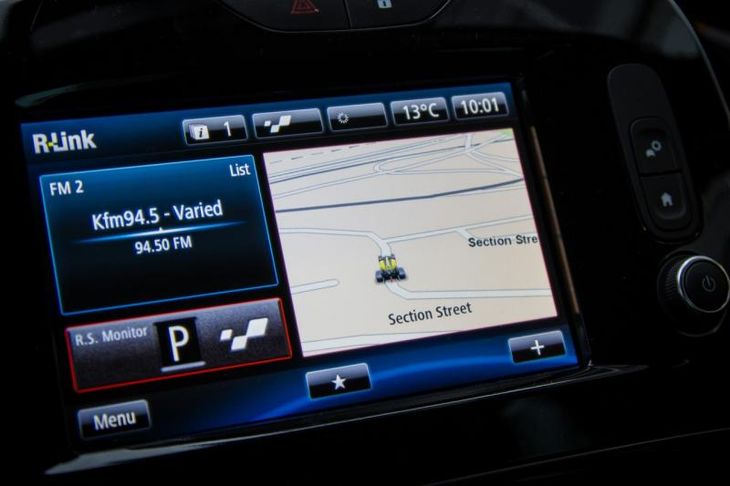 The attention to detail is excellent: Yes that is a Renault F1 car on the satnav. RS Monitor is a petrolhead's dream with race telemetry
The RS18 is also vaguely practical with a fair amount of loading space (we managed to fit a long weekend's worth of luggage for two people) and rear legroom's on par with other small hatchbacks. Furthermore, the rear seatback can split 60:40 and when it's folded down, there's enough space for a mountain bike to go in, albeit with the front wheel taken off.
Zesty performance
The RS18's 1.6-litre 4-cylinder turbopetrol produces no less than 162 kW and 280 Nm, but it's not the fruitiest-sounding mill. However, thanks to some clever work on the induction setup and overfuelling through the Akrapovic exhaust, let alone the barrage of bangs emitted after shifts of the dual-clutch 'box, there's no shortage of aural magic.
Renault Sport claims a sub-7-second sprint from 0 to 100 kph, but thanks to the savagery of the built-in launch control, it feels even faster than that. To enable the launch control mode is straightforward too: press the RS button to engage Sport mode, pull both paddles towards you and bury the throttle. Distinct, staccato pops stream from the exhaust ends as the car hunkers down in anticipation. In Sport mode, it springs off the line with surprisingly little wheelspin (in Race mode, there's no stability control – so, in other words, wheelspin aplenty).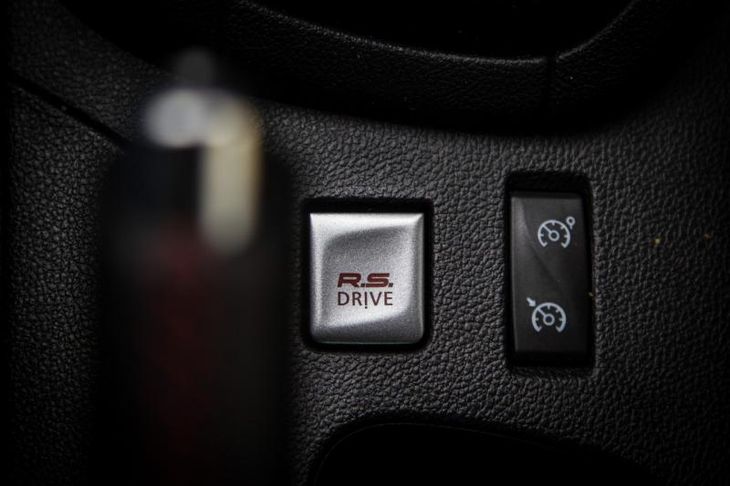 Your startup sequence should be: Close door, seatbelt on, push start button, push RS Drive button. Happiness.
The key to getting maximum enjoyment out of the RS18 is to drive it in Race mode (when that's activated a little racing helmet logo appears on the RS monitor), but note that it disables the stability control system, so you need to have your wits about you, especially in low-grip conditions. In this mode, the 'box swaps cogs as quickly as (mechanically) possible. As the revs approach the redline, the car will beep and that's your cue to pull the right paddle and hook the next ratio. The Akrapovic exhaust ends emit a cacophonous bang with each and every tug of the paddle shifters. It's tremendously good fun, but you do sense the Clio starts running out of steam past 140 kph, which we don't mind, given the national speed limits.
It'd take particularly hamfisted driver inputs to make the RS18 lose grip; thanks to a combination of a good chassis, excellent suspension and trick rubber, the Clio RS18 obediently sticks to the road. We put the Clio through its paces on a delightful stretch of road near Robertson and despite the inclement weather, it performed eagerly and admirably. The brakes are good too, with decent feedback through the middle pedal. They modulate nicely, and unlike some rivals' brakes that are grabby from the get-go, these gradually pile on the stopping power.
While the chassis is excellent and body control tight (we perceived little evidence of inelegant swaying or squirming), we're not 100% happy with this Renault Sport derivative's steering setup. Sure, it is direct and fast, but it does not give us all the feedback we really crave, plus the wheel rim is a little thick for our liking. It's interesting to note that the Cio RS18 is not fitted with a mechanical limited-slip differential, which you'd think would be standard on a "track special car". Fortunately, there's so much grip that you're not likely to need one.
The Not-so-good
Indifferent transmission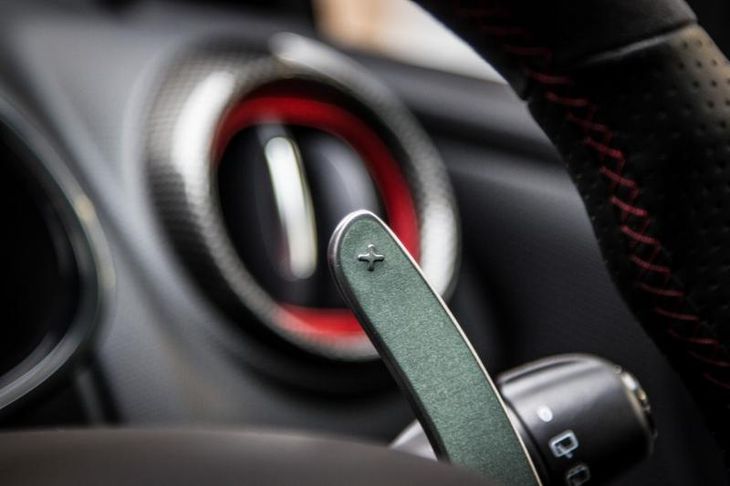 The gearbox is at its best in Race mode. In Comfort mode, changes are frustratingly sluggish.
Sadly, despite the improvements that Renault has made to the mapping of the Clio's Electronic Dual Clutch (EDC) transmission, it's still only really satisfying to use when in the RS18's in Race mode (where the shifts are fastest and the 'box most responsive to paddle shift inputs). In Comfort, the EDC's shifts feel way too casual and that's the mode in which the majority of customers will drive their cars. To put it bluntly, the shifts are sluggish and lazy, with downshifts being particularly bad. We're pretty sure that this will be rectified when the big brother Megane RS comes to South Africa before the end of the year. While we're on the subject of the transmission, we also wish the paddles were mounted to the back of the 'wheel as opposed to the steering column. There's nothing worse than exiting a corner and coming onto the power earlier and wanting to change gear, but your right fingers grasp at fresh air.
Harsh ride quality
One of the biggest complaints about the Renault Clio RS18 is the uncompromising ride quality. It's simply too hard for general, everyday use. You'll feel each and every ridge and crack in the road at lower speeds, but fortunately, the ride sorts itself out at national highway speeds. But then you have the road noise to deal with...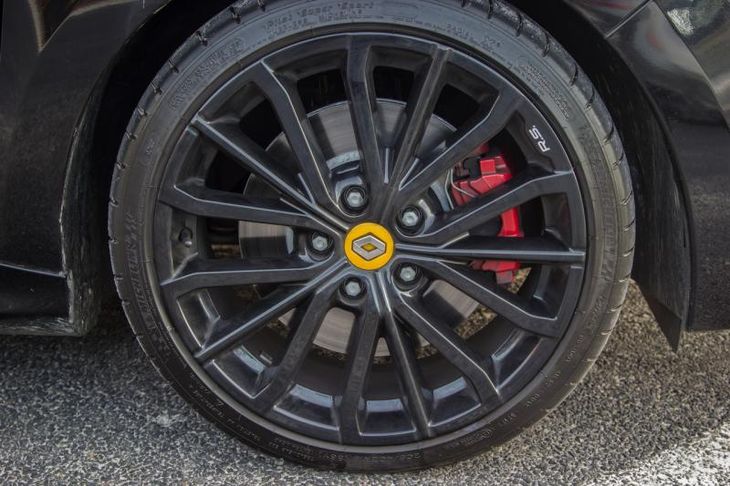 The wheels are wrapped in high-performance Michelin rubber, but the road noise may be a bit too much for some. Immense brakes too.
Intrusive road noise
The Clio RS18 comes shod with Michelin Pilot Super Sport tyres that are supremely grippy, but there's one drawback. The road noise on the coarse tarmac at the national highway speed limit (or thereabouts) is almost unbearable and you'll land up having to turn the radio up (almost to max volume) in an effort to drown it out. On longer trips, it can be very tiresome.
Pricing and Warranty
The Renault Clio RS18 retails for R449 900, which includes a 5-year/150 000 km warranty. Whereas other Clio derivatives come standard with a 3-year/45 000 km service plan, the RS18's is valid for 3 years or 30 000 km, whichever comes first. Note, however, that whereas other Clios' service intervals are set at 15 000 km, the RS' is at 10 000 km.
Verdict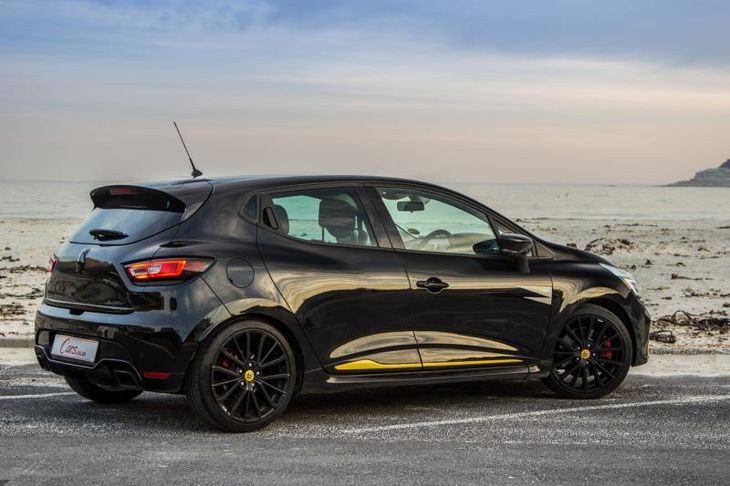 Right now, there are very few cars which are as involving and exciting as the Clio RS18. It'll take a brave soul to live with one on a daily basis though.
The Renault Clio RS18 is a hands-on driving machine par excellence. If you like to live on the hardcore side of life and treat every drive as if you're trying to set a qualifying lap time for a circuit race, then this is undoubtedly the car for you. For those of you who are image conscious and value things such as comfort and practicality over performance, however, this simply isn't the car for you. Fortunately, the good just about offsets the bad and the overall poor experience was beautifully interrupted by moments of sheer brilliance on some technical roads and mountain passes. In Race mode, the Clio RS18 became the vehicle we hoped it would be... and a bit more. We even ditched the Comfort mode for Race mode during our commutes to the Cars.co.za offices in the morning, purely because the transmission's shifts were far more responsive and we had the added bonus of the Akrapovic pipes "singing at sunrise".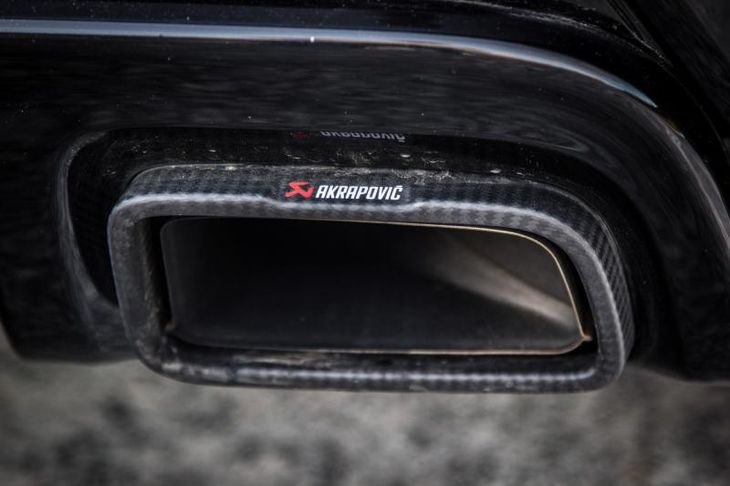 There are some manufacturers who charge extra for these magical exhausts from Akrapovic, but they're standard here (and wonderful).
However, for the average consumer who has many factors to consider before making a purchasing decision, a one-trick pony (as epic as it is) can't get a "double thumbs up". The Clio RS18 is for dyed-in-the-wool enthusiasts, which, based on past experiences with Renault Sport owners, are undoubtedly some of the most passionate petrolheads you'll ever meet.
Despite this hardcore incarnation, it's not quite as enthralling as its predecessors, such as the Clio R27. We can appreciate how much effort has gone into making the RS18 recapture some of that Clio RS magic of yesteryear, but playing it safe and trying to appeal to a broader audience has meant some of those outright thrills have been lost. This derivative marks the beginning of the end for the current Clio as an all-new model is expected to be unveiled before the end of the year, with a local market introduction likely in the first quarter of 2019.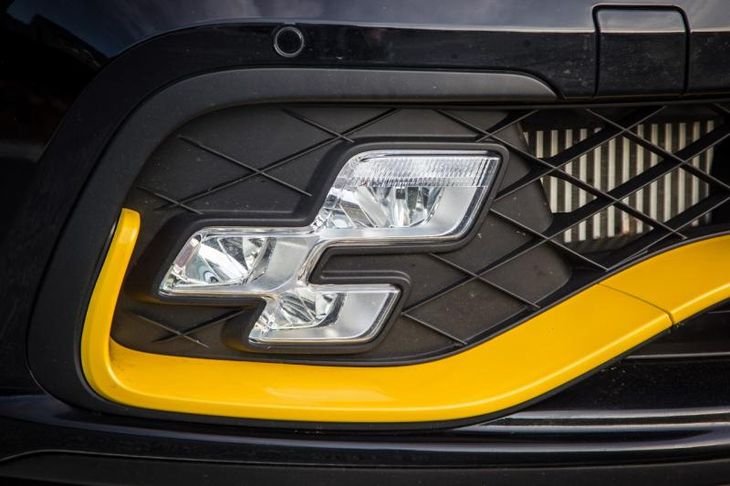 Renault Sport cleverly integrated its logo into a smart foglight, which can provide additional front lighting
You may also be interested in:
Watch us test the new Renault Clio RS18 on track
Read a report from the launch of the Clio RS18 here
Renault Clio GT-Line & RS Trophy (2017) Video Review
10 Cheapest New Cars With 150 kW Or More
Interested in buying a new/used Renault Clio RS?