Renault South Africa has launched a limited edition of its hardcore Clio Trophy compact hot hatch. It's called the RS18 F1 and just a handful are making their way to our shores. We got the chance to drive the newcomer at Zwartkops Raceway, west of Pretoria.
The Clio is Renault's most successful model, both in South Africa and globally. With around 13 million sales (more than 68 000 locally), the Clio is the bread-and-butter product for the Paris-based brand. In its latest (4th) generation, in excess of 25 800 units have made their way into South African homes.
Under the RenaultSport banner, the Clio is iconic. Looking back to the pocket rocket Clio Williams, the Clio II 172/182, and Clio 3 197/200/Gordini/R27/20th Anniversary, there have been some notable bang-for-buck performance derivatives in the range. Let's not forget the mighty Clio V6 either: a wide-bodied monster boasting a mid-engined 3.0-litre V6 straight from a Laguna.
The 4th generation of Clio RS took a different route. The naturally-aspirated 2.0-litre 16-valve motor departed, along with the wonderfully precise manual gearbox. It was replaced by a Nissan-sourced-but-RenaultSport-fettled 1.6-litre turbocharged four-pot... and Renault's attempt at making a dual-clutch 'box. It was a good hot hatch, but nowhere near as desirable as its famed predecessors. In an effort to make a day-to-day comfortable and fiendishly-fast hatch, some of that fearsome track prowess and magic was lost. The gearbox was the culprit as it didn't quite deliver the responsive, whip-crack performance that purists craved.
It has taken a facelift and realignment of the portfolio for the Clio RS to become a bit better. The gearbox was improved slightly and shifted faster. Now, as we approach the end of the Clio 4's life cycle, limited-edition models have started to make an appearance. This is the Clio RS18 F1 and only 65 units are making their way here.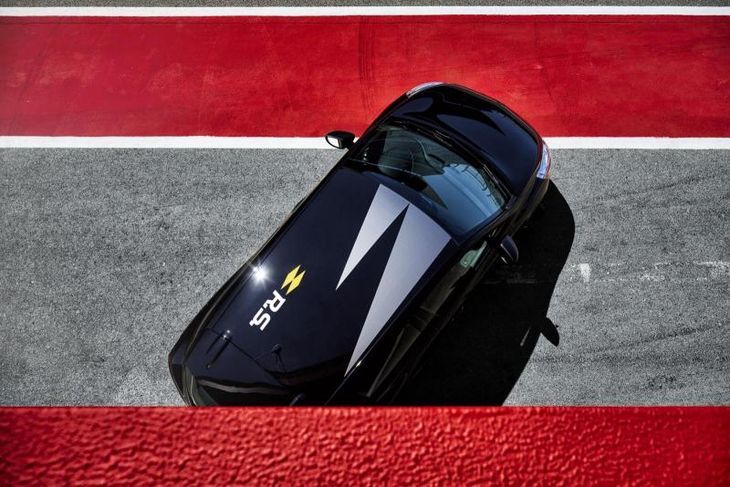 Some smart decals with RS branding make the new Clio RS18 F1 really striking
What is the RS18 F1?
Built to celebrate Renault Sport's involvement in Formula One and sporting the same black and yellow colour scheme as the French marque's racecars, the RS18 is mechanically identical to the Trophy upon which it's based. Aside from the black and yellow paint finish, the badges are blacked out, there are RS decals and blacked-out alloys are added for dramatic effect. There's a slight spec change too as a reverse-view camera makes its debut on the RS18 F1.
It is powered by the same 1.6-litre turbocharged 4-cylinder motor. Power is the same as the Trophy model at 162 kW and 280 Nm, and power is channelled to the front wheels via a 6-speed dual-clutch transmission. The RS Drive button is still there and features three modes: Normal, Sport and Race. Sport is probably your best setting as the gearbox changes quicker, steering is more responsive and the throttle becomes more sensitive. Let's not forget some extra volume from the exhaust tips, either. The Akrapovic system has been retained for the RS18 F1 and while Renault says its the same unit, we think it's a little louder than the Trophy...
In terms of specification, it comes jam-packed. Heated seats, satellite navigation, race telemetry, cruise control, USB/Bluetooth connectivity and plenty of safety features are all standard.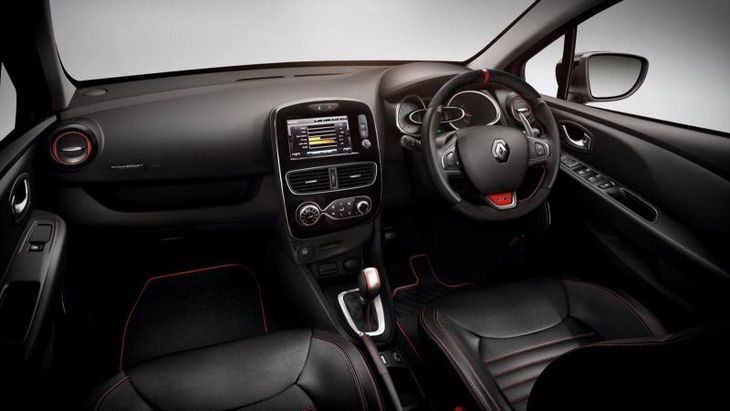 It's business as usual here with the RS18 interior. Plenty of sporty touches like red seatbelts and RS stitching on the sports seats
What's it like to drive?
We had the chance to put the newbie on the track at the Zwartkops Raceway, West of Pretoria. It's a fairly straightforward circuit, with 1 or 2 corners that really test your concentration and skill and it's a layout which suits the pocket rocket abilities of the Renault Clio RS18 F1 to a tee. The car is sold with performance tyres in the form of Michelin Pilot Super Sports, which are decent.
Thanks to a well-sorted chassis and prodigious grip offered by the front tyres, the Clio RS18 F1 is jolly good fun to pilot around the small track. Each gearshift prompts a terrific thump out the exhausts and it's only when you're blasting down the back straight at an indicated speed of over 140 kph that it feels as if the Clio is about to run out of puff. In the low-gear corners, it's an absolute demon and you find yourself constantly pushing harder in an effort to try to find the limits of adhesion. When it does let go, it's completely manageable and turns to neutral understeer, itself an easy problem to solve.
The trick we found was that you had to have the car in its most aggressive setting: Race. A little racing helmet icon lights up on the dashboard to let you know that things are getting serious and for those who aren't aware, the traction control reins are very relaxed. The gearbox changes are fastest in this setting and this is how it should be all the time. In Normal mode, it's a casually-shifting 'box, which, depending on your preference, can detract from the overall driving experience. We'd also appreciate it if the gearbox paddles were mounted to the wheel, as opposed to being fixed to the steering column.
The brakes are excellent and after 6 reasonably hard laps, they showed no signs of fade. The back end does lighten up dramatically when you really stand on the anchors, which is disconcerting for the first-time user, but you soon become accustomed to the weird sensation. Thanks to the quick steering, good rubber, clever e-diff, and excellent front grip, you can nail that throttle early through the corner and the car responds beautifully. In terms of acceleration, Renault claims a 6.6-second sprint from 0 to 100 kph and given the savagery of the launch control function, it feels like its accelerating substantially faster.
Summary

With its black and yellow paint to mimic the Renault F1 team, the Clio RS18 F1 looks the part
We're not going to beat around the bush here, the asking price of R449 900 is steep in comparison to its rivals. But, when you take into consideration the fact that the Clio RS18 F1 comfortably outpunches both the Ford Fiesta ST and the Volkswagen Polo GTI in terms of engine outputs and claimed acceleration times, and blows both into the weeds when it comes to standard specification, it can, sort of, justify the price tag. However, the new generation Volkswagen Polo GTI will be launched in South Africa shortly and while pricing is not yet officially confirmed, we suspect it'll be under R400 000.
It'll take a few options to bring the Polo GTI up to the level of the Renault Clio RS18 F1, but even then, it should be cheaper. What exactly are you paying for, then? The answer is exclusivity as Renault South Africa has just 65 of these little track monsters for sale. Critically though, the outgoing Ford Fiesta ST is a winner in our eyes in terms of fun factor. It boasts a 1.6-litre turbocharged engine mated to one of the sweetest little 6-speed manual transmissions around. It too is about to be replaced by a 1.5-litre three-cylinder motor and if the initial reports are to believed, it will be a deeply impressive too. There's food for thought.
What can Renault Sport do to counter the new rivals? 2018 will see the chapter on Clio 4 draw to a close as Clio 5 is almost ready to go into production. Rumours are rife that the new Renault Clio 5 will be revealed at the Paris Motor Show towards the end of the year, with an expected local market introduction in SA sometime in 2019. The next-generation Renault Clio RS could arrive in South Africa in 2020. As for this Clio RS18 F1, its a tremendously entertaining little car around a race track and those 65 owners will have the pleasure of owning something rare.
Renault Clio - price in South Africa (May 2018)
As with Renault's entire range, the Clio models come standard with a 5-year/150 000 km warranty. The Clio range also offers a standard 3-year/45 000 km service plan with the R.S. being 3-year/ 30 000km. Service intervals are set at 15 000 km, with R.S. models at 10 000 km.
Clio 66kW Turbo Authentique - R211 900
Clio 66kW Turbo Expression - R229 900
Clio 66kW Turbo Dynamique - R246 900
Clio 88kW Turbo EDC Expression - R269 900
Clio 88kW Turbo GT-Line - R269 900
Clio RS18 F1 (Incl. Metallic Paint) - R449 900
Related content
Clio RS18 Specs and Pricing for SA
Limited Edition Renault Clio RS 18 Coming to SA
Renault Clio RS (2017) First Drive
Renault Clio GT-Line & RS Trophy (2017) Video Review
10 Cheapest New Cars With 150 kW Or More
Searching for a used Clio RS?