Renault will introduce the all-new Clio in South Africa early in 2020 and yes, despite appearances to the contrary, it really is an all-new compact hatchback. While its styling remains pleasing on the eye, the little Renault has new-found substance underneath. Is it any actual fun to drive, though? Neil Briscoe attended the international launch to investigate.
Hang on, are we sure this isn't the old Clio?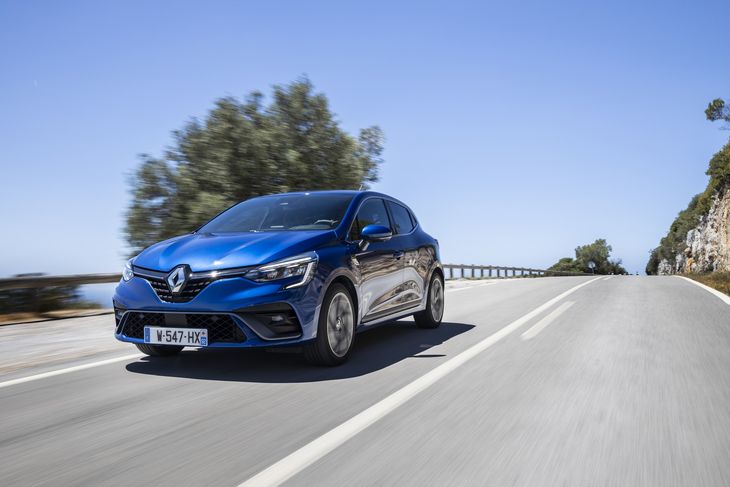 Aside from the new headlights, the Clio V looks very similar to the outgoing model.
That is a very fair question. Even when the newcomer's parked side-by-side with its predecessor, you'd have to be in possession of a wardrobe's worth of Renault rally jackets to be able to tell them apart. The tell-tales are the new headlights — they're all LED across the range now, and have Megane-style C-shaped daytime running lights — and the more sculpted tailgate. This is not, however, a mere facelift. In fact, Renault has done the reverse of what most car companies do and kept the styling basically the same (well, the outgoing Clio 4 was hardly bad-looking, now was it?), but changed everything underneath. The platform is the latest version of Renault's CMF-B chassis, much-modified for this car. In fact, the new Clio is 12 mm shorter than the old one — Renault's engineers say that they wanted to put a stop to the bloating of small cars, and instead find extra space inside through better packaging.
Own a Renault? Tell us about your experience here.
Read: Comparative review - Fiesta vs Polo
It's actually the French car's interior that has received the most attention. Stung by criticism that the outgoing Clio's cabin felt too cheap and cheerful relative to the more premium vibes of the Volkswagen Polo, Renault has really gone to town on this new one. There's more soft-touch material in this cabin than in many premium models, or so claim the French, and it's not difficult to believe. Where the old Clio had too many hard plastics and cheap, nasty-looking instruments, the new one is an exercise in understated good taste. There are VW-style air vents that seem to span the entire dash on the passenger's side, a neat centre console, with expensive-looking and feeling HVAC controls, and most distinctively a big 9.3-inch portrait-style touchscreen in the centre, which looks as if you've accidentally left your iPad in the car. Well, up to a point — the graphics and menu layout are an improvement over the old Renault R-Link system, but still not as slick as those of some rivals (VW especially) and we're testing, of course, the top-spec version. More affordable Clios get a smaller 7-inch screen.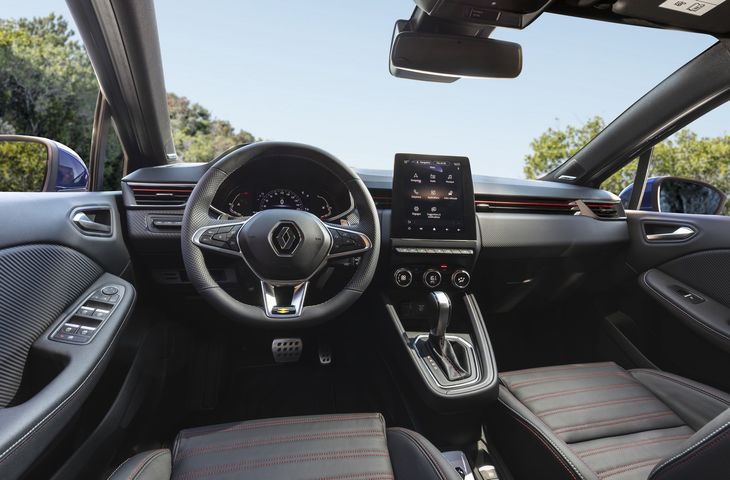 The biggest improvement has been made to the interior, which borders on premium car quality.
Still, they do now get digital instruments too, which are a big improvement on the old Clio's instrument panel, but, regrettably, still not up there with the best. Then again, Renault will shortly release a new 10-inch digital instrument pack as an option, and that looks genuinely impressive. It's a shame that it wasn't ready for these launch cars.
On a practical basis, the load bay is much bigger (391 litres, which is more than you get in a Golf, for instance, and there's a handy adjustable boot floor), but the loading lip is also higher. Renault says that this is to cut down on insurance costs, as it means the smaller tailgate is less likely to be damaged in a rear-end collision. Rear legroom is only adequate, though, and it doesn't feel as roomy back there as, say, in a Ford Fiesta or Volkswagen Polo.
Clios have almost always been fun to drive. Is this one?
No, not really, and how you react to that news will depend entirely on your personal outlook when it comes to motoring. If you're a petrolhead, it will be a real shame — previous Clios, even non-RS models, have always had that little spark of fun about them, but in the search for greater refinement, Renault seems to have lost the fun factor.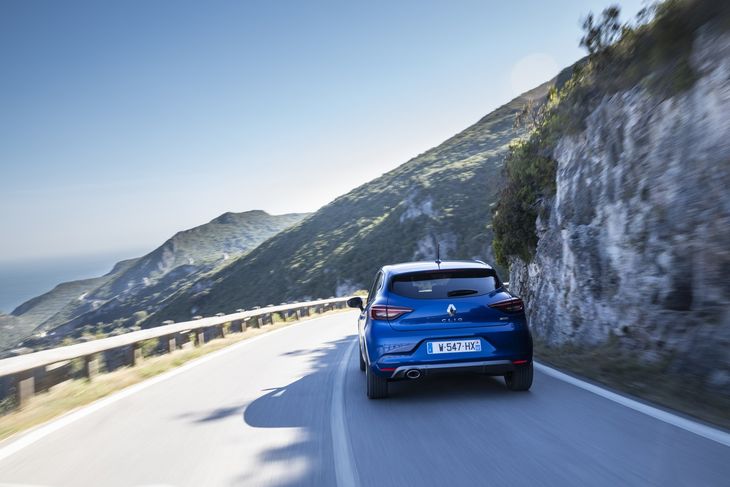 This gen Clio feels refined and the behest of fun-factor.
Okay, let's take stock of this. For most people, this will simply not be an issue. What most are concerned about will be that impressive new interior – and the fact that the Clio now feels more like a more affordable alternative to the larger Megane. If you don't need the ultimate space of the bigger car, this might well be a better option.
There is a distinct divide in how various versions of the Clio drive, though, so there is a little bit of claw-back for the enthusiast. The RS-Line derivative — which seeks to mix normal engines with styling inspired by the forthcoming Clio hot-hatch version — is actually the worst. That's because its ride quality has become so unyielding and unsettled that it's impossible to get into an enjoyable rhythm on a twisty road.
You spend too much time gritting your teeth and fighting through the fidget. Our test car was made worse by trying to combine the 96 kW 1.3-litre 4-cylinder petrol engine with the 7-speed DCT dual-clutch automatic transmission. That 'box is just too slow-witted to be anything like fun, and the way it makes the 1.3 rev reveals an uncouth edge to its aural performance.
There's also a very good-looking Corsa coming soon too
Much, much better is the "Intens" version. This is roughly equivalent to the Dynamique derivative of old (Renault South Africa has yet to set specs and price details of the new car) so it's well-equipped, but less aggressively sporty, than the RS-Line. Plus, it comes with the 1.0-litre TCe 100 engine. That's a development of the old 899 cc engine (TCe 90) with, guess what, 10 hp (7.4 kW) more and Renault claims that it's around 10 to 15% more efficient too. Granted, 74 kW isn't much, perhaps, and neither is 160 Nm of torque, so you won't be travelling particularly quickly, plus the 5-speed manual gearbox seems a bit old-hat in an age of dual-clutch automatics.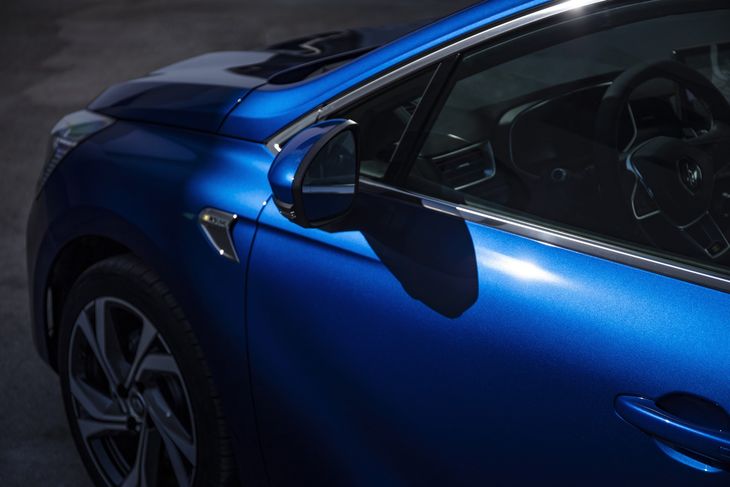 The 899 cc engine has been given an extra 7.4 kW of power and 20 Nm of torque.
Nevertheless, this is the best of the new Clios thus far. The fact that the suspension is far gentler in this form (it still fidgets a bit, but much less) means you can press on a bit more on give-and-take roads, and while the engine's moderate outputs mean that you won't be going all that fast (it's a full second slower to 100 kph than a VW Polo 1.0 TSI 70 kW, for example), it's a much more willing and enjoyable engine than the 1.3, with a sweeter note when revved. The Clio lacks the steering precision and feedback to be properly entertaining to drive, but at least in this 1.0 model, you can actually enjoy yourself a little...
Anything else of interest?
Hang on for a while – Renault's going to introduce a hybrid version of the Clio 5. It will use a new 1.6-litre naturally aspirated engine, combined with two electric motors (one small one for engine restarts, a larger one for actually moving the car) and will be capable of running on pure electric for around 80% of the time. There won't be an all-electric Clio though — Renault plans to keep the Clio and Zoe ranges separate for some time yet, saying that it's too tricky to combine a combustion engine and an electric car on the same platform. Renault South Africa doesn't have an electrification strategy for the local market, so it's unlikely we'll see any of these future models make it to our shores.
Summary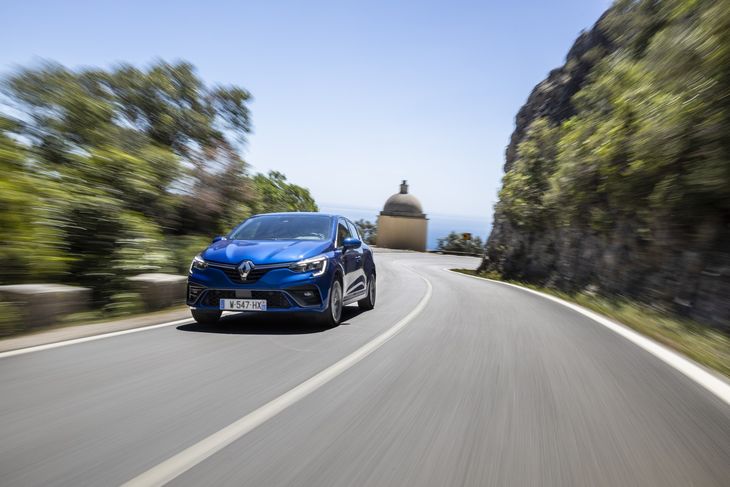 More refined and better built, but a few holes in the finished product.
While you might be forgiven for thinking that Renault is trying to sell you an old Clio with a new exterior execution, the fact is that a great deal has changed. That cabin is a massive step forward for the Clio, making it look and feel much more expensive – verging on premium – than was ever the case before. It's a shame that some of the fun factor of old has been excised, but at least the 1.0-litre TCe 100 engine retains a modicum of enjoyment. Just avoid the RS-Line, unless you plan to keep your local osteopath's business well in the black.
Related content:
2020 Peugeot 208 Revealed: Now With Electric Power
Ford Fiesta 1.0T Titanium Automatic (2018) Review
Volkswagen Polo Vivo 1.4 Comfortline (2018) Review
Interested in buying a new/used Clio?