Peugeot has revealed a second-generation Polo rival head of its Geneva auto show debut.
Riding on a new platform, which lighter than the previous car's structure and also provides better rigidity and superior acoustics, the new 208 supermini features a striking design. Stylists have been particularly daring with 208's redesign and the nose shows-off an intricate grille design and LED 'dagger' which runs from the headlights deep into the front bumper. Inside the 208 there is Peugeot's stacked dashboard configuration, with a standard 7-inch touchscreen – upgradeable to 10-inches.
Beyond the 208's bold appearance, Peugeot have committed to engineering a compact hatchback which should prove rewarding to drive. The new platform is 30kg lighter and powered by a range of four engine options. Three output grades of Peugeot's 1.2-litre three-cylinder petrol engine will be on offer (56-, 75- and 97kW), with the most powerful turbocharged engine driving the front wheels through an eight-speed automatic transmission.
The entry-level 56kW engine is unboosted and shifts gear via a five-speed manual, whilst the mid-grade 75kW option offers both six-speed manual or eight-speed automatic shifting. A sole alternative fuel engine will be available too, a 75kW 1.5-litre turbodiesel. Peugeot is marketing electrification strongly in its new supermini product strategy, with the range debuting an e-208. Powered by a 100kW electric motor, sourcing its energy flow from a 50kWh battery pack, Peugeot claims the e-208 will be good for 340km of range. With 260Nm of torque, it should be effortlessly quick at lower speeds, too.
Wired for 100kWh recharging capacity, it should regenerate 80% battery capacity within only 30 minutes from a rapid recharger. Peugeot is also guaranteeing that its e-208's battery pack will retain a recharging capacity of 70% energy density after eight years of 160 000km of use, assuaging doubts about battery life for potential electric car owners.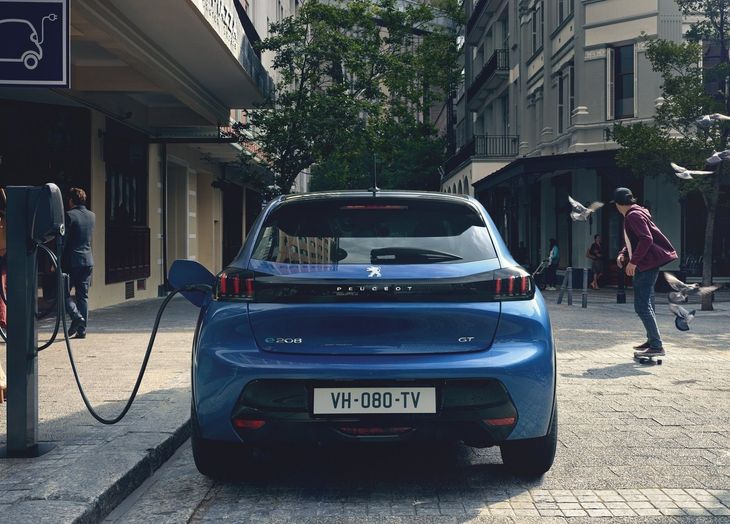 Peugeot has unveiled an electric-only derivative of its all-new 208 hatchback
Further Reading