The CitiGolf is a bona fide icon of South African motoring – close to 377 000 units of the legacy Golf Mk1 units were produced in Volkswagen South Africa's Uitenhage plant. Here are 5 of the most influential versions ever made…
With a heritage that spans 25 years, the CitiGolf is somewhat of a phenomenon here in South Africa. In 1984, the original Golf Mk1 (the successor to the Beetle) was superseded by the Mk2 (also known as the "Jumbo Golf"), which boasted bigger dimensions and a plethora of improvements. But, because the Golf had moved upmarket, it was no longer as affordable and this left a chasm in Volkswagen South Africa's entry-level portfolio.
While the company did consider introducing the Polo to the local market, the local subsidiary of the Wolfsburg-based brand ultimately decided to continue its Golf 1 production line (which had been amortised) and repackage the Mk1 as an affordable car for students and first-time buyers. And so the CitiGolf concept was born. During its tenure, the CitiGolf was available in various states of tune and colour options, and Volkswagen sold more than 1 200 units a month – every month – for a quarter of a century. Think about that for a moment… While there were a number of stand-out derivatives produced over the years, including Sonic, Deco, Designa, Citi.com and Ritz, the following 5 CitiGolfs stand out as the most influential.
5. CitiGolf Sport 1985-1989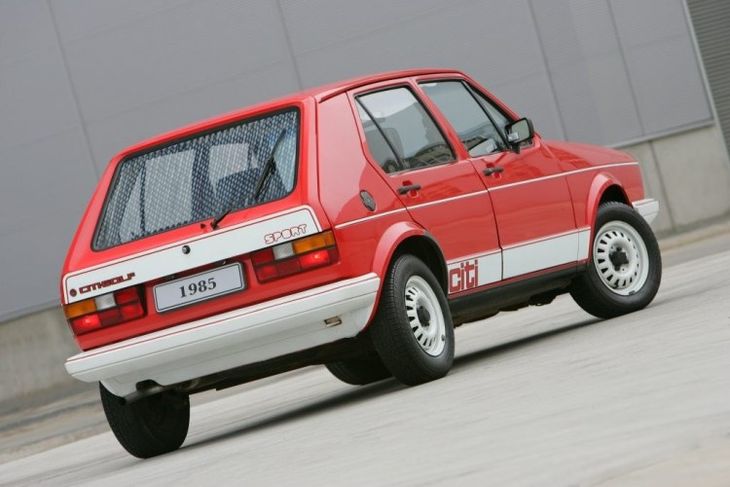 With a colour scheme inspired by Dutch artist Piet Mondrian, the "Eighties" CitiGolf was available in the choice of three bright primary hues: blue, yellow and red, while other colours (such as silver, black and pink) were introduced at a later stage. Powered by 1.3-litre carb-fed 4-cylinder, these versions sold appreciably well owing to their economic engines, affordability and bright, endearing colour-ways. The line-up lacked an out-and-out performance model for a few years, but that changed when the CitiGolf Sport was introduced to the market. Responsible for kick-starting a lineage of performance-focused CitiGolfs, the Sport was initially powered by a 64 kW 1.6-litre (also with a carburettor), but was later upgraded to a 70 kW 1.8-litre motor mated with a short-ratio 5-speed manual gearbox — it was pretty rapid for the time (capable of a sub-11 sec 0-100 kph dash).
4. Citi Life 1999-2003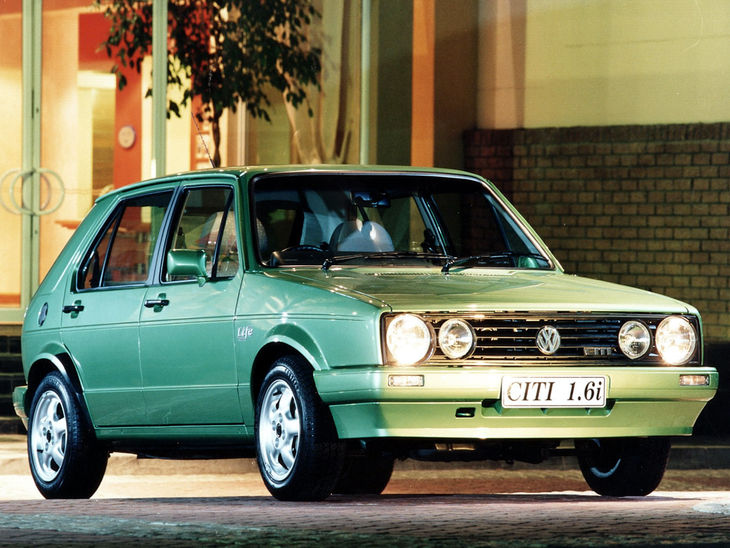 After the CTi (see below) was discontinued in the mid-Nineties, it wasn't until the Citi Life was introduced in 1999, that a veritable performance-orientated derivative was again available to the public. In terms of DNA, it followed very much a similar recipe to that of the CTi with blacked-out tailgate- and B-pillar foiling, a rear spoiler, colour coding, mudguards and 15-inch alloy wheels. It truly looked part.
Engine-wise, it received a fuel-injected 1.6-litre 4 cylinder — it was a nippy little lump that produced 74 kW and 140 Nm of torque. It also benefitted from upgraded brakes and new exhaust system, all of which yielded a fairly impressive 10 sec 0-100 kph sprint time. The Citi Life underwent a mid-life facelift in 2003 when Volkswagen SA introduced a string of changes to freshen up both the Citi's exterior and interior design cues. To give a few examples: it was rebranded with updated "Life" fender logos and a "Citi 1.6i" gel sticker on the tailgate, received new front windows, relocated wing mirrors, a rear-screen wiper, and repositioned indicators (on the front fenders), while its interior sported a completely new dashboard (see VeloCiti).
3. VeloCiti 2005-2009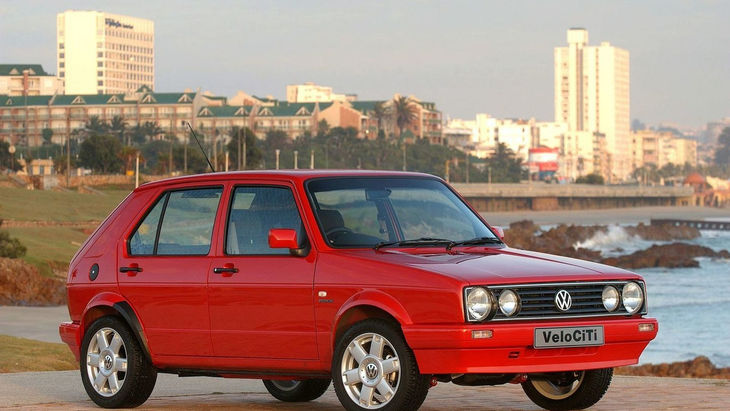 The VeloCiti heralded a new dawn for the CitiGolf concept in South Africa. Its sporty facade, new badging philosophy and trendy, metallic colour options found favour with the younger generation and stimulated yet another resurgence in sales in the entry-level segment. It sported the brand's recent facelift, which implemented several changes to the exterior and interior, most notable of which was the completely re-designed dashboard (something it borrowed from the Skoda Fabia). It was available in 2 states of tune: a 62 kW 1.4-litre and 74 kW 1.6-litre, both controlled by MP9 management systems and accessed via a short-ratio 5-speed 'FFZ' transmission. 2006 heralded another facelift with such changes as newly remodelled tail-lamp clusters with circular insets (to go with Volkswagen's new design language) and a new front bumper with lower apron grille.
2. CitiGolf CTi 1990-1995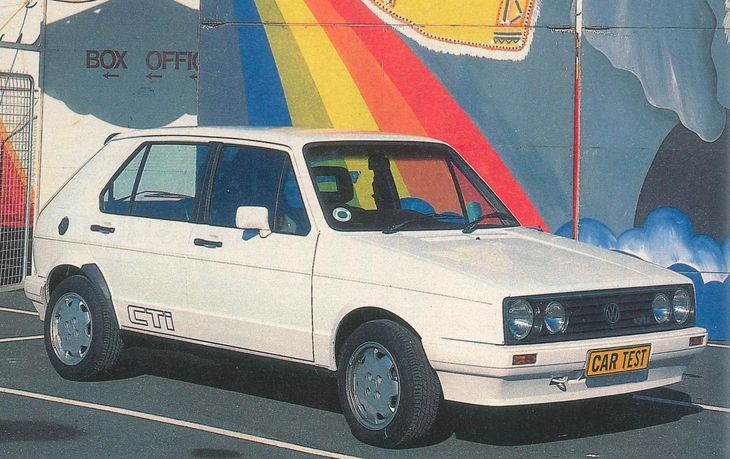 *Image courtesy of Car Magazine.
Considered by many local Volkswagen aficionados as the best CitiGolf of all, the CTi quickly gained cult status owing to its GTI-derived DNA and sportiness. As such the CTi received myriad enhancements to differentiate itself from its lesser siblings such as a rear spoiler, blacked-out tailgate foiling, CTi decals on the lower rear doors, 15-inch alloy wheels and colour-coded wing mirrors. The interior too benefited from semi-leather/tartan cloth seats, sporty instrumentation binnacles and a trio of VDO ancillary gauges to monitor oil pressure, amp voltage and fuel pressure gauges. It all looked very authentic; very GTi. Its biggest drawcard was undoubtedly the K-Jetronic-fuel-injected 1.8-litre 8-valve motor that pumped out 82 kW and 153 Nm of torque. It was a screamer and - at the time - the fastest CitiGolf ever produced with a top speed of 180 kph. It's a collector's piece!
1. CitiGolf 1.8i R-Line 2006 (Limited Edition)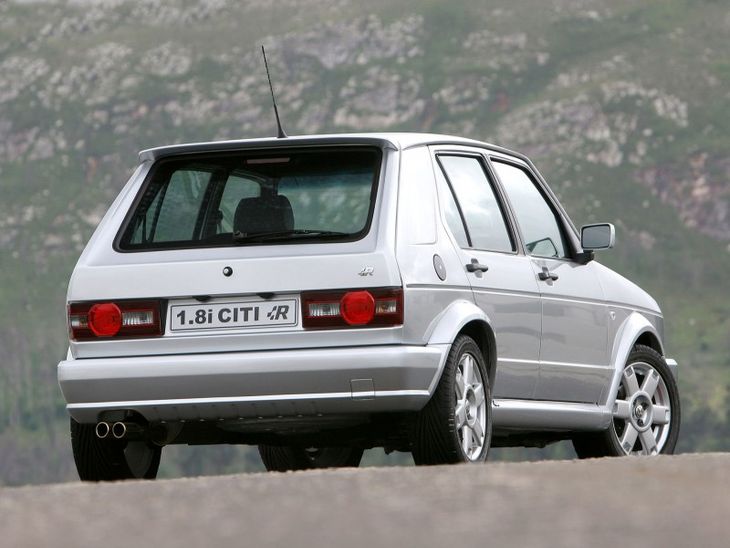 Fettled by Volkswagen South Africa's motorsport division, the Citi R-Line was a reincarnation of the original Mk 1 GTi and CTi. Like the GTi and CTi that came before it, the R-Line also befitted from a 1.8-litre 8-valve engine — albeit with radically tweaked internals such as a smoothed-out cylinder head, a re-profiled 272-degree camshaft and chip-tuned ECU. With maximum outputs of 90 kW and 162 Nm, the 900 kg Citi R-Line was no slouch in a straight line – Volkswagen South Africa a claimed the R-Line had a 0-100 kph sprint time of 8.5 seconds.
Furthermore, it looked the part, with an aggressive body kit, pin-striped grille, limited-edition alloy wheels and R-Line badges rounding off the visual treatment. As to how many were ever produced, nobody quite knows… There was, however, a limited run of standard Citi 1.8i units, boasting identical performance figures but far more demure packaging, that followed shortly after the launch of the R-Line.
Looking for a used Citi Golf?
Related content
Six Modern Day Classics To Buy Right Now
Best Used Hot Hatches for under R200k