Scheduled to arrive in South Africa before the end of 2016, the all-new second generation Porsche Panamera is the size of a first-class luxury sedan and, in terms of interior appointments and refinement, as good as any of its rivals. When the newcomer is required to demonstrate its dynamic abilities, however, it leaves the opposition well and truly in its wake, our UK-based correspondent finds.
By Andrew Frankel

This is odd. The most remarkable thing about driving the new Porsche Panamera Turbo at 270 kph is not the fact that you're driving at 270 kph. Do that in anything else and you're so aware of the sheer speed at which you're travelling it tends to block (or at least suppress) everything else. In fact, in the Panamera, the thought uppermost in your mind is how quiet and comfortable life remains inside the Panamera Turbo at 270 kph...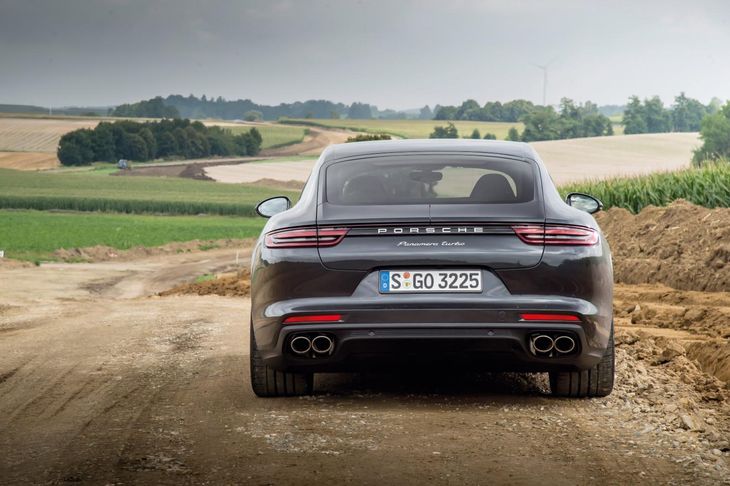 911-infused styling cues adorn the (significantly prettier) rear visage of the Panamera.
The distinction may be subtle, but it is important
Indeed – all cars have a natural gait, a speed at which they're happiest. It occurs when they're humming along but not being strained, doing their thing. In my 1958 Citroen 2CV, that speed is precisely 68 kph. In a 2016 Porsche Panamera Turbo, that speed is 270 kph. Given the space, the roads and a suitably enlightened legal system, it's a speed it would maintain without apparent effort all day long or at least until the tank ran dry.
I mention this now because this ability to make the unusual seem so very normal is one of the most revealing aspects of Porsche's all new super saloon.
Saloon? I've never known quite what to call the Panamera. It's not a coupe because it had four doors and a hatchback, but I can't call it a hatchback because it's so clearly not. "Saloon" seems the term that best fits what turns out to be a quite dramatically reformed character.

The Panamera is devastatingly fast, yet its refinement means that high velocities feel calm and poised.
Then again, after seven years of actually quite modest sales (Porsche shifted more SUVs last year alone than all the Panameras it has ever built), perhaps we should not be too surprised that Porsche has taken the opportunity presented by this genuinely all new car to vary the script a little. Think of the original as the pilot episode of a TV series: good enough to be picked up for a second season, but not without dramatic change.
All-new, and altogether different
Most of all, however, think about how different is this Panamera to its predecessor, much more so than what its new 911-mimicking silhouette suggests.
Underneath you'll find a brand new platform, built up around a hybrid aluminium and steel architecture. Regardless of which Panamera you buy it will have a new engine under its bonnet, either a 2.9-litre twin turbo V6 in the 4S (which I am assured has nothing to do with the similarly sized and configured engine in the Macan S) or, in the case of this Turbo, a 4.0-litre twin turbo V8 unrelated to the 4.8-litre, 8-cylinder motor from the old Panamera.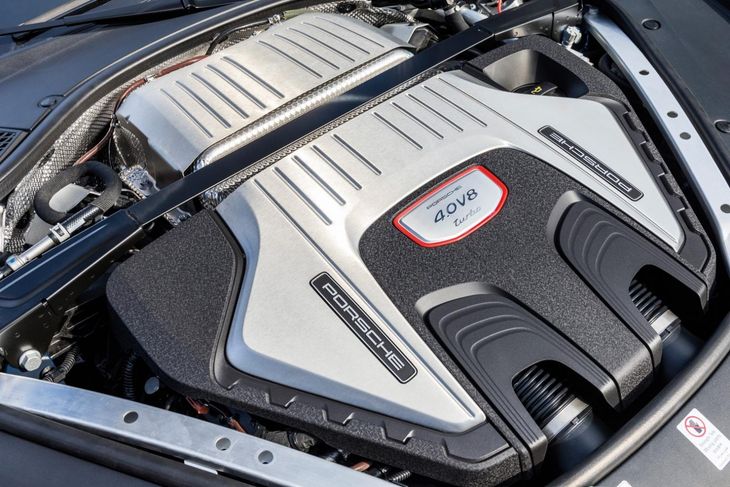 Both the 4S and Turbo Panamera derivatives get new engines, the latter produced a torque peak of 770 Nm.
This engine places its turbos inside the vee, where they heat up and respond faster. The new engine is not merely lighter than the old one, it's more powerful to the tune of 22 kW, with 404 kW now to its name, not to mention more torque lower down the range. And, of course, this is all achieved with better fuel consumption, though that might also have something to do with the similarly new 8-speed transmission that will feature in every Panamera too.
Being both a Turbo and a press car, the car I drove came with the full arsenal of technological wizardry Porsche has wheeled out for this car: 4WD, 4-wheel steering, active suspension, anti-roll control, torque vectoring, carbon ceramic brakes and, judging by the rate at which it acquires speed, a warp drive.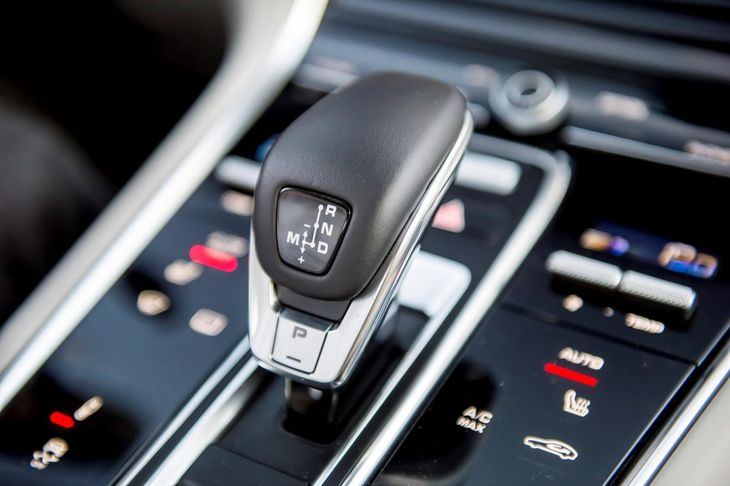 Compared with its predecessor's fascia, the new Panamera has a minimalistic console.
Interior: a new level for Porsche
But none of this is initially obvious, because your first few moments in the Panamera are going to be spent ogling its interior, for this is not just a new level for Porsche, but any rival manufacturer. Your eye is drawn first to the jet black facia, devoid of almost all buttons courtesy of its touch-sensitive surfaces.
It's a stunning interior, one with just enough confidence to retain a big central tachometer (as it's the only analogue dial on the dashboard) and the clarity in which information is imparted via three ultra-high definition screens is deeply impressive.
Even so, we can't sit here all day, looking at a cabin sufficiently spacious and sumptuous to accommodate four adults of over six foot (1,84 metres) and carry their luggage. There is much to find out and we need the open road to do it.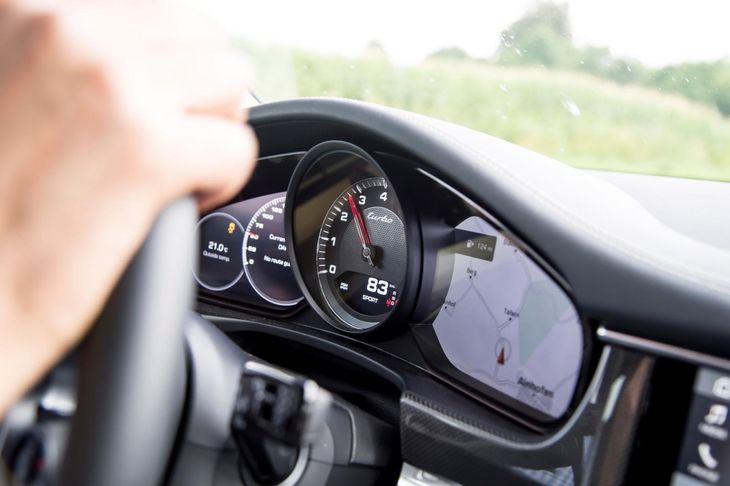 The Panamera's instrument cluster features only one analogue dial: the rev counter.
Hauling hard at 270 kph
Perhaps fittingly for a car like this, a stretch of unrestricted autobahn is what appears in sight first. As is usually the case, the dream of such roads fails to live up to the reality and there is too much traffic to hope to find out how conservative Porsche is being with its claimed 305 kph top speed, but there was space to rocket up to 270 kph and the idea it has a mere 35 kph to go was frankly laughable. Even at this speed, the car was hauling hard with gears and power in hand: on the right day and right stretch of flat and level track I'd bet plenty it would get closer to 320 kph than its claimed top speed.
This is important only insofar as it shines a little light onto how understated this new Panamera is. The old car in general and the Turbo (in particular) was quite vocal and immediate in its actions and interactions. This car is not like that at all. The engine is quiet and while it makes a nice noise, it's not going to stir any souls. The ride on the air suspension that's standard on the Turbo but optional on all other Panameras coming to market, is very grown up, mature and sophisticated and one symptom of this is that rarely has any car put so wide a space between real and perceived speed.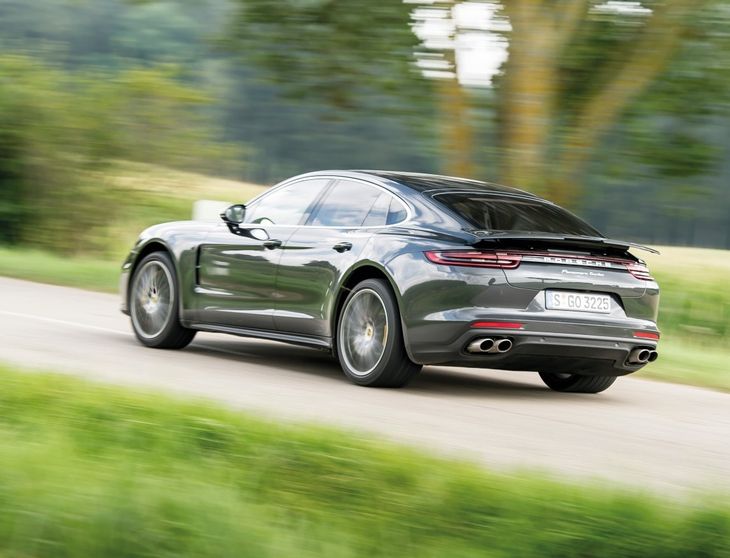 Blinding speed is relative in a Turbo, because its engine note is quite muted by the standard of its predecessor.
You could even escape with the idea that the Turbo is not that quick, and might have difficulty believing it has performance commensurate with its claimed 3.8-second sprint from zero to 100 kph until, that is, you look at the rate at which the numbers on the digital speedometer change. I know it doesn't and shouldn't amount to a defence, but 160 km/h in here feels like just over 120 kph in almost anything else. Or less.
Does things other luxury sedans can only imagine
A picture is beginning to emerge of a rather different kind of Panamera, a car whose priorities appear to be comfort, space and ease of use. For all its undoubted speed, it's not a very Porsche manifesto.
But it doesn't take very long on a fast open road for the Panamera to make you modify your view quite considerably – if not change it altogether. For all its newfound sense of sophistication, and despite a kerb weight that is worryingly just 5 kg short of 2 tonnes, here you will find it still able to do things no other true luxury car could even imagine, let alone emulate.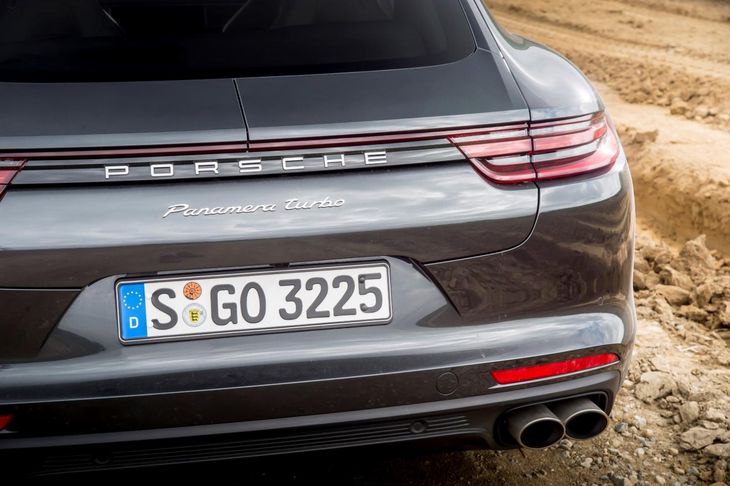 The 2-part rear aerodynamic spoiler of the Turbo recedes to fit flush with the curve of the tailgate at rest.
Give it the space it needs and its point to point speed nigh on beggars belief. Ultimately the speed of any car through a corner is limited by the amount of adhesion its tyres can develop, but the way Porsche has marshalled all its support systems to ensure every last ounce of performance is wrung out of its enormous Pirellis seems to defy logic. We found a quiet corner suitable for photography and on my first pass I went through at what seemed to be a quick but sensible speed. The car didn't flinch.
Watch a manufacturer video that shows the Porsche Panamera 4S and Turbo in motion:
Pace, poise and precision
So every time thereafter I went a little quicker, and I was still getting quicker when the photographer called time, images safely in the bag. Later that day I did discover it would eventually concede front end grip and allow some gentle understeer to creep in but believe this: if you want a 2-tonne car that corners faster than this, you'll need to buy a Bugatti Veyron. You cannot fail to be impressed by such pace, such poise and such precision. In a less than obvious way, Porsche is breaking new ground with the Panamera's chassis by bringing Porsche levels of composure to a class traditionally populated by cars that either fall over or want to run away at the first sign of a quick corner.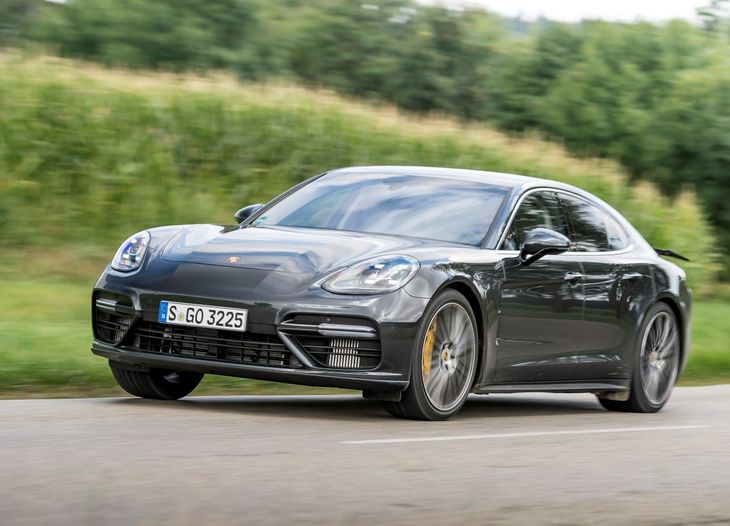 Although it weighs almost 2 tonnes and it's a long, broad car, the Panamera handles better than almost anything else of its size.
But all this comes at a price: you will admire to your boots the way the Panamera devours a fast open road, but you may find it rather harder to fall in love with the way it handles. For a start, the car is big – bigger and in every direction than the hardly compact original Panamera. Indeed this car that's styled like a coupe is, in fact, less than 5 cm shorter than a BMW 7-Series limo and almost 4 cm wider. And the tighter and twistier the road, the more you feel that width, so I would expect it to be even more noticeable around town than the wide open spaces of southern Germany.
It may be that with greater time in the car it will do that trick of shrinking around you, allowing you that confidence to go for gaps barely wider than the car. But the second issue that militates against that is the Panamera's steering which, while ideally weighted, geared and faultlessly accurate lacks the feel of even cars like the Cayenne and Macan, let alone Porsche's more pure-bred sportscars.

Yes, it might be a 4-seater, but the Panamera is a real rival to class-leading first class luxury sedans.
Summary
Even so, we need to put this in the correct perspective and judge the Panamera on the job it set out to do, the brief for which went far beyond doing the same as the old Panamera to a higher standard. Indeed Porsche appears to have repositioned the car even further away from its traditional turf and closer than ever to the jealously guarded territories of Audi, Mercedes-Benz and BMW's luxury flagships.
In many ways, it shows how confident Porsche now is of its brand, that it can withstand being stretched so far in this direction, and I am sure such courage will be rewarded with sales that will make the Panamera a mainstream operator in the Porsche line up rather than a niche player.
Why? Because just as the Cayenne and Macan's runaway success was rooted in fact that those who bought them needed and SUV, but wanted a Porsche, so the Panamera will attract the attention of all those in the luxury end of the market who'd be only too pleased to drive, be driven and host their clients in a car with the shield of Stuttgart on its nose.
And they won't be fussed at all by the fact it's not as engaging to drive as a 911 or a Cayman, because there's a very strong chance they'll have one of those too...
At the time that this First Drive was published the asking price for the Porsche Panamera 4S and Turbo derivatives (as listed on the manufacturer's local site) had not yet been confirmed.
Watch: The Panamera Turbo lays claim to being the fastest luxury sedan on earth after lapping the Nürburgring in 7 minutes 38 seconds
See also:
Porsche Cayman (2016): specs and prices in SA
BMW 750i Design Pure Excellence (2016) Review
Mercedes-Benz S-Class Convertible Cruises Into SA
Maserati Ghibli S (2016) Review
Maserati Ghibli S At The Red Line - Video Review
Interested in buying a Porsche Panamera?