Given its astounding ability to catapult from 0 to 100kph in only 2.7 seconds, with remarkable ease, time and again –the new Porsche 911 Turbo S is a luxurious GT sportscar with supercar-humbling performance.
Since its introduction in 1974, the 911 Turbo has been a pivotal model in Porsche's line-up. Early iterations were scarily fast, so much so that the Turbo was labelled a "widowmaker", but Porsche has continuously refined its poster child. In 1995 (with the 993-generation), the derivative gained the added security of all-wheel drive. But for many customers, the ferociously fast and extremely capable 911 Turbo is not the ultimate Turbo...
The success of the more powerful 911 Turbo S has been so pronounced in recent years that, for the first time, it has reached the market before its famous sibling. We took to some of the Western Cape's finest roads to figure out whether this flagship 992 (for now) is worth nearly R4 million.
The headline numbers
There's no getting away from it, the Turbo S' claimed performance figures are staggering. According to Porsche, its flagship can sprint from 0 to 100 kph in 2.7 sec. That's quicker than a Ferrari F8 Tributo. Faster than a Lamborghini Huracán Evo. And it's just about "ludicrous" enough to keep up with a Tesla Model S P90D, a car that's humbled supercars in hundreds of Youtube videos. It is also faster, by the way, than the headline-grabbing, all-electric, Porsche Taycan Turbo S we sampled recently. So there's definitely some life in the internal-combustion engine yet!
And what an engine it is! The 3.8-litre flat-6 features twin variable geometry turbochargers and pumps out 478 kW (51 kW more than before) and 800 Nm of torque (50 Nm more). The 0-100 kph time is 0.2 sec improved compared with its perfectly fast predecessor, but 200 kph (from standstill) comes up a full second faster than before (in 8.9 sec). The Turbo S's amazing 8-speed dual-clutch transmission deserves a lot of credit for not only harnessing all of that power to deliver scorching acceleration times, but its astounding ability to do so repeatedly, without so much of a hiccup.
Compared with many other performance cars, it's laughably easy to execute a launch-control start. You select Sport Plus mode, mash the accelerator, hold the brake pedal and then release it... and hang on. The 911 Turbo S catapults itself forward with such ferocity that unsuspecting passengers might experience discomfort. In fact, it is advisable to keep one's head pinned against the headrest before executing a hard launch!
Top speed is the same as before (330 kph), putting the 911 Turbo S among some pretty exotic machinery. And yet, Porsche describes the 911 Turbo S as a sportscar, not a supercar...
Bigger dimensions, active aero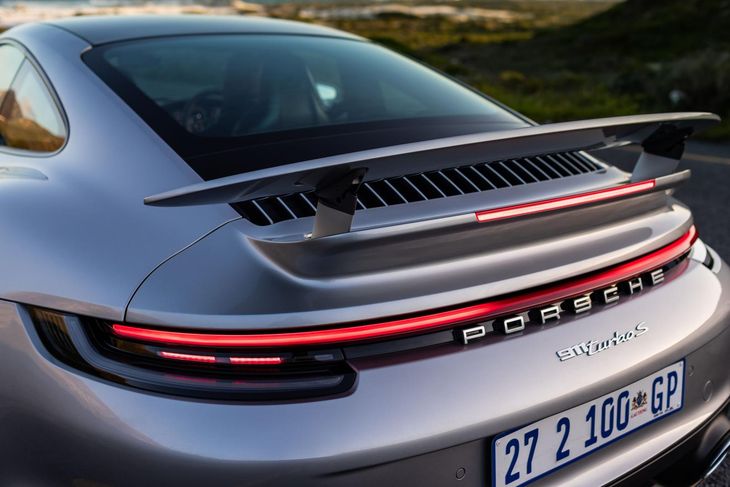 The active rear wing also doubles as an "air brake".
The adaptive aerodynamic features launched on the previous model have been further improved for the 992-generation Turbo S. A new function is "Wet Mode", which we had the privilege of experiencing during a very unseasonal Western Cape downpour. The car detects when the road is wet, warns the driver, and once the mode is selected, the aerodynamic features of the car prioritise downforce on the rear axle to improve grip.
There's also a self-adjusting front spoiler which, in conjunction with the rear wing, move to a "performance" position during emergency braking at high speeds to create a higher drag force, as well as more downforce, to reduce the Porsche's braking distance. This also serves to improve stability under braking. At higher speeds (above 200 kph), the active front and rear spoilers boost downforce by as much as 15%.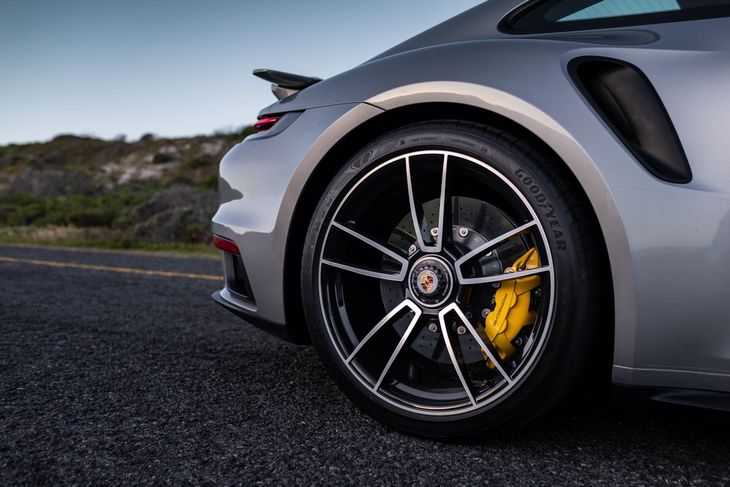 Massive 21-inch rear wheels fill the broad rear "hips" with purpose.
Most of these aero features are virtually invisible most of the time. For the most part, the Turbo S looks like the beefed-up 911 it is – there are no oversized wings, splitters, or eyeball-assaulting ducting. This "restraint" endows the 911 Turbo S with considerable Q-car appeal. That said, those in the know will be able to identify it by its wide hips (it's the widest 911 ever, with 20-inch wheels fore, and 21-inchers aft, wrapped in 315/30 rubber).
Luxurious GT

The top-quality cabin is a fantastic place to spend long distances in, with superbly comfortable seats and loads of luxury features.
The launch route for the 911 Turbo S encompassed some of the Western Cape's finest roads, which afforded us ample opportunities to test the depths of this amazing machine's abilities. However, before you start wringing the Porsche's neck, you're likely to be taken aback by its other qualities... The 911 Turbo S is no stripped-out, bare-boned racer. As standard, you get a full-leather interior and carbon trim combination with light satin silver accents. The sports seats feature stitching that pays homage to the 1st (930) 911 Turbo and the instrumentation is a lovely mix of analogue and digital. A slight ergonomic issue is that the 2 outer-most dials are obscured by the rim of the steering wheel/driver's hands.
A large (10.9-inch) infotainment screen has an intuitive user interface and slick graphics. Other standard features include a lovely-to-hold GT sports steering wheel, the Sport Chrono package (with a newly integrated Porsche Track Precision app), as well as a Bose surround-sound audio system. I recently spent quite a lot of time in the Cars.co.za Porsche Cayman R, and it's remarkable just how familiar and "instantly Porsche" the latest 911 still manages to feel, even though it boasts a lot more in the way of luxury and convenience features than its older sibling.
Grip. Grip. And yet more grip!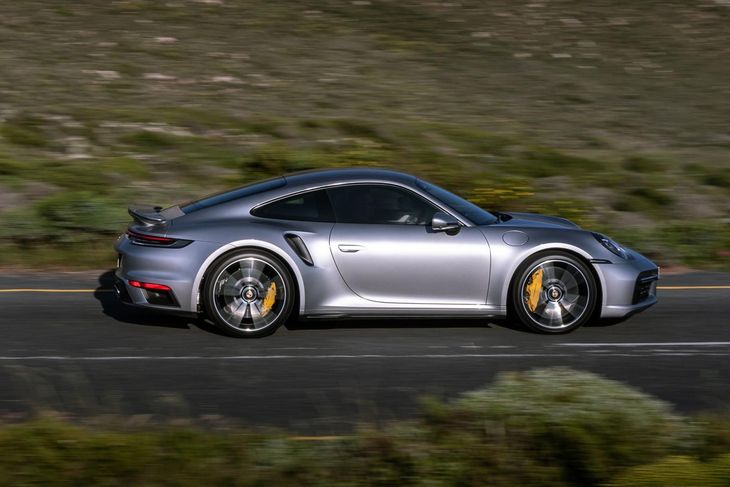 With an improved traction management system, the new Turbo S boasts outstanding, confidence-boosting grip.
I've driven cars with comparable peak power outputs to the Porsche, but I can't recall one that so effectively harnesses all that fury... and allows the driver to unleash it with so much abandon. Porsche talks a lot about tyre-pressure and temperature management when it comes to the 911 Turbo S and, for the first time, a tyre temperature indicator is availed to keep enthusiastic drivers informed about the car's 4 tackies' state of readiness.
Another 1st is an optional PASM sports chassis that is lower by 10mm and which features shorter springs with more "dynamic" spring rates. But to ensure that maximum grip is maintained, there are "helper" springs at the rear to ensure sufficient pre-loading of the main springs for a full rebound. Little details like those add up to make the 911 Turbo S probably the fastest, real-world, ground-covering machine on the planet.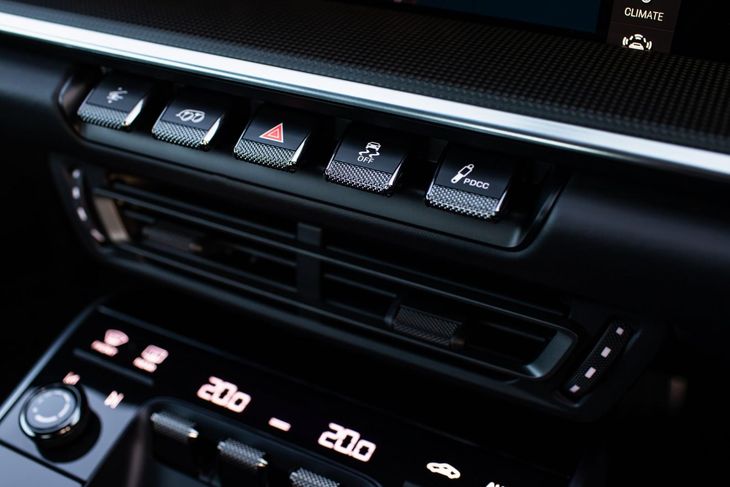 Note presence of exhaust and nose-lift buttons.
Meanwhile, the PTM (Porsche Traction Management) all-wheel-drive system has been further honed for use in the 911 Turbo S. The front axle now features additional water-cooling and reinforced steel plates, allowing it to transfer as much as 500 Nm to the front wheels. There is also a new, more stable driveshaft with just one universal joint that distributes power to the front axle.
On the road, and even when pushed hard, the Turbo S stubbornly resists understeer in a manner that beggars belief – the significantly wider front track helps here – and the steering itself remains wonderfully direct and meaty, although not overly communicative. And there's just so much grip... Even when you apply stabs of throttle mid-corner you're unlikely to see the stability control light flickering. Flicking through the quick-acting 8-speed 'box is a real treat and also advisable (if you're in the mood for a spirited drive) because there's a smidge of lag low down in the rev range, which can be circumvented if you use the paddles. Overall, it's a car that seems to be able to make the most hamfisted driver feel like a champion.
Due to the Porsche's excellent on-road refinement, however, one tends to arrive at corners at a significantly faster rate of knots than expected. Thankfully, the Turbo S features an improved PCCB ceramic brake system (as standard) and it's the first 911 to be fitted with brake calipers with 10, yes, 10 pistons (the front brake discs now measure a colossal 420 mm in diameter).
Summary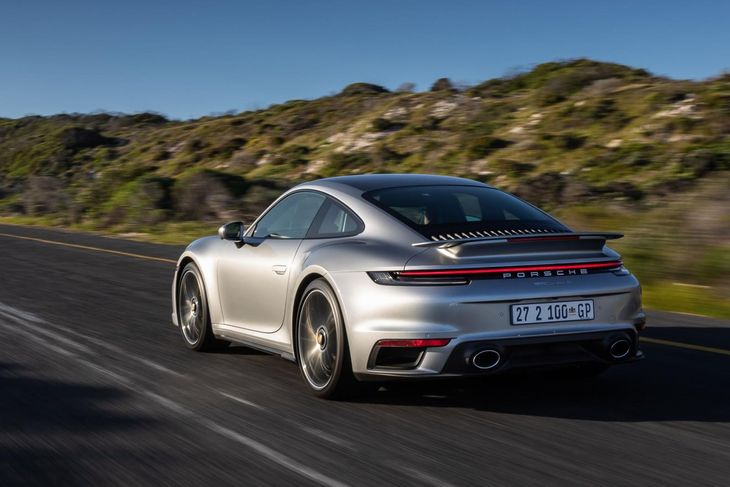 The view most other road users will see – the 911 Turbo S offers unrivalled performance and dynamic capability at the price.
Because the 911 Turbo achieves its staggering performance claims with such ridiculous ease, you may be tempted to regard it as a one-trick pony, but it's far from it – it's as much a crushingly competent luxurious GT as it is a humbler of supercars with much, much higher price tags. Factor in typically excellent Porsche build quality and you've got a R4-million car that could be called a "bargain"... it's a monumental achievement.
You may also be interested in:
Porsche 911 GT3 RS (2020) Review + Video