With concept-car looks, mindblowing performance figures and a whopping pricetag, the Porsche Taycan Turbo S is a headline grabber of note. But does Zuffenhausen's BEV still feel like a Porsche? We spent a day on some of the Western Cape's best driving roads to find out.
The Porsche Taycan has myriad party tricks – so many, in fact, that it's quite tricky to figure out where to start a dissection of this amazing machine. I've driven a number of battery electric vehicles (BEVs) before, and consider myself a convert, particularly due to the immediacy of these cars' power delivery (in addition to all the obvious "green" reasons), but I'm also a fan because when it comes to their EVs, car firms tend to embrace the future in several aspects of the products' engineering, as well as design.
Consider the Taycan's exterior styling, for example. For most onlookers, the Taycan looks like nothing other than a car from the future. And so, as we parked at a little roadside coffee shop to take a break during the Porsche media presentation, it was fascinating to see people of all ages and backgrounds being drawn to this "car from the future".
Instantly recognisable
It was also interesting to note that the general public's awareness of what the Taycan is – and what it represents – appears to be quite high. "If this is what electric cars will look like," one burly, bearded biker said as he dismounted his Harley, "then I'll take one."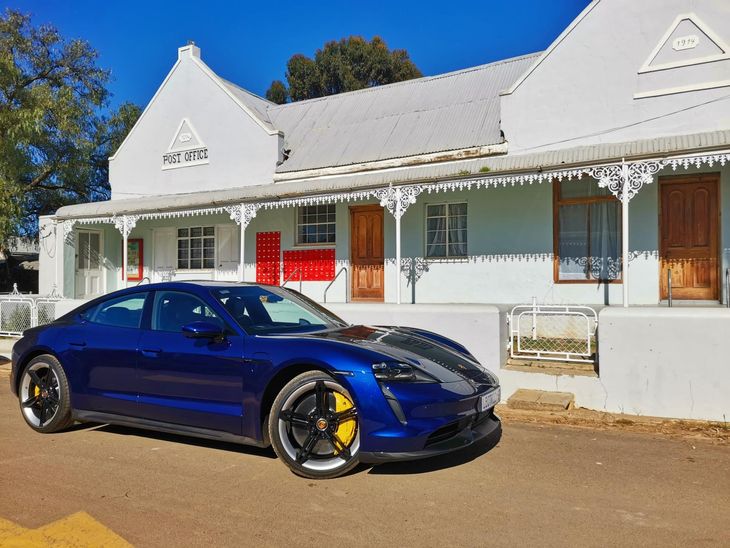 "A car from the future", was a regular comment wherever we parked the Taycan.
The Taycan rides on an all-new platform and is slightly shorter than its (also 4-doored) Panamera sibling, but the newcomer's obviously somewhat longer than a 911. In the metal, it looks squat and purposeful; Porsche's designers were evidently extended the freedom to create an exagerrated low-slung, powerful look, because, compared with conventional cars' packaging, the Taycan's batteries and motors are more compact and mounted lower down than internal combustion engine (ICE) drivetrains.
You get two "boots" of reasonable size – one in the front and one in the rear. Through clever battery packaging, there are foot "garages" for rear passengers, which create the sensation of greater rear legroom. I'm just over 1.8m tall and I fitted in comfortably in the back, but anyone taller than me will find headroom a bit tight.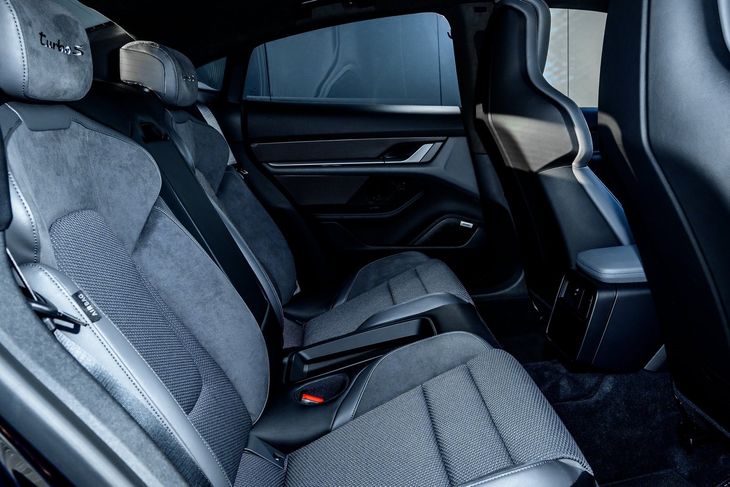 Rear leg- and footroom is impressive, but headroom will be tight for those taller than 1.8m.
In front, there's a lot that will remind you of other (contemporary) Porsche models. The finishes feel familiar, the seat-to-steering-wheel ratio and the amount of adjustability is similar to what you'll find in a "conventional" Porsche sportscar. And although the instrumentation and most of the switchgear have been "digitised", the look is pure Porsche.
It will take some time to get familiar with all the settings, however, simply because there are a staggering number of menus and sub-menus, display options (and so forth) to choose from. A more familiar dial is the one on the steering wheel that allows you to choose from "Range", "Normal", "Sport" and "Sport+". When you select "Range", the Taycan goes into range-optimising mode.
Our fully-charged Taycan Turbo S test unit showed a range of around 330 km when we left our base. From there we drove (enthusiastically, we should add) for around 200 km and, when we returned, the range meter still showed a healthy 110 km "in the tank". A nice touch is that when you punch in your destination on the navigation, the car will tell you what your remaining charge will be upon arrival.
The numbers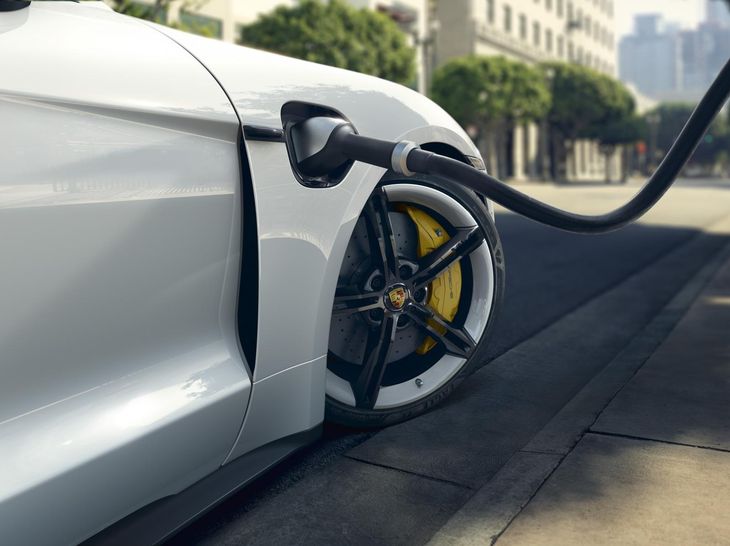 The Taycan features charging ports on both sides of the vehicle (AC on the one side, and AC+DC on the other).
The top-dog Taycan Turbo S features a pair of electric motors (driving all four wheels), and a raft of lithium-ion batteries (gross battery capacity of 93.4 kWh) located under the cabin floor. It is also the first EV to feature a 2-speed transmission, and the first to boast an 800V architecture. The Taycan runs in "second" gear most of the time, but the first ratio is called into action upon hard acceleration runs.
That brings me to one of the Taycan Turbo S' party tricks. Porsche claims a power output of 560 kW, but for short period of time, a further 136 kW is made available for launch-control starts, the nett result of which is a 0-100 kph sprint in an astonishing 2.8 seconds. Top speed is 260 kph. The car's long-distance cruising range is a claimed 340 km.
Now, those are the numbers, and they're pretty impressive. But they can't quite prepare you for the sheer hilarity of what happens when you floor the throttle and immediately get catapulted to the horizon with zero lag. In fact, you have to be so vigilant when executing overtaking manoeuvres to ensure that you don't apply the throttle too early and risk slamming into the vehicle in front of you – it's that instantaneous. And very, very addictive.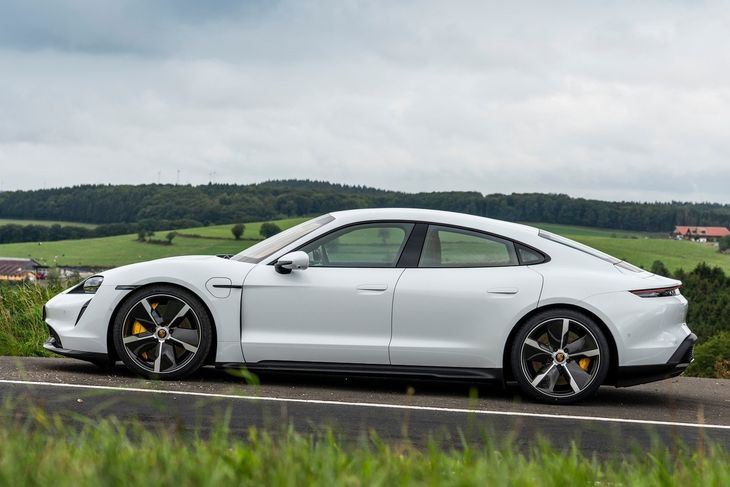 The Taycan Turbo S sets a very high bar for performance EVs to follow, but also impresses with its touring comfort.
Also impressive is the way in which the brand has engineered-in that familiar Porsche weighting to the major controls. Yes, the throttle response is beyond anything that a traditionally engined Porsche can muster, but the pressure that needs to be applied to the pedal, the weighting of the steering etc. all feel familiar... very Porsche-like. You'll also quickly realise that the tremendous slow downeffect that is present in other electric cars when backing off the throttle is less pronounced on the Taycan, which feels more free-wheeling. You can, however, at the press of a button (and when range-anxiety sets in), select the option to have the brake recuperation at a more aggressive setting.
Is it exciting to drive? Tremendously. Here's a statistic that you have to get your head around. Over the first few metres of a Launch Control start, the Taycan Turbo S puts in a 1.2g performance... which means its faster, according to Porsche, from rest than a skydiver in free fall.
With its low centre of gravity, rear wheel steering and four-wheel grip, it also feels unflappabble in the twisties. Our test units didn't even have the optional Porsche Active Suspension Management (PASM) system and, to be honest, I doubt most drivers will ever need it. If driven more sedately, the Taycan Turbo S will not only reward you with improved range, but excellent ride comfort (air suspension) and a quiet cabin that only lets through tyre noise on the coarser sections of South Africa's road surfaces.
Porsche Taycan pricing in South Africa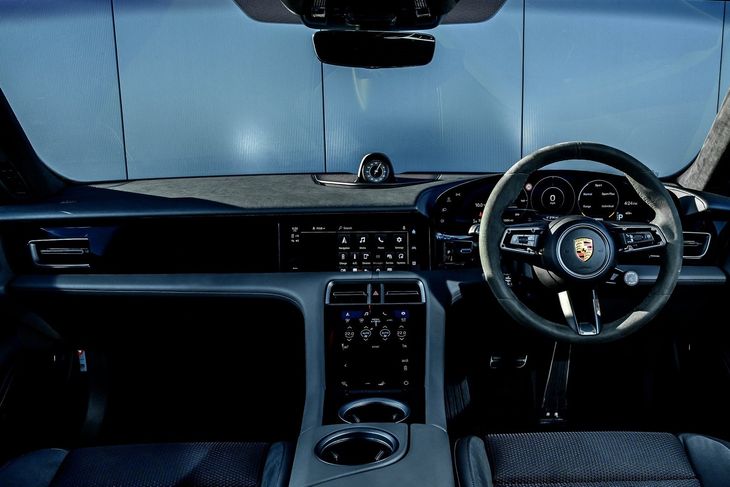 The high-tech cabin features a number of configurable digital screens, as well as the option of voice control. You can also spec a completely leather-free interior.
The Turbo (R3 426 000) and Turbo S (R4 027 000) have already arrived in Mzansi, and the more affordable 4S (R2 586 000) is coming later. The pricing is steep, due in part to silly punitive government taxes, but, according to a Porsche SA representative, the pricing has not deterred more local buyers putting down deposits than the brand anticipated.
It helps, of course, that there are already cars in the Porsche portfolio that can cross the R4-million mark when generously specced with extras. It's worth noting that the purchase price includes a home 22-kW AC charging system, but that installation of the system is for the buyer's own account. Your home will also need 3-phase electricity supply. Once installed, you will be able to fully charge your Taycan in 4.5 hours.
Summary
Given its heady asking price, a lot of people may describe the Taycan Turbo S as a largely pointless vehicle (within the South African context). Nevertheless, I find myself marvelling at what Porsche has achieved with its newcomer, even within the context of the price. Here is a car with comfortable, luxurious accommodation for 4 occupants that rides well enough to make it an easy "daily driver". It offers similar range to traditionally-engined performance vehicles. It's off-the-mark acceleration compares favourably with a Formula 1 car. It looks like a concept that's just rolled off a motorshow stand. And... and this is a big AND... it is truly special, even memorable, to drive. Worth 4 bar? Every cent.
You may also be interested in:
Porsche Taycan claims 4-door EV record at Nurburgring