The Porsche 911 GT3 is on its way to South Africa. Here's how much you can expect to pay for arguably the purest sportscar experience.
The 7th-generation Porsche 911 GT3 was revealed in 2021 and was built as a collaboration project with Porsche Motorsport. Given its involvement and success in motor racing, we can easily assume what you see here is basically a road-legal racer. Physically the new car is wider and has larger wheels, as well as some trick aerodynamics like the swan neck rear wing. Despite the advancements, the new car tips the scales on par with the outgoing model.
Being one of the flagship Porsche 911 offerings, the performance is going to be breathtaking. Porsche claims a 0-100 kph in just 3.4 seconds and it will sprint to a top speed of 320 kph (318 kph with PDK). Yes, that's right, Porsche is offering its new 911 GT3 with a manual transmission for the purest Porsche experience. Perhaps the most impressive performance figure is the 0-200 kph in just 10.8 seconds.
Power comes from the 4.0-litre flat-six petrol engine delivering 375 kW and 470 Nm. The engine has a red line of 9 000 rpm and the engine features six individual throttle valves. Despite having two gasoline particulate filters, the lightweight sports exhaust system weighs less than the one fitted to the previous 911 GT3.
The car's not just about straight-line performance though, with the 911 GT3 development taking place on the Nuerburgring-Nordschleife circuit where it went over 17 seconds faster than the predecessor. Of course, some special tyres played their part and Porsche has made Michelin Pilot Sport Cup 2 R rubber as an option.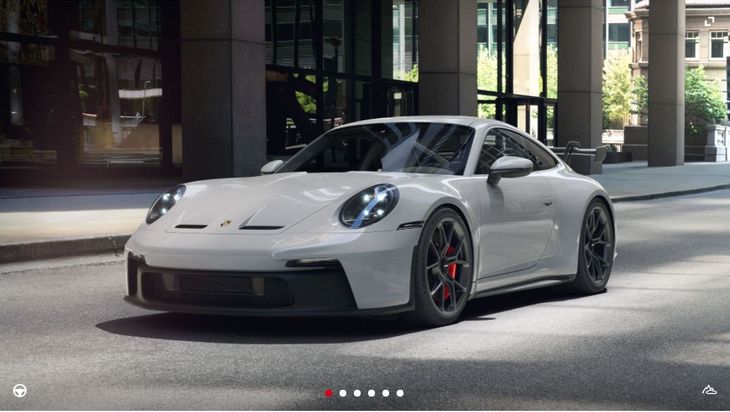 How the Cars.co.za Porsche 911 GT3 would look. Now, time to buy those Lotto tickets.
How much does the new Porsche 911 GT3 cost in South Africa?
The Porsche 911 GT3 will be arriving in SA in 2021 and is available with either a 5-year Driveplan or a 3-year Driveplan. A quick look at the configurator highlights what you can be expected to pay for various options. The gorgeous Shark Blue (and other special paints) adds R86 740, full bucket seats go for R130k, Chrono package R11k, Porsche Ceramic Composite Brake (PCCB) R223k, and a Bose sound system for R34k. Mind you, with a snarling engine right behind your head, we don't think there's a need for an upgraded audio system.
Porsche 911 GT3 with 3-year Driveplan R3 109 000
Porsche 911 GT3 with 5-year Driveplan R3 159 000
Further Reading
Porsche: focused on the future, but true to its past
Time-testing the new Porsche 911 Turbo S : Can it beat Porsche's claimed times?
Porsche Boxster 25 Years (2021) Specs & Price