Porsche has unveiled its all-new Taycan Cross Turismo. It takes the current abilities of the all-electric Taycan and transforms them into a versatile off-road version.
"In 2019, we sent out a key signal with the debut of our first all-electric sports car," said Oliver Blume Chairman of the Executive Board of Porsche AG, at the world premiere of the new, even more versatile derivative. "We see ourselves as pioneers of sustainable mobility: by 2025, half of all the new vehicles we will deliver will have an electrified drive – either fully electric or plug-in hybrid. In 2020, one in three of all vehicles we delivered in Europe had an electric powertrain. The future belongs to electric mobility. With the Taycan Cross Turismo, we're taking another major step in this direction."
The Porsche Taycan Cross Turismo features electric drive 800-volt architecture, a high-tech chassis with all-wheel drive, and adaptive air suspension. Porsche claims the Taycan Cross Turismo has a touch more headroom for rear passengers and more than 1 200 litres of boot capacity. There'll be 4 derivatives on offer.
Starting off the range is the Taycan 4 Cross Turismo with a 280 kW electric motor. It can summon 350 kW of overboost power for launch control and Porsche reckons it'll hit 100 kph in 5.1 seconds and max out at 220 kph. It has a WLTP range of between 389 and 456 km. Next up is the Taycan 4S Cross Turismo which has 360 kW. It too has an overboost function that takes it up to 420 kW to enable it to launch to 100 kph in a claimed 4.1 seconds. A top speed of 240 kph is claimed and based on the WLTP cycle, has a range of between 388 and 452 km.
The turbo badge is available, despite the lack of said hardware and the Taycan Turbo Cross Turismo features 460 kW, but with its overboost, it'll produce 500 kW, giving it a claimed 0-100 kph time of just 3.3 seconds and it will onto a top speed of 250 kph. A WLTP range of between 395 and 452 km is claimed. At the top of the family sits the Taycan Turbo S Cross Turismo which produces 460 kW, but with launch control dialled up, this climbs to 560 kW. Porsche claims 0-100 kph in 2.9 seconds, a top speed of 250 kph and a WLTP range of between 388 and 419 km.
All Porsche Taycan Cross Turismo models feature all-wheel drive and adaptive air suspension, with the option of the Off-Road Design package which increases the ground clearance by up to 30 mm. It even has a gravel mode, for the rougher roads.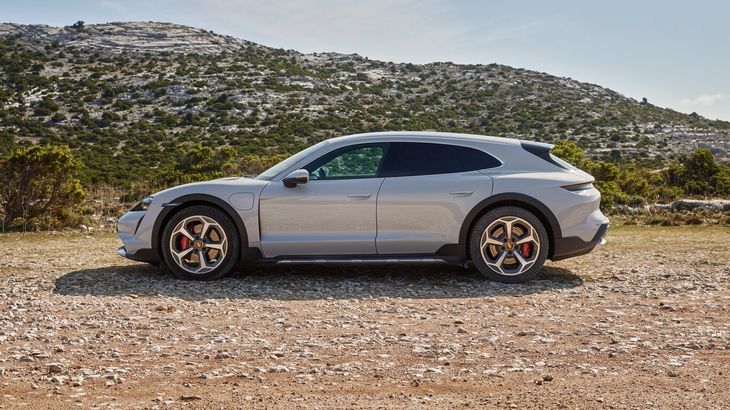 Porsche Taycan Cross Turismo Price in South Africa (March 2021)
The below prices include the Porsche 3 year/100 000 kn Driveplan
Taycan 4 Cross Turismo R2 511 000
Taycan 4S Cross Turismo R2 619 000
Taycan Turbo Cross Turismo R3 459 000
Further Reading
Porsche Taycan loses a motor to become RWD
Porsche Taycan Turbo S launch review