Porsche's (quite intentional) trickle of improved Cayman and Boxster derivatives continues with the introduction of GTS versions of the 718 Cayman coupe and 718 Boxster roadster to the local market. The newcomers offer higher outputs from their 4-cylinder engines and extra handling prowess.
What's new?
By now, most of us know what to expect from a Porsche model's life cycle: it starts off with the basic car, followed by an S version, which offers a bit more verve. Then, apparently, Porsche's engineers in Zuffenhausen get a bit twitchy and they're allowed to develop models further, which leads to the release of derivatives such as a GTS, a GT3, possibly a GT4 and, if they have nothing to do on a Tuesday afternoon, an R (or something suitably bonkers). What this means for the buyer is that they have to choose at what point they'd like to quench their fomo... Wait too long and the one you want will be too expensive; buy too early and you're the person who bought the version that's missing the extra kilowatts and suspension tweaks that make the difference.

Tinted tail lights, dark rear boot lip and the special wheels denote GTS model (other than the obvious GTS badge).
So the GTS is a progression from the Cayman S and Boxster S. It gets 11 kW more power, but torque remains at 420 Nm. Furthermore, it's kitted out with a load of standard kit that's usually on the options lists of S derivatives. That means the Sport Chrono package is standard, as is torque vectoring and Porsche's famed PASM stability system, which sees GTS versions sit 10 mm lower.
The exterior of a GTS features dark-tinted head and taillights and a black rear apron. GTS decals sit behind the front wheel arches and a sports exhaust system is standard. Inside, the seats are trimmed in Alcantara, as is the roof lining and a few other touch points around the cabin. The final addition is GTS badging in the headrests of the seats.
More from 4?
In line with the rest of the 718 series, the Boxster GTS and Cayman GTS are powered by a turbocharged flat-4-cylinder engine. In GTS spec, the 2.5-litre motor produces peak outputs of 269 kW and 420 Nm of torque. Equipped with the dual-clutch PDK transmission, the cars are claimed to hit 100 kph from standstill in 4.1 seconds. Choose a 6-speed manual and Porsche reckons the best you'll manage is 4.6 seconds, which is anything but pedestrian, but it's interesting to note how much faster the PDK box is claimed to be than its stick-shift counterpart...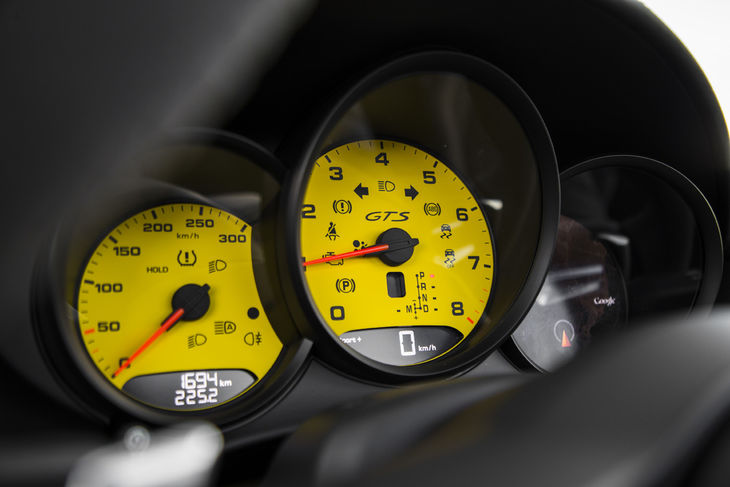 The flat-4 cylinder 2.5-litre engine is a happy revver and quickly hits its 7 000 rpm rev limit.
The engine emits a unique note from of its exhaust ends: it sounds neither very intimidating, nor sonorous, to bystanders. Porsche is admittedly not the type of car brand that strives to achieve the perfect exhaust note, certainly not on its forced-induction cars... For decades, turbochargers have muted any hint of crisp and clear tailpipe drama, you'd get wooshes, yes, but no guttural growls. Non-turbo models such as the 911 GT3 and previous-generation Cayman R positively sang, but the 718 lacks the aural drama of something like a Mercedes-AMG A45 or the rorty Audi TT RS.
Stepping onto home turf
There is good news, however. For what their engines lack in terms of ear-tingling excitement, the Cayman GTS and Boxster GTS can deliver unadulterated driving experiences, seemingly at will. Out on Porsche's home turf of Kyalami, an ideal place to test cars' dynamic ability, we were allowed to really open up the taps on the GTS versions. The mid-engined balance of the Cayman is especially fun to exploit... As you progress through the driving modes to the climactic Sport Plus setting, the Cayman's talents become incrementally more accessible. The Boxster isn't a softie, however; it impresses in the same way as the Cayman, but its suspension is more pliant. It's fun to drive on track, but compared with the Cayman, the hardtop provides the most thrilling drive.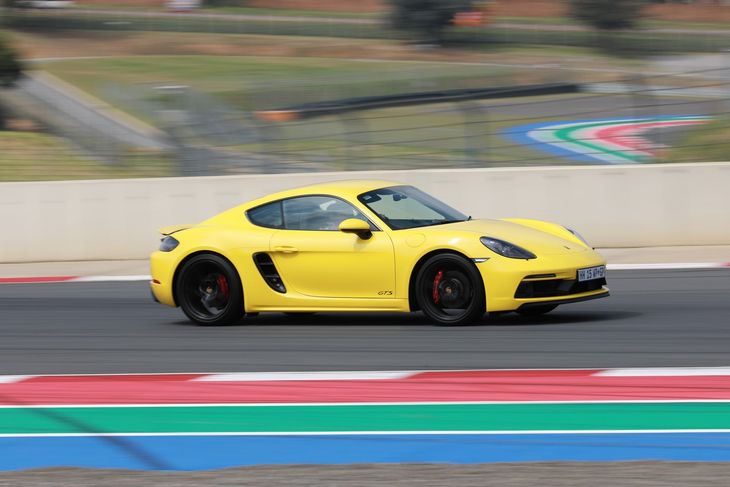 The handling prowess of the Cayman is easily accessible, especially at Kyalami, which is home turf now, right?
Both versions of the 718 GTS instil a feeling of superb balance: a GTS' front end is fast to react and the chassis responds quickly to swaps of direction. It's not rear-limited by any stretch of the imagination, so you're free to stand on the throttle early and power out of corners with zeal.
The steering is sharp and has reasonable feedback, but I would like to experience a little more feel from the tyres, especially towards the ends of long fast corners, where you're not quite sure whether the front tyres are beginning to push (understeer) or not. Still, the GTS (particularly the Cayman) can hold a tighter line on corner exits than any AWD or RWD sportscars in its class.
The responsiveness of the turbo 4-pot is excellent on track, as is the slick PDK transmission. The motor revs cleanly to 7 000 rpm and hardly hesitates to draw breath before snatching the next gear. The power delivery is much more linear than you'd expect from a turbo motor, which undoubtedly helps to keep the car's tail in line when you flatten the accelerator when exiting corners.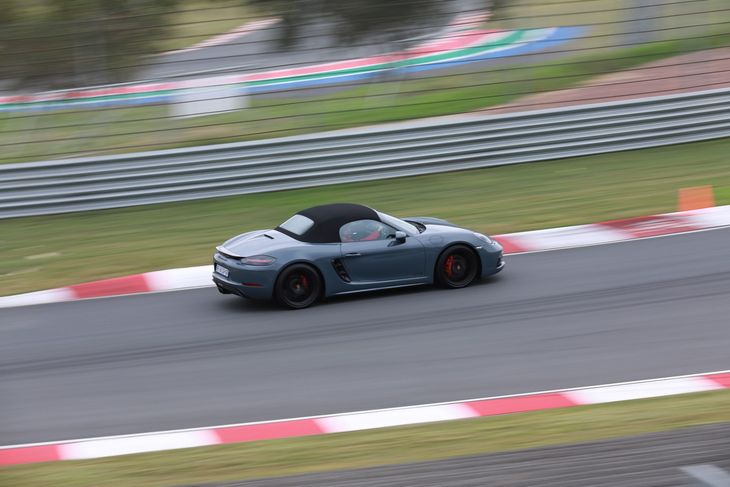 The Boxster GTS is slightly softer than the Cayman but still thoroughly fun to whip around bends and on track.
Those who like to slide cars' rears might find the GTS a little too planted and grippy for their liking... besides, the power delivery is too smooth to produce that instantaneous shove that can elicit breaks in traction. A lower-grip surface (and a bit more provocation) could yield better sideways results, except that doesn't really seem to be what the Cayman and Boxster are about.
Final thoughts
The Cayman GTS and Boxster GTS illustrate how good the underlying 718 chassis is. By virtue of their mid-engined layouts, they're intrinsically balanced in a way that none of their competitors can quite match... they feel light and exciting to steer enthusiastically, but also respond promptly and accurately to driver inputs without ever "biting back".
I feel there's still more to exploit from the Cayman and Boxster packages. I would love to see Porsche drop in the flat-6 from the Cayman R into the 718 chassis to see how much it's really got, but, alas, the time of 6-pots in a Cayman or Boxster has probably gone. That said, we can still look forward to what's to come, which will (in all likelihood) be a GT4 version. For now, this is an excellent point to get into a Boxster or Cayman, albeit with a bit of a price premium over the likes of the F-Type 2.0, TT RS or even something like the upcoming BMW M2 Competition Pack.
Related content:
Porsche Cayenne (2018) Launch Review
Jaguar F-Type 400 Sport (2017) First Drive
302 kW BMW M2 Competition Revealed
Aston Martin Vantage (2018) Launch Review
Looking for a used Cayman or Boxster?