Swedish brand Volvo has a performance brand called Polestar and on October 17 2017, Polestar took the bold step of revealing its future as a stand-alone electric performance brand. It also showed off its first offering, called the Polestar 1 with production starting in the middle of 2019.
Polestar is going places. It has moved from being a performance tuner of Volvo and has become a new standalone electric performance brand, complete with three models, a new factory in China as well as a unique ownership plan in the form of a subscription. In terms of actual product, what you're looking at is the Polestar 1, scheduled for production in the middle of 2019. While Polestar is doing a lot of its own work, it can still call upon Volvo for its powertrains and other technologies. This is an all-new direction for Polestar as previously its products were mildly tweaked Volvos.
Polestar 1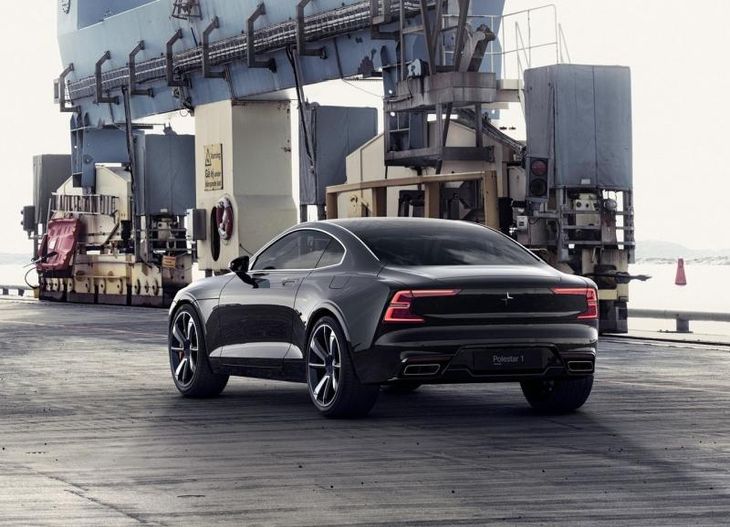 Polestar 1 makes do with an electrically assisted 2.0-litre four-cylinder petrol engine. 2 and 3 will be fully electrified.
In Polestar 1 application, there's a four-pot Drive-E motor, but Polestar has tuned it to deliver nice round figures of 600 hp (447 kW) and 1 000 Nm. We'll let the photos do most of the talking as it's certainly a striking car, but we do wonder why Volvo wasn't brave enough to build this car in the first place? While there wasn't much need for a powerful coupe, surely an S90 coupe with a regular Drive-E motor would have found favour in the European market? However, we're at the stage now where Volvo Group is claiming that Polestar is now the technology spearhead for the group which means that some of Polestar's tech will filter into mainstream Volvo offerings.
Polestar 1 is a two-door, 2+2 seater Grand Tourer Coupé with an electric performance hybrid drivetrain. There will be a production run of 500 cars per year, but it's the business model which has piqued our interest. Polestar claims that 'all cars will be offered on a subscription basis, with customers benefitting from the convenience of a single, all-inclusive payment that can be topped up by additional on-demand services if required.' In terms of efficiency and economy, Polestar 1 can do 150 km in a pure electric mode. It's built on the same platform as other Volvo products, but the Polestar 1 features new and bespoke underpinnings. There's extensive useage of carbon fibre too, which'll keep the weight down and improve handling.
Thomas Ingenlath, Chief Executive Officer of Polestar, continued; "The Polestar 1 is a Performance Electric Hybrid, but with the longest pure electric range of any hybrid car in the world, we consider it an electric car with support from an internal combustion engine. All future cars from Polestar will be Electric Performance Vehicles but the Polestar 1 bridges today's technology with the future, offering the perfect drivetrain for a Grand Touring Coupé that's likely to be used over longer distances as well as shorter, faster, enjoyable journeys".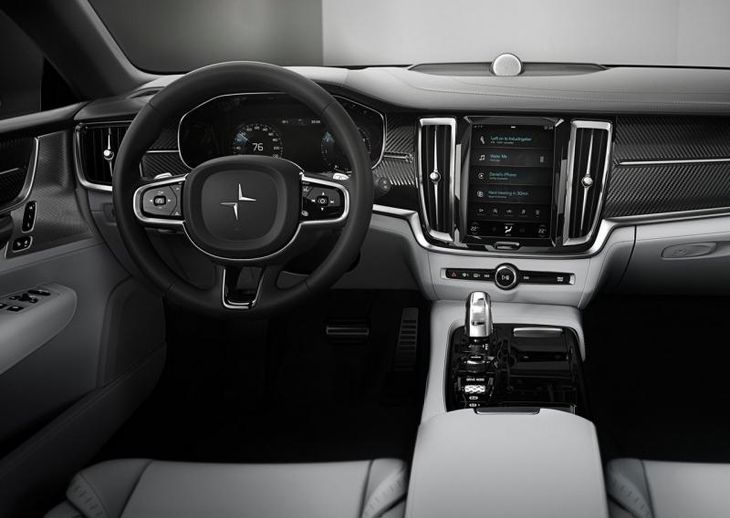 It looks like a Volvo cabin, but we don't see any Polestar badges anywhere.
Polestar 2 and Polestar 3?
The news from Polestar and the Polestar 1 is quite big and the Swedes have made it clear that they're planning a full spectrum of vehicles. We'll get to see Polestar 2 when it goes into production in 2019, but the key point here is that both 2 and 3 will be battery electric vehicles, with no internal combustion engines. 2 will be a mid-sized fully-electric car with 3 being a bigger SUV-style fully-electric vehicle. Right now, 2 is in the engineering phase of production, while 3 is almost complete with the design. Polestar is claiming that its 2 is a Tesla Model 3 rival.
Subscription-based ownership
Polestar will be pushing its products through a monthly subscription payment system. "This all-inclusive, no deposit, flat monthly payment ensures that the customer need never concern themselves with the inconvenience or cost of depreciation, insurance and maintenance and all Polestars will be offered on this basis. The subscription also includes pick-up and delivery servicing where Polestar contacts the customer to arrange a convenient time for scheduled maintenance. It will also consist of a number of car rental days and access to a range of concierge services."
There will also be a focus on the on-demand service model, much like an Uber. You'd be able to order a vehicle online or through an app. Polestar points out an interesting example: 'a customer needs the short-term use of a roof box for a forthcoming skiing holiday. At a time and location specified by the owner, Polestar will supply, fit and subsequently remove the roof box, just adding a small incremental usage charge to their monthly invoice.'
The subscription period will be for a fixed term of two or three years and at the end of the contract, the customer returns the car or Polestar collects it and delivers their next Polestar experience. Polestar will then refurbish the vehicle and prepare it for a secondary subscription as a high-quality pre-owned Polestar car.
It's clear that Polestar and its business model are aiming at Tesla, and given the hiccups around Model 3 production, it looks like the electric sportscar race has just begun.
Further Reading
Volvo S60 Polestar (2016) Review
Volvo Polestar to build standalone models
Updated Volvo S60/V60 Polestar Coming to SA
Volvo S60 Polestar (2016) Video Review
Volvo V90 CC T6 AWD (2017) Review
Volvo S90 T6 R-Design (2017) Quick Review
Want to buy a Volvo?