The updated Volvo S60 and V60 Polestar has been revealed and only 23 units of the S60 Polestar and 1 special-order V60 Polestar will be offered in South Africa at the end of 2017. Take a look at the details…
Featuring additional lightweight carbon fibre components to aid aerodynamic and handling performance, the updated Volvo S60 Polestar and V60 Polestar now offers 30% extra downforce.
"The updated S60 and V60 Polestar models are the pinnacle of our road car programmes that we have been developing successfully since our first road car was launched in 2013," says Jörgen Ronstad, Vice President, Product Strategy & Management at Polestar. "The aerodynamic enhancements, combined with other small but important changes, further enhances our base philosophy of a performance car for all roads and conditions, transferring technology and learnings from track to road."
The new aerodynamic exterior package for the S60 and C60 Polestar was jointly developed by Volvo's performance brand, Polestar, and its motorsport partner, Cyan Racing.
Key design details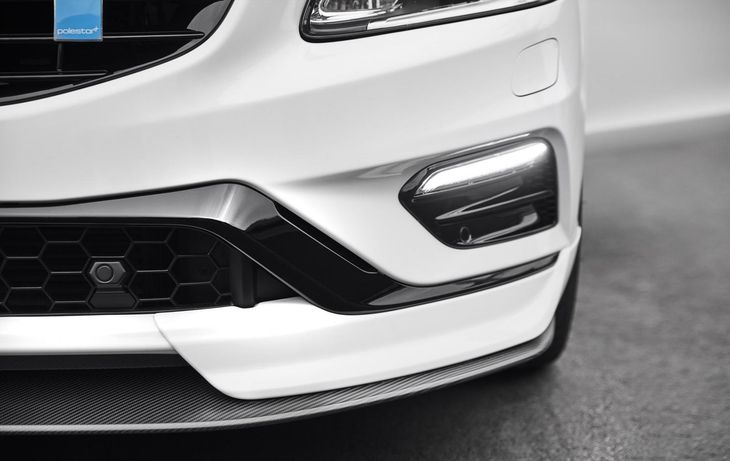 The updated S60 and V60 Polestar are fitted with more than 250 different parts compared with the standard models.
The added components include a new front splitter, rear spoiler extension and side sills all in carbon fibre. These components provide higher levels of grip and high-speed stability. Other updates include 20-inch high-gloss black Polestar diamond cut wheels, carbon fibre side mirror housings and a new exterior colour called Bursting BLue metallic. Other colours on offer include Cyan Racing Blue (Rebel Blue), Onyx Black metallic, Bright Silver metallic and Ice White.
On the inside, the seats feature new charcoal leather upholstery with Polestar embroidery and contrasting blue stitching. Overall, these Polestar versions of the S60 and V60 feature more than 250 new or changed components over the standard version.
Engine power
The S60 Polestar and V60 Polestar are powered by a turbocharged and supercharged 2.0-litre petrol engine offering 270 kW and 470 Nm of torque. Volvo claims a zero to 100 kph sprint time of 4.7 seconds with a limited top speed of 250 kph. An 8-speed automatic transmission with paddle shifters is standard. Fuel consumption is claimed at 7.8 L/100 km.
Pricing for the Volvo S60 and V60 Polestar will be announced closer to launch later this year. We will keep you updated as more details become available.
Want to buy a Volvo V60?
Find a new or used Volvo V60 on Cars.co.za
Related Content
Volvo S60 Polestar (2016) Review
Volvo S60 Polestar (2016) Video Review
Volvo S60 Polestar (2015) Review
Volvo Polestar to build standalone models
Volvo XC60 (2017) Launch Review Video
Volvo XC60: 5 Things You Should Know
Volvo S90 R-Design in SA (2017) Specs and Price