Panel vans are hard-working commercial vehicles that are often required to carry all kinds of loads, sometimes over long distances, day in and day out. Should you consider the recently launched Opel Combo Cargo for your business... over a conventional single-cab bakkie, for example? Let's take a closer look...
We Like: Engine performance, ride and handling, practicality
We Don't Like: Rearward visibility is problematic, no rear PDC
Fast Facts
Price: R315 675 (August 2019)
Engine: 1.6-litre turbodiesel
Outputs: 68 kW/230 Nm
Transmission: 5-speed manual
Fuel economy: 4.8 L/100 km
What is it?
Opel welcomed the Combo Cargo to the local market in April 2019 – it's aimed at small and medium businesses that require a safe, practical vehicle to execute daily business activities with confidence. The Combo is a rival to the Volkswagen Caddy and Peugeot Partner, to name 2 examples, but it's also an alternative option for those who may be considering buying a single-cab bakkie for business use. Of course, if you are in the business of moving people or simply looking for a practical MPV, Opel offers an option in the form of the Combo Cargo's sibling, the new Combo Life.
The Combo Cargo, however, is offered in both short and long-wheelbase configurations (with the former on test here) and it's worth mentioning that the Combo currently holds the 2019 Van of the Year title.
How it performs in terms of...
Performance & Handling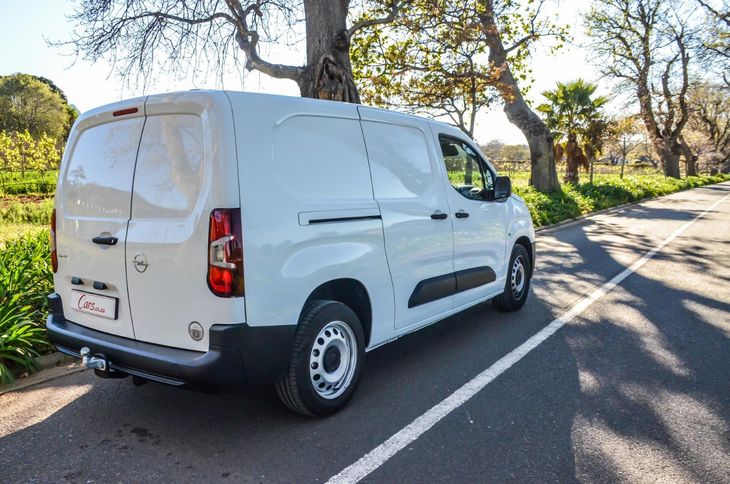 A punchy engine and good overall ride quality are key strengths of the Combo Cargo.

The Combo Cargo makes use of a 1.6-litre turbodiesel engine (the same unit that powers the recently-introduced Opel Crossland X 1.6TD Enjoy turbodiesel derivative); it produces peak outputs of 68 kW and 230 Nm of torque and is mated with a 5-speed manual transmission as standard.
The engine does sound a bit gruff and unrefined when you start it up first thing in the morning, but it quietens down notably once it has reached its optimal operating temperature. The Combo Cargo impressed us by delivering commendable in-gear punch, which is useful when you need to execute quick overtaking manoeuvres on the highway – it's surprisingly nippy between "robots" too. Despite being marginally notchy in feel, the transmission has a direct shift action and executes gear changes positively. Efficiency is another highlight of the 1.6 TD... while Opel claims 4.8 L/100 km for this short-wheelbase derivative, you can expect returns closer to 6.0 L/100 km, depending on how heavily you load (and drive) it.
Another impressive feature of this Combo Cargo is its ride and handling balance. Ride comfort is not something one would typically associate with a panel van, but we found the Opel to be comfortably sprung to cope with road imperfections (the South African road network offers a plethora of those!) and it offers a level of ride comfort comparable with that of a typical compact passenger car, perhaps even better than some budget-oriented ones, which is quite an achievement. The steering is direct and responsive to inputs, which contribute to a generally-positive driving experience.
Interior quality and features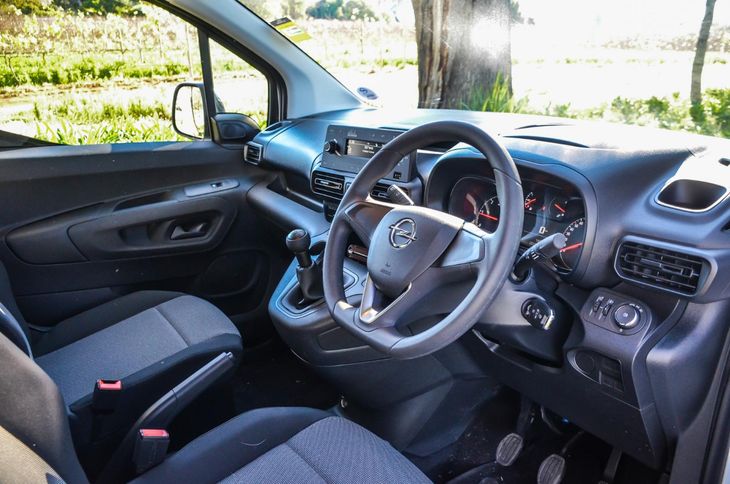 The interior is robust and well screwed together while also offering reasonable levels of comfort for its intended purpose.
The Combo Cargo's interior, in contrast with that of a typical workhorse bakkie, is not utterly utilitarian. The cabin feels solidly-made, the cloth seats are comfortable and there is considerable storage space available under the roof of the cabin, where things such as files and paperwork can be stored without cluttering the passenger cell. We also like the grab handles, which are handy for lifting yourself into the cabin, if needs must.
A basic 4-speaker radio system with Bluetooth functionality and a USB port is fitted as standard, as is air conditioning. What's more, the Combo Cargo is relatively well-equipped with safety features, including 2 airbags, ABS with EBD, stability control and hill start assist.
By virtue of the enclosed load bay, there's no rear-view mirror, so rearward visibility is provided by the side mirrors only. Therefore, with the absence of rear park distance control and a reverse-view camera, the driver needs to be vigilant when reversing to avoid unwanted bumper scrapes/bashes.
Practicality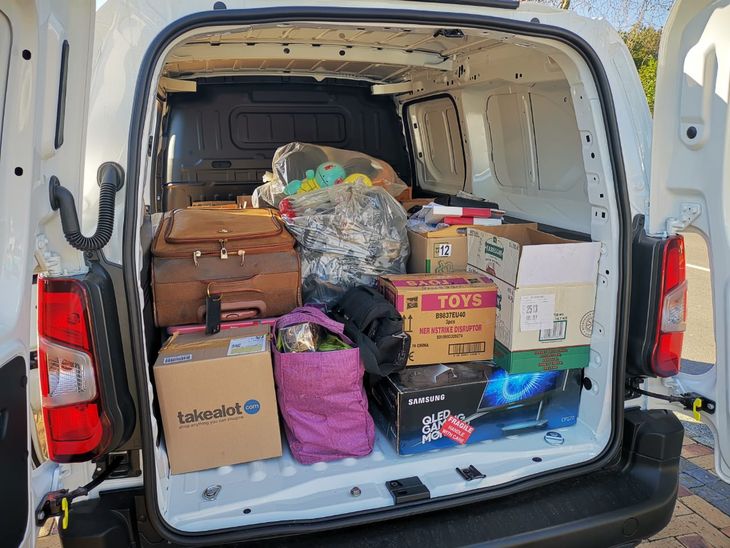 The Combo Cargo's load space is generous and easily accessed from either the rear or sides of the vehicle.
In an effort to test the Combo's outright practicality, we put it to work! We loaded it up with a rather large consignment of wine, as well as a variety of household items that needed to be moved (see above).
Needless to say, the Opel swallowed the load with ease. Loading is made easier with a low floor as well as with 2 sliding side doors and double rear (cabinet-style) doors that provide easy access to your cargo. Loops located on the load floor can be used to secure items (in other words, prevent them from shifting around while you are driving). The maximum payload capacity of this short-wheelbase derivative is rated at 600 kg, while the long-wheelbase version can carry up to 1 000 kg. Maximum towing capacity with a braked trailer is rated at 1 250 kg.
From a security perspective, the Combo Cargo offers greater protection from theft than a single-cab bakkie because its cargo area is enclosed.
Price and warranty
The Opel Combo is priced from R315 675 and comes with a 3-year/120 000 km warranty and a 3-year 60 000 km service plan.
Buy a new or used Opel Combo on Cars.co.za
Verdict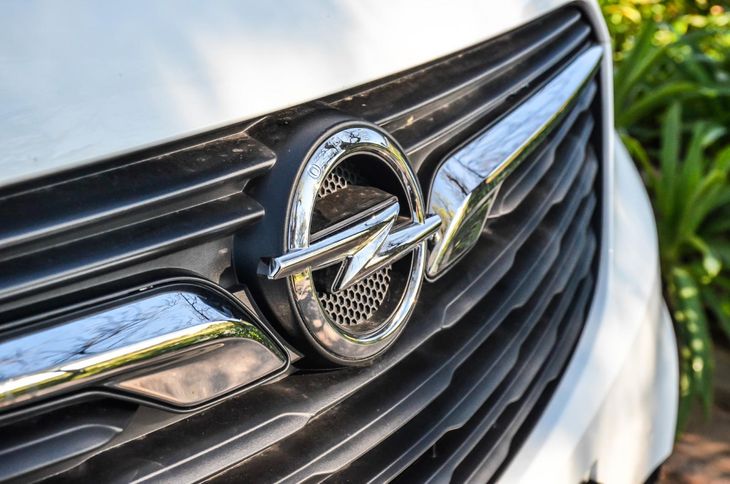 The Opel Combo Cargo is eminently capable and worthy of consideration if you need a practical vehicle to serve your business.
The Combo Cargo proved a very capable mover of goods and bulky items. The 1.6-litre turbodiesel engine is impressively tractable, even when the Opel's loaded to near-capacity, and offers good fuel efficiency, while the cabin is surprisingly comfortable and has ample oddment storage space.
Most importantly, the 1.6 TD panel van's cargo-carrying capabilities and general practicality are notable. Opel's newcomer also happens to be keenly-priced compared with its Volkswagen Caddy rival and is only slightly more expensive than the equivalent Peugeot Partner derivative.
In some respects, the Combo Cargo represents a more astute purchasing proposition than a single-cab bakkie. Given the Opel's competitive price point, its secure load bay is a major advantage. If you operate a rubble-removal business, for example, a single-cab bakkie would be a better option, but if you need to deliver valuable or fragile items, then the 1.6 TD panel van is perhaps more suitable. It's also worth mentioning that the Combo Cargo offers, comparatively, much more advertising space across its elevated sheet metal, which makes it simpler to market your business boldly.
Related content:
The Journey Karoo: Opel Crossland X Tackles Swartberg Pass
Opel Combo Life (2019) Specs & Price
Opel Astra Receives Mild Facelift
6th-Generation Opel Corsa Fully Revealed