After the electrified Opel Corsa was leaked, we were impressed with what the 6th generation Corsa looked like. However, electrified cars aren't big in SA, so our interest turned to the conventionally-powered model which has now just been revealed. Here are some engine details and more information about the all-new Opel Corsa.
Since Opel was taken over by the PSA Group (Peugeot/Citroen), we've been expecting the new Opel Corsa to share more than a handful of components with the all-new Peugeot 208. With today's reveal, we can confirm that the newcomer is available with both petrol and diesel engines, and in Edition, Elegance and GS line trims.
"The reaction to the presentation of the all-electric Corsa-e - an electric car for everyone -is phenomenal", said Opel CEO Michael Lohscheller. "The Corsa with classic combustion engines will follow in its wheel tracks. Combustion engine or electric drive? At Opel, thanks to the multi-energy platform, both are possible in one model. The customer decides."
Let's get to those engines. With outputs ranging from 55 kW to 96 kW, there appears to be a good balance of performance and economy. The entry-level model is a naturally-aspirated 1.2-litre petrol engine with 55 kW (up 4 kW in comparison to the previous model) and is claimed to consume just 4.1 L/100 km. The next engine up is the excellent 1.2-litre turbocharged engine which is available in 2 power outputs (74 kW / 205 Nm and 96 kW / 230 Nm) and consumes 4.4 L/100 km. For those wanting a diesel option, there is the 1.5-litre turbocharged motor with 75 kW and 250 Nm. In terms of transmissions, there's a 5-speed manual gearbox, 6-speed manual gearbox and there's also the option of an all-new 8-speed automatic gearbox.
The new Opel Corsa makes clever use of lightweight materials to keep it under 1 000kg. This means that it'll be frugal as the engines don't need to work as hard and it should be quite nimble to drive. Opel Germany says the vehicle will be available to order from July 2019 and will go on sale from €17 850, with this top-spec GS Line pictured going for €19 880.
The local Unitrans Opel Distributor is working with Adam Opel Automobile GmbH on bringing the new Opel Corsa to South Africa with an expected late 2020 introduction.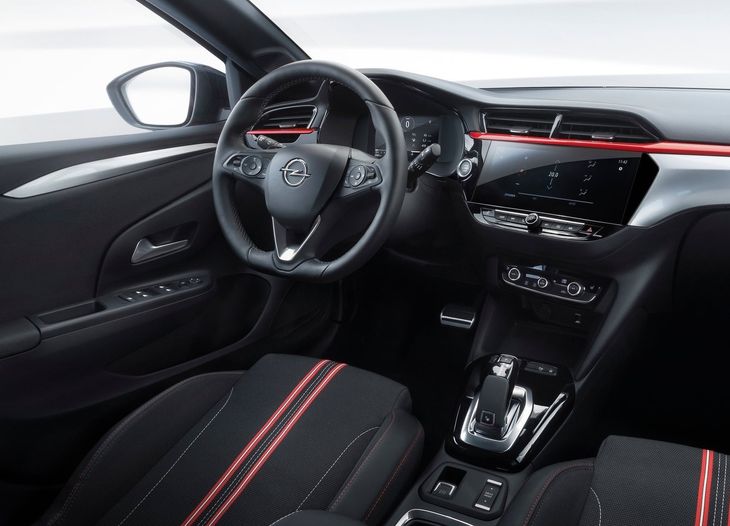 The new Opel Corsa cabin features a few bits from PSA Group, like the gear selector, but it's still quite a distinctive interior
Further Reading
Opel Corsa 120Y Special Edition (2019) Review
Opel Corsa GSi (2019) Specs & Price