Ahead of the Volkswagen Golf 8 launch in October 2019, the Wolfsburg-based manufacturer has released 2 teaser sketches.
Volkswagen has released 2 sketches of its forthcoming Golf 8 compact hatchback during its annual shareholder meetings. Interestingly, one of the sketches was of the cabin and it represents a radical new look for the Golf. From what we can see, the layout is completely new and features a digital dashboard merged with the central infotainment setup. There seem to be fewer buttons than before and keen-eyed spotters will notice the new steering wheel as well as the lack of a gear selector.
As for the exterior sketch, it's nothing too radical and we've seen elements of what's here in some of our spy shots. Volkswagen has said the new Golf 8 will be unveiled in October 2019. Don't expect too much in terms of new engines, as the majority of powertrains are likely to be carried over, but seeing as the VW Group is dipping its toe into 48-volt mild hybrid tech, you can bet you'll see it in a Golf.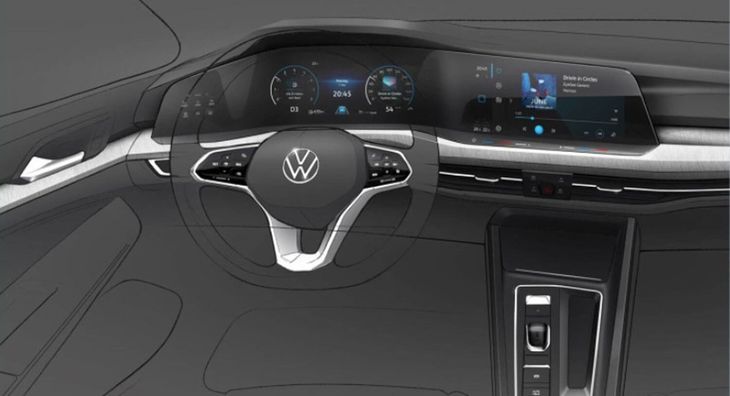 Further Reading
New Volkswagen Golf 8 - What to Expect
Spy Shots: 2020 Volkswagen Golf 8