Nissan's X-Trail has evolved dramatically from its boxy predecessors. It's noticeably larger – and borrows bold new looks from the ever-popular Qashqai – in a bid to take on a segment dominated by the Toyota RAV4. We tested the top-of-the-range turbodiesel Tekna derivative over a long weekend, during which we carted many family members and covered considerable distances of tarmac and gravel...
We like: Efficient diesel engine, comfortable ride, spacious cabin, value for money
We don't like: Luggage space, outdated infotainment system, manual gearbox option doesn't make much sense
Alternatives
A global superstar: The Toyota RAV4 is one of the bestselling cars in the world with its practicality, reliability and relative affordability earning it many fans. In the local market, the RAV4 also dominates. The closest comparable derivative to the top-spec X-Trail is the RAV4 2.2D-4D AWD GX, which is listed at just R3 000 more than the Nissan, at R476 700.
Japan's rising star: The latest Mazda CX-5 has been a boon for the brand in our market. The model impresses with its luxurious interior and superb ride-quality, with practical touches such as a 3-way split-folding rear seat and comfort features such as an automatic tailgate setting it apart from the pack. The top-of-the-range diesel Akera derivative, at R567 400, is pricey, however.
The Korean Option: The Hyundai Tucson continues to sell well in SA, and is the second-best selling model in this segment. Buyers seem to be enticed by Hyundai's 7-year warranty, the Tucson's good looks and comfortable interior. The 1.7CRDi Executive does cost less than the X-Trail, at R454 900, but does feature notably less spec.
Overlooked but overpriced: Honda's CR-V seems to have fallen out of favour with SA car buyers. The latest generation is not offered with a turbodiesel engine on the local market and pricing seems way out of step with rivals. While you might be able to make a case for the Honda being the most luxurious car in the segment, at R590 600 for the mid-spec 1.5T Executive AWD, it is a particularly pricey alternative.
Compare the specifications of the X-Trail with comparable Toyota RAV4 and Mazda CX-5 derivatives
Compare the specifications of the X-Trail with comparable Hyundai Tucson and Honda CR-V derivatives
What is it?
The Nissan X-Trail harks back to a time when compact SUVs (or family cars, in #CarsAwards parlance) were actually used for more than just urban commuting. While it is a comfortable "daily driver", it better suits the motorist (and their family) who prefers a bit of adventure, with a suspension setup that is biased towards comfort, which helps the X-Trail cope with gravel and badly surfaced roads; the sort of elements you might encounter on the way to your favourite campsite, for example.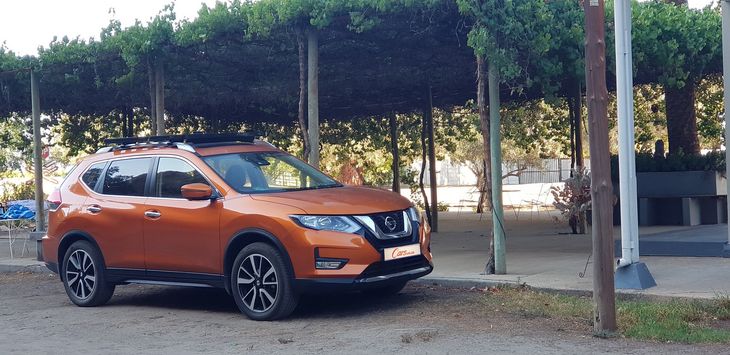 X-Trail is a bit more rugged than your regular soft-roading SUV.
Over the years, the X-Trail has become a particularly large SUV, which does make it less suitable to city living, but Nissan has made every effort to provide the convenience features you would want in a daily driver, particularly in high-spec Tekna guise.
The Tekna also offers an intelligent 4x4 system, which is closer in behaviour and setup to an all-wheel-drive system, rather than hardcore 4x4. There is no low-range and the installation utilises torque-vectoring to manage wheel slip/loss of traction.
How does it fair in terms of…
Kerb appeal?
The X-Trail will appeal more to those looking to explore the world outside of the city limits. The car has no sporty pretensions and is a refreshing alternative in a segment where SUVs are increasingly built to almost exclusively operate as road-going machines. The design seems to want you to think of the X-Trail as a 4x4, or at least a car with which you could confidently venture off the beaten track.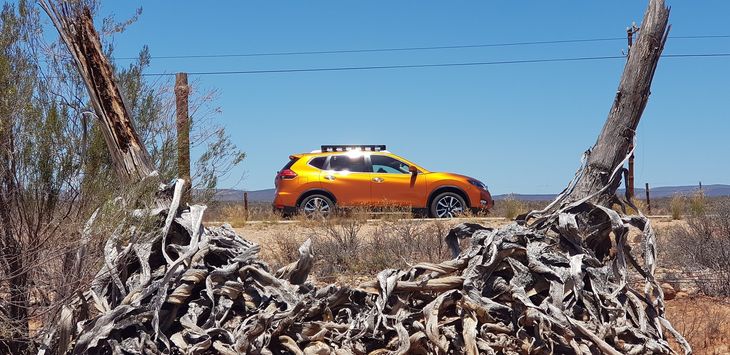 The X-Trail in this burnt orange colour makes for a standout SUV in the parking lot, or in the veld, in this case.
It is a large car compared with other offerings in its segment and by virtue of its arresting orange paint-job, it commands much attention and is imposing to perhaps just the right degree. The 19-inch wheels (fitted as standard to this Tekna derivative) certainly lift the exterior and add a touch of glam.
Interior?
The X-Trail's dashboard and fascia aren't going to win any design awards, but the look is biased towards ruggedness and functionality and, in that sense, it works. The plastic trim is of a suitably high quality for a car at this price point and the quality of the finish on the steering wheel deserves praise.
The front seats are comfortable enough on long journeys, but having just sampled the new seats in the facelifted Qashqai, it would be great to see those seats being offered in the X-Trail too; they really do offer an improvement in overall comfort.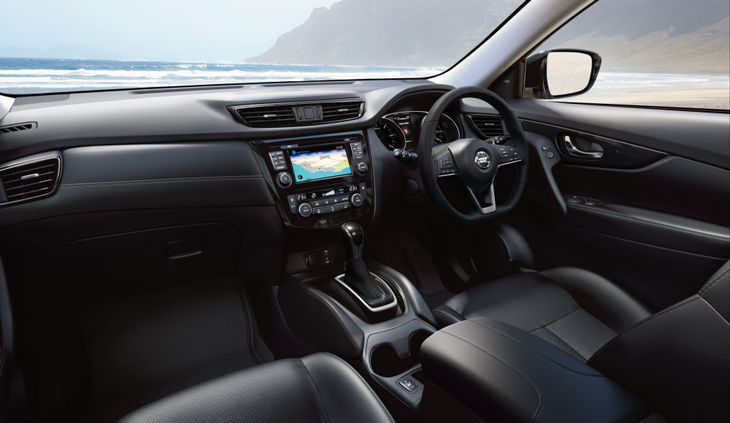 A modern, hard-wearing cabin, our only gripe being the look and feel of the infotainment system.
Our biggest gripe with the interior is the infotainment system. It feels like Nissan could have offered something a bit more modern. While it functions perfectly well, it looks outdated and a new system would significantly lift the feel of the cabin.
The quality of the picture on the screen particularly negatively affects the 360-degree parking camera display. While it is very welcome to have a parking aid of this nature available in the X-Trail, it is let-down by the low-resolution of the display.
Ride Comfort?
We covered hundreds of kilometres on tar and around 30 km on gravel and the X-Trail coped admirably on both road surfaces. Even though this Tekna derivative rides on large 19-inch alloys, the tyre profile is still 55, which is a meaty-enough sidewall to help improve ride comfort. Highway cruising is particularly comfortable and the suspension setup is biased for comfort, rather than outright handling, which is perfect for a car of this nature.
Our test unit was fitted with a manual transmission. There's nothing wrong with the 6-speed box, it's slick and easy to use, but given the performance characteristics of a turbodiesel (with its low redline and narrow "power bands"), the driver does end up using that shifter a lot. It also makes pulling away smoothly quite challenging.

The X-Trail is a comfortable cruiser thanks to its softer suspension, also helping it deal with off-road stretches better.
Unfortunately, if you really want a 4x4 X-Trail with the 1.6dci engine, you won't be able to order it with an automatic 'box (or CVT, for that matter). For a self-shifting 4x4, buyers will have to opt for the 2.5-litre naturally aspirated petrol motor. This will cost around R10 000 extra, but the downsides will be a significantly increased fuel bill and a chunk less torque, at 233 Nm, which is not ideal if you plan to use the vehicle for towing.
Practicality?
Interior passenger space is impressive with ample head and shoulder room for 4 adult passengers, with perhaps a bit of a squeeze if you need to transport three adults in the second row. It will, however, feel cavernous for small children, you may want to attach tracking devices to your little ones in case they go missing somewhere between the driver's seat and the luggage (we jest, of course!).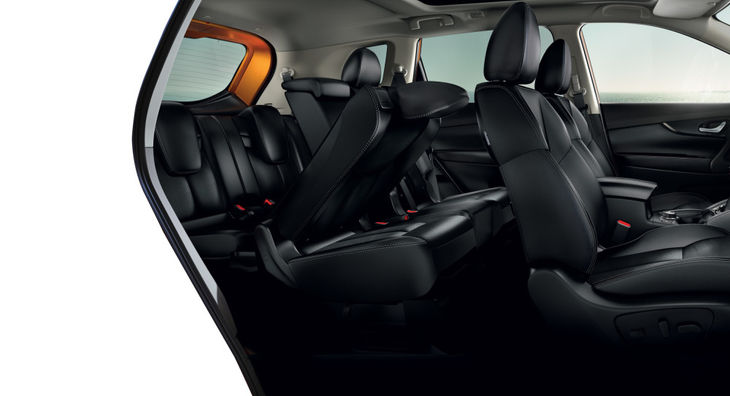 Seven seats are an option on the X-Trail and all rear seats are able to fold flat.
Luggage capacity is problematic, however. It's great that there is a full-size spare and given that the X-Trail is the kind of car you might actually take on proper long-haul adventures, on balance you're likely to appreciate the spare. However, we feel that families might appreciate having more space to pack their detritus. The bay is wide but quite shallow, and it's difficult to fit even medium-sized suitcases, slotted in on their side, below the retractable parcel shelf.
If a big camping trip is planned, for example, and the 2nd row of seats is needed for passengers, you're likely to need a trailer or roof box to increase capacity.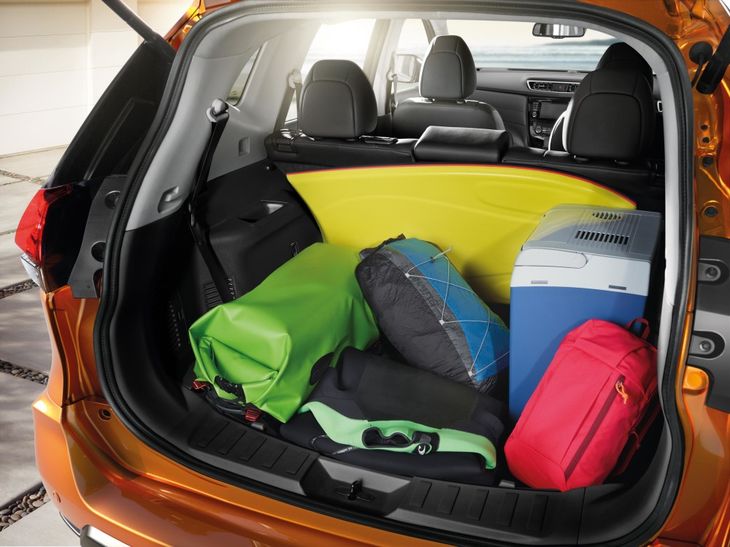 The boot is bigger than direct rivals but the shape could be squarer for easier loading.
This is curious as the X-Trail is a large car, particularly in terms of length (to reiterate, it's longer than many, if not all, of its rivals). We remember driving the 1st and 2nd-gen X-Trails and their luggage bays felt cavernous by comparison. In terms of exterior dimensions, the older generation cars were more compact, yet somehow felt like they offered more loading space, perhaps due to their overtly boxy designs. However, in terms of claimed specification, the X-Trail's "boot" is larger than most of its rivals (550 litres), compared with the 488 of the Tucson and 522 of the CR-V. It just doesn't feel as capacious as the numbers suggest.
The X-Trail is offered in 7-seat configuration, in the form of the Acenta and Acenta Plus, but both of those trim packages are only available with a petrol motor.
Power and efficiency?
With 96 kW and 320 Nm, the 1.6-litre turbodiesel in the X-Trail is not the most powerful engine in the segment, but it never feels like it is underpowered. Turbo lag (the brief hesitation between throttle inputs and the actual delivery of acceleration) is ever-present, but in a certain way, the manual gearbox enables you to modulate throttle input mid-gear which allows the driver to surf the whoosh of the turbo rather than be overwhelmed by it.

Diesel is definitely the way to go for an SUV like this, we just wish there was an auto version available.
After a few hours in the car we had adapted to the engine's characteristics, which led to a smoother drive for passengers and frankly unbelievable fuel consumption figures. We achieved 5.4 L/100 km over a roughly 120 km open-road distance, covered mostly on freeways. Although the author's better half will tell you that that is because she was driving, which may... or may not... be accurate.
That figure is very close to the 5.3 L/100 km average consumption figure claimed by Nissan, but you can expect consumption to hover around the 7.5 L/100 km mark in day-to-day urban driving. On paper at least, the X-Trail claims the best average fuel consumption among its rivals.
Price and after-sales service
There's a certain peace of mind when buying a Nissan product given that it has one of the best warranties on the market, at 6 years/150 000 km, which is double the length of time offered by brands such as Toyota and Mazda, although in the Mazda's case the 3-year warranty is offered with unlimited mileage.
Keep in mind though that the X-Trail's standard service plan is only valid for 3 years, with a 3-year/90 000 km plan offered as standard, compared to the 5-year/90 000 km offered by Hyundai for the Tucson.
Verdict
The Nissan X-Trail has remained true to its rugged name and offers a package that will facilitate an outdoors lifestyle more than competently. It really does instil that go-anywhere feeling, and we would argue is the best off-roader this side of the bakkie-based SUVs. In reality, if you're looking to tackle tricky offroad scenarios, you're better off in a vehicle such as the Ford Everest, but for just about everything else, the 4x4 X-Trail should cope just fine.
The low fuel consumption will certainly save you money on those out-of-town trips and the comfort on badly-surfaced roads and rutted gravel will be appreciated by everyone in the car. The luggage capacity, however, could prove to be this car's Achilles heel.
At this price-point, given its excellent warranty, the X-Trail is hard to argue against. If you're looking to make a statement, you're likely better off in Hyundai Tucson, and if you're looking for a daily driver, you're likely better off in the Mazda CX-5. But for real-world ability, especially outside the city, the X-Trail is hard to beat.
Related content
SUV Comparison: Ford Kuga vs Honda CR-V vs Subaru Forester
Volkswagen Tiguan Allspace (2018) Launch Review
Comparative Review: Hyundai Tucson vs Kia Sportage vs Renault Kadjar vs Volkswagen Tiguan
Comparative Review: Mazda CX-5 2.2DE AWD Akera vs Hyundai Tucson 2.0CRDi Elite [with Video]
Searching for a used X-Trail?