The long-awaited successor to Nissan's 370Z – ostensibly called the 400Z and powered by a twin-turbo 3.0-litre V6 – could be revealed within the next 12 months, a report claims.
If you look up the specs of the venerable 370Z sportscar on Cars.co.za's New Car Specs & Test Drives section and click on the General tab, you'll see "Date Range introduced (in) SA: June 2009". A run of almost 11 years on the South African new-car price list is quite extraordinary, even if low-volume sportscars tend to have longer product lifecycles than stronger-selling passenger vehicle models.
Even though the Nissan received detail updates through the years, most notably at the end of 2017, it feels older than it is because "a sporty, yet ultimately comfort-oriented coupe with a large-capacity, non-aspirated motor that drives its rear wheels" is a decidedly old-school and (no offence intended) North American sportscar recipe. Now that Toyota has a Supra back on the roads (albeit with help from BMW), Nissan has to raise its game and re-imagine its Z car.
Last month we reported that a next-generation Z car had been photographed undergoing testing (in a modified 370Z body) and that Nissan had applied to trademark a new-style corporate logo as well as a retro 'Z' logo that looks remarkably similar to that of the original 240Z from 1971.
Now Autocar reports that Nissan next-generation sportscar will be called the 400Z and its nomenclature won't reflect the car's engine capacity (in litres, as it has in the past), because it will utilise a 3.0-litre twin-turbo V6, which produces 298 kW/475 Nm in sister brand Infiniti's Q60 coupe, which is, of course, the sibling of the Q50 business-class sedan, which was offered in South Africa until relatively recently. The British site believes the next-generation Z will look like this, but there have also been quite a few reports that suggest because Nissan appears keen on reviving the historical Z logo, the "400Z" will have stronger retro cues that date back to the brand's iconic '70s sports cars, such as the design created by Canadian enthusiast Leyang Bai (shown above).
In its Q60 installation, the engine is mated with a 7-speed automatic transmission and an all-wheel drivetrain (in LHD markets), but the British site expects the "400Z" to be "rear-wheel drive (and) its performance should be better than (the flagship Q60's) given it will be significantly lighter than the 1 825 kg Infiniti."
Other enthusiasts, such as Maxim Shershnev, are bringing the 400Z of their imaginations to life. Seen in this latest batch of renderings, Shershnev has developed the 400Z for the road and track, both featuring retro styling and a smattering of carbon fibre for good measure. The track version takes on a far more aggressive appearance. While this is only a render, we suspect that Nissan may not be so radical in its design approach to the production 400Z, but time will tell...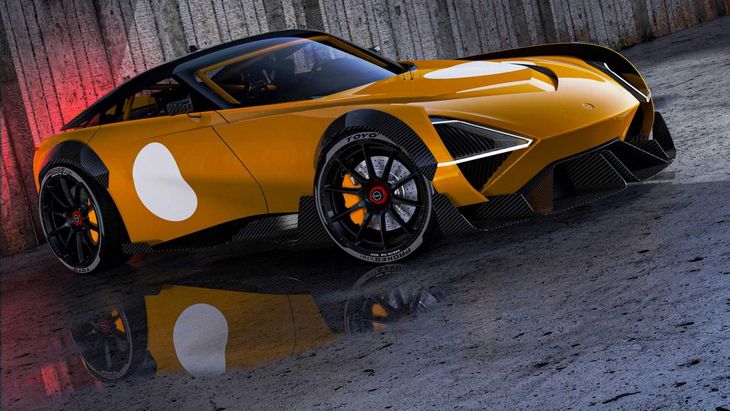 Maxim Shershnev's vision for the Nissan 400Z.
Infiniti-derived engine, but same platform?
Will the newcomer utilise its cousin's platform too? It's a distinct possibility because Nissan is unlikely to develop a bespoke platform for the upcoming model (the Z car's projected volumes could never justify the development costs, just ask BMW/Toyota). Then again, consider that the test car our spy photographer shot (below) clearly sported modified 370Z bodywork and the Japanese firm famously displayed a manual-box 370Z equipped with the Infiniti's all-aluminium forced-induction engine at the SEMA show in 2018.
Whereas the continuation of the current platform would probably rule out the implementation of the latest advanced driver assistance technology in the "400Z", it keeps hopes alive that unlike the new Supra, the next Z car might be available with a 6-speed manual box.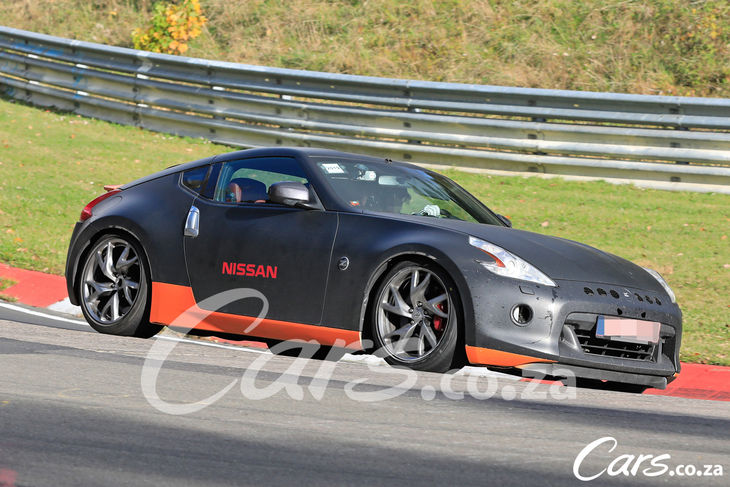 Picture credit: S. Baldauf/SB-Medien. We have paid for these photos and at the photographer's request, have watermarked them.
Autocar further expects the newcomer's interior to receive a few tasteful upgrades, such as a digital instrument cluster and a contemporary infotainment system featuring a host of connected services.
Meanwhile, the turbocharged motor and option of all-wheel-drive (afforded by the Q60 platform, should Nissan choose to utilise it), raises the possibility of Nismo producing an even hotter version, with track-optimised suspension tuning, race car-inspired styling and a peak power output of 370 kW-plus (with or without AWD). Such a derivative would effectively be a bridging product between the Z sportscar and the GT-R model.
Late last year, design boss Alfonso Albaisa was quoted as saying it was "easy to imagine" a successor to the 370Z: "The Z democratised sportscars in the '60s. The current car has been (going) a long time and so you can imagine the designers working on a successor, even if I'm not going to confirm it."
However, given that our spy photographer noticed that the 370Z mule was tailing a Supra when he photographed it, we would not be surprised if the Toyota-slaying "400Z" (or whatever it may be called) is closer to production than we might think.
Further reading:
Nissan 350Z (2004) Driving Impression
Nissan 370Z (2017) Quick Review
Nissan 370Z Nismo Updated Again
Most Devilish Nissans Ever Made + The One We're All Afraid to Drive