Nissan's 370Z sportscar received a facelift recently and we had it on test to determine if it is still relevant in the company of more modern and (some would say) exciting products on offer in our market. Should you consider the 370Z or is your money better spent elsewhere? Read on…
We Like: Rev-happy engine, performance, old-school appeal
We Don't Like: Poor fuel economy, heavy steering/gear-shift action, dated interior
Alternatives
The modern coupe: Consider the Audi TT Coupe 2.0T FSI priced from R616 000. It's not as powerful as the 370Z but still good for 169 kW and 370 Nm of torque from its turbocharged 2.0-litre petrol engine. Some purists will be deterred by its front-wheel-drive configuration and scoff as its look-at-me image, but it's a solid performer.
The performance coupe: Consider the BMW M240i Coupe priced from R698 702. Powered by a 6-cylinder, 3.0-litre turbocharged petrol engine, the M240i offers 250 kW and a heady 500 Nm of torque. Power is sent to the rear wheels using an 8-speed sports automatic; it might not be very comfortable on longer journeys, however.
Compare the Nissan 370Z's specification with the Audi TT 2.0T FSI and BMW M240i here!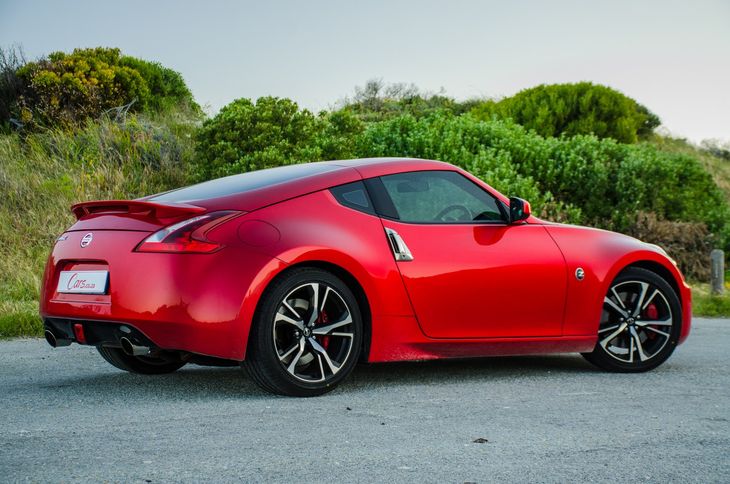 The Nissan 370Z – still lots of fun to drive and updated styling will keep turning heads.
What is it?
Born in the 60's with the introduction of the Datsun 240Z, Nissan's Z-car legacy stretches across 5 generations and has brought rear-wheel drive kicks to countless sportscar enthusiasts over the years. There is, after all, much to like about a high-revving V6 engine sending the rear wheels into a frenzy on your command...

In its latest form, the 370Z features new exterior design details seen in the now-standard, Nismo-inspired, darkened headlights and taillights, new chrome steel door handles and a black rear diffuser; it rides on new 19-inch alloy wheels and is offered in a striking Red Metallic body colour. Furthermore, Nissan has also installed a high-performance clutch in this manual derivative and enthusiasts are likely to appreciate the synchronised rev control system that automatically blips the throttle on downshifts, making the novice driver feel like a race ace.
A major interior change is the inclusion of a new 7-inch touchscreen with satellite navigation, a DVD player and a 9.3 GB music hard drive. The 370Z oozes old-school machismo and although it has aged relatively well, is it relevant considering that there are more modern and efficient sports cars on offer?
The Good
Old-school appeal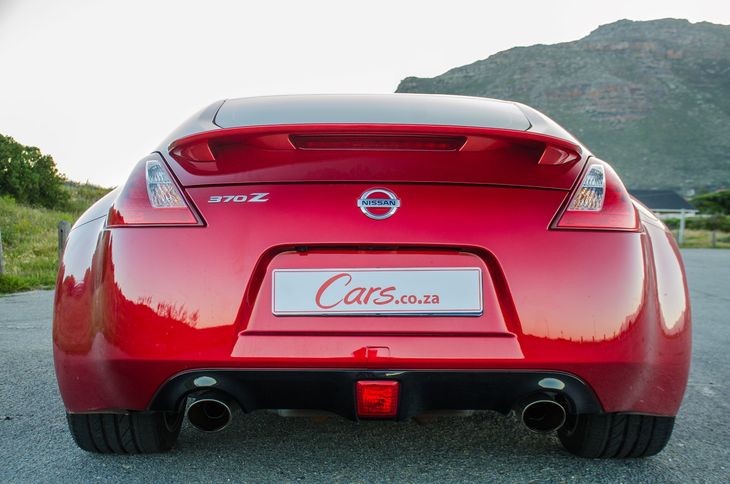 Old-school is still cool and the Nissan 370Z tugs at the heartstrings of driving enthusiasts with its rear-wheel drive antics.
Yes, the 370Z hasn't changed much and even though it receives criticism for being a trifle passe, it has old-school appeal that some "modern" coupe sportscar can't quite pull off. Sure, it's heritage has much to do with that, but with the upgrades, its looks are still appealing and its bulbous rear-end and flared wheel arches are a pleasant reminder of its rear-wheel bias.
The interior, which mostly consists of hard plastic surfaces, looks dated by modern standards but it is well put together and feels sturdy. The new touchscreen infotainment system does help to modernise the interior somewhat and the gauges on the dashboard and 3-spoke steering wheel add a sporty touch to the cabin.
What the 370Z lacks in terms of design, it makes up for by offering an unfiltered sportscar driving experience. It's not pretentious, it just is, and we like that about the 370Z...
Performance kicks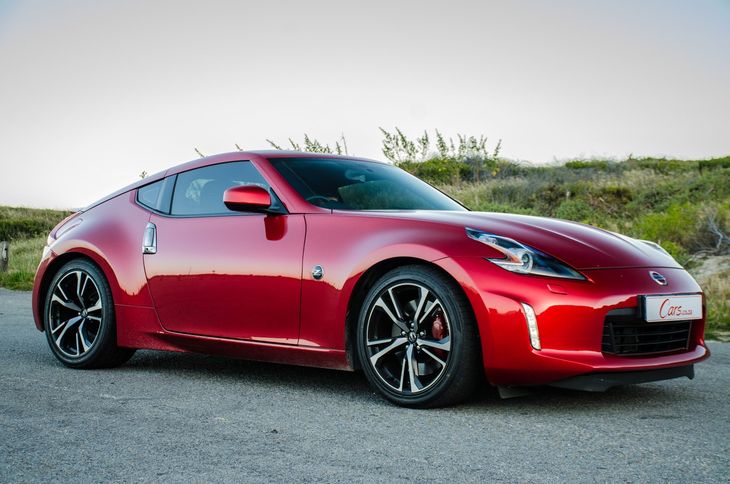 With 245 kW, the Z offers strong performance and will gallop from 0 to 100 kph in 5.3 seconds.
Stab the Start/Stop button and the Z's naturally-aspirated 3.7-litre V6 engine bursts to life with a hearty thrum. With 245 kW and 363 Nm of torque, the motor has ample shove to exploit.
It's quite happy to potter around town, but if you want to get the absolute most from the engine, you need to rev it... and rev it hard. With peak power produced at 7 000 rpm and maximum torque arriving at 5 200 rpm you need to be willing to work the 6-speed stick shift, which feels stiffer than most manuals, with gusto, but otherwise catches gear changes nicely.
Once you venture higher into the rev range, the engine livens up and the Z's appeal comes to the fore with the synchronised throttle blips providing a sense of occasion when you are gearing down. Acceleration is brisk with Nissan claiming a zero to 100 kph sprint time of 5.3 seconds. For those with a penchant for whipping the tail out, the Z will oblige with relative ease, but if you aren't careful, it can bite you.
Comfortable ride and entertaining handling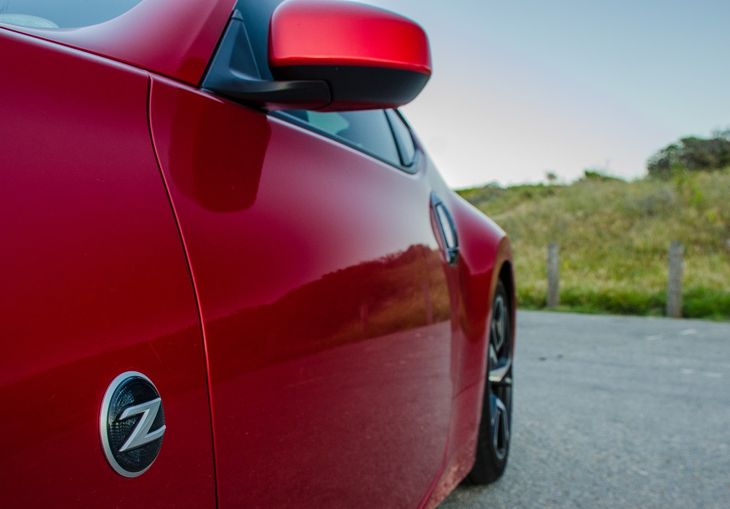 Ride quality is good for everyday driving and it's suitable for longer out-of-town trips too.
Unlike more modern offerings which are typically lighter and more nimble, the Z looks and feels heavy (it weighs 1 461 kg) and the steering is on the heavier side too. It does, however, provide reassurance with a well-planted stance and ample body control, all of which translates into sure-footed handling ability. Indeed, the Z proves entertaining to cane through a challenging set of bends – its unashamedly raw, mechanical feel lends an appealing element to the driving experience.

Compared with its predecessor, this 370Z's suspension has been tweaked in an effort to improve overall ride quality, but benefit handling too. In the event, we found the Nissan rides surprisingly well without being too compromised and it's certainly comfortable enough to drive on a daily basis or on longer journeys.
Reasonably practical for a sportscar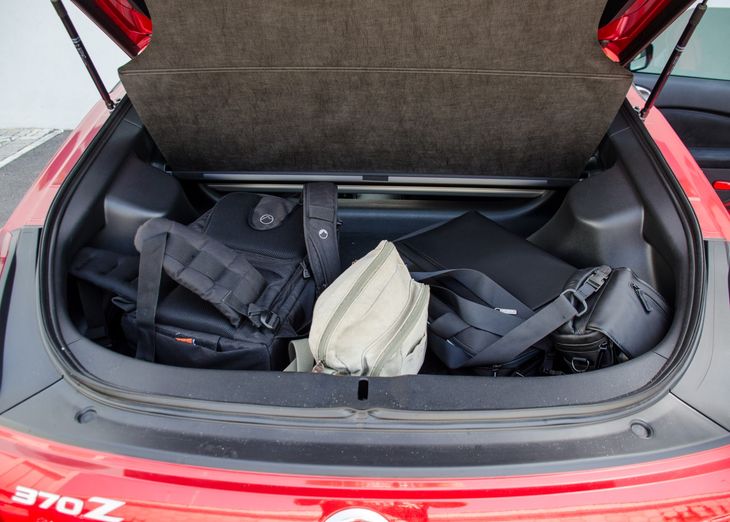 Luggage space is reasonable for a coupe sportscar and adequate for smaller bags and your daily grocery shopping.
You wouldn't expect the 370Z to offer much space for luggage, but the luggage area offers a reasonable 213 litres of space when you open the rear glass hatch, which is adequate for smaller bags, shopping and so forth. A retractable luggage compartment cover is also a useful feature if you want to keep items hidden or protect your daily groceries from the sun.
In the cabin, additional storage space can be found behind the seats and there are bottle holders in the doors, as well as a central cupholder ahead of the centre console storage bin.
The Not-So-Good
It's thirsty, this Nissan!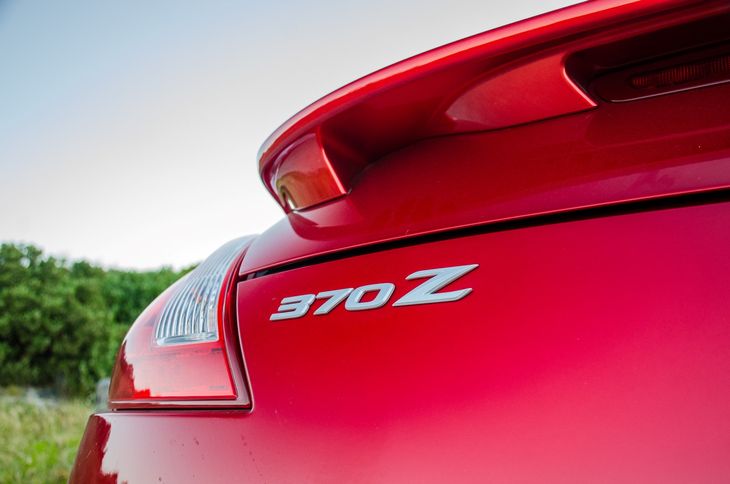 With all that grunt on tap, it's not surprising that the 370Z isn't particularly fuel-efficient when it's used as intended.
The downside to the Z's happy-go-lucky performance credentials is that the 3.7-litre V6 engine has a bit of a drinking problem – something owners and potential buyers will have to come to terms with. Nissan claims an average fuel consumption figure of 10.5 L/100km and during its tenure with us, we couldn't achieve anything better than 13.5 L/100 km.
Buttons galore

The cabin is solidly built but the layout and design is dated. There are many buttons to push...
Although the presence of a touchscreen infotainment system has lifted the interior somewhat, there are still a plethora of buttons found inside the Z and the layout is outdated. The driver can be easily distracted from driving while fiddling with all the buttons on the fascia.
Price and warranty
This Nissan 370Z manual is priced from R661 900 and comes with a comprehensive 6-year/150 000 km warranty, as well as a 3-year/90 000km service plan. For those who prefer an automatic transmission, you can expect to pay R680 900 for the 370Z automatic.
Verdict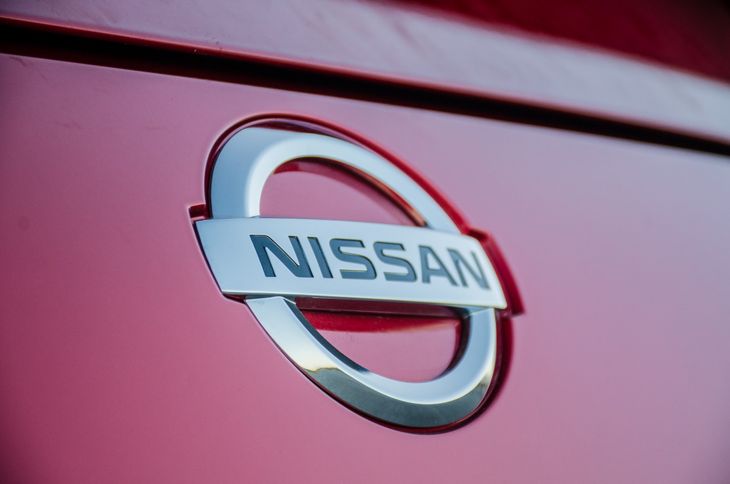 Despite its age, the updated 370Z still has much to offer,
The Nissan 370Z flies in the face of its more modern rivals and its pricing is comparatively attractive. The Z is a rarity in this day and age: an uncomplicated (even naturally aspirated!) sportscar that offers a visceral driving experience where driver and machine engage intimately. That, perhaps, is the Nissan's greatest strength. It's eminently entertaining and fun to drive.
That's not always enough to encourage sales, however. Due to the product's advanced age, many buyers will question whether it is worth spending R661 900 on what is essentially an 8-year old car, and rightfully so. For similar money, buyers can step into a used, low-mileage F-Type Coupe or Porsche Cayman that will offer similar or better thrills and more badge appeal. Even so, the Nissan 370Z has its place and if you want to thumb your nose at the establishment and tap into some old-school nostalgia, then the Z is worth a look.
Old-school is still cool after all...
Related Content
Facelift Nissan 370Z (2017) Launch Review
Nissan 370Z (2017) Specs & Price
Audi TT 2.0T Quattro (2015) Review
Audi TTS 2.0T FSI Quattro (2016) Review
BMW M240i with M Performance Parts (2017) Video Review
Hillclimb Shootout: Aston Martin Vantage N430 vs BMW M240i vs Jaguar F-Type 400 Sport
#CarsRaceDay – Hillclimb Shootout [Complete Video Series]