Since its introduction Nissan's new Navara has not quite set the sales charts alight, but this new 4x2 automatic derivative is the best variant we've tested thus far.
We like: Fuel economy, build quality and top-end features
We don't like: Not as spacious in the rear as some rivals, pricey, outdated infotainment system
Alternatives (click on car names to view specs and request test-drives)
Ford Ranger 3.2 Double-Cab XLT Hi-Rider Automatic: Priced similarly, the brawny Ford has slightly more power and torque, but its engine is neither as refined nor as frugal as the Nissan's. The Ford, however, majors on cabin space and has a better infotainment system, too.

Toyota Hilux 2.8GD-6 Raider Double-Cab Dakar Automatic: You can of course save money and opt for the standard Raider version, but this Dakar edition really looks the part for not much more. Its engine appears down on power on paper but performs very well in the real world. Feels unstoppable off-road. Now with navigation but its infotainment system is fiddly to use.

Volkswagen Amarok 2.0BiTDI Highline Auto: You can't get a V6 Amarok at this price level, but the high-spec 2.0 BiTDI version remains appealing for its blend of cabin design/finish, on-road comfort and cruising efficiency, mostly courtesy of that superb 8-speed 'box. It's pricey, however, slightly down on power and you'll need to spend extra to get some of the features its rivals offer as standard.
INTERESTED IN A NAVARA? Nissan has recently been offering various special deals. Check out our New Car Specials page to see if there are savings to be had.
What's new?
With private use of Double-Cabs as family cars or leisure vehicles on the increase, it makes only sense that self-shifting variants would become more popular. In recent years, that has indeed been the case – according to data provided by Lightstone, total automatic double-cab bakkie dealership sales were a meagre 3 350 units in 2010. And last year? Well, it was up to 21 304, of which less than a thousand were Nissans.
It's also clear that not all leisure-vehicle shoppers require four-wheel drive, and so the Japanese marque has added 4x2 automatic variants of its Navara to the local line-up. Like the 4x4s, the rear-wheel drive Navaras are available in SE and LE specification, and it's the latter that gets our test treatment here. The main benefit? Well, it's obviously cheaper, but it's also lighter (by just over 100kg), which should have a positive impact on performance and fuel efficiency. But, it would appear Nissan has been fiddling with other bits as well...
The Good
Standard Specification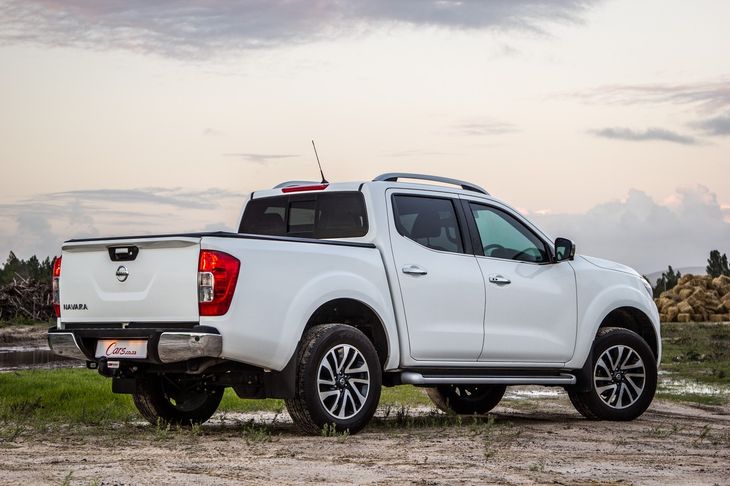 The LE derivative can be identified by its 18-inch alloy wheels and standard roof rails.
The Navara's LE specification level is comprehensive. In terms of the exterior aesthetics and features, you get roof rails, 18-inch alloys (as opposed to 16-inchers on the SE), the Utili-track tie-down system in the loadbay and power-folding exterior mirrors.
Inside, the list of additional features is even more extensive. Included as standard are leather upholstery, heated front seats (a rarity in this segment), around view monitor (as opposed to rear-view camera in the SE), electrical adjustment for the driver's seat, dual-zone climate control, keyless entry and push-button start, among other smaller additions.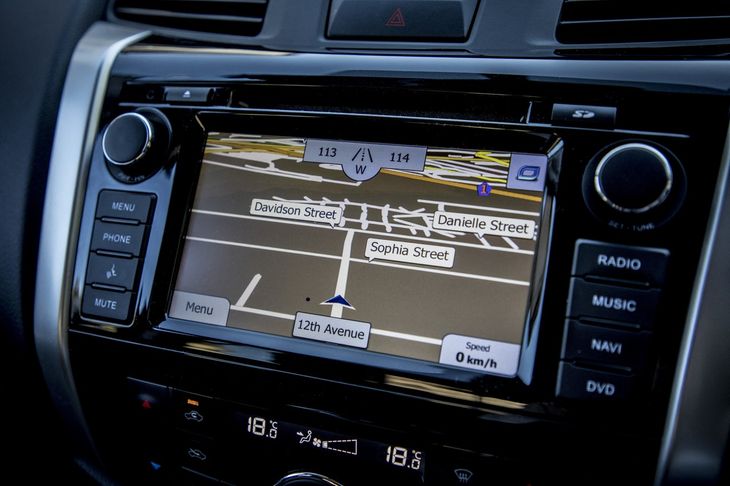 The standard infotainment system features navigation but no Apple CarPlay or Android Auto.
But that's just what's over and above what's fitted to the already comprehensively specificied SE - don't forget that touch-screen navigation (not the most user-friendly system, to be honest), cruise control, no fewer than 7 airbags, stability control and auto lights are also part of the deal.
If we had to nitpick we'd say that the infotainment system could be better - it lacks Apple CarPlay and Android Auto functionality, and the virtual buttons on the screen are small and numerous. We'd also have liked reach adjustability for the steering column.
Powerful, refined and efficient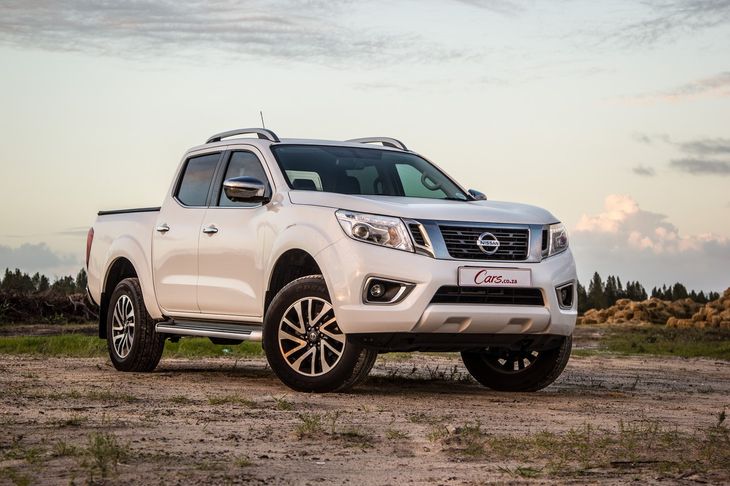 The Navara's twin-turbodiesel engine delivers a great blend of responsive performance and efficiency.
The Nissan's twin-turbocharged 2.3L 4-cylinder diesel engine is one of its strenghts. Its power of 140kW and particularly the 450Nm of torque compare well with its bigger-engined rivals. The torque is also nicely spread over a range of 1 500 to 2 500rpm, and the engine is well-matched with its 7-speed automatic transmission. It is a pretty long-legged cruiser as well...
Around town the Nissan feels relatively responsive for such a big, heavy vehicle (more so than, for example, a Ford Ranger), and its efficiency potential is clear. We achieved a real-world average of around 8.5L/100km (this is the Ranger's "claimed" figure) and excellent for this type of vehicle.
Better ride than the 4x4?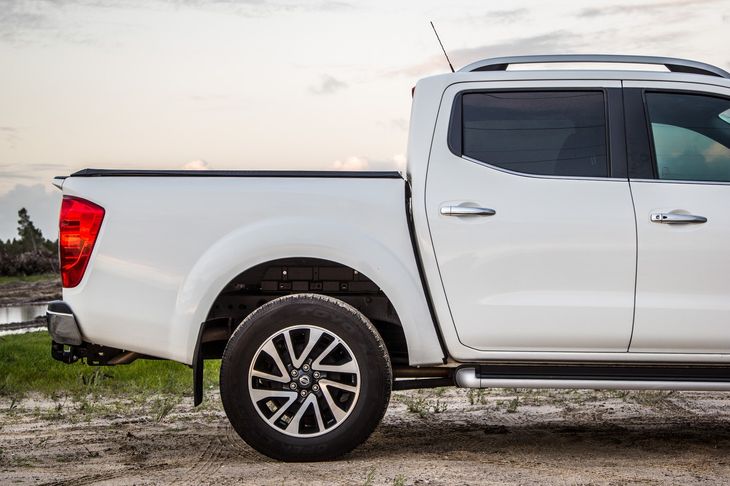 This 4x2 test version offered marginally better ride comfort than the 4x4 version tested earlier.
We previously tested an early example of the 4x4 derivative (read that test here) and noted that while the much-vaunted coil-sprung, 5-link rear suspension brought small but worthwhile improvements in terms of cornering stability and a reduced tendancy to bounce when unladen, ride comfort was not exactly class leading.
This 4x2 version, however, seemed improved with a more supple overall ride (without a load) and greater refinement (including noise insulation). We don't necessarily believe it is now class-leading, but it appears that the lower unsprung weight of the 4x2 has had a positive effect. It should be even better in the SE version with its plumper tyres.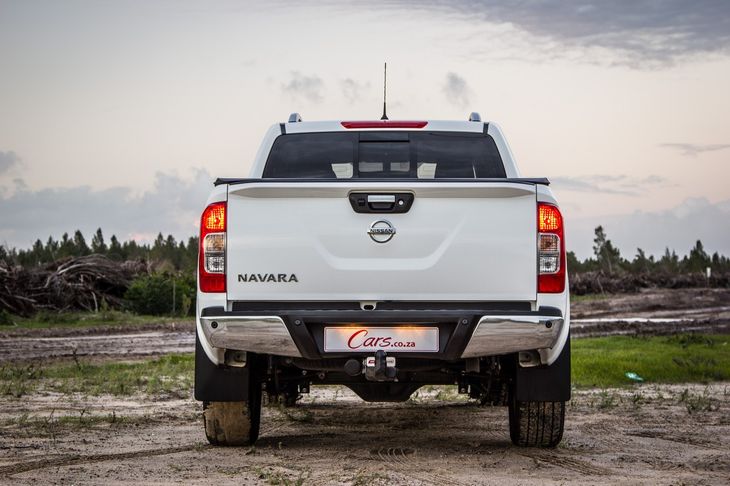 Tow bar and tonneau cover are optional extras but sliding rear window is not.
Note, however, that even though this is ostensibly a "soft" double-cab aimed at weekend activities rather than serious work, the Navara 4x2 Auto can still tow 3.5 tonnes (braked) and also has a very useful payload rating of 1 030kg.
Given that this Navara is not targeted at serious off-roaders or the commercial market, and is therefore rather likely to find itself used in an urban environment, it's also worth noting that the Navara is slightly more compact than its major rivals. Modern double cabs have become gargantuan and can be quite intimidating to park, but the Navara is noticeably easier to manoeuvre.
The (Not so) Good
Cabin execution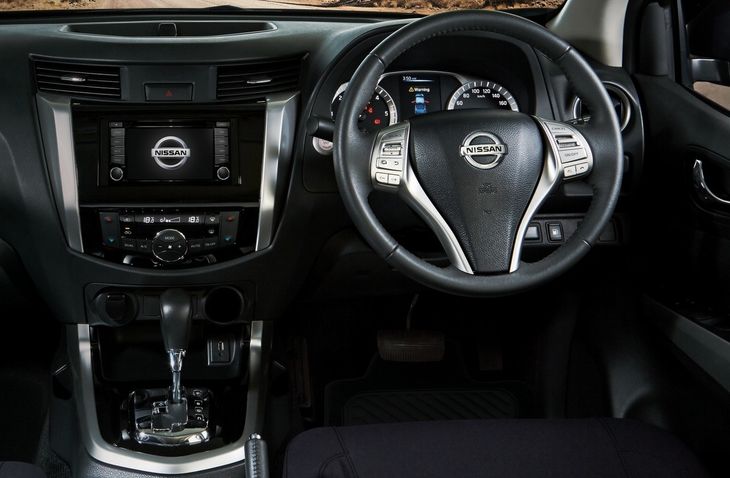 Loaded with features and generally comfortable, but lack of reach adjustment for steering wheel is a drawback.
What is frustrating about the Navara is that, on paper, it appears to tick so many boxes. In reality, however, there are some shortcomings… rear cabin space is about average for this segment, for example. In front, the steering wheel offers very limited adjustment, the infotainment system's shortcomings have been noted already, and a few more rubberised, grippy surfaces wouldn't have gone amiss, either. Nitpicking? Probably… but this is a cut-throat segment.
Pricing and Warranty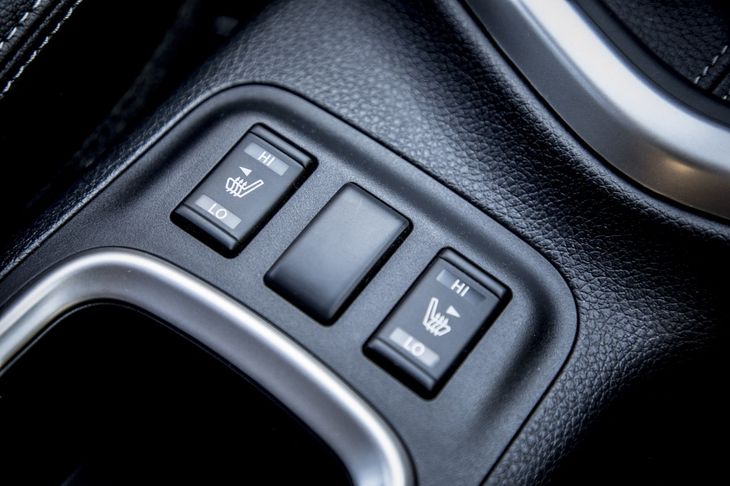 Heated front seats are standard, and a real luxury treat in this segment.
The Nissan Navara 2.3D Double-Cab LE Automatic sells for R556 900 (July 2018) and is backed with a superb 6-years/150 000 km warranty as well as a 3-years/90 000 km service plan. Service intervals are scheduled for every 15 000 km (or 12 months).
It's worth noting that Nissan started offering special deals on the Navara almost immediately from launch (an indication of just how tough this segment is these days), so it's always worth checking out our New Car Specials page to see whether there are savings to be had.
Verdict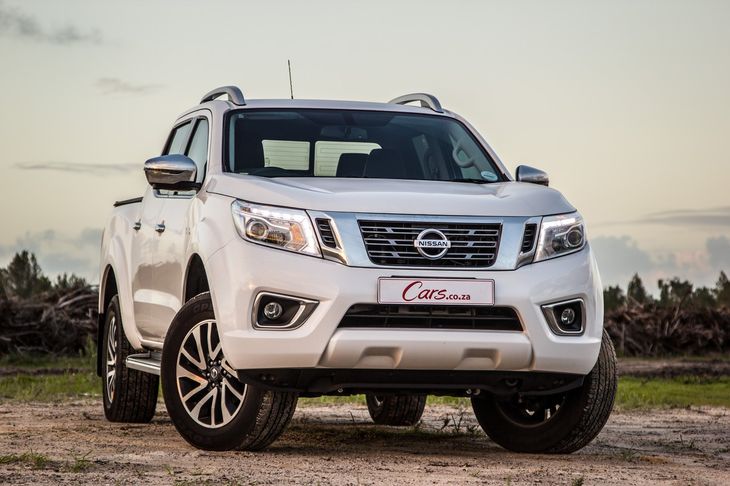 Nissan has a solid contender in the Navara, but it needs to find a way to make South Africans "desire" a Nissan bakkie again.
We suspect a major part of the Navara's initial struggle to achieve success is simply related to brand momentum within the segment. Toyota, Ford and, of late, Volkswagen, have been far more consistent in their efforts in recent years and have created really desirable personas for their products, for different reasons. Nissan's Navara, at first glance, lacks a stand-out feature to build such a strong marketing campaign on, but there's nevertheless much to admire here. We particularly rate the engine, but Nissan has focused on the theoretical suspension advantage, which is debatable.
Nevertheless, this particular variant could be the pick of the range, but the more affordable SE version could also be worth a look as it's around R90 000 cheaper and not exactly shy on features. If you're a Nissan man (or woman), you're unlikely to be disappointed by the Navara, and if you're brand agnostic, then we can still comfortably recommend you giving this particular derivative a closer look.
You may also be interested in;
Nissan Navara 2.3D Double-Cab 4x4 LE (2017) Review
Most Fuel-Efficient bakkies in SA (2018)
Bakkie Comparison: Nissan Navara vs Ford Ranger FX4 (video)
Mercedes-Benz X-Class: the rivals it needs to beat
Interested in buying a new / used Nissan Navara?