The GT-R nameplate turns 50 years old this year and Nissan is celebrating this significant milestone with the introduction of the aptly named GT-R 50th Anniversary Edition, which is available in limited numbers in South Africa. We recently took this, the latest iteration of the R35-generation GT-R, for a drive in Pretoria…
The Nissan GT-R is well-known for its stonking performance ability, tuning flexibility and outright badass kerb appeal. If you have attended previous Simola Hillclimb events in Knysna, you will know exactly what the GT-R is capable of when it is tuned up extensively. It's stupendously fast!
Given the 50 years of heritage behind the GT-R, Nissan invited us to Pretoria, Gauteng, to not only sample its commemorative GT-R 50th Anniversary Edition, but also to tip our hats to the GT-Rs of yesteryear – cars that have made the nameplate a legend across the world.
Nissan had every generation of GT-R on hand for us to ogle over, which was a special treat. My personal highlight was seeing the Skyline GT-R Hakosuka in the metal in both coupe and sedan form. The coupe version, as you may recall, was the star of SentiMETAL Episode 3 and is owned by Nissan/Datsun enthusiast, Freek de Kok, from Bothaville in the Free State. We even rode shotgun in some heritage models, including the R32 Skyline GT-R, colloquially known as Godzilla, as well as the R34 GT-R, which just about ripped my face off with its insane off-the-line acceleration.
But that's not all, Nissan also had South African racing drivers Wilhelm Baard and Reghard Roets on hand to share insights on the GT-R, as well as their experiences at the Simola Hillclimb and South African motorsport in general.
Anything new here?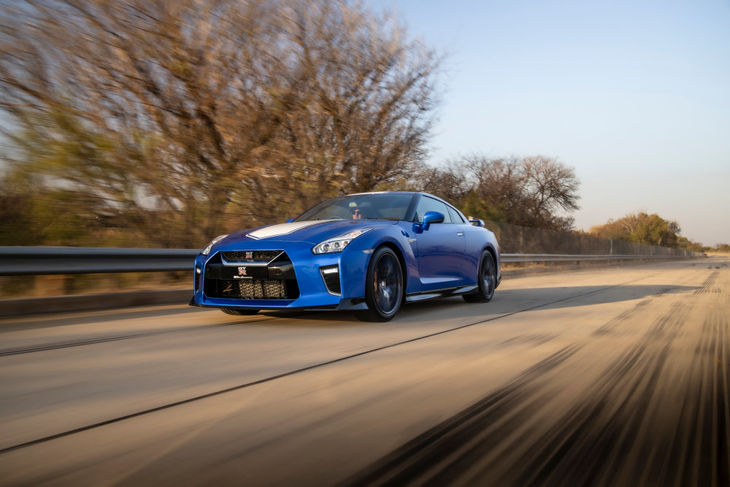 The current generation GT-R is ageing, but it still offers scintillating performance.
The R35-generation GT-R isn't new; in fact, it's now more than a decade old (it was unveiled on the eve of the 2007 Tokyo Motor Show and went into production shortly thereafter). Despite its age, it remains a formidable supercar and I revelled in the opportunity to finally drive the beast!
The GT-R 50th Anniversary Edition is offered in 3 distinct liveries, but our favourite look is Bayside Blue with white racing stripes – it looks particularly striking in the sunshine. Other colour options include Pearl White with red stripes or Super Silver with white stripes.
The GT-R's performance record is undeniably impressive, but I was curious to see what the GT-R would be like to drive on bustling public roads. Could it still live up to its reputation as an "everyday supercar", or would the combination of the R35's brawny dual-clutch transmission, decidedly firm suspension and brutish twin-turbo motor confound and frustrate its driver in anything less than perfect performance-driving conditions?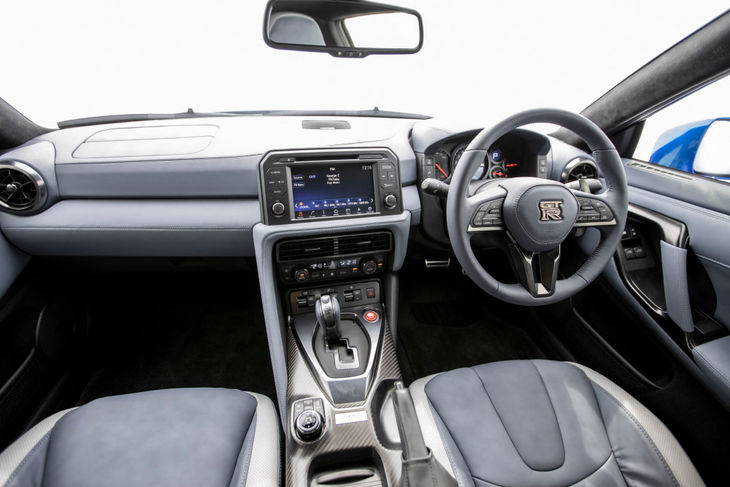 The GT-R's cabin has old-school appeal, but it can't hide its age when compared with newer and more modern supercars.
The interior is wrapped in dual-tone grey leather, while specially designed and embossed sports seats provide the necessary comfort and support, whether your cruising to your playground or driving spiritedly on it. Other 50th-Anniversary details include special trim for the steering wheel and gear lever, embossing and an Alcantara headliner. The instrumentation, dials and controls have a distinct old-school look and feel, which suits the car's persona to a tee. However, some might criticise the interior for being dated and incongruent for a car carrying a price tag of R2 415 000.
It's worth mentioning that the 2020 GT-R features updated turbochargers, revised suspension and steering and a new brake booster, but outputs remain unchanged for now. With seat belts fastened, it was time to experience the might of the GT-R's turbocharged 3.8-litre V6 engine that generates 410 kW and 632 Nm of torque. A snappy 6-speed automatic transmission, which has also been revised, directs those numbers to all four wheels with Nissan claiming an ambitious 0 to 100 kph sprint time of 2.7 seconds, which can apparently be achieved under "perfect conditions".
What's it like to drive?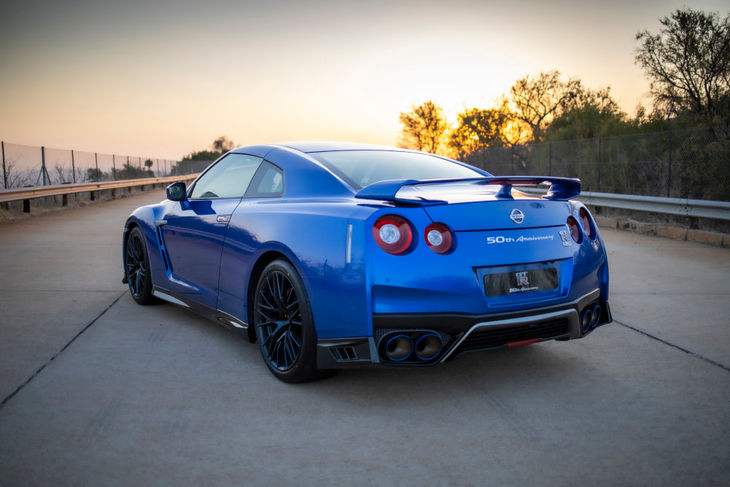 The GT-R is considered heavy by supercar standards, but it's an incredibly fast machine nonetheless.
At startup, the urgent burble and snarly bark of the engine (when you blip the throttle pedal) evoke an image of a nightmarish monster rudely awakened from its slumber. When the road clears and you mash the accelerator to the floor, the GT-R emits a delightful tone as its all-wheel-drive system digs in and blistering forward thrust ensues. The experience of the GT-R going at full tilt is incredible; its acceleration is simply astounding.
Speed is one thing the GT-R delivers in abundance, but the effortless way that it delivers that performance is particularly impressive. It's palpably easy to achieve heady speeds and by using the steering-mounted paddles, a driver can execute rapid shifts to unleash the engine's full potential.
The steering setup of the Nissan offers swift and sharp responses to inputs with a light communicative feel that belies the heft of the GT-R (with a kerb weight of roughly 1 740 kg, its heavy by modern supercar standards). However, you don't really feel that weight when you're wielding the 50th Anniversary Edition's 'wheel enthusiastically. Instead, the venerable supercar feels quite nimble and dextrous, which was a pleasant surprise.
I was also astonished by the GT-R's ability to achieve crazy cornering speeds. The car's grip threshold is so high – surely its full potential could only be unlocked safely on a race track. In that sense, the GT-R's performance is perhaps wasted on public roads, where it feels confined and restricted.
During our 70-km drive, we were also impressed by the general usability of the GT-R. It never felt intimidating to drive and while it's suspension is firm, the ride wasn't unduly harsh. It's nice to know you can drive the R35 at normal speeds with ease (and in comfort), while you have access to brutal performance should an opportunity arise to exploit it. It can be calm and sedate, but it can also be devastatingly quick, which is admirable…
Final thoughts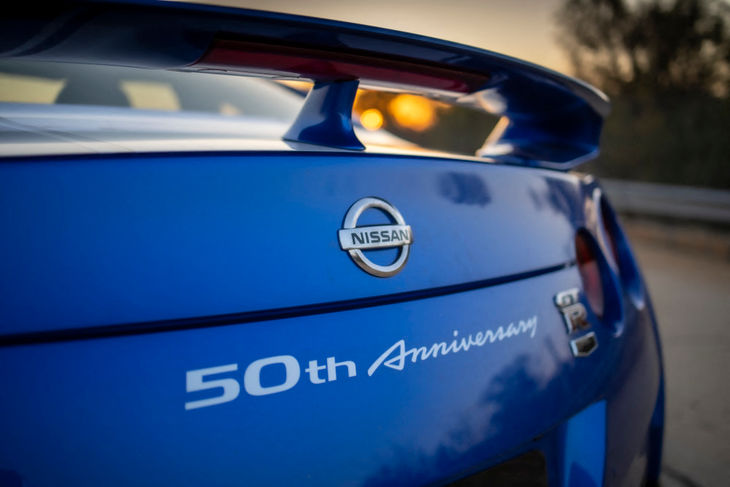 The future of the GT-R remains mostly a mystery and we may have to wait a few more years before the next generation comes to the fore.
The GT-R's rich heritage is something Nissan is extremely proud of – and so it should be. However, there's no denying that the GT-R is now old-school and heavy compared with more modern supercars. As it stands, Nissan has yet to decide the engineering direction for the next-generation GT-R. Electric and hybrid supercars are de rigueur so there's a chance that future iterations of the iconic supercar will be very different to this one.
With a price tag of comfortably over R2 million, value for money is a somewhat moot point. There are several supercars that cost much more than the GT-R, but, as time ticks by, it becomes harder to justify that 2-bar-plus outlay against the backdrop of a rapidly changing supercar landscape. Having said all that, I remain confident that each and every 1 of the 36 units allocated for our market will find wholly satisfied owners.
We can't wait to see what the future of the GT-R holds…
Buy a new or used Nissan GT-R on Cars.co.za
Nissan GT-R - Price in South Africa
Premium Edition: R2 250 000
Black Edition: R2 360 000
GT-R 50th Anniversary Edition
Pearl White with Red Decals: R2 405 000
Ultimate Silver with White Decals: R2 405 000
Bayside Blue with White Decals: R 2415 000

The Nissan GT-R is sold with a 3-year/100 000km warranty and 3-year/50 000 km service plan.
Related Content