Nissan's latest GT-R borrows bits from the company's GT3 racing programme.
The GT-R might be in its 13th year, but Nissan's engineers are still finding ways of extracting additional performance from the platform.
Nissan's latest upgrades to its V6-powered supercar come under the guise of a Nismo derivative which is even closer to being a road racer than before. The car's exterior design is dominated by sections of exposed carbon-fibre, red piping which runs all around an intricate series of splitters and side-spoilers; yellow Brembo brakes and titanium exhaust ends which have been burnished to turn them blue.
Beyond the striking appearance, engineers have managed to save 10.5 kg of weight by improving the carbon-fibre material quality of the GT-R Nismo's bumpers, bonnet, front wheel arches, roof and boot lid. Redesigned Rays 20-inch wheels reduce rotational mass and a host of other lightweight bits have managed to make the new Nismo GT-R 20 kg lighter than its predecessor (which was launched in 2017).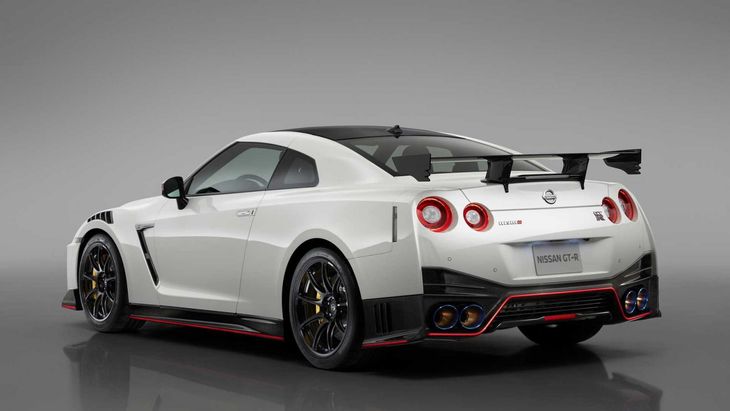 The Nismo GT-R uses specially developed Dunlop tyres which increase the contact patch.
Illustrating the obsession with detail applied to this latest Nismo product, are its tyres. Dunlop collaborated with Nissan to develop a unique tyre with fewer grooves and a wider tread, increasing the car's contact patch by 11% - which should translate to better mechanical grip and higher cornering speeds.
As one would expect from such a track-focused customer car, Nissan's aerodynamicists have adopted scalloped air-vents, cut into the front fenders, which help extract and channel hot heat away from the engine bay.
Although the 3.8-litre turbocharged V6 produces an unchanged 447 kW of power, its turbochargers are now similar to those found on Nissan GT3-specification race cars. The turbine shape is different from other GT-Rs and its impeller features fewer blades, which total a 20% improvement in throttle response.
The other notable technical upgrade featured on this new GT-R Nismo is its steering, which has been recalibrated to work with the grippier Dunlop tyres. Nissan claims it produces superior linearity in its response, especially at speeds around 300 kph, requiring fewer steering corrections.
With the next-generation, GT-R confirmed to be a hybrid, those who wish to own a pure internal-combustion version of this legendary Japanese supercar now have on option on the best version yet.
The previous version of the Nismo GT-R did not make it to SA so this version won't either. Expect a few Nurburgring records to fall in the next few months, however.