The recent bakkie-collaboration between Nissan and Mercedes-Benz has ended in disappointment, especially for the latter firm. But like it or not, shared-platform bakkies are the way of the future. How much are partnerships like Isuzu and Mazda's going to influence the packaging of your favourite double cabs?
BT-50 render credit: Duwyne Aspeling - Cars.co.za
South Africans' bakkie loyalties might appear absolute, but their brand allegiances and perception will be severely tested over the next decade. With the global automotive industry staggering after one of its worst-ever years, "consolidation and risk management" is the mission for 2020. For bakkie customers, that means some of your favourite brands are going to become a lot more alike than before.
Many of the world's automotive companies cannot absorb the cost of developing new electric vehicles and autonomous driving technology in parallel with their existing petrol and diesel vehicles. That means their obligated to partner up with rivals to split the risk and not be saddled with exorbitant research and development costs.
Although the demand for battery-powered bakkies isn't quite there yet, their development will not be unaffected. Narrowing budgets will force double-cab rivals to work together in developing new products on shared platforms. Could that erode legacy bakkie loyalties and create a new buying dynamic?
Do YOU notice the difference between badge-engineered bakkies?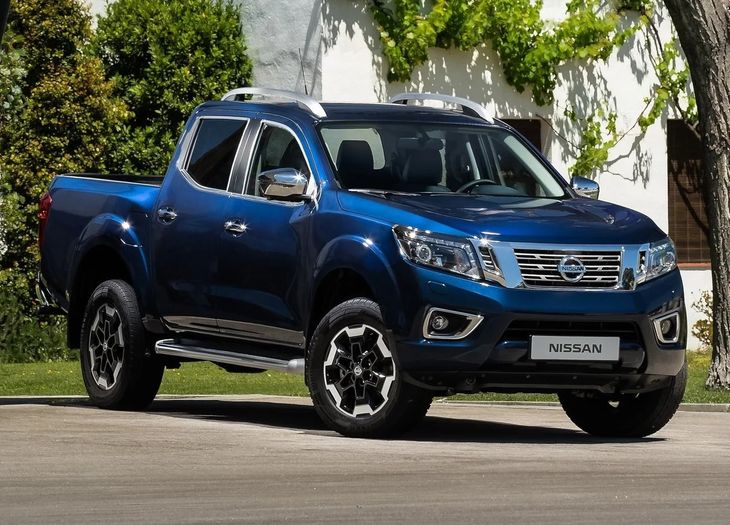 Nissan's latest Navara has underwhelmed somewhat, considering the previous generation's local sales success.
Although bakkies have incredibly-defined brand identities in South Africa, the local market has coped with joint-venture platform sharing with little trouble before, but not always.
Ford and Mazda have sold virtually the same bakkie product for decades in South Africa. Courier/Drifter and Ranger/BT-50 models were only differentiated by some minor exterior/interior styling tweaks and a slight alteration in lead petrol engines between the brands. Neither Ford nor Mazda ever seemed to experience much in the way of tension with this arrangement.
Some of the recent shared-platform exercises in South Africa have been less than rosy. Nissan's Navara has underwhelmed in terms of sales figures and its mechanical twin from Mercedes-Benz, the X-Class, has proved a calamitous failure. Given the huge pricing discrepancy, the Navara and X-Class might have shared mechanical traits, but they never competed in respect of market positioning.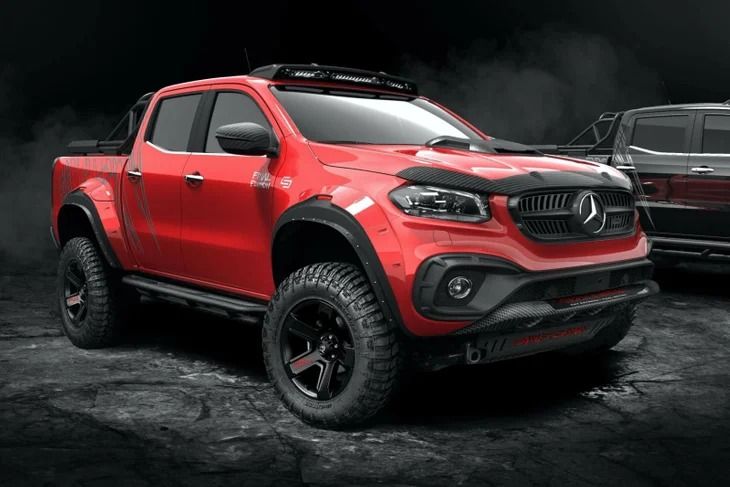 In order to try and shift the X-Class, tuners have got hold of it and attempted to increase its appeal.
After the failure of Navara-X-Class, the next shared platform bakkie venture due for the local market is a partnership between Isuzu and Mazda, the former of which is confirmed to arrive here in 2021.
Both these Japanese brands have good standing in South Africa, but their scale and customer profiles could not be more different... Isuzu is purely a bakkie business (with a smattering of MU-Xs and light trucks), whereas Mazda has primarily been a passenger-car brand in the recent past; it has transitioned from hatchbacks and sedans to crossovers and light-duty SUVs.
How, then, will Isuzu and Mazda approach the marketing for what is essentially a twin D-Max/BT-50 bakkie project?
The good and bad of localisation
Although Isuzu revealed its 3rd-generation D-Max in October of 2019, the bakkie will only be available next year. This delay is even more troubling to understand, as the D-Max is locally built, in the Japanese manufacturer's plant in Port Elizabeth.
If the D-Max's international reveal was nearly half a year ago, and Isuzu has a humming factory in Struandale, why is the bakkie only arriving in 2021? The answer is simple: localisation.
South African regulations require Isuzu to source a greater number of local components for its new D-Max. That is a good news story because it develops local engineering skills and supports a local supply chain. The problem is the timeline: finding and validating all those technical suppliers isn't the work of a moment and this has pushed out the delivery timetable for new D-Max.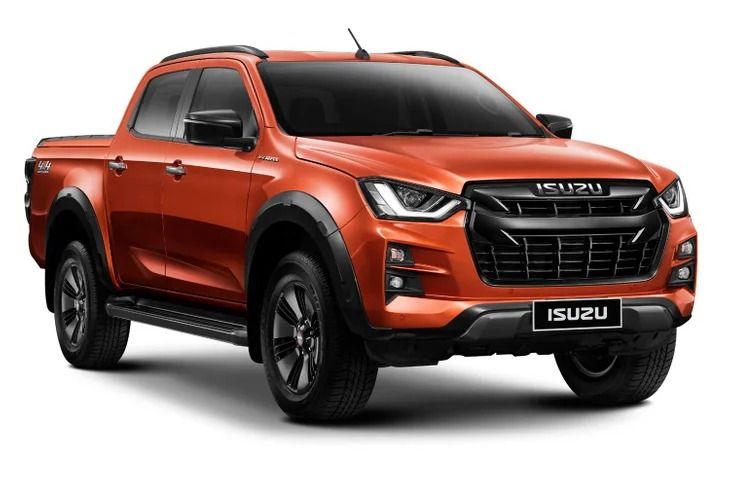 There will be a wait for the local D-Max as the PE plant undergoes changes in order to produce it locally.
Loyal Isuzu bakkie fans might find the delay annoying, but it also gives Isuzu South Africa's technical staff an opportunity to do some further localisation, including work on the bakkie's suspension specification so that it will be best suited to our particular market. The KB/D-Max product heritage has always been supported by inspiring gravel road ride quality and stability dynamics.
In many global markets, this might not be an issue, but South Africa has a vast and heavily utilised gravel road network. Some of those roads are of good quality, while others are so poor that they could be classified as grade-2 off-road obstacles. Suffice to say Isuzu's engineers are dedicated to developing an appropriate suspension set-up for South African conditions.
When the 3rd-generation D-Max does roll out of Isuzu's Port Elizabeth assembly plant and is transported to dealerships across South Africa in 2021, expect it to feature a slightly different damper and lead-spring set-up from the default global specification.
How will Mazda position the BT-50?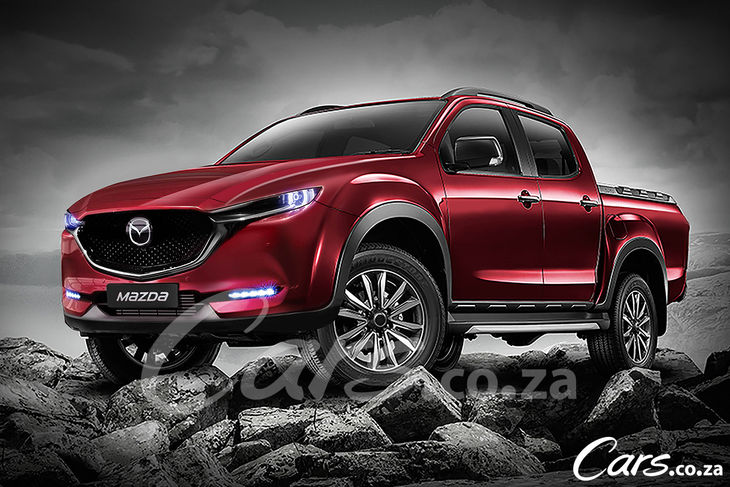 We haven't seen any hints of what the new BT-50 will look like, but a CX-5/CX-30 face on a D-Max looks alright?
What about the "other D-Max", Mazda's forthcoming BT-50? These bakkies will share a common platform and many components, but Mazda's double-cab will be imported, instead of locally produced.
That will create pricing pressure on Mazda, with BT-50 not benefitting from the localisation and export credits due to Isuzu. Mazda's BT-50 marketing effort is a lot narrower and simpler than for Isuzu – its new D-Max range will be massive, including single-, extended- and double-cabs.
Although its bakkie business might barely be ticking over, Mazda South Africa has successfully transitioned from being a broad bakkie brand to a vendor of specialist lifestyle double cabs. The profit opportunity with high-specification double-cab bakkies is much greater than utilitarian single-cabs.
This simplification of Mazda's bakkie business was forced upon it by Ford when the companies formed a single entity in South Africa decades ago. As the Ranger product portfolio expanded, Mazda's was rationalised. A consequence of this is that the (now independent) Hiroshima-based company does not have to replace a massive legacy bakkie range with the new BT-50.
Mazda's customer expectations are simpler to manage than Isuzu's. South African customers only expect a BT-50 double-cab. There is no pressure on Mazda to launch a diverse range of cab-styles, trim levels or engine options.
What are Mazda's risks with new BT-50? Pricing will obviously be an issue, with Mazda being a pure importer, without the leverage of export credits (such as Isuzu, Ford, Toyota, VW and Nissan).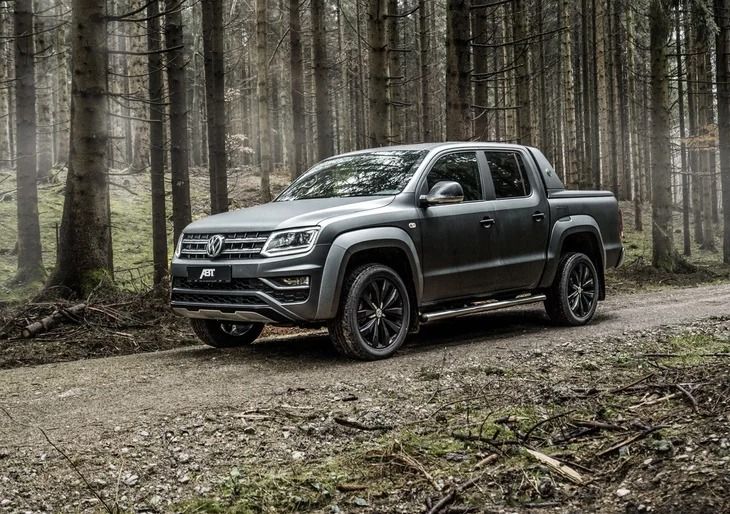 Looking on from the sidelines will be VW and Ford as they team up for the next Ranger/Amarok bakkie.
The other issue is that BT-50, despite overwhelming mechanical similarities to new D-Max, will not benefit from the possible local engineering input that Isuzu South African can affect. Mazda will have to settle for an international specification BT-50, whereas Isuzu South Africa could be afforded the latitude for some slight D-Max adaptations, tailored to local conditions.
A potential advantage for Mazda could be the BT-50's cabin architecture. Isuzu is a bakkie and truck company, which doesn't build passenger vehicles or even crossovers. Cabin ergonomics and features are designed and developed with utilitarian users in mind.
Mazda, by contrast, is a passenger car company that has evolved a portfolio of crossovers. It can leverage the passenger vehicle interior design and infotainment technologies, which are superior to Isuzu, and apply them to new BT-50. That could give the new BT-50 a slight edge in terms of cabin architecture.
As illustrated by the Volkswagen Amarok's hat-trick of category wins in the #CarsAwards, double-cab customers are increasingly appreciating the value of a slick infotainment system and cabins awash with creature comforts. In an increasingly sophisticated bakkie market, where buyers are trading from traditional passenger vehicles to lifestyle double-cabs, BT-50's interior design could be crucial.
When the D-Max/BT-50 platform twins arrive locally next year, at approximately the same time, it will be a noteworthy test case of how South Africans react to a mechanical similarity marketed by 2 very different motoring brands.
Ranger and Amarok product planners and customers will also take notice of the market reaction to D-Max/BT-50. It could hold crucial lessons for the next generation bakkie from Ford and VW, which will also be a joint development...
Related content:
Update: Hyundai Bakkie Spied Snow Testing
GWM P Series Bakkie - SA Details