The new Renault Clio has been revealed at the Geneva Motor Show. Take a look at what the newcomer will offer!
Running on the new CMF-B platform alongside the new Captur and some Nissan products, the all-new fifth generation Clio has been shown 2019 Geneva Motor Show.
The Clio is one of those vehicles which sells in tremendous numbers, especially in continental Europe. It has found favour in South Africa too and many have found homes here too. Since its official launch in 1990, over 15 million units have been sold and it has become Renault's best-selling vehicle globally. Clio 4 was especially well received. Design has always played in a key role in Clio's success and senior vice president of corporate design Laurens van den Acker is hopeful that Clio 5 will replicate the same sales success.
"The fifth generation Clio is very important for us as it is the best-seller in its segment and the second best-selling car in Europe, all categories combined. The Clio is an icon, and the latest features the very best of the previous generations. The exterior design of Clio IV won over our customers and continues to do so today, so we chose to keep that DNA while bringing modernity and elegance to the new model. The interior has undergone a true revolution, with a considerable improvement in perceived quality, greater sophistication and technology. It is the best Clio yet."
Engine outputs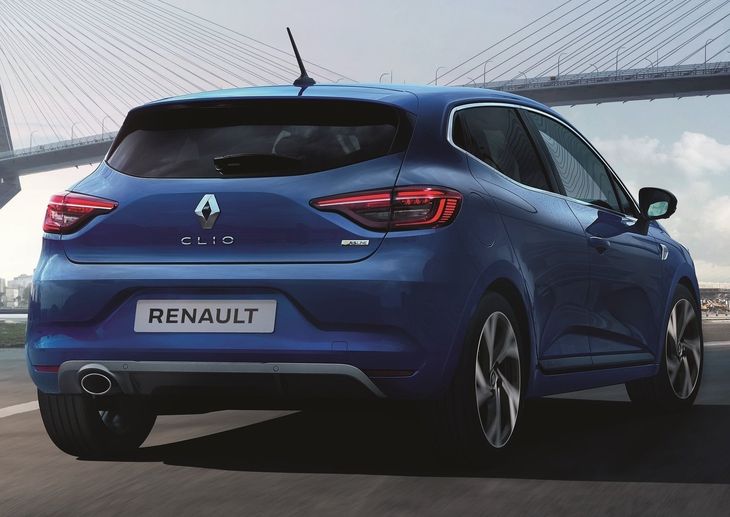 A new hybrid Clio will join the range and buyers will have the choice of both petrol and diesel engines.
The all-new Clio forms a massive part of Renault's electrification strategy. By 2022 Renault will offer 12 electrified vehicles in its portfolio. The all-new Clio 5 will be first with its E-Tech hybrid engine. Also in 2022, Renault is aiming to have its entire portfolio 100% connected in key markets. There's also a massive focus on autonomous driving tech and Renault hopes to have 15 cars equipped.

Nonetheless, the new Renault Clio E-Tech hybrid makes use of a 1.6-litre petrol engine combined with 2 electric motors and a 1.2 kWh battery and is expected to join the range in 2020. The Clio E-Tech hybrid is said to offer up to 40% better fuel efficiency than its engined siblings and can drive at up to 80% of the time in pure electric mode.
A naturally-aspirated 1.0-litre, 3-cylinder petrol engine with either 48 kW or 56 kW will be offered with a 5-speed manual transmission. There will also be a new turbocharged 1.0-litre, 3-cylinder engine in the mix with 73 kW and 160 Nm of torque and will be offered with either a 5-speed manual or a CVT. A range-topping 1.3-litre turbopetrol engine with 95 kW and 240 Nm will also be offered with a 7-speed dual-clutch EDC transmission.
On the diesel front, a 1.5-litre turbodiesel engine with either 63 kW and 220 Nm or a more powerful 84 kW version with 260 Nm will be offered.
Interior details
The Clio 5 represents a big leap forward in terms of perceived quality and ergonomics. Given how much the segment has moved in this regard (think Polo and Fiesta) it's critical that Renault keeps pace. Dominating the Clio 5 dashboard is a Tesla-style vertical-orientated display. It contains multimedia and the car will also feature GPS navigation and a wireless charging pad. From the photos, we can see there will be 2 USB ports too. We can also see an option for both a manual gearbox as well as a version of Renault's Electronic Dual Clutch transmission. Renault is doing away with the GT-Line badging and replacing it with RS-Line. RS-Line cars have sportier cabin trim, bigger alloy wheels and sporty body kits.
Renault is claiming that its new Clio 5 boats the biggest boot in the segment at 391 litres, which is 26 litres more than the Clio 4. Renault South Africa says they're looking at bringing the new Clio 5 in either late this year or early 2020.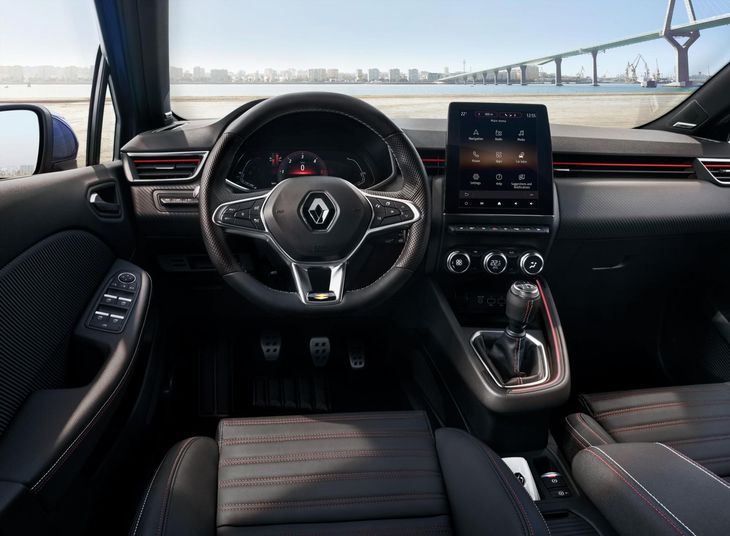 The model you see here is the Renault RS-Line. Note the manual gearbox, sporty trim, metal pedals and RS logo at the base of the steering wheel.
Further Reading
Drag Race: Toyota Yaris GRMN vs Renault Clio RS 18
Renault Clio RS18 (2018) Quick Review
Track Race - Polo GTI vs Yaris GRMN vs Renault Clio F1 vs Mini Cooper S