From MPV to SUV, Peugeot's 5008 has changed dramatically in shape, design and function. Let's take a look at this all-new model.
The Peugeot 5008 is a spacious and practical multi-purpose vehicle (MPV), but despite its positive traits, it wasn't a massive sales success, at least not in South Africa, where multi-seat SUVs are particularly popular. Fast forward to 2016 and we're deep in the age of the crossover/SUV. These vehicle genres have dominated sales because they're practical, can venture off the tarmac when required and carry 7 passengers.
The crossover/SUV simply offers more "everything" than a traditional MPV. Now, hard on the heels of the new-look 3008, comes this striking 5008. The newcomer looks very stylish and while it shares a name with its predecessor, that's about all they have in common. Claimed to combine luxury, practicality and technology with some offroad ability, this new vehicle will be unveiled at the Paris Motor Show in September 2016, and it's likely to go on sale in 2017.
What's new?
The new Peugeot 5008 is a Nissan X-Trail competitor built on the Efficient Modular Platform 2 (the latest architecture to underpin the new Peugeot products); its wheelbase is 165 mm longer than the 3008 (2 840 mm) and its total length is 4 640 mm. It's 110 mm wider than the original car and the extra width and length means that cabin space is generous. The new Peugeot 5008 will be offered with a third row of seats, depending on the country of sale (fingers crossed that if South Africa gets the 5008, we get the 7-seat option). The third row of seats can be folded down into the boot to increase boot capacity Peugeot is claiming that its boot capacity is the biggest in class, and at 1 060 litres with five seats in operation, that's quite a number.
From the driver's point of view, you get the digital i-Cockpit which removes all the analogue dials and replaces them with screens – there's a massive 12.3-inch display right behind the steering wheel! Other interesting features include body-hugging front seats (with an optional multipoint massage system for the driver), a FOCAL® Premium Hi-Fi system, a large panoramic tilt/slide glass roof, LED interior mood lighting, as well as smartphone charging plate on the centre console, which uses magnetic induction to automatically recharge devices.
Safety features are extensive and there's a big focus on driver assistance. A Safety pack, including automatic emergency braking (AEBS) and distance alert systems, active lane keeping assistance (LKA), driver attention warning, smart beam assistance (adaptive lighting), speed sign recognition and speed suggestion, adaptive cruise control with stop feature (automatic gearbox), active blind spot monitoring, park assist, Visio Park (360° vision) and there's also the optional advanced grip control, including new Hill Assist Descent Control (HADC), which allows the Peugeot 5008 SUV to go (mildly) off-road.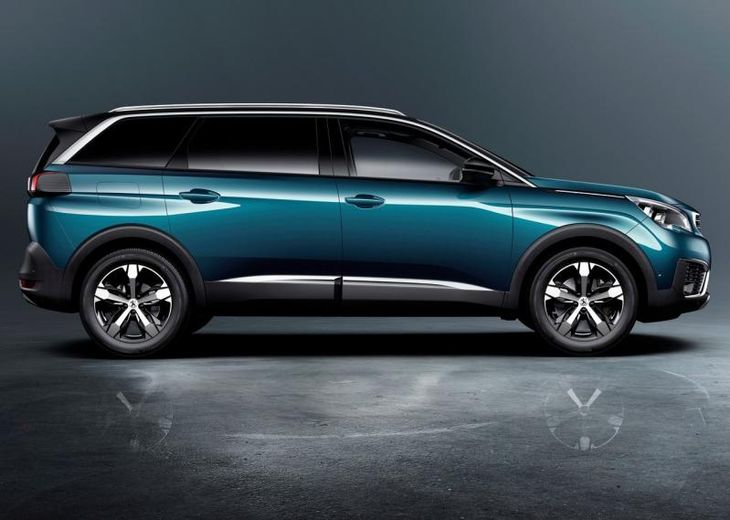 Engines and trim
There are three trim levels (Access, Active, and Allure) with a top-spec and sporty GT Line version as well as an exclusive GT derivative.
There are four petrol engines available for the all-new 5008 SUV:
1.2L PureTech 130 S&S six-speed manual, standard (CO2 at 117g/km) or super-efficient (CO2 at 115 g/km) version
1.2L PureTech 130 S&S six-speed automatic (CO2 at 120g/km)
1.6L PureTech 165 S&S six-speed automatic (CO2 at 133g/km).
Six diesel engines (availability dependent on location) complete the range:
1.6L BlueHDi 100 S&S five-speed manual (CO2 at 106g/km)
1.6L BlueHDi 120 S&S six-speed manual, standard (CO2 at 108g/km) or super-efficient (CO2 at 105g/km)
1.6L BlueHDi 120 S&S six-speed automatic (CO2 at 112g/km)
2.0L BlueHDi 150 S&S six-speed manual (CO2 at 118g/km)
2.0L BlueHDi 180 S&S six-speed automatic (CO2 at 124g/km).
The last engine listed above is exclusively available for the dynamic, top-of-the-range GT version.
Peugeot 5008 Availability in South Africa
We have been in contact with Peugeot SA and right now as it stands, there are no plans to bring this vehicle in.
Related content:
Peugeot 308 1.2 GT Line Auto (2016) Review
Peugeot releases 3008 GT range-topper
New Peugeot 3008 pushes mobility further
New Peugeot 3008 coming to SA in 2017
Peugeot 208 GT Line (2016) Review
Interested in buying a Peugeot product?