The 208 is one of Peugeot's most popular models internationally and the facelifted version sees the introduction of a number of interior and exterior improvements, as well as a new turbocharged engine. Will this lure more buyers to the French marque?
We Like: Styling, upmarket interior, ride and handling, space
We Don't Like: Pricey, engine flutter at low revolutions
Also Consider: Volkswagen Polo, Ford Fiesta, Renault Clio, Opel Corsa, Mazda2
Where does the 208 slot in?
Compact hatchbacks are tremendously popular in South Africa and buyers in this segment have a variety of products to choose from. The Peugeot 208 competes with the Volkswagen Polo, Ford Fiesta, Renault Clio, Opel Corsa and Mazda2, but whereas many of its rivals sell up a storm the 208 has never quite reached the same level of popularity here in Mzansi, which is probably due to a combination of boutique appeal and a small dealer footprint. The recently facelifted 208 is much improved inside and out, but is that enough to gain traction in this competitive segment? We recently tested the Peugeot 208 1.2T GT Line automatic to find out.
Key facts
The most important change to the 208 product lineup is the introduction of a new 3-cylinder, 1.2-litre turbocharged engine that powers this rather attractive GT Line version (test unit finished in Nacre White). The powerplant produces 81 kW of power and 205 Nm of torque. This test unit was specced with a new 6-speed automatic transmission, but can also be had with 5-speed manual transmission.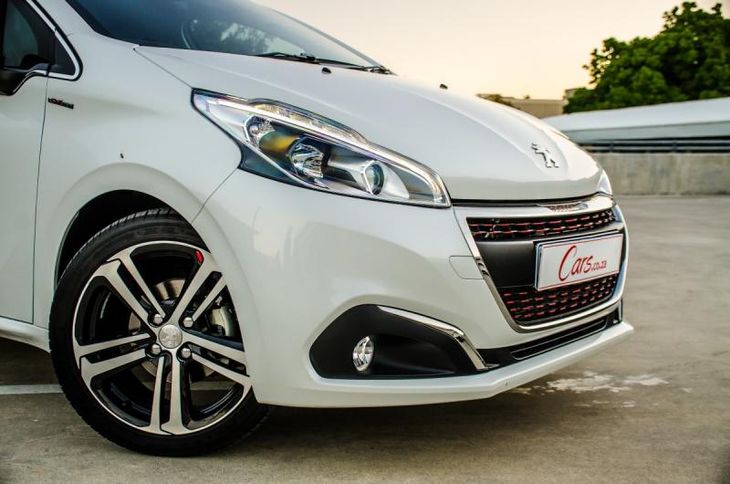 Note the red detailing on the grille and even a small insert on the alloy wheel.
Being one of the sportier members in the 208 range, the GT Line derivative is equipped with a number of features that set it apart from the rest of the lineup. These include an "Equaliser" grille with red detailing and a gloss black finish for the grille's circumference, fog lamp surrounds and mirror housings. There are smatterings of chrome detailing, including the exhaust end, and rear privacy glass is also fitted. Another attractive feature on the 208 is the 3D LED "claw design" taillights. The 208 GT Line rides on 17-inch Caesium alloy wheels with a gloss black finish. There are 12 exterior colours to choose from.
The sportiness continues on the inside where you will find a predominantly black and red combination cabin that's premium in look and feel. Comfy and well bolstered GT Line sports seats are upholstered in half-leather with contrasting stitching. The seats are height adjustable too. The leather-wrapped flat-bottomed steering wheel is small and can be adjusted for rake and reach and has mounted audio controls. The black seatbelts also feature red detailing and the pedals have an aluminium finish, as do the doors sills. The 7-inch infotainment touchscreen is simple to use and is Bluetooth compatible. USB and Auxilliary ports are also fitted (for connecting devices) and dual-zone climate control is standard on this derivative.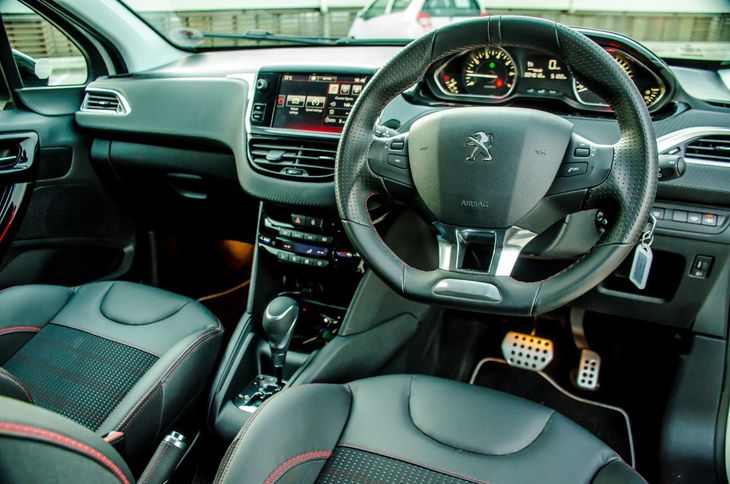 Neat cabin is packed with features. Driving position won't appeal to all.
How does it fare in?
Performance?
The Peugeot 208 GT Line is a solid performer out on the road. Its power output (81 kW) matches those of its rivals, but it's quite torquey (205 Nm), which results in brisk acceleration between robots or out on the highway where overtaking is made easy. The 1.2-litre 3-cylinder turbopetrol engine is reasonably refined, but we discerned a fair amount of turbo lag when full acceleration was required.
The 6-speed automatic transmission is relatively smooth-shifting. However, at low revs (when the Peugeot is creeping in congested traffic conditions, for example) the engine can flutter somewhat, which is a characteristic of small turbocharged engines – they tend to produce very little torque when the turbocharger isn't producing boost and are more susceptible to stalling. Fortunately, the automatic transmission/engine software keeps the 208 from stalling, but it seems a tricky task at times... The claimed zero to 100 km/h sprint time is 9.8 seconds and the top speed is reportedly 190 kph.
With its well-weighted steering, the 208 GT Line feels sure-footed and the ride quality is reasonably comfortable; it adequately deals with imperfections in the road. We also liked the smaller steering wheel, which inspires confidence and it increases the feeling of involvement while driving, but some testers found that when the steering column was at the ideal reach and rake settings for their respective driving positions, the 'wheel obscured some of the instrumentation.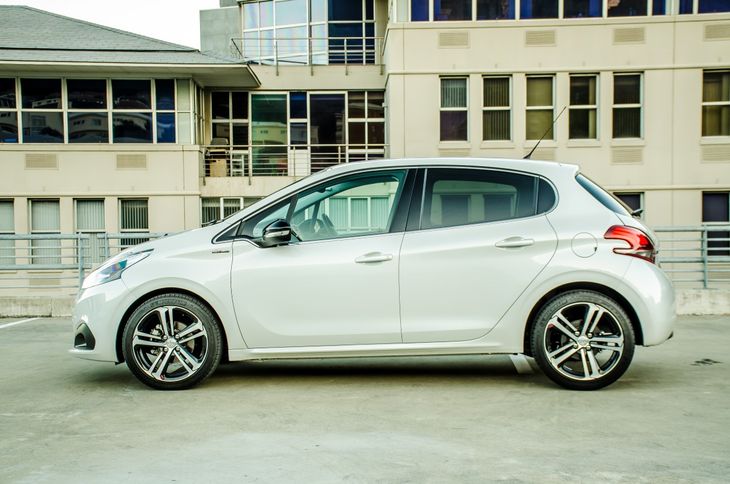 The 208 1.2T GT Line's ride quality is quite comfortable, despite low profile 11-inch wheels and tyres.
Practicality?
When compared with its rivals, the 208 GT Line comes out on top in terms of boot space (311 litres) and that's with a full-size spare wheel in place. The rear seats are split in a 60/40 configuration and can be folded down, which increases utility space to a sizeable 1 152 litres. However, it must be noted that the rear seats don't fold completely flat.
Rear passengers will be reasonably comfortable in the back with decent leg, head and shoulder room. The door pockets are practically shaped to store odds and ends and there are two cupholders provided for the rear passengers. For buyers who need to mount child seats, ISOfix anchors are fitted. For the driver and front passenger, there is a pair of cupholders and additional storage can be found ahead of the gear lever as well as the refrigerated glove box.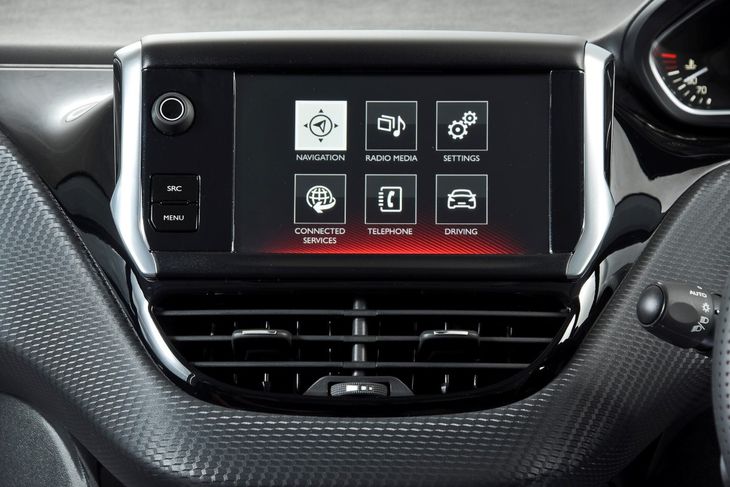 7-inch touchscreen makes smartphone connectivity a cinch.
Fuel Economy?
Peugeot claims a respectable 4.5 L/100 km for both the manual and automatic 1.2T GT Line derivatives. During our test, we achieved just over 8.0 L/100 km with a mix of normal and spirited driving in urban and highway situations. The 1.2T GT Line auto features automatic engine Start/Stop that helps reduce consumption by switching the engine off when the car comes to a stop. We believe that when driven with a conservative driving style, the derivative could achieve at least 7.0 L/100 km.
Safety?
The 208 1.2T GT Line auto excels in the safety department and comes equipped with ABS with EBD, Emergency Brake Assist, traction control, electronic stability control and a total of six airbags. Electric child locks for the rear doors are standard. The 208 also achieved a 5-star EuroNCAP safety rating.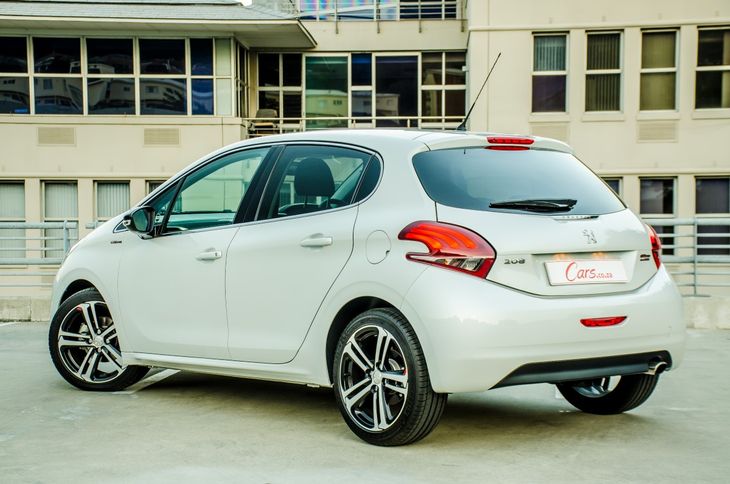 The GT Line's exterior adornments ramp up the 208's kerb appeal appreciably.
Verdict
The Peugeot 208 GT Line is a well-packaged product that will appeal to a fashion-conscious clientele in particular. It's pleasing to the eye, its interior boasts smart finishes and features and the new turbo engine delivers good performance under most conditions. It's quite practical too, with decent space for passengers and luggage. However, the GT Line's Achilles heel lies in its pricing. At over R300 000, the GT Line sits in nowhere land and this derivative is notably more expensive than the Volkswagen Polo 1.2 TSI Highline (R275 300) and the Ford Fiesta 1.0T Titanium (R264 900), to name two examples.
Although the Peugeot 208 1.2T GT Line auto is appealing in many ways, its pricing is uncompetitive. It's a pity because the French-made hatchback is better than its competitors in terms of torque output and luggage capacity. Some buyers value style over everything else and they might be willing to fork out the extra cash for this derivative, but there is definitely better value for money in the rest of the 208 range. Perhaps consider more affordable derivatives such as the entry-level 208 1.0-litre Pop Art (R169 900) or the 208 1.2-litre Active (R224 900).
Peugeot 208 1.2T GT Line auto price in South Africa
The Peugeot 208 1.2T GT Line costs R304 900, which includes a 3-year/100 000 km warranty as well as a 3-year/45 000 km service plan.
Compare the Peugeot 208 1.2T GT Line auto versus its Volkswagen Polo and Ford Fiesta rivals
Peugeot 208 1.2T GT Line auto quick specs