Nissan South Africa has released pricing of its eagerly-anticipated Navara bakkie which is now built in South Africa.
Nissan South Africa says the order books are open for the locally-produced Navara, with the first customer units scheduled to come off the production line at the brand's Rosslyn facility in June 2021. Local Navara production has been a long time coming and after 2019's R3-billion investment announcement, Nissan bakkie fans can finally smile.
"With the introduction of the all-new Navara pickup in South Africa, we are confident that the significant technical changes implemented across our extensive line-up, will deliver the ultimate customer experience, with enhanced ride comfort, load carrying capacity, and a powertrain selected specifically for the South African market," says Haasbroek.
"It's an amazing achievement to see the full set of exciting models for the next generation Navara which offer customers a choice of both single, and double-cab, 2WD and 4WD options, and a choice of automatic and manual transmissions too," Haasbroek said. "This is a fiercely competitive segment, and we are determined to meet and exceed customer needs," he added.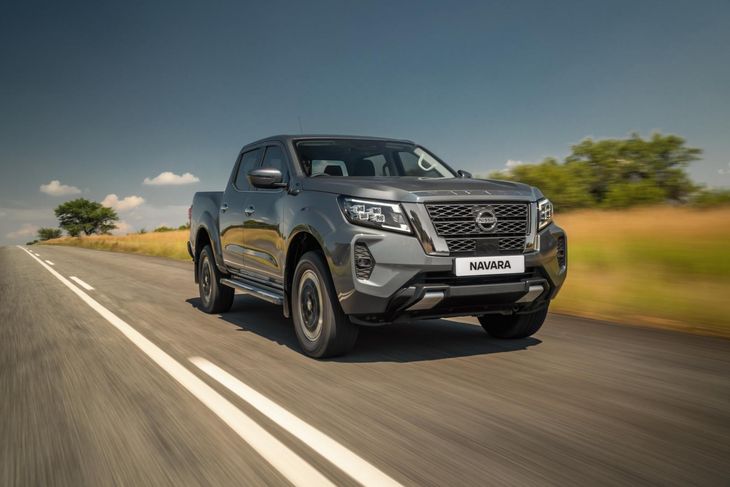 The locally-assembled Nissan Navara really looks fresh and modern
What's On Offer?
The new Navara aims to please buyers looking for a capable workhorse as well as those looking for a leisure double-cab bakkie. With derivatives ranging from single-cab 4x2 to double-cab 4x4, Nissan is trying to cover all of its bases. There's one engine across the range in two states of tune. The 2.5-litre turbocharged diesel 4-cylinder motor offers up 120 kW and 403 Nm, mated to a choice of either a manual or an automatic gearbox. It's also available with 140 kW and 450 Nm, and is available with a 7-speed automatic. This engine replaces the 2.3-litre twin-turbocharged motor in the previous model. An entry-level petrol engine is also available and that delivers 118 kW and 233 Nm.
Nissan has thoroughly reworked its underpinnings in the name of driver comfort. There's a new chassis, with revised mountings, increased rear height, improved shock absorber damping and a new dual-rate 5-link coil suspension, which all combine to make for a smoother and more comfortable drive.
Physically, the model features a larger payload which has grown by 100 kg thanks to an increase in the height of the load box. For the SE Plus and LE grades, there's an added step on the rear bumper, while the DC derivatives get an easy-life tailgate and a torsion bar.
If you tow things, Nissan has added Trailer Sway Control (TSC) system, with yaw-rate-monitoring can detect the trailer's self-oscillation, while the Vehicle Dynamic Control system (VDC) enables it to handle the brake pressure of the trailer to reduce self-oscillation.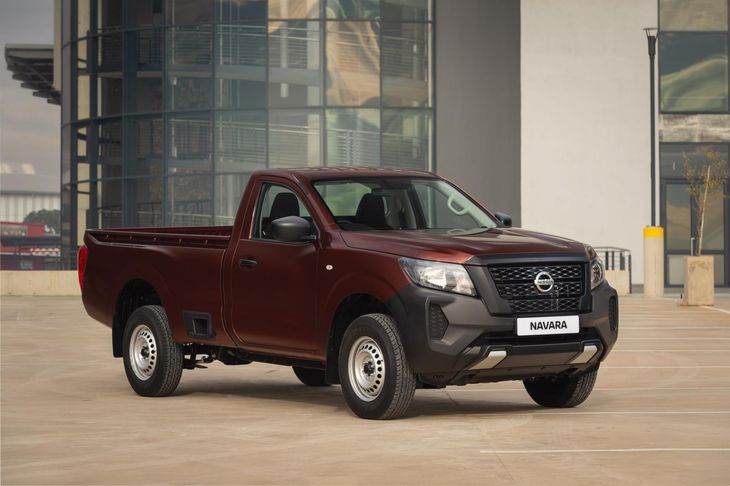 The new Nissan Navara will also be offered in a single-cab derivative.
How much does the Nissan Navara cost in South Africa?
The below prices include VAT and the locally-built Navara is sold with a 6-year/90 000 km service plan and a 6-year/150 000 km warranty.
Nissan Navara Single-Cab Lineup
Nissan Navara 2.5 Petrol XE 4X2 MT SC R311 000
Nissan Navara 2.5D XE 4X2 MT SC R350 000
Nissan Navara 2.5D SE 4X2 MT SC R426 000
Nissan Navara 2.5D LE 4X2 MT SC R456 000
Nissan Navara 2.5D 4X4 SE MT SC R492 000
Nissan Navara 2.5D 4X4 LE MT SC R527 000
Nissan Navara Double-Cab Lineup
Nissan Navara 2.5D SE 4X2 MT DC R474 000
Nissan Navara 2.5D SE 4X2 AT DC R498 000
Nissan Navara 2.5D SE Plus 4X2 MT DC R505 000
Nissan Navara 2.5D SE Plus 4X2 AT DC R528 000
Nissan Navara 2.5D LE 4X2 AT DC R606 000
Nissan Navara 2.5D PRO-2X 4X2 AT DC R686 000
Nissan Navara 2.5D SE 4X4 MT DC R552 000
Nissan Navara 2.5D SE Plus 4X4 MT DC R580 000
Nissan Navara 2.5D LE 4X4 MT DC R660 000
Nissan Navara 2.5D LE 4X4 AT DC R677 000
Nissan Navara 2.5D PRO-4X 4X4 AT DC R740 000
Further Reading
First look: Facelifted Nissan Navara
Update: New-look 2021 Nissan Navara
More Nissan Navara production could be heading to SA