The GLE is the most popular Mercedes-Benz SUV worldwide and a new GLE has now been revealed. Take a look at what the new GLE has to offer…
It's the age of the SUV and Mercedes-Benz currently has a total of 7 SUV models on offer and the GLE has proven to be the best-selling SUV model worldwide. The new GLE will make its official appearance at the Paris Motor Show in October 2018 and can be expected in South Africa within the first half 2019. The new GLE rivals the likes of the new BMW X5, Porsche Cayenne and Audi Q7.
New look, more space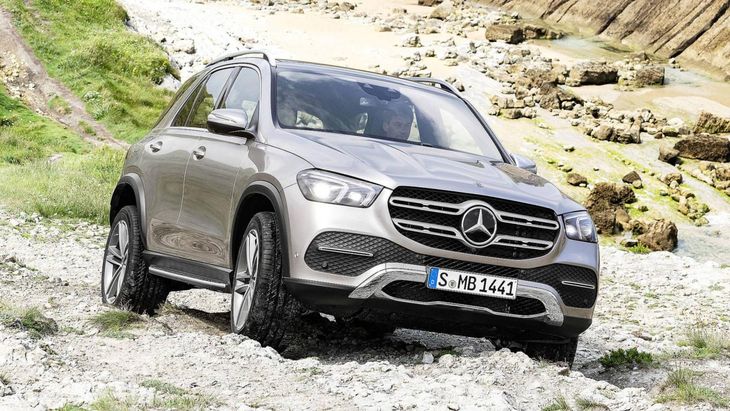 The new GLE SUV rides on an extended wheelbase that has improved passenger space significantly.
The face of the new GLE is defined by an octagonal upright grille with 2 dominating louvres that frame the large pointed star on its nose. The new model also wears a chrome-plated underguard and the bonnet features 2 powerdomes that provide some added visual muscle to the front-end. Multibeam LED headlights light the way with an illumination range of over 650 metres.

At the rear, flared haunches and 2-section taillights give the GLE added road presence and a chrome-plated underguard rounds off the look. The GLE rides on wheels sizes between 18- and 22-inches.
The new GLE boasts an improved drag coefficient of 0.29 (previously 0.32), which means it slices through the air more efficiently than before which should bode well for reduced fuel consumption.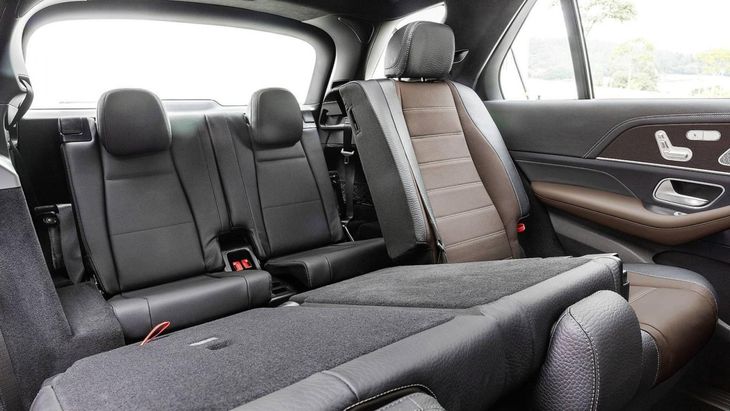 Seating for 7 will be optionally available in the new GLE.
More than this, the wheelbase has been extended by some 80 mm which has improved interior space significantly. Rear passengers now have 69 mm more legroom and headroom is said to have improved by 33 mm. A local source at Mercedes-Benz has indicated that the new GLE may be offered as a 7-seater as standard when it arrives in 2019, or at the very least, it will be offered as an option.
Luggage capacity in the new GLE has increased from the current 690 litres to a generous 825 litres which expands to a capacious 2 055 litres with the 40:20:40 rear seats folded down.
Interior features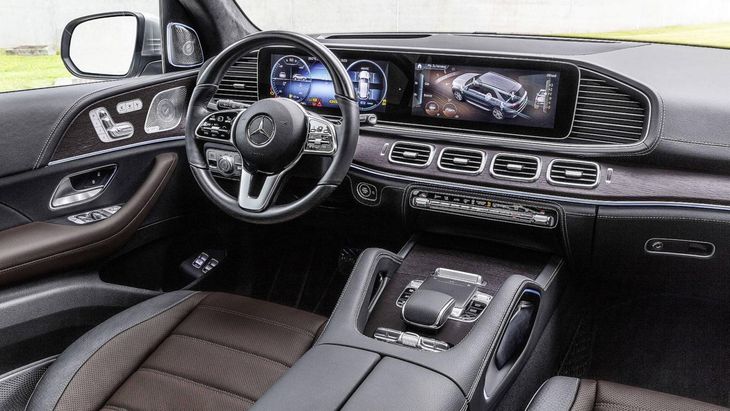 A widescreen cockpit with the latest MBUX system takes infotainment to new heights in the GLE.
The new GLE is equipped with the latest MBUX infotainment system which was first previewed on the new A-Class. The system incorporates 2 large 12.3-inch screens that sit side-by-side to give a widescreen effect. The system results in a configurable layout with 4 distinct styles to choose from (Modern Classic, Sport, Progressive and Discreet) and with all in-car functions easily within reach, less buttons are to be found in the cockpit. The MBUX system take care of a wide range of functions including navigation, gesture prediction, artificial intelligence, in-car comfort settings and voice control which is activated by saying "Hey Mercedes".
A larger and brighter head-up display will also be offered as an option.
Engines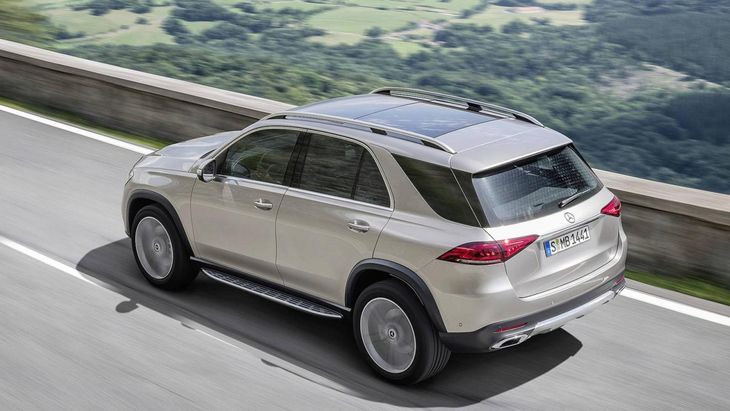 A range of 6-cylinder and 4-cylinder petrol and diesel engines will be offered with the new GLE. A plug-in hybrid version will follow later.
The new GLE will be powered by a new 6-cylinder petrol engine and Mercedes-Benz says that other engines including diesels and a plug-in hybrid version will join the range later on.
While broader engine details have yet to be revealed, Merc has provided details of the GLE 450 4Matic which will be powered by a 6-cylinder petrol engine which is systematically electrified with 48-volt technology. This variant offers 270 kW and 500 Nm of torque with an additional EQ boost of 250 Nm and 16 kW available for a short period of time. The integrated starter/alternator takes care of hybrid functions such as EQ boost and energy recuperation while also saving fuel.
All GLE derivatives will make use of a 9-speed automatic transmission. In the case of the 4-cylinder engines, all-wheel drive capability is made possible using a transfer case that distributes torque in a fixed ratio of 50:50. Other engines will make use of a transfer case with an electronically controlled multi-disc clutch allowing for variable torque distribution from 0-100.
For ultimate offroad driving, an optional torque-on-demand transfer case with a reduction gear set and automatic locking effect will also be offered.
Ride comfort is also enhanced with a new E-Active Body Control System with a 48-volt suspension system that, for the first time, can control/adjust spring and damping at each individual wheel.
Driver assistance features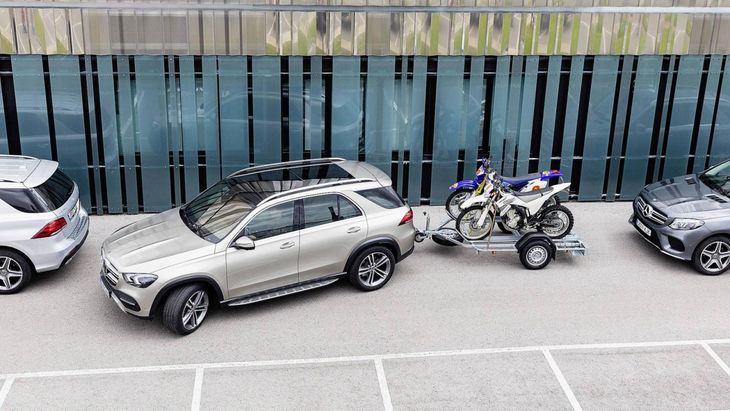 Can't drive with a trailer? The new GLE will help you out with its Trailer Maneuvering Assist feature.
A wide range of driver assistance features are offered on the new GLE. The new GLE will be able to assist the driver stop-go traffic situations but also provide support in a tailback situation using Active Distance Assist Distronic. The system uses live traffic information to detect upcoming tailbacks or slow-moving traffic and will automatically reduce speed to 100 kph as a precaution. If a tailback is recognised, the Active Brake Assist will brake the vehicle to a standstill.
Other assistance systems include Active Steering Assist, Evasive Steering Assist, Active Lane Keeping Assist and Active Emergency Stop Assist. Active Blind Spot Assist with exit warning is also offered as well as Trailer Maneuvering Assist, which helps novices manoeuvre with a trailer at speeds up to 5 kph.
The new Mercedes-Benz GLE is expected to reach South Africa in the first half of 2019. We will keep you updated as soon as more information regarding, engines and local pricing and specification details become available.
Buy a new or used Mercedes-Benz GLE on Cars.co.za
Related Content
Mercedes-AMG GLE 43 (2017) Quick Review
2019 Mercedes-Benz GLE and 2019 BMW X5: What can we expect from these SUVs?